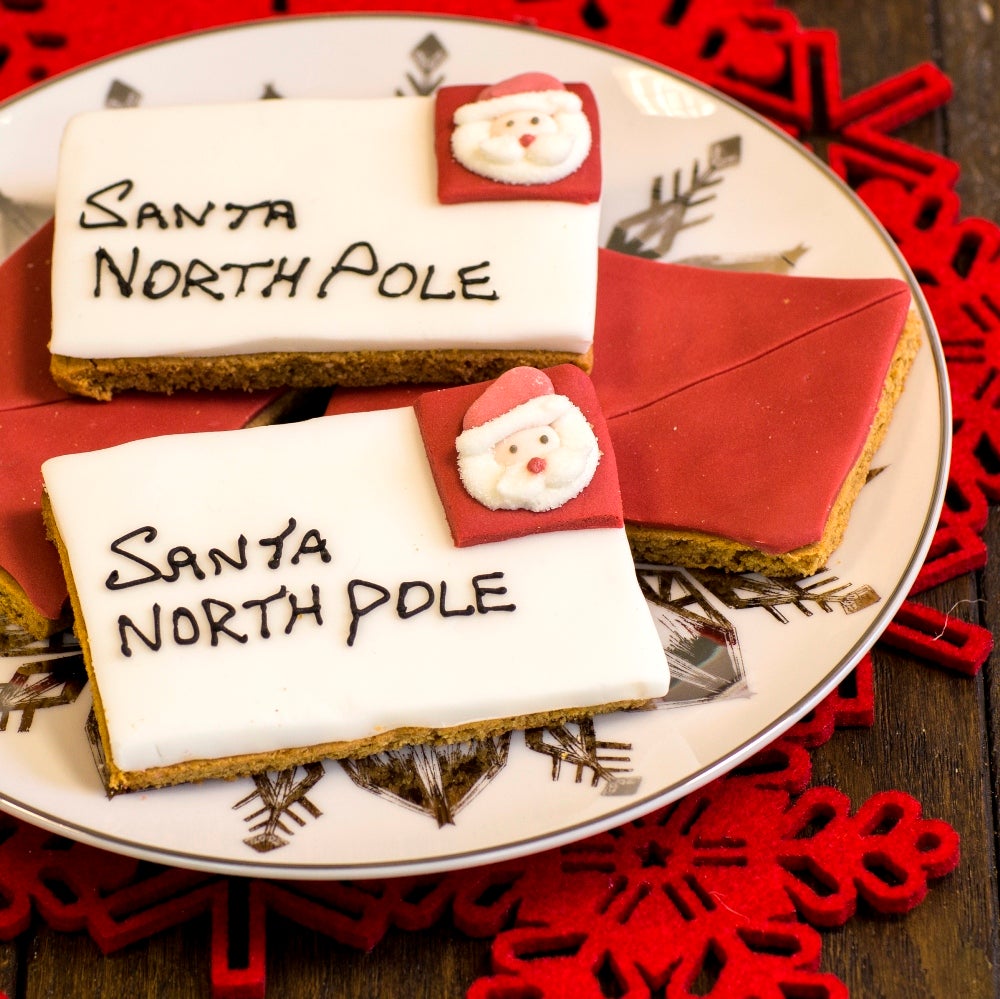 About the bake
Writing your letter to Santa before Christmas can be tiring work, so why not reward yourselves with the special Santa biscuits. These cute biscuits are great fun to make with the family and can even be left out for Santa on Christmas Eve. But remember they are only suitable for good boys and girls!
Method
Step 1:

In a large bowl add the sieved flour, cinnamon, ginger and bicarbonate of soda, then blend with the butter until it turns to a consistency similar to breadcrumbs. Then stir in the sugar until evenly distributed.

Step 2:

In a seperate bowl whisk together the egg and golden syrup. Gradually add to the other ingredients and blend until it forms a dough.

Step 3:

Remove from the bowl and knead gently until you can form the dough into a ball. Wrap in clingfilm and chill for 15 minutes.


Step 4:

Preheat the oven to 180°C (160°C fan, 350°F, gas mark 4)

Step 5:

Once the dough has chilled, roll out and cut into rectangles and place on a lined baking tray.


Step 6:

Bake for 10-12 minutes then remove from the oven and allow to cool for a few minutes before transferring to a wire cooling rack.

Step 7:

Once the biscuits have cooled, roll out the white and red sugar paste icing and cut into similar sized rectangles to cover your biscuits.

Step 8:

Lightly brushed the top of the biscuits with apricot jam and secure the sugar paste icing in place.

Step 9:

To make the back of the envelope use a knife to gently make indents into the sugar paste icing in the shape of two triangles.

Step 10:

To decorate the front envelopes, cut out a small square of red sugar paste icing and position in the top right corner to look like a stamp. Secure a festive edible decoration over the red sugar paste icing and use black writing icing to handwrite Santa's address.
Ingredients
For the Gingerbread Biscuits

350g

 Allinson's Plain White Flour

2 tsp

 

Ginger (ground)

2 1/2 tsp

 

Cinnamon (ground)

1 tsp

 

Bicarbonate of soda

130g

 

Unsalted butter (softened)

180g

 Billington's Unrefined Dark Muscovado Sugar

1

 

Large free range egg(s)

4 tbsp

 

Golden syrup

For the Decoration

3 tbsp

 

Apricot Jam

250g

 

Red sugar paste icing

250g

 

White sugar paste icing

10 (1 tube)g

 

Writing icing

A selection

 

Edible decorations
Utensils
Large bowl

Rolling pin

Pastry brush

Sharp knife
Nutritional Information
per 117g
547cal

 

Energy

15g

 

Fat

8.8g

 

of which Saturates

97g

 

Carbohydrates

70g

 

of which Sugars

4.5g

 

Protein

0.44g

 

Salt
Recipe Reviews
Make these every year going to make a batch for Christmas my nieces and nephews love getting these one even try to post it
I have made these for the past 6 years and my family and friends are always happy to receive them especially my great nieces and nephews who think you can actually post these and they would get to Santa
Making another batch soon
Ingredients
For the Gingerbread Biscuits

350g

 Allinson's Plain White Flour

2 tsp

 

Ginger (ground)

2 1/2 tsp

 

Cinnamon (ground)

1 tsp

 

Bicarbonate of soda

130g

 

Unsalted butter (softened)

180g

 Billington's Unrefined Dark Muscovado Sugar

1

 

Large free range egg(s)

4 tbsp

 

Golden syrup

For the Decoration

3 tbsp

 

Apricot Jam

250g

 

Red sugar paste icing

250g

 

White sugar paste icing

10 (1 tube)g

 

Writing icing

A selection

 

Edible decorations
Utensils
Large bowl

Rolling pin

Pastry brush

Sharp knife
Nutritional Information
per 117g
547cal

 

Energy

15g

 

Fat

8.8g

 

of which Saturates

97g

 

Carbohydrates

70g

 

of which Sugars

4.5g

 

Protein

0.44g

 

Salt