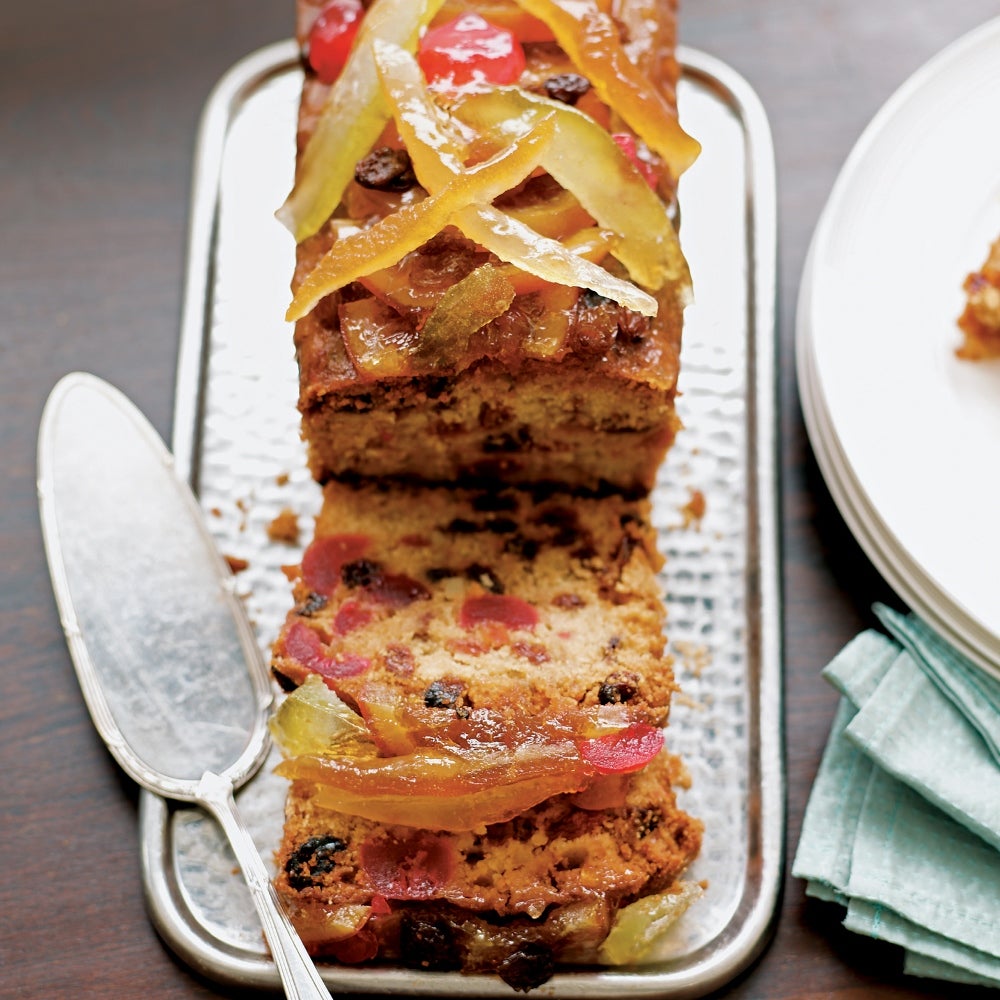 About the bake
This Light Fruit Cake Recipe is taken from Eric's Lanlard's Baking Mad masterclasses held at his cookery school Cake-Boy and can also be found in his delicious cook book 'Home Bake'.
Method
Step 1:

Preheat the oven to 170°C (fan 150°C, 325°F, gas mark 3). Grease a deep 15cm/6 in cake tin with extra butter and double line the base and sides with baking paper.


Step 2:

Cream the butter and sugar together in a large bowl using an electric hand whisk until fluffy and light.


Step 3:

Beat in the eggs gradually. In a small bowl, mix the orange blossom water with the zest and juice of the orange and lemon. Sift the flour, add all the dried fruit, then fold into the creamed mixture, using a large metal spoon, followed by the juice and zest mix.

Step 4:

Spoon the mixture into the prepared tin and bake in the pre heated oven for 30 minutes. Turn the oven down to 150°C (fan 130°C, 300°F, gas mark 2) and bake for another 1 and ¾ hours until the cake is risen, golden and a skewer inserted in the centre comes out clean.

Step 5:

Leave to cool for 15 minutes before removing from the tin, peeling off the paper and transferring to a wire rack to cool completely.

Step 6:

Decorate your cake with beautiful large pieces of glacé fruits or simply glaze the cake with some apricot jam warmed through in a small pan.
Ingredients
150g

 

Unsalted butter (softened, plus extra for greasing)

150g

 Billington's Unrefined Golden Caster Sugar

2

 

Large free range egg(s)

2 tsp

 Nielsen-Massey Orange Blossom Water

1

 

Orange(s) (zest & juice)

1

 

Lemon(s) (zest & juice)

175g

 Allinson's Plain White Flour

100g

 

Glacé cherries

100g

 

Mixed peel (chopped)

100g

 

Raisins

100g

 

Sultanas

2 tbsp

 

Apricot jam (seived)
Recipe Reviews
The cake tastes wonderful, easy to prepare, I'm delighted!
This recipe tells you line a round tin but is clearly shown in a loaf tin!!
Very hard to tell when baked .
Ingredients
150g

 

Unsalted butter (softened, plus extra for greasing)

150g

 Billington's Unrefined Golden Caster Sugar

2

 

Large free range egg(s)

2 tsp

 Nielsen-Massey Orange Blossom Water

1

 

Orange(s) (zest & juice)

1

 

Lemon(s) (zest & juice)

175g

 Allinson's Plain White Flour

100g

 

Glacé cherries

100g

 

Mixed peel (chopped)

100g

 

Raisins

100g

 

Sultanas

2 tbsp

 

Apricot jam (seived)