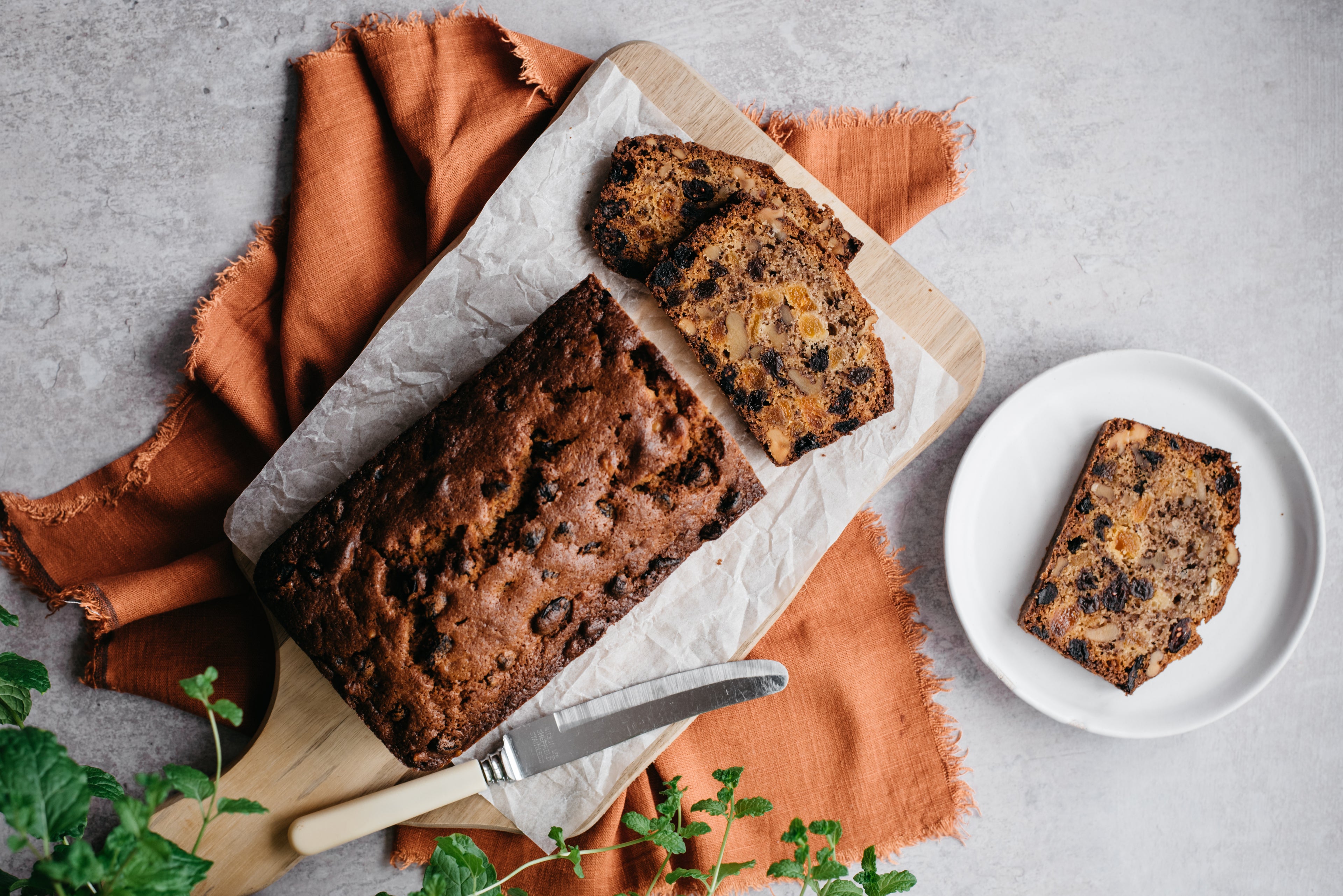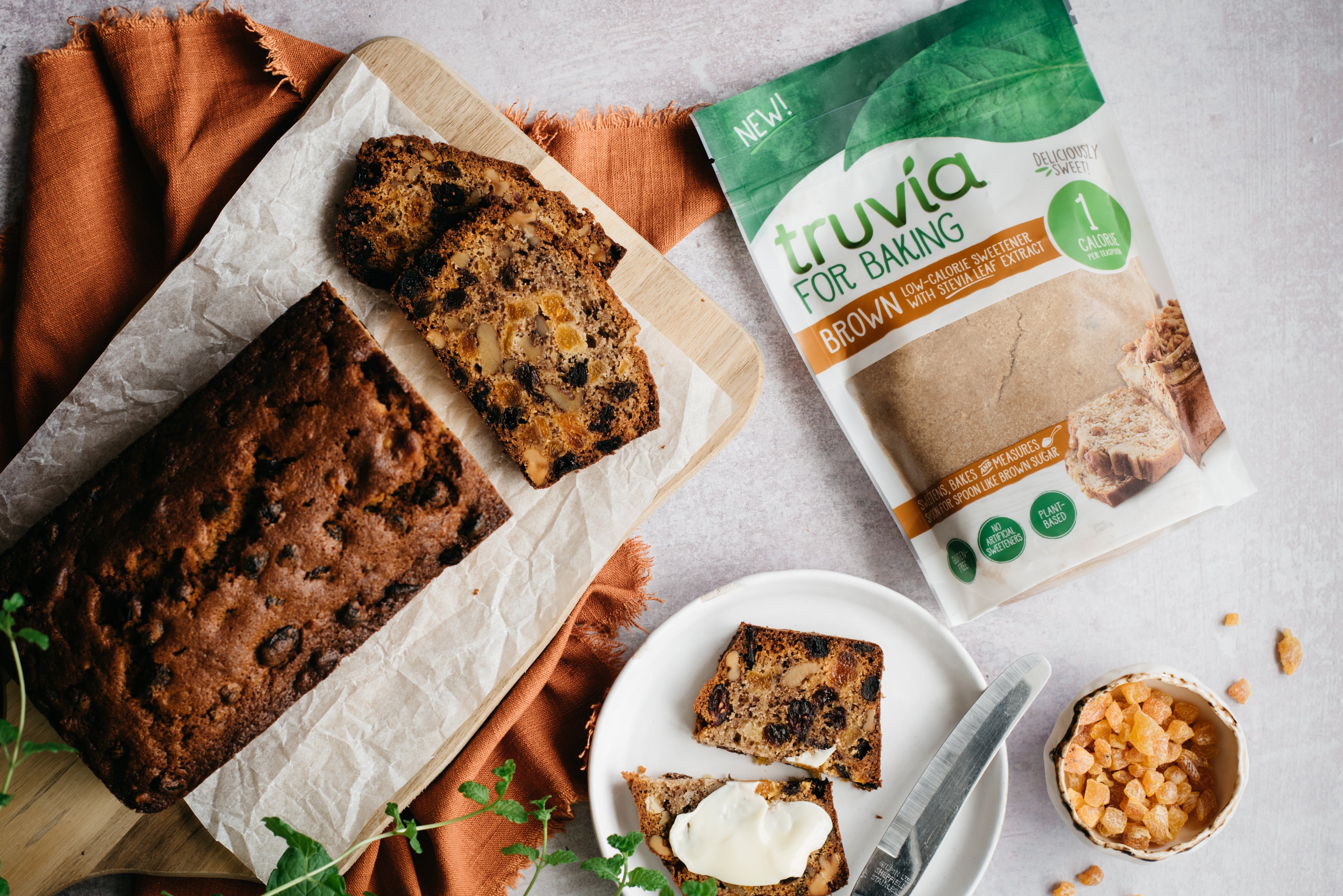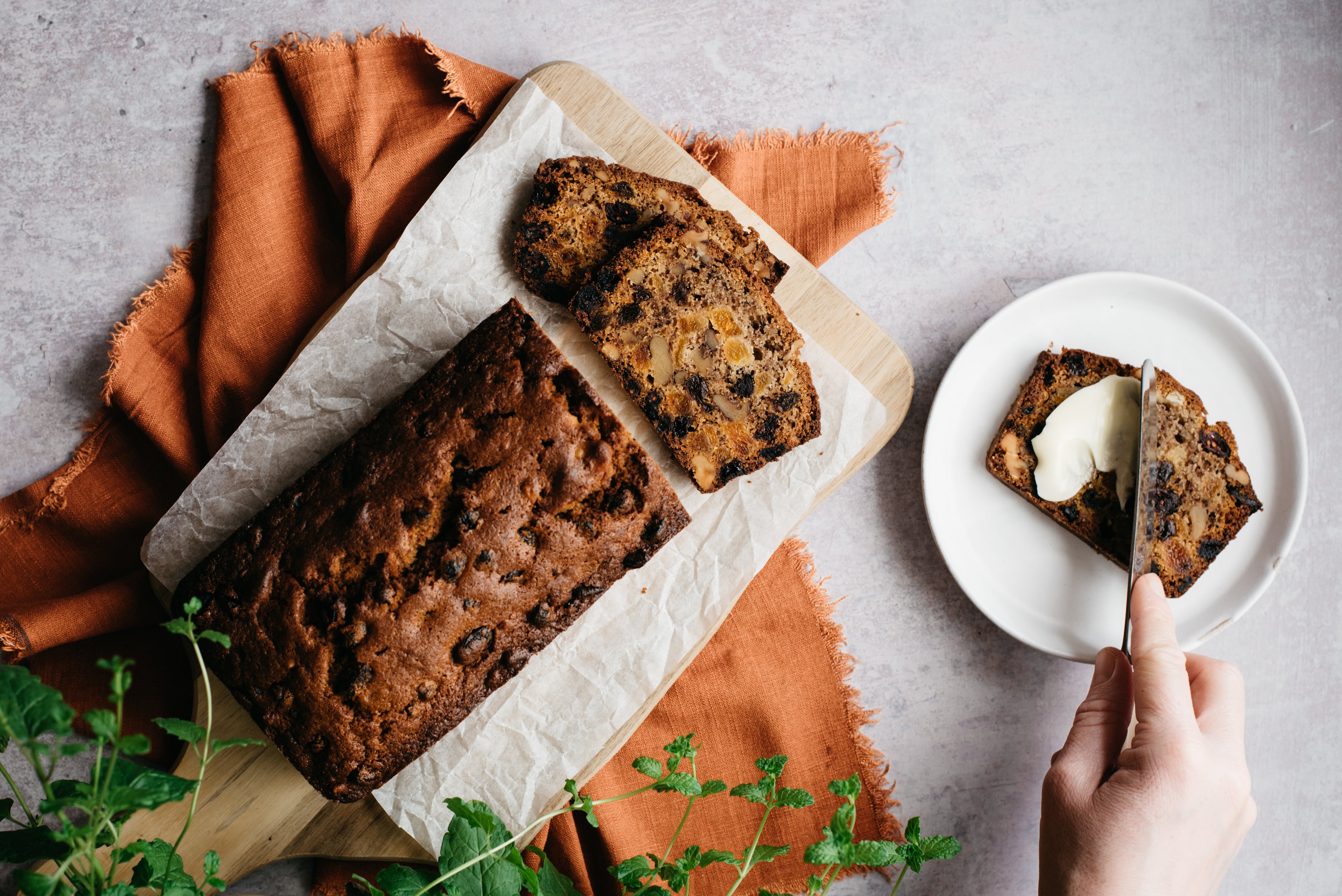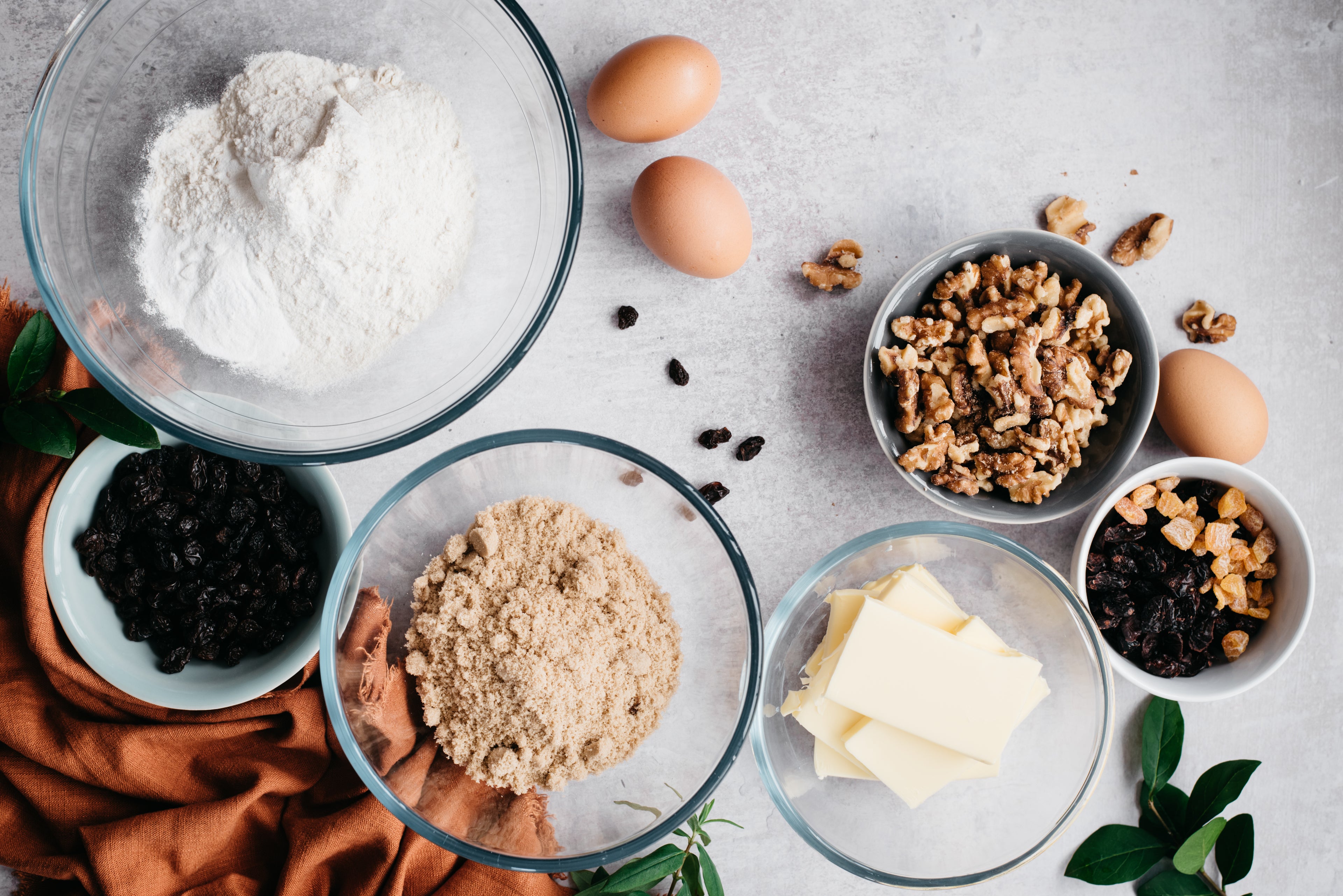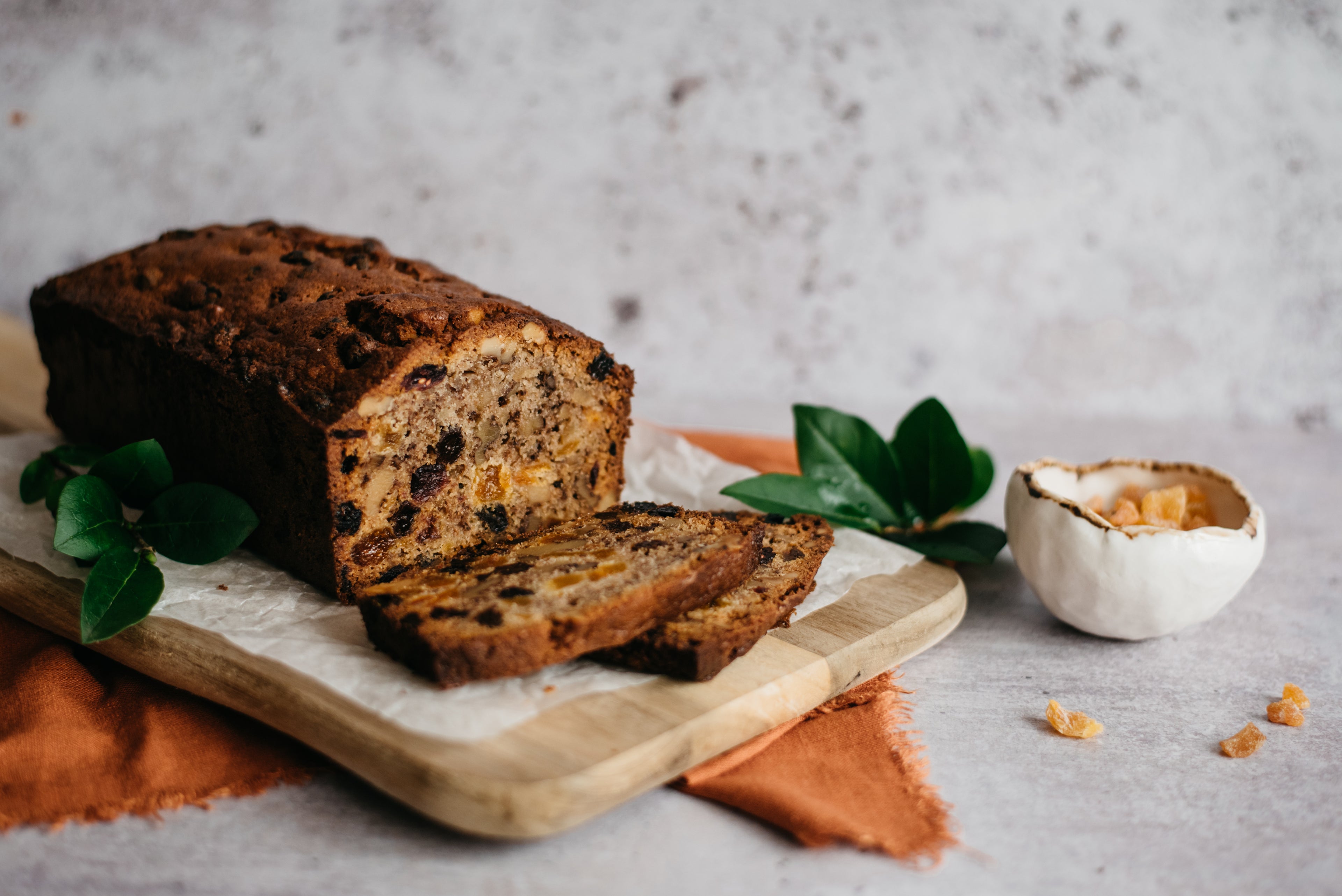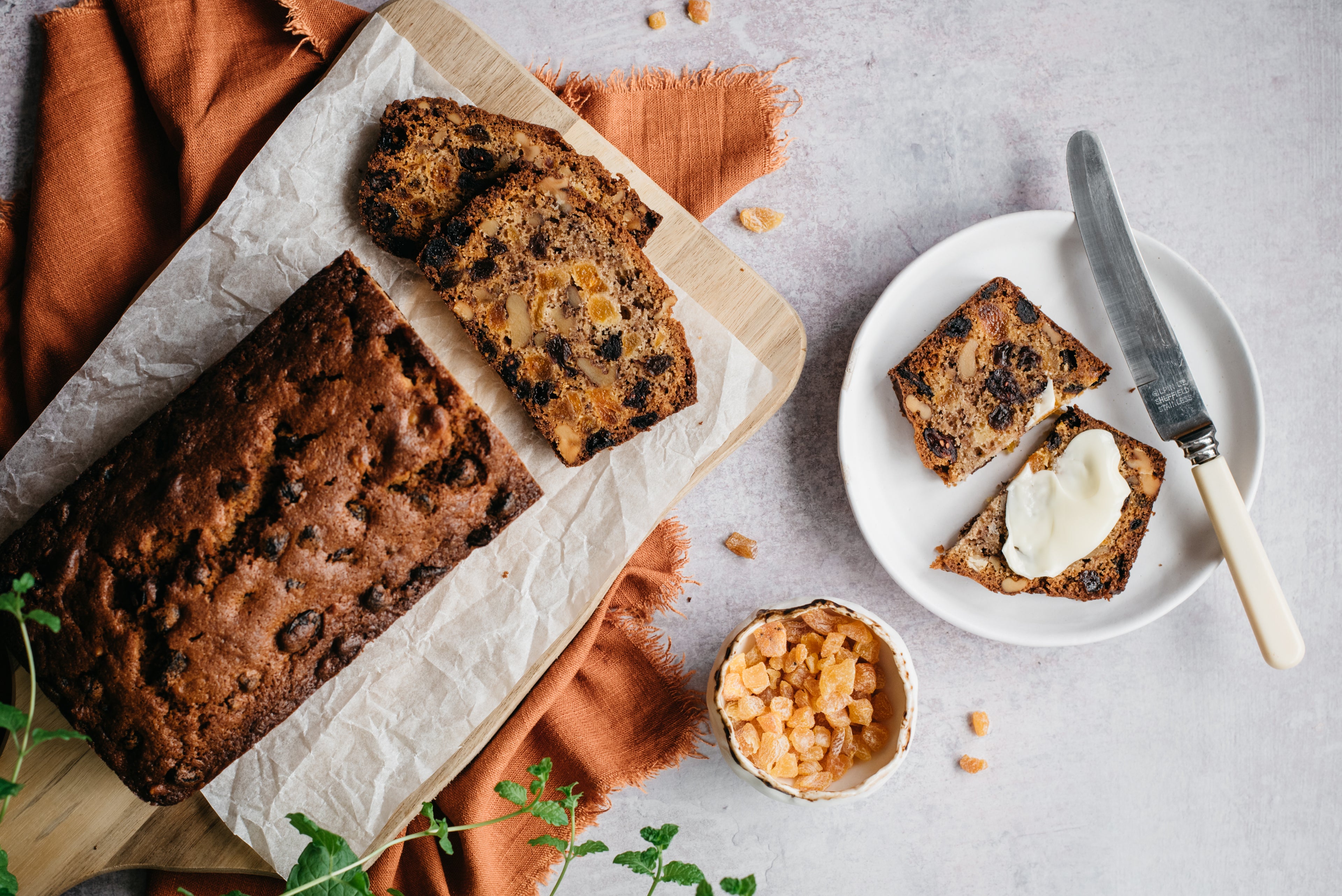 About our Light Fruit Cake
This Light Fruit Cake Recipe is the perfect pick me up to enjoy with a cup of tea at any time of the year. It's a great recipe for beginners, you just need to make sure that you grease the tin you're using really well or use loaf cake liners.
Light Fruit Cake baking tips:
You can buy 2lb loaf tin liners relatively cheaply and these make lining this shape of tin so easy!
Once this bake is cool wrap it well or pop in an airtight container, but it should easily keep moist and delicious for a few days.
Once you fold the orange juice in the mixture may start to look quite 'loose' but don't worry this helps keep the end fruit cake deliciously moist and gives a delicate orange flavour to complement the dried fruit.
We used a mix of pecans and walnuts in this fruit cake but you could substitute if you prefer something else, same for the dried fruit (as long as you keep the total weight the same) – great way to use up some leftover ingredients in the baking cupboard!
If you enjoyed this recipe, we think you'll enjoy our low sugar carrot cake.
Method
Step 1:

Preheat the oven to 170°C (fan 150°C, 325°F, gas mark 3) and line a 2lb loaf tin with non-stick baking parchment.


Step 2:

Cream the butter and sugar together in a large bowl using an electric hand whisk until light and fluffy.

Step 3:

In a separate bowl weigh out and sieve together the flour and baking powder before setting aside.

Step 4:

Add the eggs gradually, adding a tablespoon of flour after each addition if the mixture looks like it might start to curdle. Once the eggs have been incorporated, fold in the remaining flour using a large metal spoon.

Step 5:

Add in the dried fruit and nuts, followed by the orange juice and zest and again fold together until combined.

Step 6:

Spoon the mixture into the lined tin and place in the oven to bake for 1 hour 5 mins or until a skewer inserted into the centre comes out clean. Check the cake after 50 minutes and if it looks like it has browned enough cover with some tin foil for the remaining bake time to avoid it becoming too dark.

Step 7:

Leave to cool in the tin for 15 minutes before removing from the tin but leaving in the paper to cool completely.
Ingredients
150g

 

Butter (softened)

140g

 

Truvia for Baking - Brown

3

 

Medium eggs (beaten)

150g

 

Allinson's plain flour

2 tsp

 

Baking Powder

100g

 

Raisins

100g

 

Sultanas

100g

 

Pecan nuts (chopped, plus some for decoration)

75g

 

Dried cranberries

1

 

Orange (zest & juice)
Utensils
Deep 15cm/6 in cake tin

Mixing bowl
Nutritional Information
per 96g
383cal

 

Energy

21g

 

Fat

8.9g

 

of which Saturates

43g

 

Carbohydrates

19g

 

of which Sugars

5.6g

 

Protein

0.39g

 

Salt
Recipe Reviews
The cake tastes wonderful, easy to prepare, I'm delighted!
This recipe tells you line a round tin but is clearly shown in a loaf tin!!
Very hard to tell when baked .
Ingredients
150g

 

Butter (softened)

140g

 

Truvia for Baking - Brown

3

 

Medium eggs (beaten)

150g

 

Allinson's plain flour

2 tsp

 

Baking Powder

100g

 

Raisins

100g

 

Sultanas

100g

 

Pecan nuts (chopped, plus some for decoration)

75g

 

Dried cranberries

1

 

Orange (zest & juice)
Utensils
Deep 15cm/6 in cake tin

Mixing bowl
Nutritional Information
per 96g
383cal

 

Energy

21g

 

Fat

8.9g

 

of which Saturates

43g

 

Carbohydrates

19g

 

of which Sugars

5.6g

 

Protein

0.39g

 

Salt