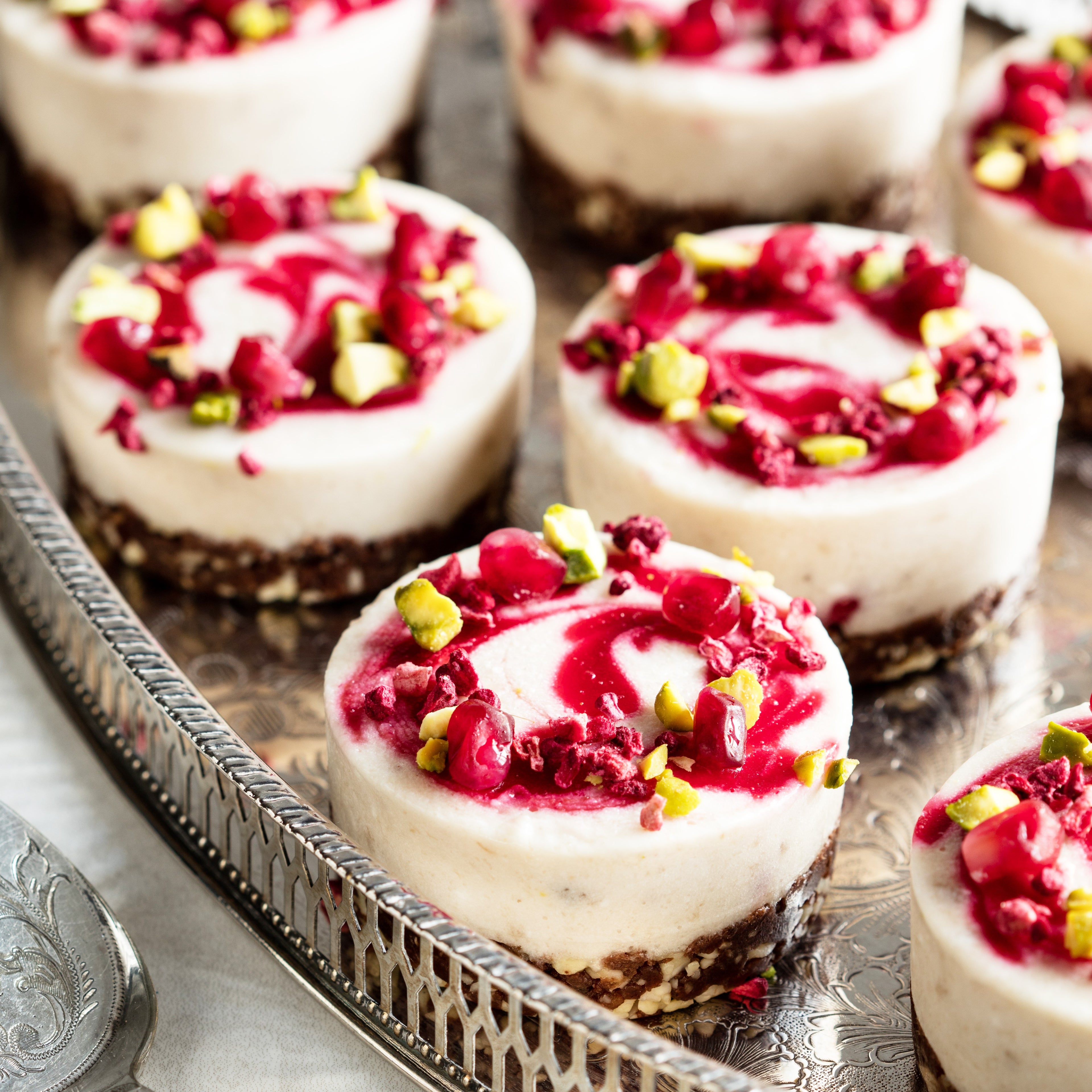 About the bake
If you are looking for an easy no bake cheesecake recipe then this is the recipe for you. These reduced sugar raw cheesecakes are sweetened with Truvia, banana and raspberries and are the perfect individual portion sizes to serve up at parties or a sweet after dinner treat.
Method
Step 1:

Make the base by adding the dates and almonds to a food processor. Blitz together until broken up into very small pieces. Add in the cacao powder and coconut oil and mix further until fully combined. Take a mini Victoria sandwich tin and divide the mixture between 9 cavities. You could also use a standard 12 hole muffin tin with cupcake wrappers in. press the mixture down firmly and place into the freezer whilst you make the raspberry puree.


Step 2:

Remove the bananas from the freezer and allow to defrost slightly whilst you make the raspberry swirl.


Step 3:

Place the frozen raspberries into a small saucepan and add the Truvia before heating until for 5 minutes until the raspberries defrost fully, mash down and the Truvia dissolves in. remove from the heat and press through a sieve. Catch the smooth juice and set aside to cool whilst you make the topping.


Step 4:

To make the topping combine all of the ingredients into a food processor and blend until smooth. Pour on top of the frozen base mix, dividing evenly between each.


Step 5:

Carefully drizzle the cooled raspberry puree over the tops of the filling and drag with a cocktail stick to make a swirl effect pattern. Cover and place back into the freezer for about an hour to firm up.


Step 6:

Remove from the freezer 10-15 minutes before serving and enjoy!

Ingredients
For the Base

150g

 

Medjool dates (stoned)

100g

 

Raw blanched almonds

2 tbsp

 

Cacao powder

1 tbsp

 

Coconut oil (melted)

For the Cheesecake

2

 

Frozen bananas

100ml

 

Coconut milk (tinned)

1 tsp

 Nielsen-Massey Vanilla Extract

2 tbsp

 Truvia calorie free sweetener

1

 

Lemon zest & juice (finely grated)

2 tbsp

 

Coconut oil (melted)

For the Raspberry Swirl

100g

 

Frozen raspberries

1 tbsp

 Truvia calorie free sweetener
Utensils
Food processor

12 hole muffin tins

Small saucepan

Potato masher

Sieve
We'd love a slice of advice.
Was it yum? Did the recipe work well? Did you customise the recipe?
Ingredients
For the Base

150g

 

Medjool dates (stoned)

100g

 

Raw blanched almonds

2 tbsp

 

Cacao powder

1 tbsp

 

Coconut oil (melted)

For the Cheesecake

2

 

Frozen bananas

100ml

 

Coconut milk (tinned)

1 tsp

 Nielsen-Massey Vanilla Extract

2 tbsp

 Truvia calorie free sweetener

1

 

Lemon zest & juice (finely grated)

2 tbsp

 

Coconut oil (melted)

For the Raspberry Swirl

100g

 

Frozen raspberries

1 tbsp

 Truvia calorie free sweetener
Utensils
Food processor

12 hole muffin tins

Small saucepan

Potato masher

Sieve