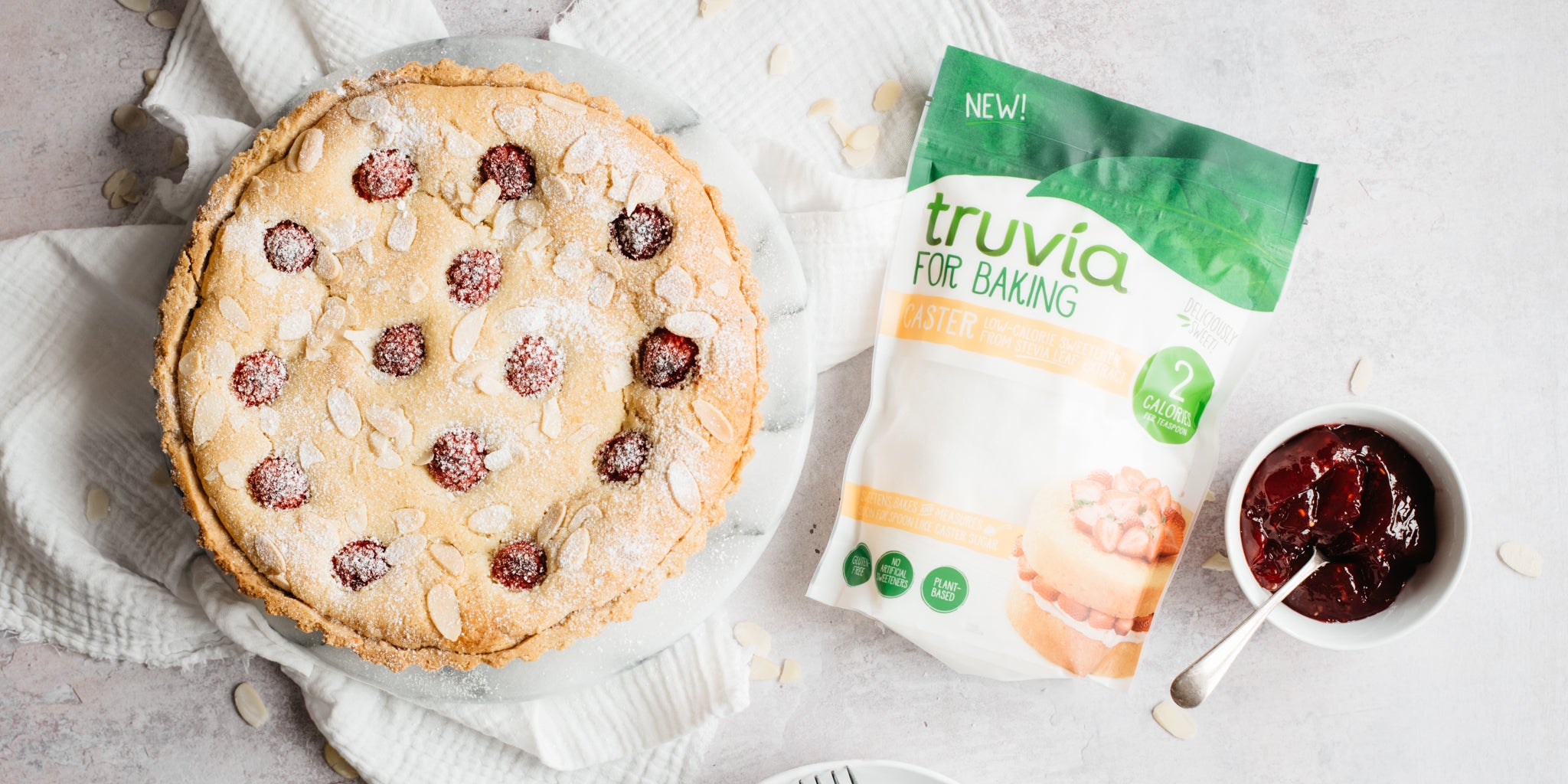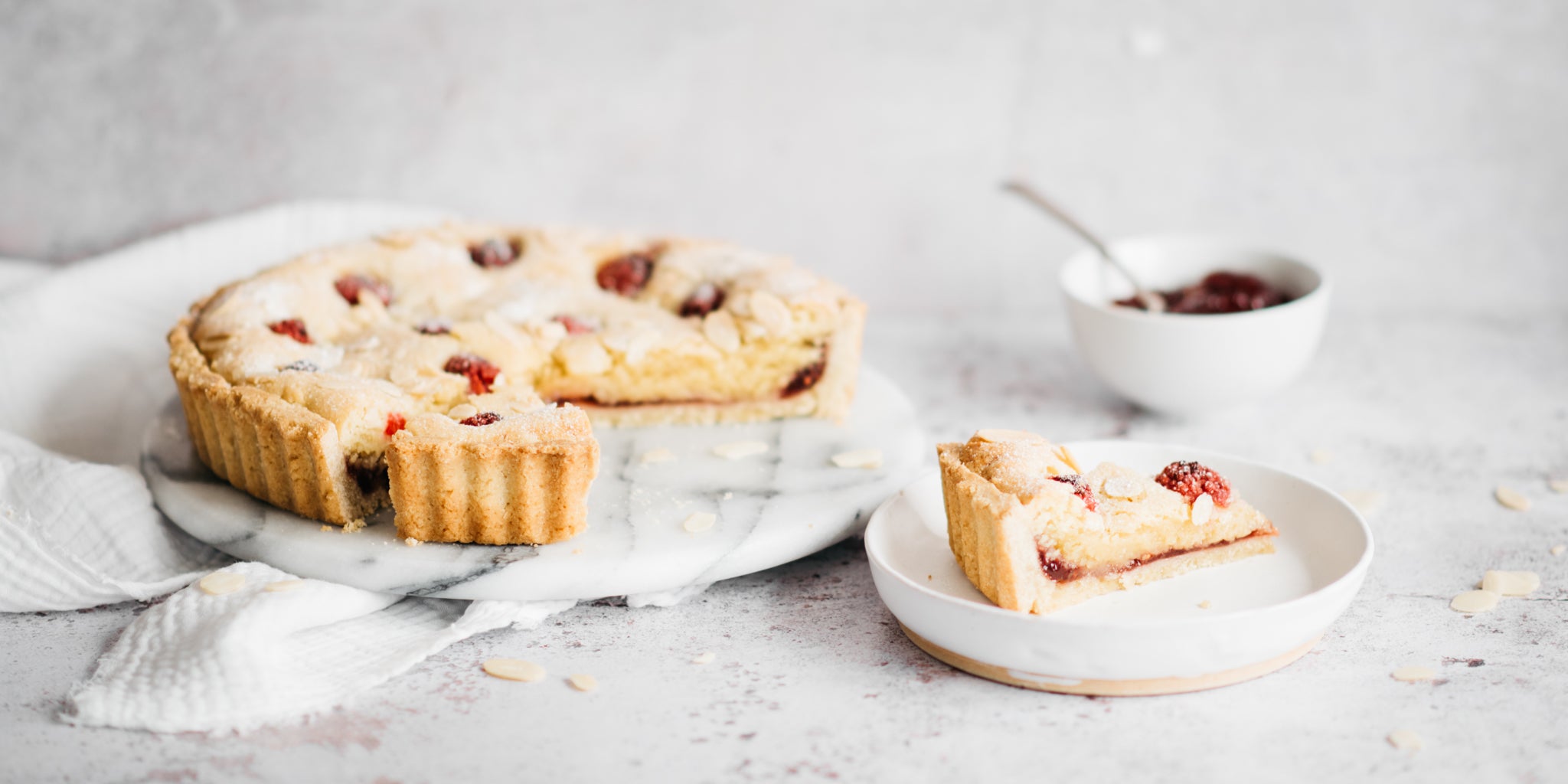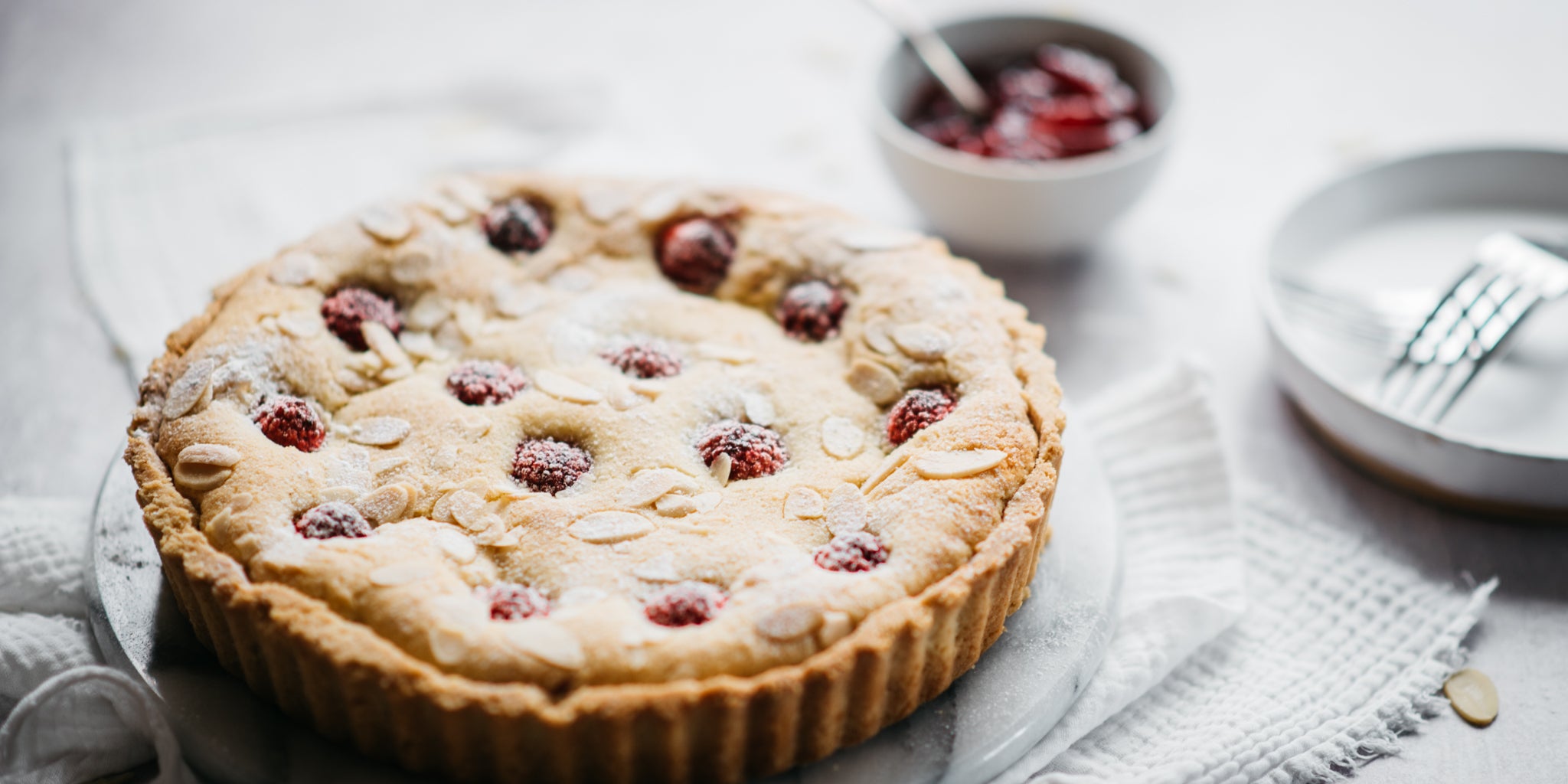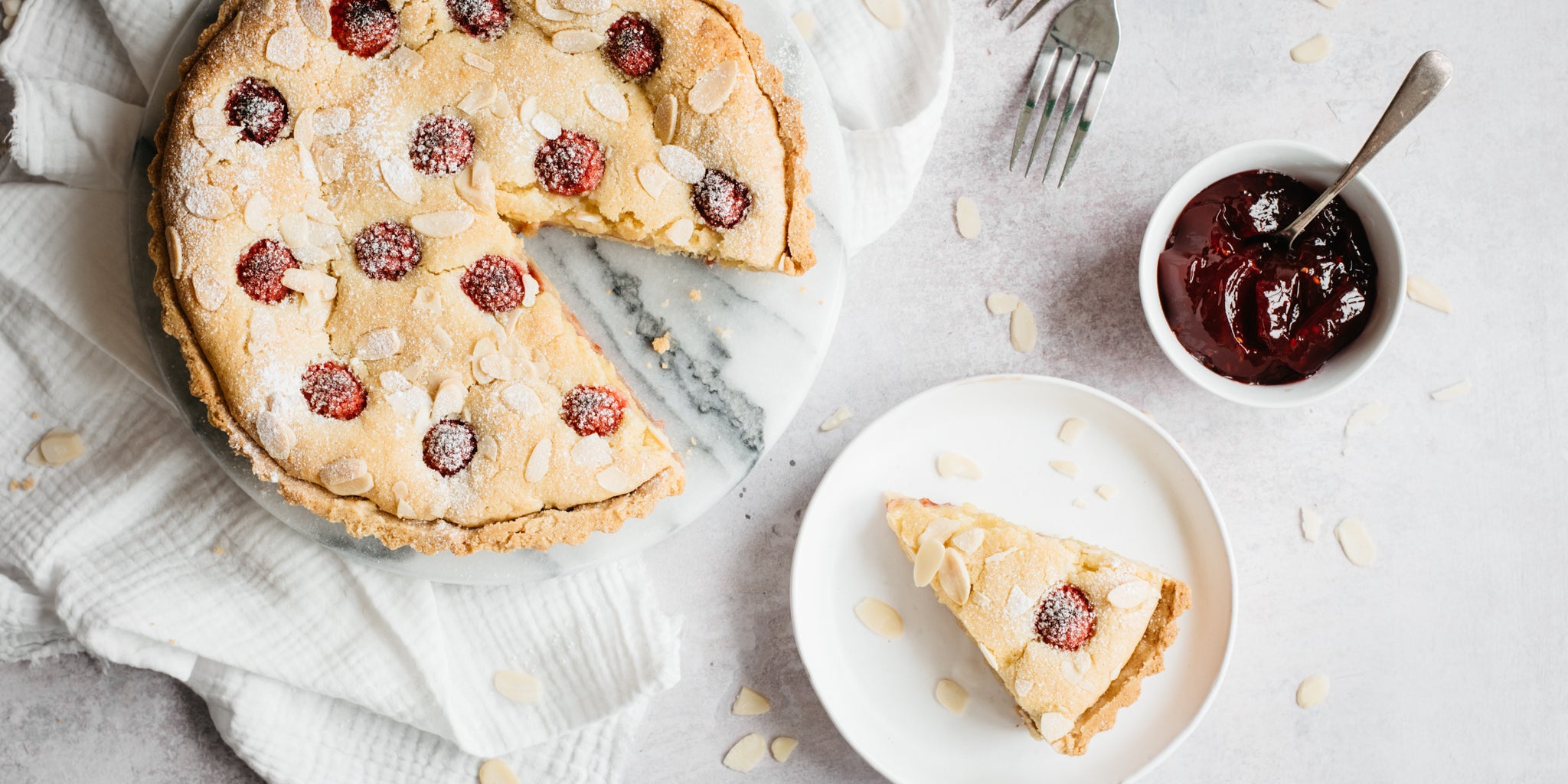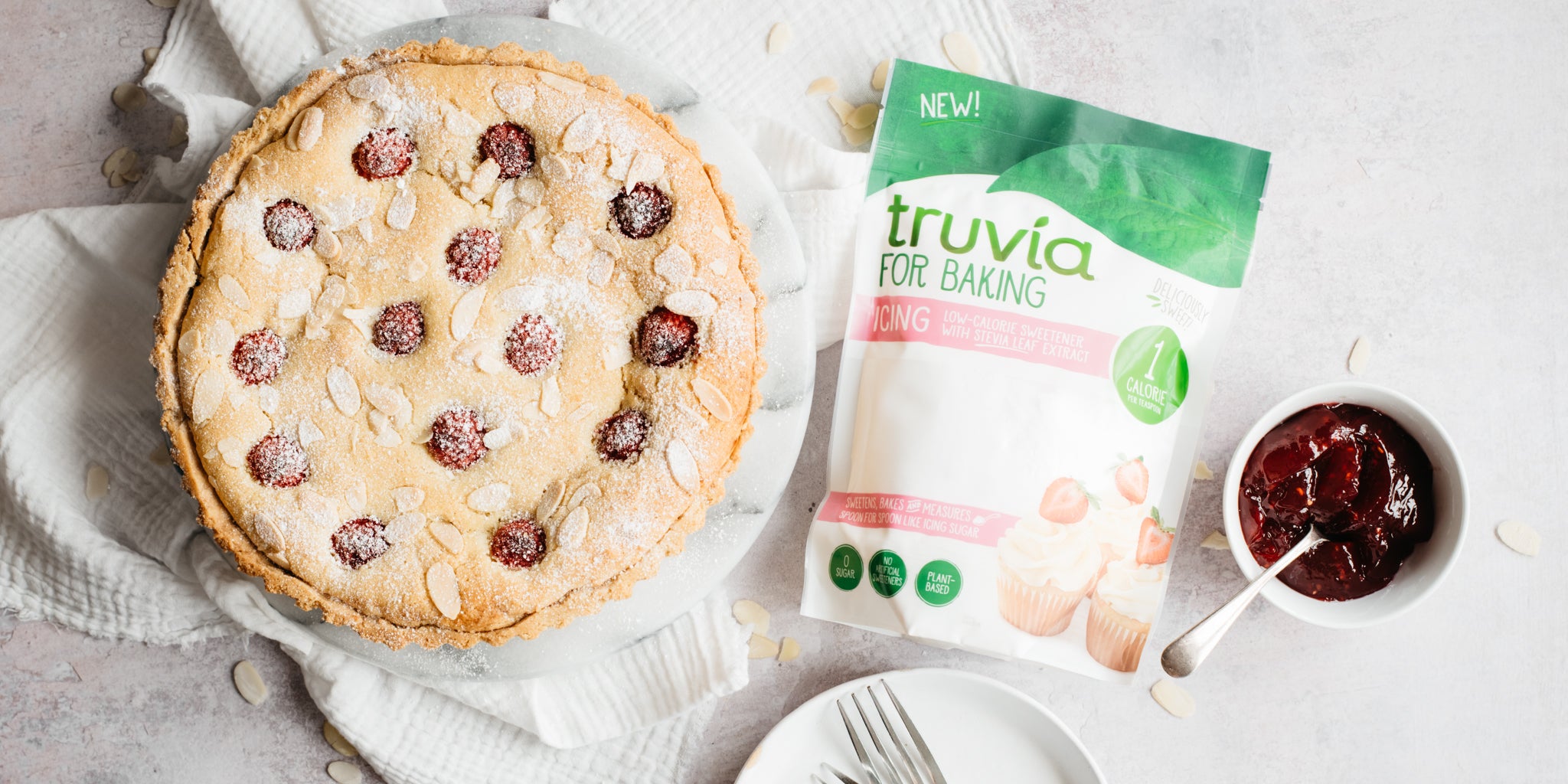 About the bake
This is the lighter bakewell tart recipe that you have been searching for. All the flavours and nostalgia of the British classic but with the inclusion of Truvia for Baking caster as a lighter switch from sugar. Pop the kettle on and enjoy a slice of bakewell deliciousness
Method
Step 1:

Grease a 23cm x 2.5cm deep loose bottomed tart tin with butter.

Step 2:

For the pastry, sieve the flour in a bowl, add the butter and rub together with your fingertips until the mixture resembles fine breadcrumbs. Stir the egg yolk and water then bring the pastry together with your hands.

Step 3:

Roll out the pastry on a lightly floured surface and line the tin, leaving a little pastry overhanging to allow for any shrinkage when it is cooked. Finally prick the base and sides of the pastry with a fork.

Step 4:

Line the pastry case with parchment paper and fill with baking beans then chill in the fridge for about 15 minutes.

Step 5:

Meanwhile put a baking tray on the bottom shelf of the oven and preheat the oven to 200C/180C fan/gas mark 6. When ready, bake the pastry case for 15 minutes on the hot baking tray, then take the beans out and cook for a further 5 minutes. Allow the pastry case to cool slightly, then trim off any excess pastry using a sharp knife.

Step 6:

To prepare the filling, cream together the butter and Truvia for Baking Caster until light and fluffy. Add the flour, ground almonds, eggs and almond essence and mix until combined.

Step 7:

Gently spread the jam over the cooled pastry case then top with the cake mixture and level off with a spatula so that the filling is evenly distributed over the base. Press the fresh raspberries into the mixture then sprinkle over the flaked almonds.

Step 8:

Turn the oven down to 180C/ 160C Fan/Gas mark 4 and bake in the oven for about 30-35 minutes until the sponge is golden, well risen and firm to touch. Allow to cool slightly, then remove from the tin to cool completely on a wire rack.

Step 9:

Dust with Truvia for Baking Icing before serving.
Ingredients
For the shortcrust pastry

200g

 

Allinson's plain flour

100g

 

Unsalted Butter

1, large

 

Egg yolk

1 tbsp

 

Water

For the filling

115g

 

Unsalted Butter

115g

 

Truvia for Baking - Caster

75g

 Allinson's Self Raising White Flour

125g

 

Ground Almonds

2

 

Large eggs

1/2 tsp

 

Nielsen-massey almond extract

80g

 

reduced sugar seedless raspberry jam

For the decoration

100g

 

Fresh raspberries

15g

 

Flaked almonds
Utensils
23cm loose bottomed tin

Sieve

Large bowl

Rolling pin

Fork

Parchment paper

Baking beans

Spatular

Electric whisk/food mixer

Wire rack or cooling rack
We'd love a slice of advice.
Was it yum? Did the recipe work well? Did you customise the recipe?
Ingredients
For the shortcrust pastry

200g

 

Allinson's plain flour

100g

 

Unsalted Butter

1, large

 

Egg yolk

1 tbsp

 

Water

For the filling

115g

 

Unsalted Butter

115g

 

Truvia for Baking - Caster

75g

 Allinson's Self Raising White Flour

125g

 

Ground Almonds

2

 

Large eggs

1/2 tsp

 

Nielsen-massey almond extract

80g

 

reduced sugar seedless raspberry jam

For the decoration

100g

 

Fresh raspberries

15g

 

Flaked almonds
Utensils
23cm loose bottomed tin

Sieve

Large bowl

Rolling pin

Fork

Parchment paper

Baking beans

Spatular

Electric whisk/food mixer

Wire rack or cooling rack