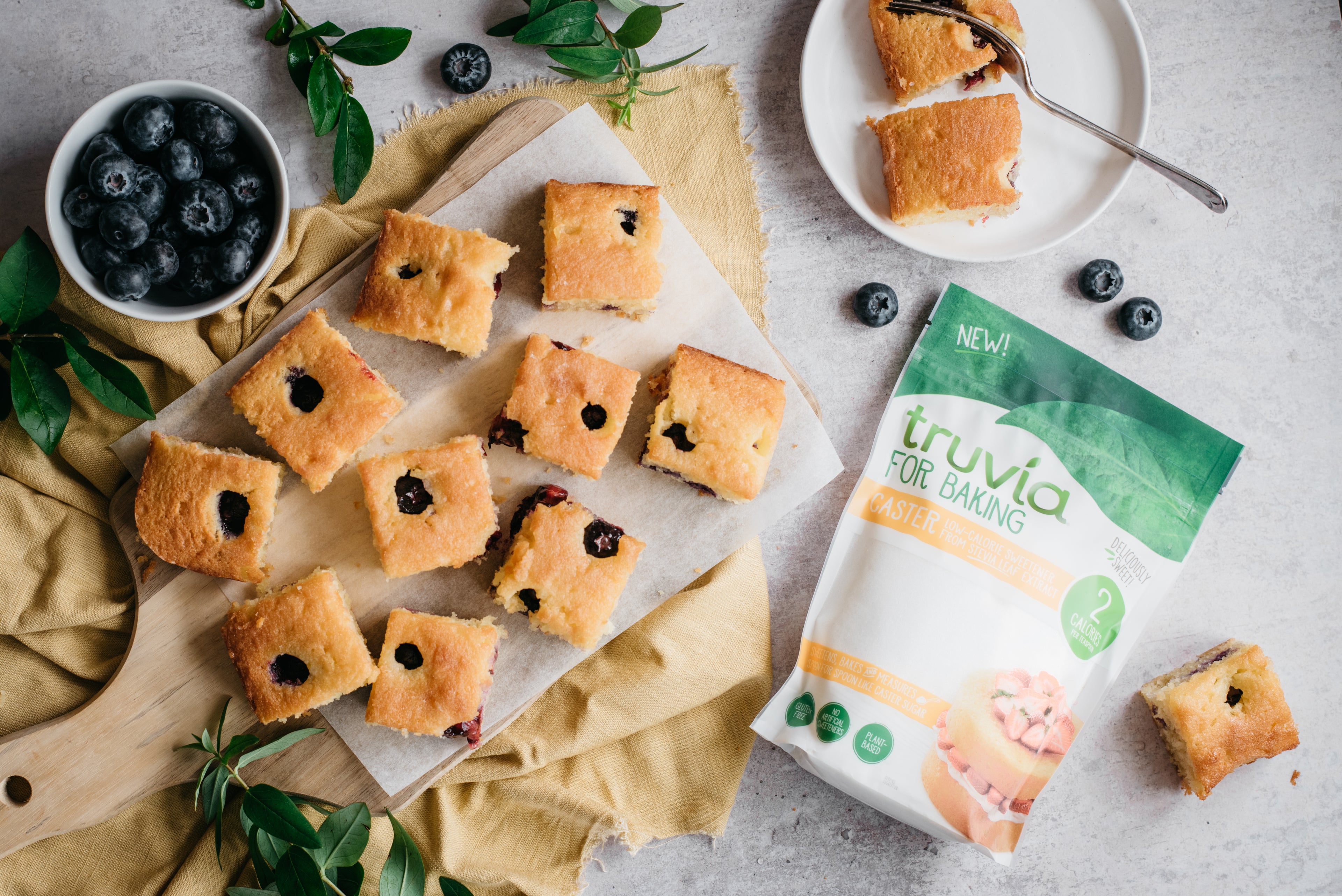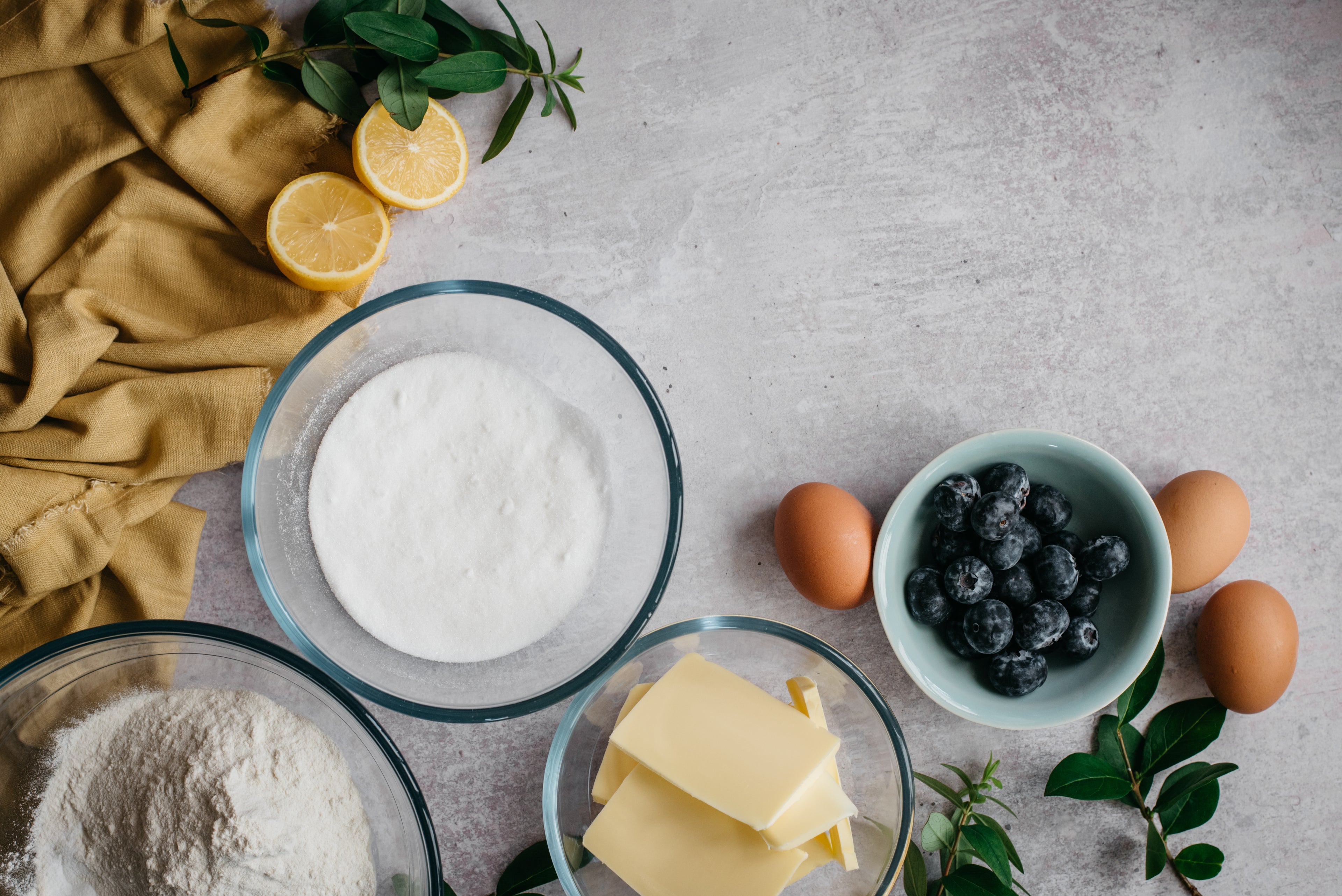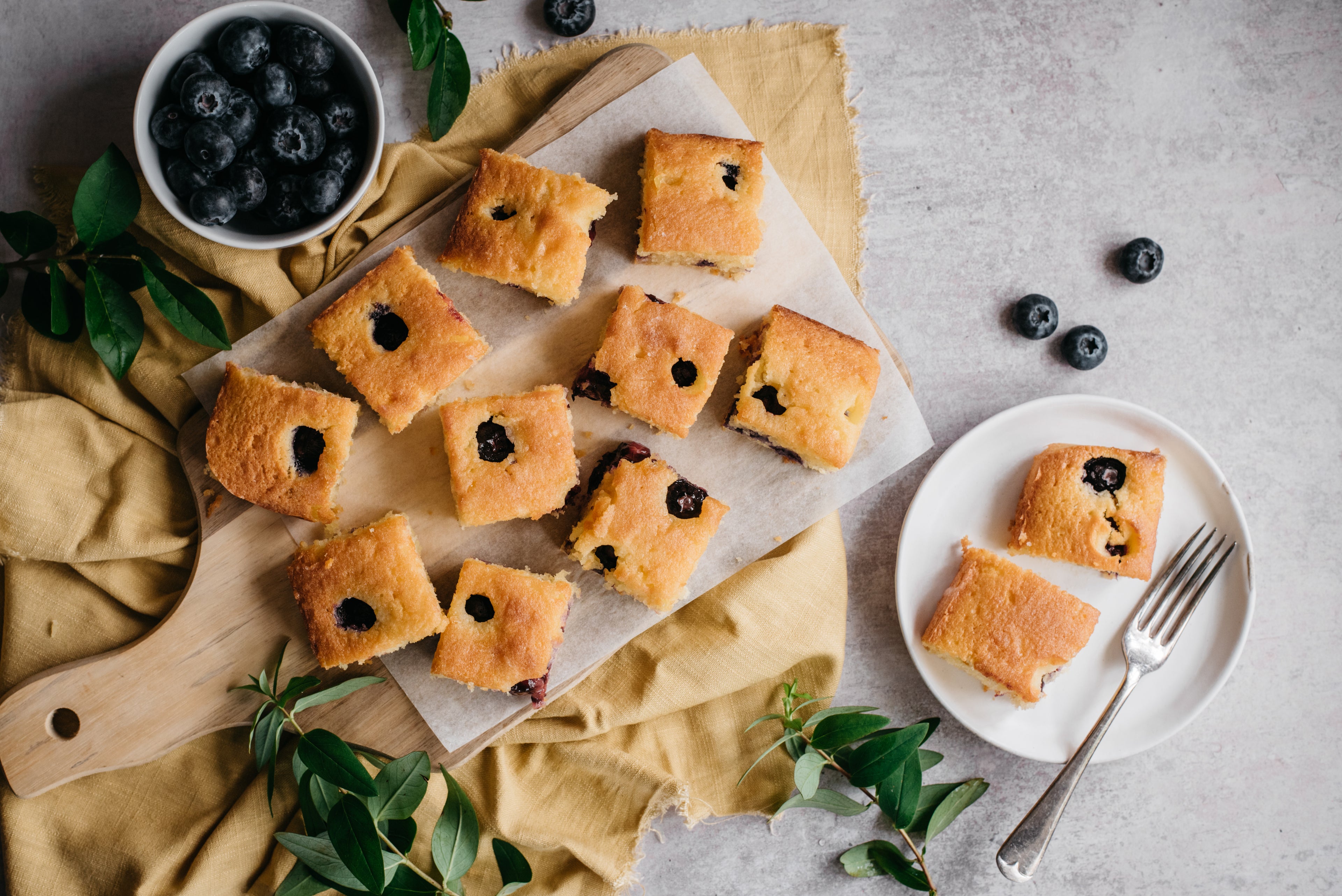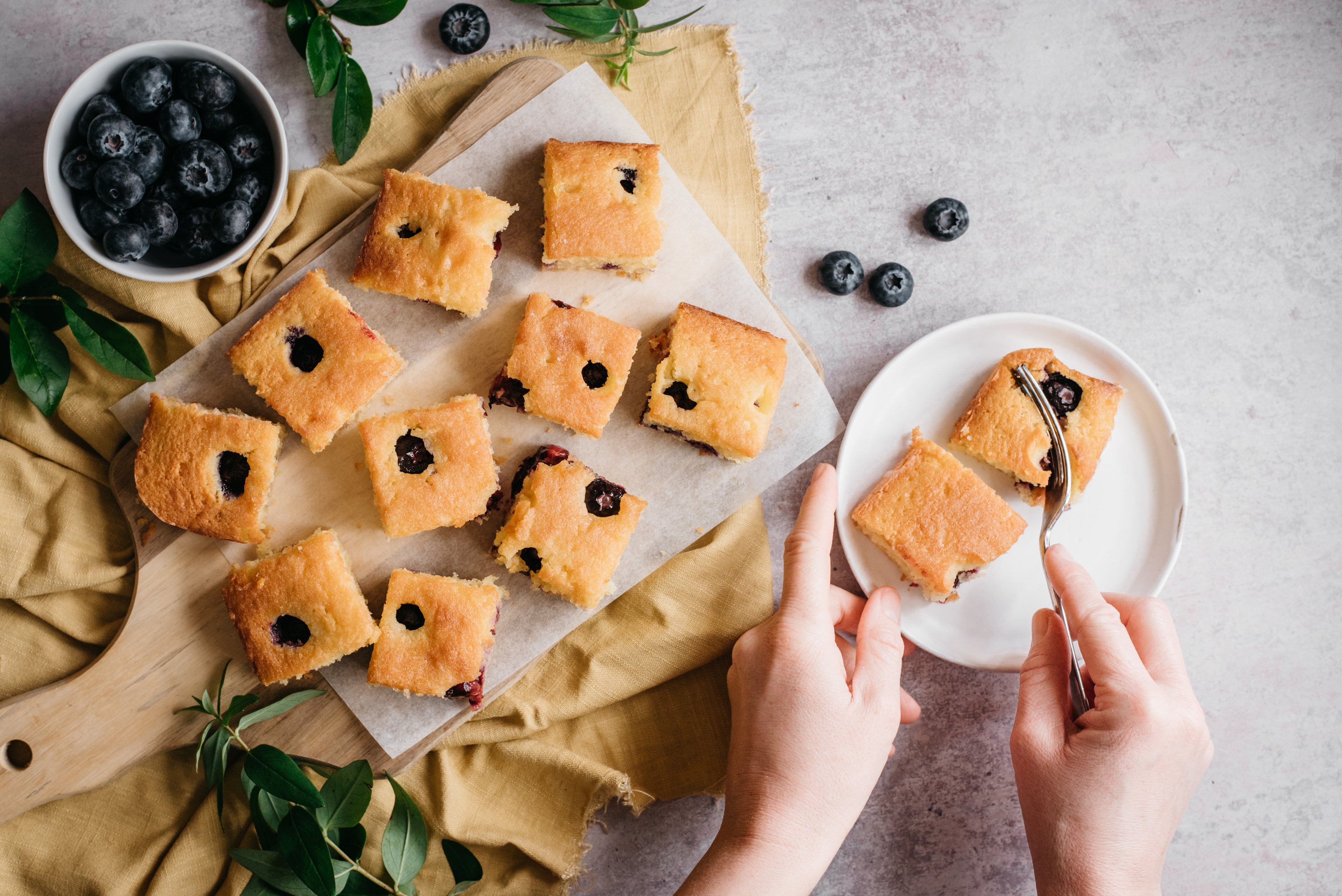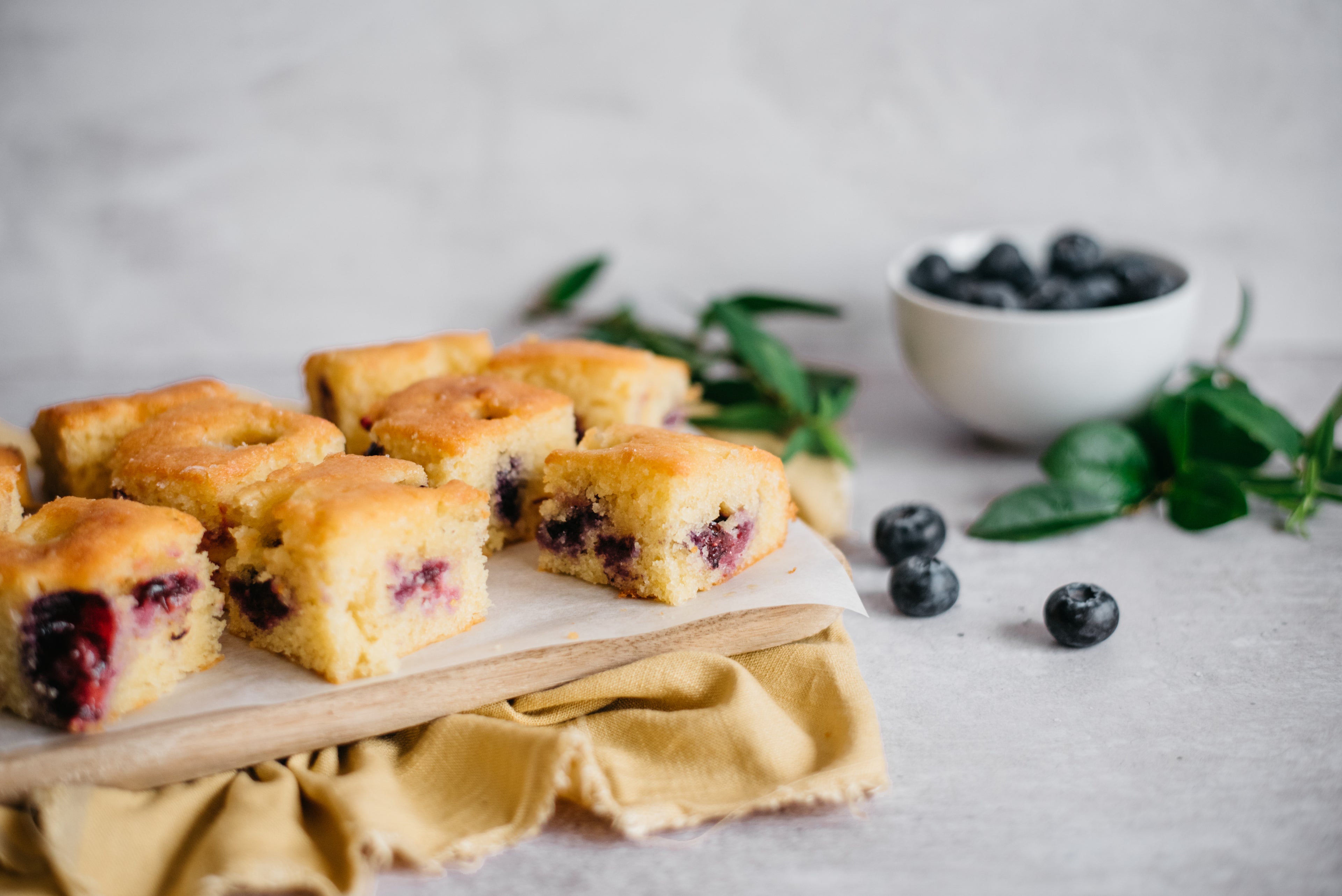 About our Low Sugar Lemon and Blueberry Traybake
A gorgeously moist and zesty low sugar lemon and blueberry traybake- this is super easy to make and sure to be a crowd pleaser!
Sshhh we've got a secret ingredient, Truvia for Baking - Caster, a plant-based sweetener. Truvia For Baking Caster sweetens, bakes and measures spoon-for-spoon like caster sugar. So if you're looking to reduce your sugar intake this is a super easy, sugar free swap.
Low sugar lemon and blueberry traybake baking tips
Not baked with Truvia for Baking before? We've got some handy hints & tips for you.
Did you know cold eggs are harder to aerate and are also at greater risk of curdling your cake mix? Try to remove your eggs from the fridge a couple of hours (alongside the butter) before baking. If you forget don't panic - fill a small bowl with warm water, the temperature should feel like a warm bath (you don't want to end up accidentally cooking the eggs!). Carefully place the eggs still in shells in the water and let them sit for 5-10 minutes before removing and drying prior to use.
As soon as the cake is cool, wrap well or pop in an airtight container to avoid it drying out.
Sweet enough for you? If you enjoyed this recipe, we think you'll love our low sugar carrot cake or if you're looking for more low sugar recipes, head to our low sugar baking hub.
Method
Step 1:

Preheat the oven to 160°C fan (180°C conventional, gas mark 4). Grease and base line a 8" square cake tin with non-stick baking parchment.

Step 2:

Measure all the cake ingredients apart from the blueberries into a large bowl and beat together until thoroughly blended. Put the blueberries in a small dessert bowl, add ½ tsp flour and roll around until they are all coated (this will help stop them all sinking as much). Add half the blueberries to the cake mix and gently fold in. Spoon the mixture into the prepared tin and smooth the surface. Sprinkle over the remaining blueberries and gently press half into the mixture.

Step 3:

Bake in the pre-heated oven for 30 mins or until risen and a skewer inserted in the centre comes out clean. Whilst the cake is baking make the drizzle: combine the lemon juice and Truvia for baking in a mug or small bowl. Gently heat for a few seconds in the microwave, stirring in between heating bursts only just until the Truvia has dissolved.

Drizzle tip

If you don't have a microwave you could make the drizzle in a small bowl held over a pan of hot or boiling water on the hob.

Step 4:

Once baked remove the cake from the oven and pour over the drizzle gently and slowly (or 'paint' over using a pastry brush). Leave in the tin until cool before removing and cutting into squares.
Ingredients
For the cake

175g

 

Unsalted butter (softened)

160g

 

Truvia for Baking - Caster

3

 

Medium Eggs

175g

 

Allinson's self-raising flour

1 tsp

 

Baking Powder

1

 

Lemon (zest)

100g

 

Blueberries

For the drizzle

2 tbsp

 

Truvia for Baking - Caster

5 tbsp

 

Lemon Juice
Utensils
8in square tin

Baking parchment

Large bowl

Mixing bowl

Spatula
Nutritional Information
per 48g
142cal

 

Energy

9.9g

 

Fat

5.9g

 

of which Saturates

17g

 

Carbohydrates

1g

 

of which Sugars

2.4g

 

Protein

0.23g

 

Salt
We'd love a slice of advice.
Was it yum? Did the recipe work well? Did you customise the recipe?
Ingredients
For the cake

175g

 

Unsalted butter (softened)

160g

 

Truvia for Baking - Caster

3

 

Medium Eggs

175g

 

Allinson's self-raising flour

1 tsp

 

Baking Powder

1

 

Lemon (zest)

100g

 

Blueberries

For the drizzle

2 tbsp

 

Truvia for Baking - Caster

5 tbsp

 

Lemon Juice
Utensils
8in square tin

Baking parchment

Large bowl

Mixing bowl

Spatula
Nutritional Information
per 48g
142cal

 

Energy

9.9g

 

Fat

5.9g

 

of which Saturates

17g

 

Carbohydrates

1g

 

of which Sugars

2.4g

 

Protein

0.23g

 

Salt