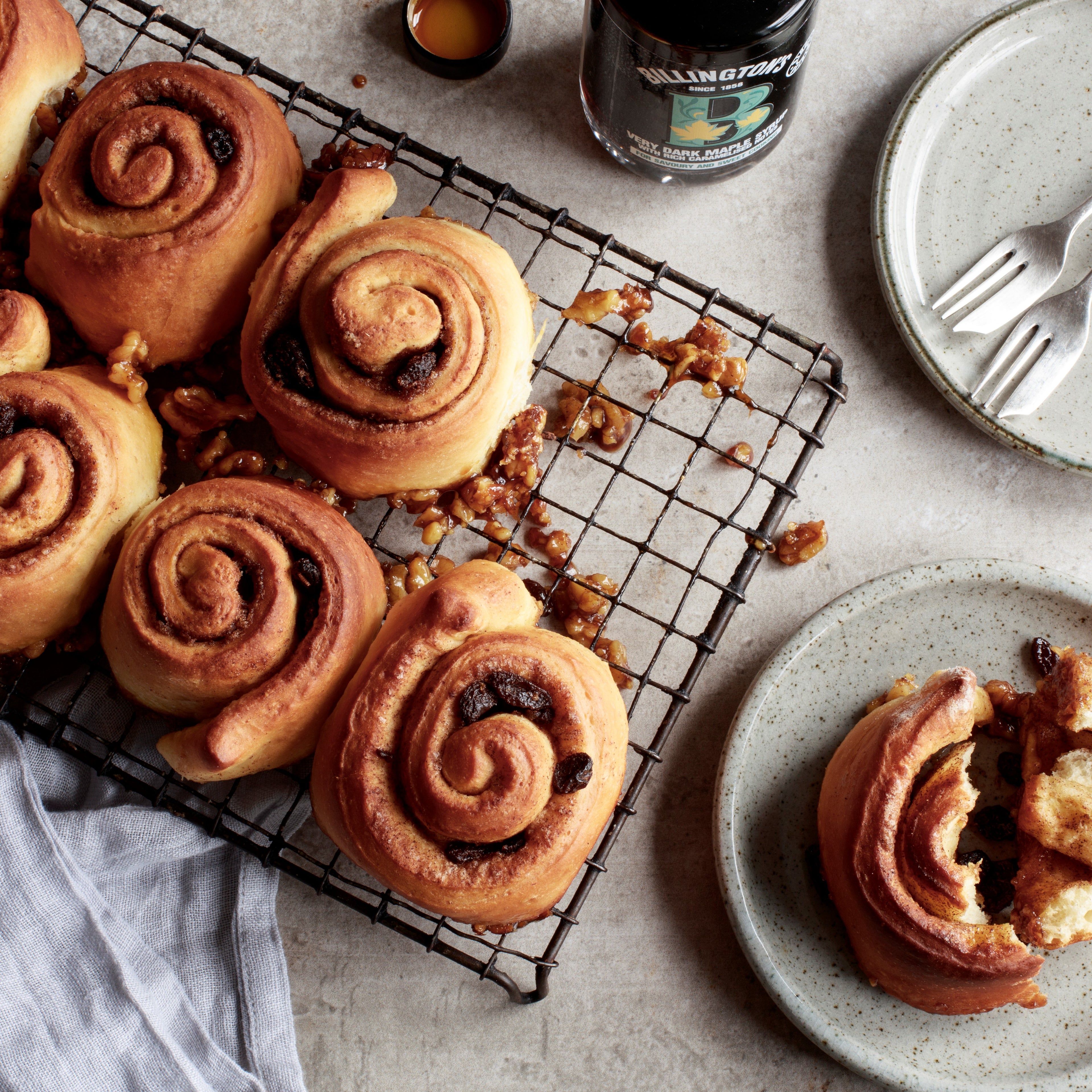 About the bake
Picture this - warm sticky buns straight from the oven and a hot cup of tea or coffee... if this sounds like the perfect time out for you, that you deserve then what are you waiting for? This Maple & Cinnamon Sticky Buns recipe is a must try recipe, give it a bake - you won't regret it.
Lashings of dark maple syrup and Billington's Light Muscovado Sugar, folled into squidgy sticky rolls, baked with sprinkles of chopped walnuts - these buns are a staple for chilly autumn evenings.
Love sweet, spicy dough? Our Cinnamon & Raisin Swirl bread, is a family favourite and can be sliced to enjoy whenever you fancy.
Method
Step 1:

To make the dough: Bring the milk to the boil and then remove from the heat and stir in the butter until melted. Set aside to cool until luke-warm.


Step 2:

In a large bowl combine the flour, caster sugar, yeast and salt. Mix to combine.


Step 3:

Mix the egg into the cooled wet ingredients and then add this to the dry ingredients. Mix well with a wooden spoon or a stand mixer.


Step 4:

Either use the dough hook on a stand mixer and mix until smooth and elastic or knead on a floured surface for 10 minutes.


Step 5:

Lightly oil the mixing bowl and place the dough back inside. Cover loosely with a clean tea towel or cling film and set aside to rise for 2 hours or until doubled in size. This may take longer than two hours depending on the warmth of your kitchen and because this dough is enriched and will rise more slowly.


Step 6:

Make the filling by combining the cinnamon, sugar and raisins in a seperate bowl.


Step 7:

Punch down the dough and knead to knock out the air, then split the dough in two. Roll out on a lightly floured surface and stretch each piece to form a 25 x 35cm rectangle.


Step 8:

Melt the butter for the sauce before bushing half all over each rectangle and sprinkle half the filling mixture over each. Tightly roll each rectangle up from one of the long ends to get a thick log, and gently pinch the ends together to seal. Cut each log into 8 pieces.


Step 9:

Brush two 20 x 30cm deep baking trays with melted butter. Mix the maple syrup and sugar into the remaining butter, then pour over the bottom of each baking tray, Sprinkle with the walnuts. Place the rolls on the tray, leaving a gap of at least 2cm around each roll. Cover with lightly oiled cling film, then keep in a warm place for until lightly risen.


Step 10:

Preheat oven to 180°C/fan 160°C/gas 4. Remove the cling film from the tray, then bake for 30 mins until the buns are lightly browned and feel firm. Turn the buns over to serve and serve warm.

Ingredients
For the Dough

500g

 Allinson's very strong white bread flour

1 1/2 tsp

 

Salt

75g

 Billington's Unrefined Golden Caster Sugar

50g

 

Unsalted butter (softened)

7g

 Allinson's Easy Bake Yeast

1

 

Large free range egg(s) (lightly beaten)

275ml

 

Whole milk

For the Filling

2 tsp

 

Ground cinnamon

85g

 Billington's light muscovado sugar

100g

 

Raisins

For the Sauce

125g

 

Unsalted butter (melted)

125ml

 Billington's very dark maple syrup

120g

 

Walnuts (chopped)

50g

 Billington's light muscovado sugar
Utensils
Saucepan

Large mixing bowl

Wooden spoon

Stand mixer with dough hook (optional)

Tea towel/cling film

Rolling pin

2x 20 x 30cm deep baking trays
Recipe Reviews
Fabulous, made them for my mum to make her smile.
I love this recipe! My wife and my kids ate these. Thought I'd have some leftover for the week but I was wrong!
Very nice recipe, although mine did not need 30 mins cooking. They did need a good hour after putting in the trays to puff up enough, but they are worth the wait.
Ingredients
For the Dough

500g

 Allinson's very strong white bread flour

1 1/2 tsp

 

Salt

75g

 Billington's Unrefined Golden Caster Sugar

50g

 

Unsalted butter (softened)

7g

 Allinson's Easy Bake Yeast

1

 

Large free range egg(s) (lightly beaten)

275ml

 

Whole milk

For the Filling

2 tsp

 

Ground cinnamon

85g

 Billington's light muscovado sugar

100g

 

Raisins

For the Sauce

125g

 

Unsalted butter (melted)

125ml

 Billington's very dark maple syrup

120g

 

Walnuts (chopped)

50g

 Billington's light muscovado sugar
Utensils
Saucepan

Large mixing bowl

Wooden spoon

Stand mixer with dough hook (optional)

Tea towel/cling film

Rolling pin

2x 20 x 30cm deep baking trays