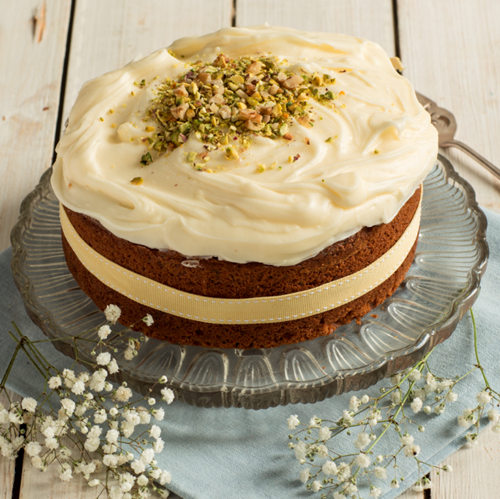 About the bake
Mary Berry carrot cake recipe is a wonderful version of this classic cake. A full-fat cream cheese frosting is the traditional topping, but here a low-fat soft cheese is suggested, and it tastes equally as good. If you prefer not to have frosting at all, spread with clear honey on top of the cake while it is hot from the oven, and sprinkles with chopped walnuts.
Method
Step 1:

Lightly grease an 18cm (7 inch) cake tin and line the bottom with baking parchment.

Step 2:

Combine all the cake ingredients in a large bowl. Mix well until thoroughly blended. Turn into the prepared cake tin and level the surface.

Step 3:

Bake in a preheated oven at 180°C (fan 170°C, gas mark 4) for about 50 minutes until the cake is well risen, firm to the touch, and beginning to shrink away from the side of the tin.

Step 4:

Leave to cool in the tin for a few minutes. Turn out on to a wire cooling rack, peel off the lining paper and leave to cool completely.

Step 5:

To make the topping mix together the cheese, honey and lemon juice. Spread on top of the cake and sprinkle the walnuts and pistachio nuts over the top. Store in the refrigerator until ready to serve.
Ingredients
150ml

 

Sunflower oil (plus extra for greasing)

250g

 

Self-raising wholemeal flour

2 tsp

 

Baking powder

150g

 Billington's Unrefined Light Muscovado Sugar

60g

 

Walnuts (chopped)

125g

 

Carrot(s) (grated)

2

 

Banana(s) (ripe)

2

 

Egg(s) (free range)

1 tbsp

 

Milk (whole)

For the cream cheese topping

250g

 

Low calorie cream cheese (at room temperature)

2 tsp

 

Honey

1 tsp

 

Juice of one whole lemon

 

Walnuts (chopped)

 

Pistachio nuts (finely chopped)
Recipe Reviews
Hi lovely cake made it yesterday and can't eat it all lol so just one question can you freeze it?? Xx
Delicious. My husband was particularly pleased with it. My son and l had fun making it. We didn't decorate it.
Yuk! Needs half a banana not 2,Needs more carrot, more sugar, Some cinnamon and maybe some raisins . Basically a banana cake with no flavour!
Very dense and heavy. Doesn't taste like carrot cake, just banana. Not keen on the topping either.
haven't tried it yet because its in the oven.
Easy to make and we have just popped it in the oven.
Ingredients
150ml

 

Sunflower oil (plus extra for greasing)

250g

 

Self-raising wholemeal flour

2 tsp

 

Baking powder

150g

 Billington's Unrefined Light Muscovado Sugar

60g

 

Walnuts (chopped)

125g

 

Carrot(s) (grated)

2

 

Banana(s) (ripe)

2

 

Egg(s) (free range)

1 tbsp

 

Milk (whole)

For the cream cheese topping

250g

 

Low calorie cream cheese (at room temperature)

2 tsp

 

Honey

1 tsp

 

Juice of one whole lemon

 

Walnuts (chopped)

 

Pistachio nuts (finely chopped)