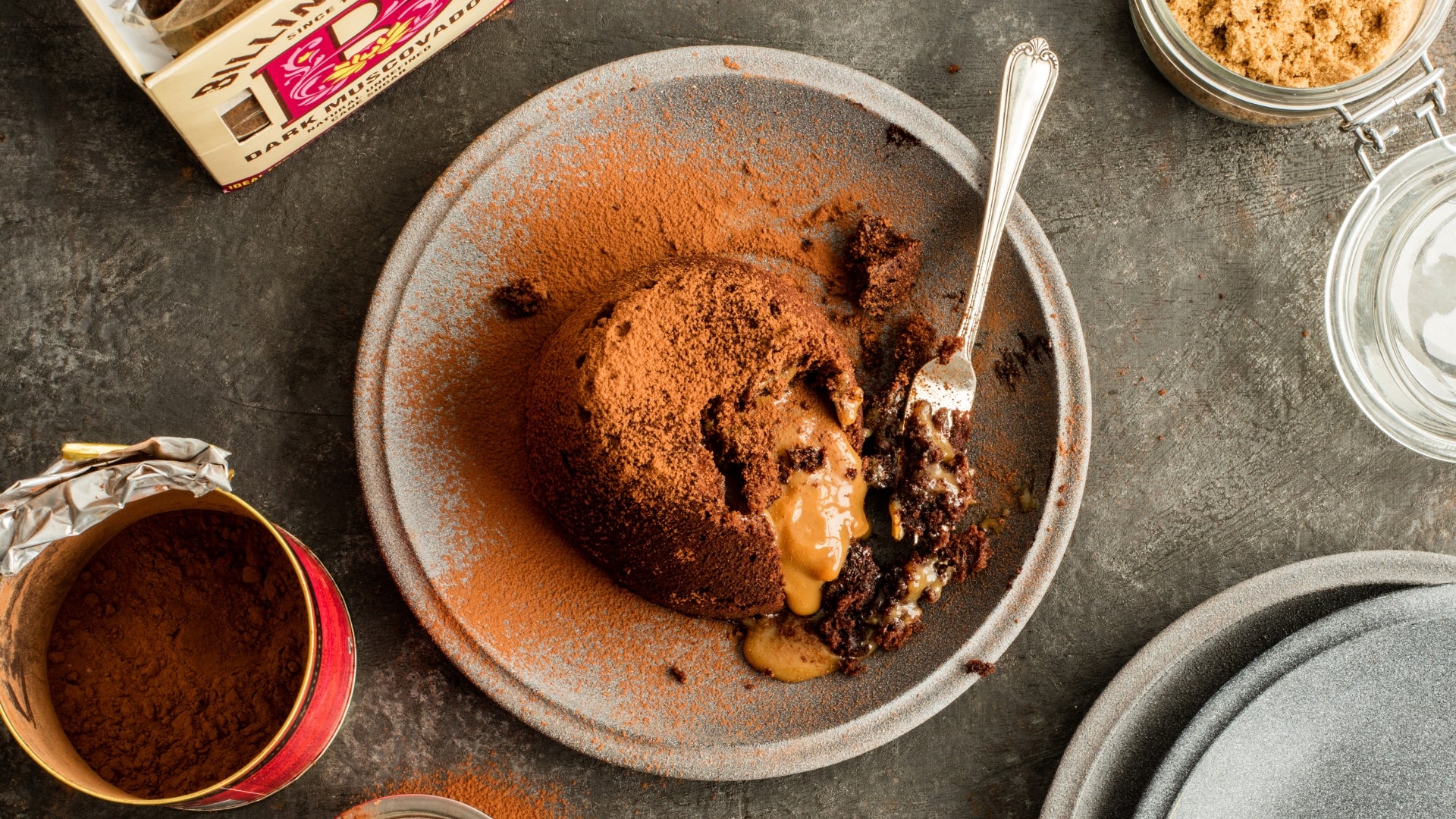 About the bake
We've got the perfect indulgent recipe for a melt in the middle pudding. A soft chocolate sponge filled with indulgent warm, gooey salted caramel made with the finest Billington's unrefined sugar. This bake has the real mmmmm factor when you take a bite. You can freeze your unbaked puds and simply bake straight from the freezer which is perfect if you're after a quick-mid week dessert for the family.
Method
Step 1:

Begin by making the caramel. In a saucepan place the butter, sugar, condensed milk, Dulce De Leche and sea salt. Heat all of the ingredients until the butter has melted.


Step 2:

Pour the caramel into a bowl and place in the fridge to chill and thicken for a few hours.


Step 3:

To make the chocolate sponges; preheat your oven to 200ºC/180ºC fan/Gas 6. Grease 6 175ml/6oz dariole moulds generously with butter


Step 4:

Melt the butter and chocolate in a large bowl over a pan of simmering water. Stir in the vanilla and set aside to cool.


Step 5:

Whisk the eggs, egg yolk and sugar until pale and very thick.


Step 6:

Gently fold the flour into the mixture.


Step 7:

Gently fold in the chocolate mixture until completely one colour.


Step 8:

Divide the batter between the prepared moulds, keep aside a couple of spoonfuls of mixture for each of the puddings.


Step 9:

Using the back of a teaspoon, make a well into the centre of the pudding and spoon a little of the caramel mixture into the pudding. Top with the remaining chocolate batter to seal the caramel inside. Repeat for each of the puddings.


Step 10:

Bake in the preheated oven for 12 minutes or 15 minutes if you are baking straight from frozen.


Step 11:

Remove from the oven and rest for 40 seconds before turning out the puddings onto individual plates.


Step 12:

Serve immediately with pouring cream or drizzle with extra leftover caramel to make it even more indulgent.


Step 13:

If you love this recipe why not try our peanut butter melt in the middle pudding next.

Ingredients
For the Sponge

150g

 

Unsalted butter (softened)

150g

 

Dark chocolate

2 tsp

 Nielsen-Massey Vanilla Extract

3

 

Large free range egg(s)

3

 

Free range large egg yolk(s)

150g

 Billington's Unrefined Golden Caster Sugar

150g

 Allinson's Plain White Flour

For the Salted Caramel

100g

 

Unsalted butter (softened)

100g

 Billington's Unrefined Light Muscovado Sugar

397ml

 

Condensed milk

397ml

 

Dulce de leche

1 tsp

 

Sea salt
Utensils
6x 175ml/6oz dariole (pudding) moulds

Bowl

Whisk

Small saucepan
Nutritional Information
per 246g
1177cal

 

Energy

56g

 

Fat

33g

 

of which Saturates

147g

 

Carbohydrates

129g

 

of which Sugars

14g

 

Protein

1.4g

 

Salt
Recipe Reviews
Hi there, this looks gorgeous and want to try but wonder if it is possible to make as a large pudding? If so, what are the timings, etc? Thanks and Merry Christmas! Ruth Grant
Hello,
I see no reason why this wouldn't work. We do a similar large pudding, so I would recommend using the timings from this recipe.
https://www.bakingmad.com/recipe/terry-s-chocolate-orange-melt-in-the-middle-puddin
Happy Baking!
Hi these look amazing thinking of having them as an alternative to Christmas pudding can you tell me at what stage do you freeze them many thanks Michelle
Hello,
You would freeze them after step 9, so that when you are ready to bake you can bake them straight from the freezer.
Happy Baking!
Looks great! Can't wait to try it but I'm already frustrated that the ingredients list doesn't include the powder that is dusted over the finished creation. What is it please?
Hello,
That is cocoa powder,
Happy Baking!
A real showstopper! Lovely chocolate sponge with lots of molten salted caramel.
The recipe makes a lot of salted caramel - I made another 6 puddings and put them in the freezer.
Timings for cooking are spot on.
Absolutely AMAZING LOVED IT !!! X
Ingredients
For the Sponge

150g

 

Unsalted butter (softened)

150g

 

Dark chocolate

2 tsp

 Nielsen-Massey Vanilla Extract

3

 

Large free range egg(s)

3

 

Free range large egg yolk(s)

150g

 Billington's Unrefined Golden Caster Sugar

150g

 Allinson's Plain White Flour

For the Salted Caramel

100g

 

Unsalted butter (softened)

100g

 Billington's Unrefined Light Muscovado Sugar

397ml

 

Condensed milk

397ml

 

Dulce de leche

1 tsp

 

Sea salt
Utensils
6x 175ml/6oz dariole (pudding) moulds

Bowl

Whisk

Small saucepan
Nutritional Information
per 246g
1177cal

 

Energy

56g

 

Fat

33g

 

of which Saturates

147g

 

Carbohydrates

129g

 

of which Sugars

14g

 

Protein

1.4g

 

Salt