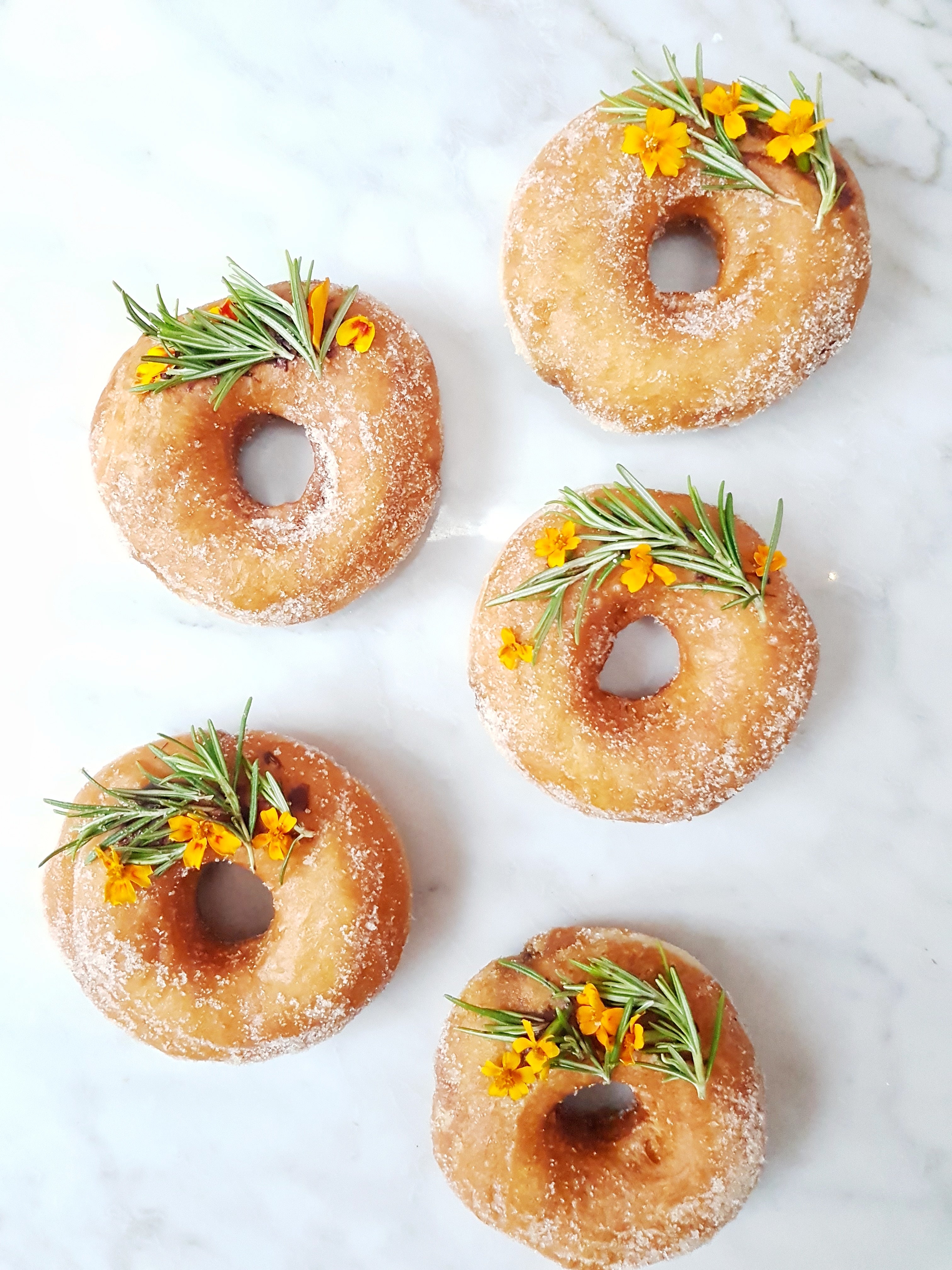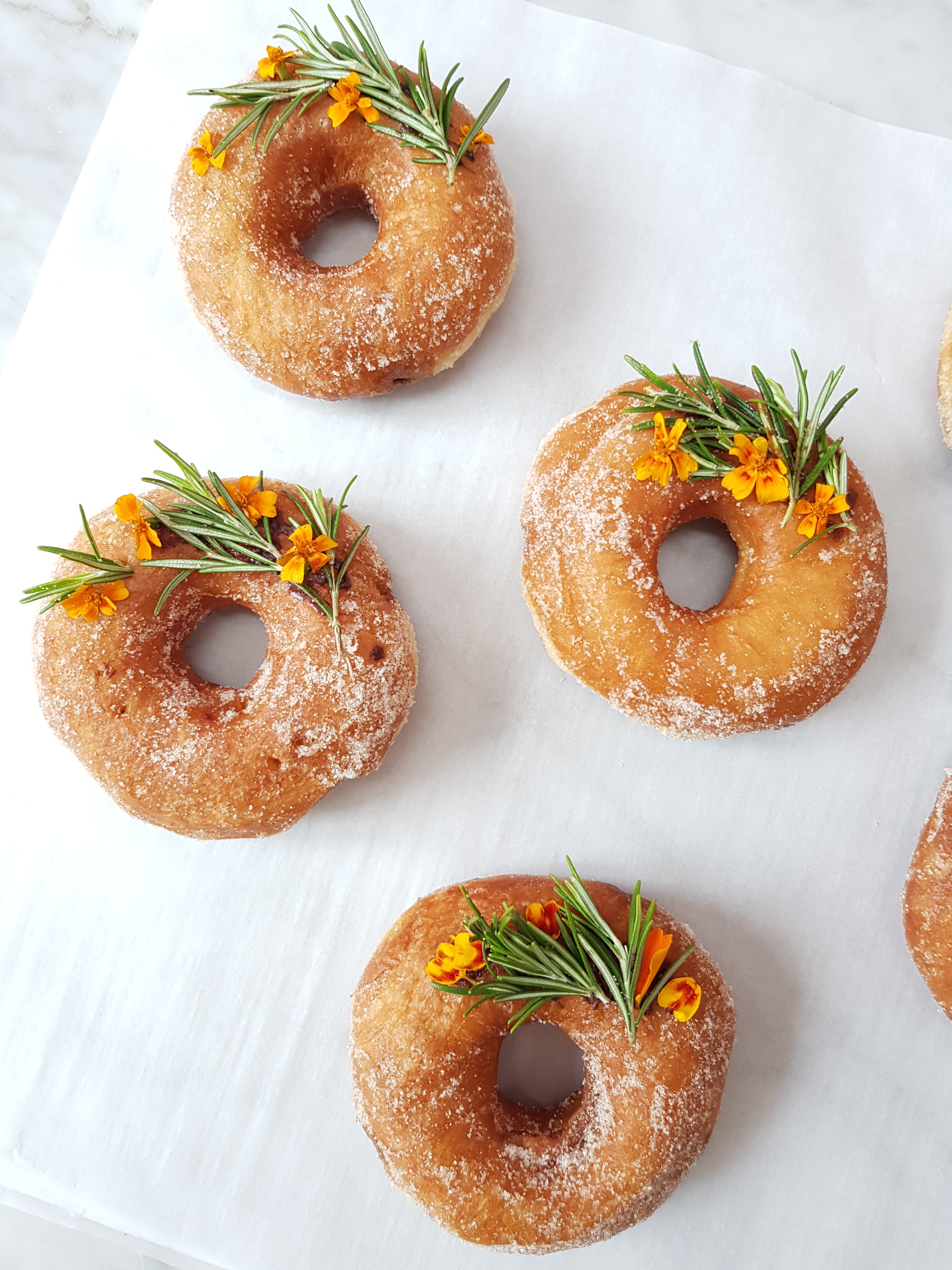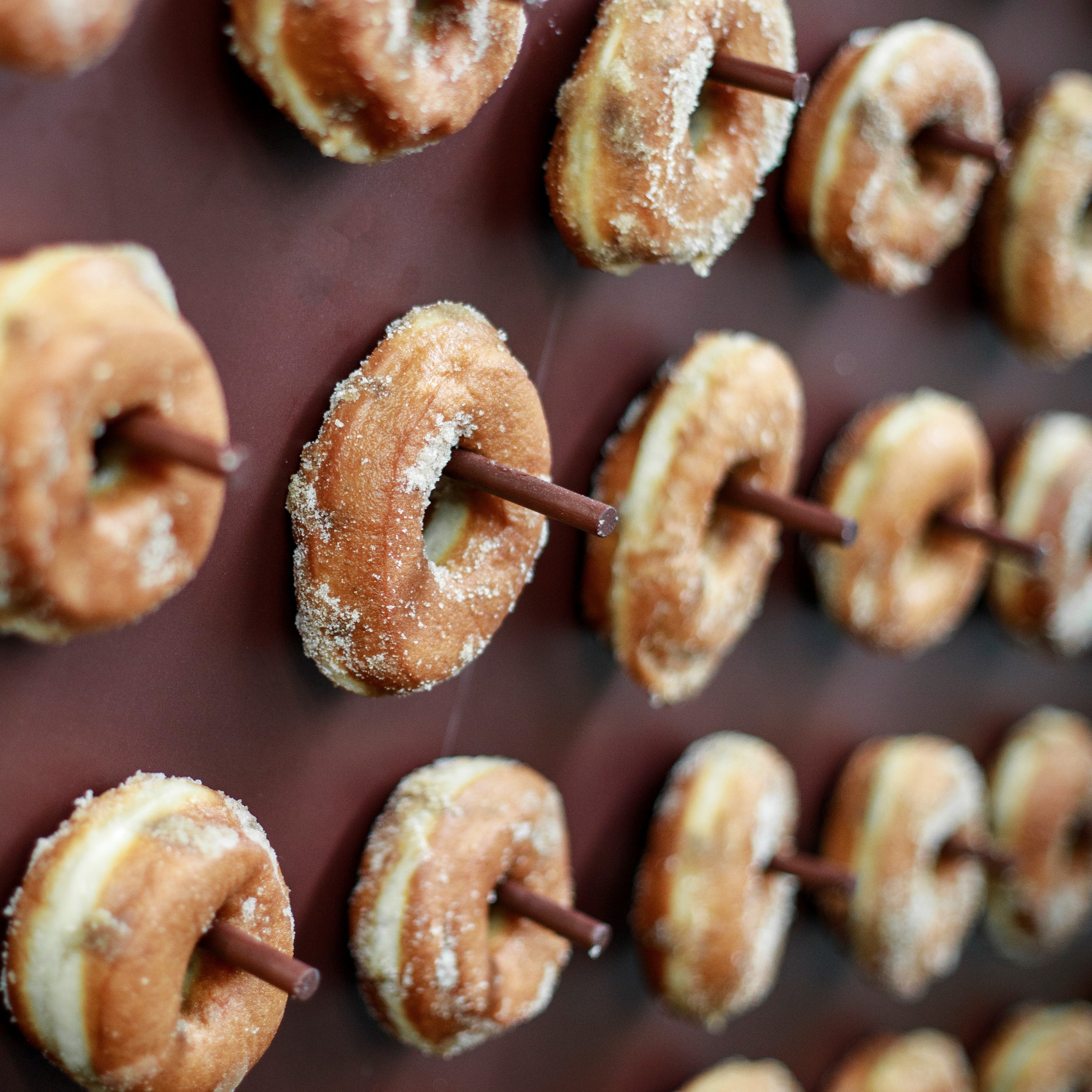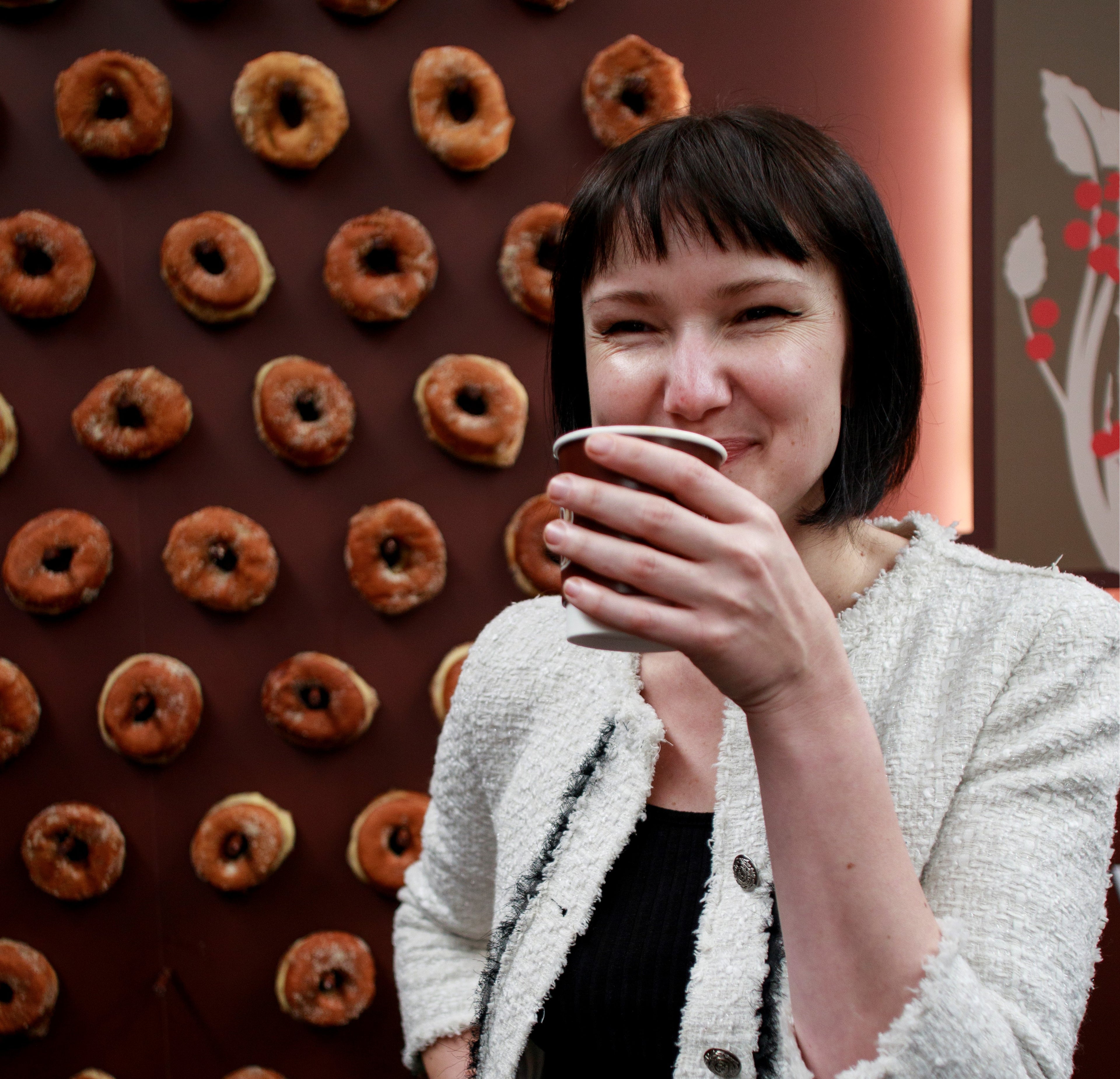 About the bake
These salted caramel doughnuts are made with Billington's molasses which bring a rich and tasty depth of flavour. Our friend Lily Vanilli has created this recipe for us and has dressed these with a sprig of rosemary which not only looks beautiful, but brings a delicate and lovely scented flavour to the bake. Treat yourself, these are well worth it, but don't forget to save us one while you're at it.
Method
Step 1:

Combine the sugar, yeast and warm water in the bowl of your mixer and just leave it to sit for around 10 mins, or until its starting to bubble very slightly.


Step 2:

Now add your flour and eggs and transfer to the mixer with the dough hook attached and mix (or, if doing by hand, knead) well for 5 minutes.




Step 3:

Now add the salt and start to slowly add your soft butter, mixing (or kneading) to incorporate after each addition, until your dough is glossy and smooth.


Step 4:

Now cover the lid of the bowl with cling film and 'prove' (let the dough rise) in a warm place until it has doubled in size (approx 2 hours).


Temperature Tip

If your kitchen is cold, put the bowl somewhere warm, like by the radiator or oven for this stage, but not too close or directly on top - you want it to be warm but not hot hot.

Step 5:

Heat a saucepan of oil up to 170ºc


Step 6:

Once doubled in size, portion out your dough into 60-65 g pieces, and shape these into even balls and place, with plenty of space between each one on a baking tray lined with baking paper. Cover the tray with cling film and you now want to 'prove' these again. In my kitchen I put them tray in my cold oven or a cupboard, with a bowl of steaming water on the bottom shelf.


Step 7:

Leave for 30 mins or until doubled in size.




Step 8:

Now cut a 2cm hole in the centre with a cookie cutter (you can dip this in oil for a smoother cut)


Step 9:

fry your donuts for 2 mins on each side (set a timer!)

Then pat down with kitchen paper and roll in more Billington's caster sugar.


Step 10:

Set aside to cool.

The caramel keeps really well so I suggest making it ahead if you can, as you will need to let it cool completely before you fill your doughnuts.


Step 11:

To make your caramel, put your Sugar and molasses in a big, heavy bottomed saucepan, over a medium high heat until all the sugar has dissolved and turned a beautiful caramel colour. (this will take a while, keep an eye on it)


Step 12:

Now remove from the heat and slowly add the cream, very gradually, stirring to mix everything evenly as you go.


Step 13:

Remove from the heat and allow to cool, when its cool add the salt - you can do this gradually and to taste, I like mine really salty.

Store in the fridge for a week, airtight.


Step 14:

This caramel is really versatile - you can use to fill these donuts or drizzle onto a cake, the top of a brownie before or after baking it, sandwiched in a cookie or even just over ice cream. Feel free to experiment and use it with any of your own bakes. It would be delicious with banana bread!


Clumping?

If you accidentally add too much cream & it clumps, don't panic, just return it to the heat and gently stir to re dissolve the sugar, simmer for a little while and continue from there.

Step 15:

Once your sugar-rolled donuts have cooled, use the back of a teaspoon to make a little hole in either side and use a piping bag fitted with a round nozzle to pipe in some of the molasses caramel and enjoy!



Alternatively, if piping is too much fuss, you can tear up your donuts and dip them in caramel as you go.

Ingredients
For the Doughnuts

60g

 Billington's Unrefined Light Muscovado Sugar

240ml

 

Water (warm)

10g

 Allinson's Easy Bake Yeast

4

 

Eggs

750g

 Allinson's plain white flour

10g

 

Salt

125g

 

Unsalted butter (softened)

For the Molasses Salted Caramel

300g

 Billington's Unrefined Golden Caster Sugar

60g

 Billington's Unrefined Molasses Sugar

250ml

 

Double cream

1.25 tsp

 

Malden sea salt
We'd love a slice of advice.
Was it yum? Did the recipe work well? Did you customise the recipe?
Ingredients
For the Doughnuts

60g

 Billington's Unrefined Light Muscovado Sugar

240ml

 

Water (warm)

10g

 Allinson's Easy Bake Yeast

4

 

Eggs

750g

 Allinson's plain white flour

10g

 

Salt

125g

 

Unsalted butter (softened)

For the Molasses Salted Caramel

300g

 Billington's Unrefined Golden Caster Sugar

60g

 Billington's Unrefined Molasses Sugar

250ml

 

Double cream

1.25 tsp

 

Malden sea salt