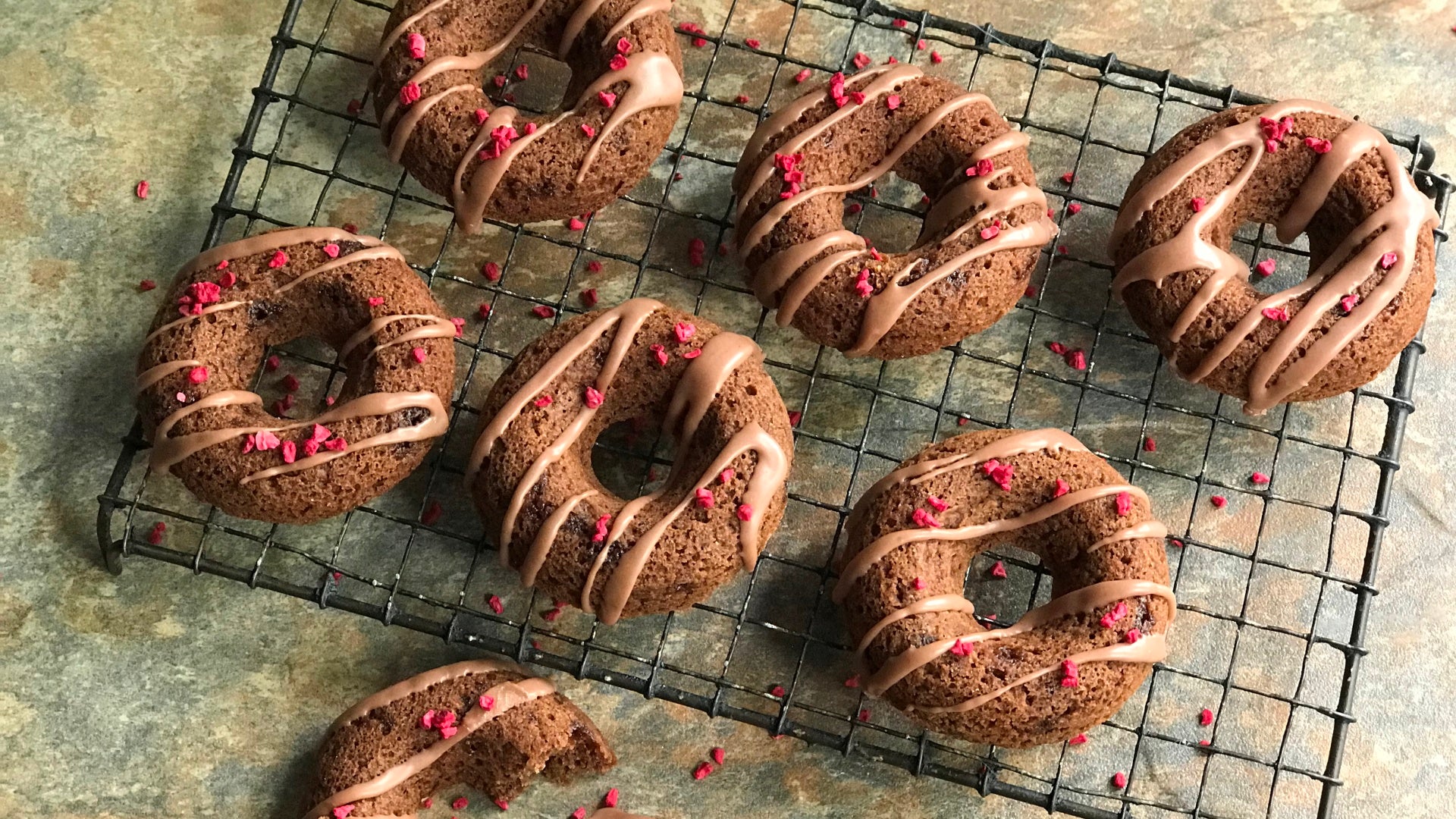 About the bake
On the hunt for the perfect gluten free doughnut? We've got you covered! Our baked gluten free & vegan chocolate doughnut is the best way to satisfy your doughnut cravings.
If you enjoyed these, we think you'll like our baked gluten free lemon doughnuts too!
Method
Step 1:

Pre-heat your oven to 180°C.


Step 2:

Make flax seeds 'eggs' by adding 4tbsp of warm water to 2 tbsp of ground flax seeds. Leave to onside to activate.


Step 3:

Melt the coconut oil and mix with the dark muscovado sugar.


Step 4:

Add the gluten free self-raising flour, flax seed 'eggs', baking powder and cacao powder to the sugar mix.

Fold in gently.


Step 5:

Add the coconut milk until the batter is moist, between 4 to 6 tbsp.


Step 6:

Put the doughnut batter into a large piping bag, once filled cut off the end of the piping bag to create a nozzle.


Step 7:

Grease your doughnut pan with a little coconut oil, then pipe your batter into each doughnut ring. Try to fill the ring 3/4 full to allow space for the doughnuts to rise in the oven.


Top Tip

Your doughnuts will look quite oily in the pan, but this normal as it makes them lovely and crispy!

Step 8:

Bake your doughnuts for 12 minutes until they are golden brown. Leave to cool slightly before removing from the dougnut pan.


Step 9:

While your doughnuts are cooling, make the chocolate drizzle. Gently mix your icing sugar, water and cacao powder until you get a thick chocolate icing.


Step 10:

Once your doughnuts are fully cooled, drizzle the chocolate icing over them and leave to set.

Then enjoy!!

Ingredients
For the Baked Doughnuts

150g

 Billington's Unrefined Dark Muscovado Sugar

2 tbsp

 

Flax seeds (ground)

220g

 

Doves farm gluten free self-raising flour

80g

 

Coconut oil

6 tbsp

 

Coconut milk

1 tbsp

 

Cacao powder

4 tbsp

 

Warm water

1 tsp

 

Doves farm gluten free baking powder

For the Chocolate Drizzle

90g

 

Water

225g

 Silver Spoon Icing Sugar

1 tbsp

 

Cacao powder
We'd love a slice of advice.
Was it yum? Did the recipe work well? Did you customise the recipe?
Ingredients
For the Baked Doughnuts

150g

 Billington's Unrefined Dark Muscovado Sugar

2 tbsp

 

Flax seeds (ground)

220g

 

Doves farm gluten free self-raising flour

80g

 

Coconut oil

6 tbsp

 

Coconut milk

1 tbsp

 

Cacao powder

4 tbsp

 

Warm water

1 tsp

 

Doves farm gluten free baking powder

For the Chocolate Drizzle

90g

 

Water

225g

 Silver Spoon Icing Sugar

1 tbsp

 

Cacao powder