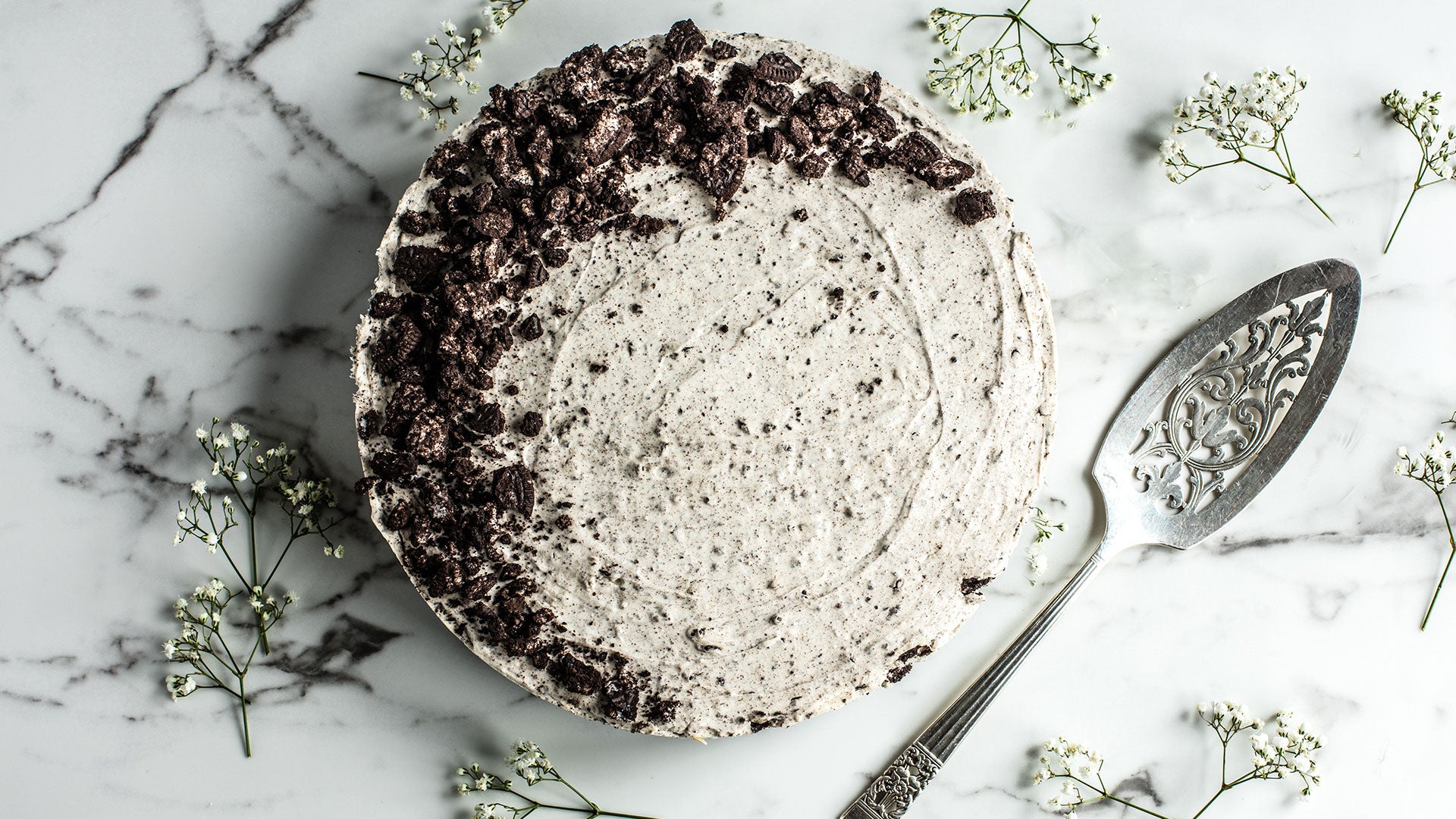 About the bake
This no bake oreo cheesecake is so delicious and quick to whip up - the test will be whether you can wait till it's set to dig in!
Method
Step 1:

Begin by preparing a 9" circular springform tin with baking paper.


Step 2:

In a food processor or a using a freezer bag and rolling pin, crush up the Oreos to a fine crumb. Mix in a bowl with the melted butter and pour into the tin, pressing down firmly. A top tip is to use a potato masher to apply the right pressure.


Step 3:

Place the tin into the fridge to chill whilst you make the filling.


Step 4:

In a clean mixing bowl, whip together the cream cheese, icing sugar and vanilla extract.


Step 5:

Reduce the speed of the mixer and add in the whipping cream. Increase the speed once again, beating the mixture to a soft peak consistency.


Step 6:

Gently fold in the Oreo crumbs. Remove the tin from the fridge and spoon in the filling, using a spatula to smooth the top.


Step 7:

Place the mixture back in the fridge to set for 4 hours or overnight.


Step 8:

Before serving, chop the remaining Oreos finely and sprinkle on the top to decorate.

Ingredients
For the Base

300g

 

Oreos (chopped finely)

60g

 

Butter (melted)

For the Filling

450g

 

Cream cheese

125g

 Silver Spoon Icing sugar

1 tsp

 Nielsen-Massey Vanilla Extract

480ml

 

Whipping cream

15

 

Oreos (chopped)

For the Topping

14

 

Oreos (chopped finely)
Utensils
9in circular springform tin

Food processor

Mixing bowl

Mixer
Recipe Reviews
I hate this it is toooo creeaamyyyyyyyyyyyy😡🫠🫥
Very tasty - made for our son's birthday. It was a bit too big, though, for 8 servings - very filling. I would use about 2/3 of the filling recipe next time. There's too much topping if it's in fine crumb as directed – I didn't know what to do with it all, and had to put some in a pot alongside. I would rather put some of this in the base mixture and then you could extend it up the sides, because the filling looked like collapsing even though I whipped it very stiffly and set overnight in the fridge. I was a wimp and left the lining paper on around the sides! You could simply break the biscuits in half for the top decoration, which would look nice. Personally I avoid palm fat so used different chocolate biscuits. Because these were not dark enough, I made some of the weight up with plain chocolate callets I had, and included vanilla mallow sweets (to simulate the filling). Can anyone recommend truly dark, cocoa-rich biscuits without palm oil? Yes, I could make my own! A note about Whipping Cream; it's hard to find. We ordered some online but sadly it arrived punctured so had to reject. Went out and had to get 2 tubs of Double and one of Single. Mixed 345ml double and 135ml single cream, using a formula I found on stackexchange. Unfortunately each tub is 300ml so had a lot left over. Another reason to put less filling in, next time. Work backwards from your cream pot size and recalculate the cream cheese and sugar.
I always use this recipe and it has never failed me. Family and friends love it - yummy
yummmm, this cheesecake was the BEST!
Best cheesecake recipe ever ....you just can't get enough! Delicious
I loved this recipe but the second time making it I did use half quantities as it makes a really big cheesecake!😋 All in all a great recipe ♥️👍
Ingredients
For the Base

300g

 

Oreos (chopped finely)

60g

 

Butter (melted)

For the Filling

450g

 

Cream cheese

125g

 Silver Spoon Icing sugar

1 tsp

 Nielsen-Massey Vanilla Extract

480ml

 

Whipping cream

15

 

Oreos (chopped)

For the Topping

14

 

Oreos (chopped finely)
Utensils
9in circular springform tin

Food processor

Mixing bowl

Mixer