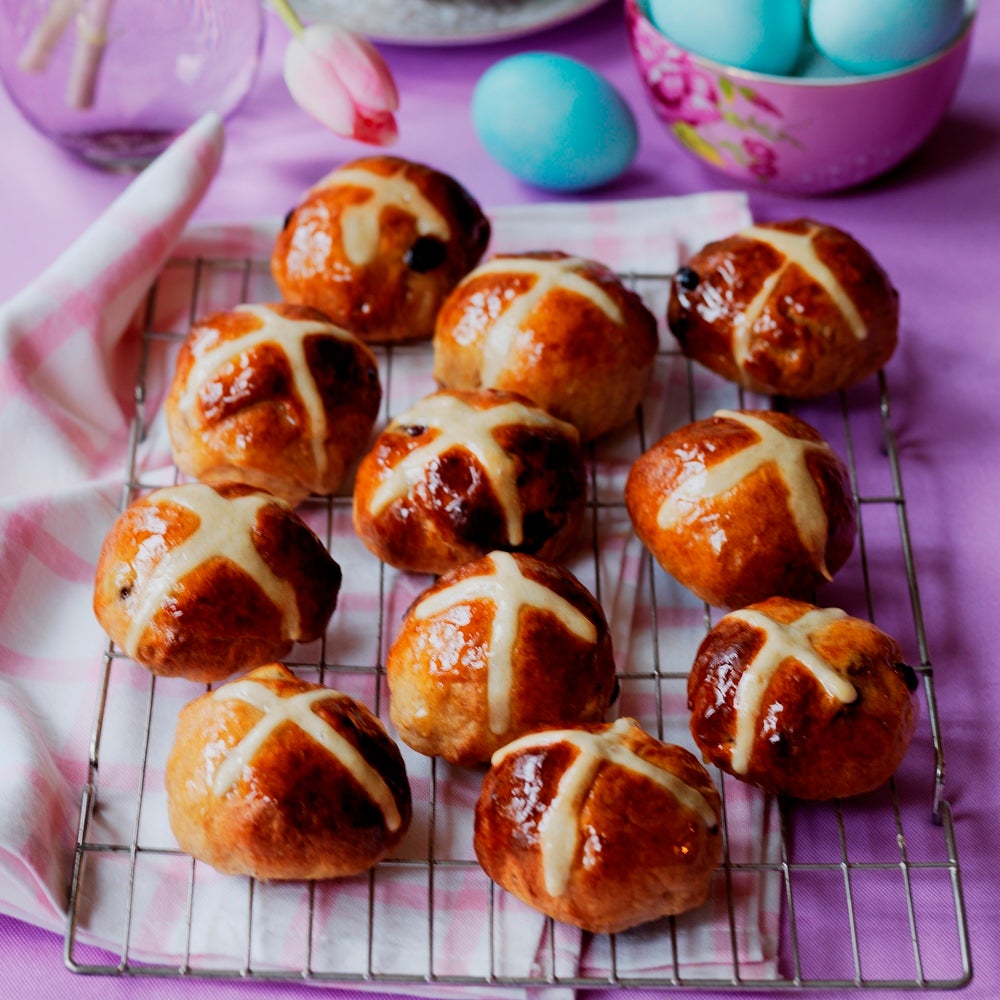 About our orange & cranberry hot cross buns recipe
A classic Easter bake, with a twist. Our Orange & Cranberry Hot Cross Buns are deliciously fruity, flavoured with dried cranberries, fresh orange zest and a sprinkling of mixed spiced for good measure. Enjoy these at Easter or simply cosying up with a cup of tea and a generous spread of butter - better go preheat your oven.
How to add a cross to a hot cross bun
There are two ways you could make your cross on top of your buns - with flour paste or with icing. If you like to keep this more traditional, simply mix your flour and water to create a thick paste, and pipe the cross shape on the top of your buns after their final rise. If you'd rather use icing to add a sweet touch to your buns, then make some thick fondant icing and pop into a piping bag before creating the signature cross shapes on top of your buns. Make sure they're completely cooled if you're using this method.
If you like to keep things simple, our standard Hot Cross Bun recipe is a staple bake at Easter time, and even yummier when made with Sourdough in our Sourdough Hot Cross Bun recipe. Calorie concious? We got you. Our Lighter Hot Cross Buns have all the taste, with some healthier swaps such as oats.
Method
Step 1:

Sieve the flour, salt and mixed spice into a large mixing bowl. Rub in the butter, using your fingertips.

Step 2:

Make a well in the middle of the flour and add the sugar, orange zest and yeast.

Step 3:

Stir in the, orange extract, egg and milk. Mix the mixture into soft dough – this might be easier to do using your hands rather than a wooden spoon.


Step 4:

Turn out the dough onto a lightly floured work surface. Carefully work in the cranberries. Knead lightly by pushing away the dough with the heel of one hand, gather up with the other hand, and then knead again. Knead for about 10 minutes or until you can pull a strand and it bounces back like elastic.

Step 5:

Grease a large, warm mixing bowl with butter. Shape the dough into a ball and place it into the prepared bowl, then cover with a clean tea towel and set aside in a warm place for one hour to prove until the mixture doubles in size.

Step 6:

After an hour, remove the dough from the bowl and knead gently for 6-8 minutes. Return to the bowl and cover and leave to rise for a further 20 minutes.

Step 7:

Turn out the dough onto a lightly floured work surface and divide it into 12 equal pieces. Roll each piece into a ball, and then flatten slightly into a bun shape using the palms of your hands.

Step 8:

Put the buns on a floured baking tray. Wrap it loosely in greaseproof paper and place inside a large plastic bag. Tie the end of the bag so it is airtight. Leave in a warm place for 40 minutes.

Step 9:

Preheat the oven to 190°C (fan 170°C, gas mark 5). Mix the flour with cold water to create a paste. When the buns have raised remove from the bag and pipe a cross shape onto each bun.


Step 10:

Bake for 15-20 minutes or until the buns are golden-brown. Check they are cooked through by tapping the bottom. It should sound hollow.

Step 11:

As soon as you remove the buns from the oven, brush them with the hot golden syrup, and then set aside to cool on a wire rack.
Ingredients
For the Buns

600g

 Allinson's very strong white bread flour

1 tsp

 

Salt

2 tsp

 

Mixed spice

50g

 

Butter (chilled, plus extra to grease the bowl.)

50g

 Billington's Unrefined Golden Caster Sugar

1 tsp

 Nielsen-Massey Orange Blossom Water

1

 

Orange(s) (zest)

1

 Allinson's Easy Bake Yeast Sachet

1

 

Egg(s) (free range) (large)

275ml

 

Milk (tepid)

125g

 

Cranberries (dried)

For the Topping

2 tbsp

 Allinson's Plain White Flour

2 tsp

 

Water (cold)

1 tbsp

 

Golden syrup
Utensils
Sieve

Large mixing bowl

Wooden spoon

Baking tray

Piping bag

Pastry brush
We'd love a slice of advice.
Was it yum? Did the recipe work well? Did you customise the recipe?
Ingredients
For the Buns

600g

 Allinson's very strong white bread flour

1 tsp

 

Salt

2 tsp

 

Mixed spice

50g

 

Butter (chilled, plus extra to grease the bowl.)

50g

 Billington's Unrefined Golden Caster Sugar

1 tsp

 Nielsen-Massey Orange Blossom Water

1

 

Orange(s) (zest)

1

 Allinson's Easy Bake Yeast Sachet

1

 

Egg(s) (free range) (large)

275ml

 

Milk (tepid)

125g

 

Cranberries (dried)

For the Topping

2 tbsp

 Allinson's Plain White Flour

2 tsp

 

Water (cold)

1 tbsp

 

Golden syrup
Utensils
Sieve

Large mixing bowl

Wooden spoon

Baking tray

Piping bag

Pastry brush