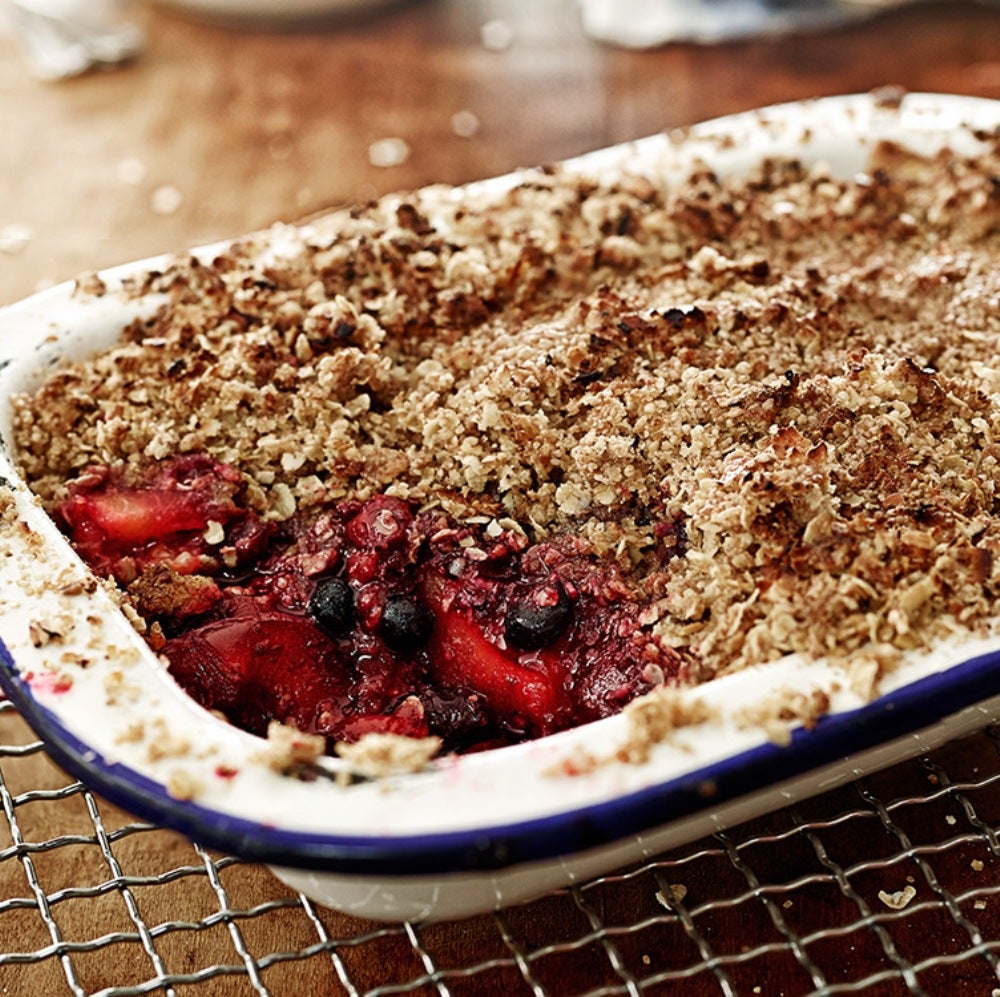 About the bake
This delicious fruit crumble is the perfect winter warmer. A great combination of plums and forest fruits gives this pudding a delightful fruity twist, however, you can try a whole host of different fruits if preferred.
Method
Step 1:

Preheat the oven to 190°C (170°C fan, gas mark 5).

Step 2:

Put the plums and forest fuits into the base of an ovenproof dish. Sprinkle with the sugar and cinnamon and gently mix together.

Step 3:

Put the flour into a bowl (or processor) add the butter. Rub together with your fingertips until the mixture resembles crumbs (or pulse for a few seconds in a processor)


Step 4:

Add the oats and sugar and stir together. Sprinkle over the fruit. Bake for 30 minutes until the fruit is tender and the crumble is cooked through. Serve with cream or custard.
Ingredients
For the Filling

500g

 

Plum(s) (quartered, stones removed)

500g

 

Frozen fruit (forest fruit)

100g

 Billington's Unrefined Golden Caster Sugar

1/2 tsp

 

Cinnamon (ground)

For the Crumble Topping

150g

 

Plain wholemeal flour

125g

 

Unsalted butter (chilled)

100g

 

Porridge oats

100g

 Billington's unrefined golden demerara sugar
Utensils
Ovenproof dish

Large mixing bowl or food processor
Recipe Reviews
Easy instructions. Came out crumbly!
Ingredients
For the Filling

500g

 

Plum(s) (quartered, stones removed)

500g

 

Frozen fruit (forest fruit)

100g

 Billington's Unrefined Golden Caster Sugar

1/2 tsp

 

Cinnamon (ground)

For the Crumble Topping

150g

 

Plain wholemeal flour

125g

 

Unsalted butter (chilled)

100g

 

Porridge oats

100g

 Billington's unrefined golden demerara sugar
Utensils
Ovenproof dish

Large mixing bowl or food processor