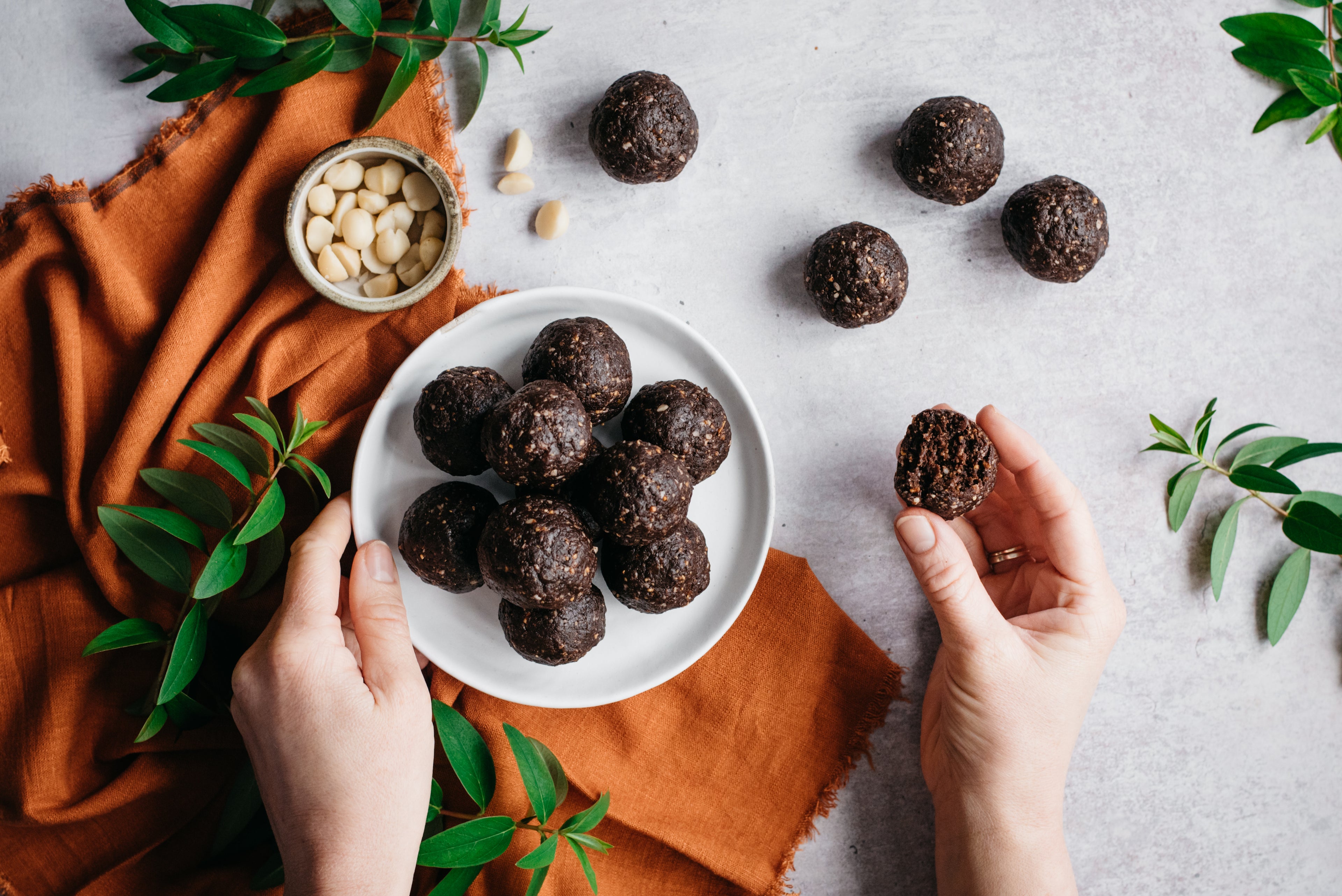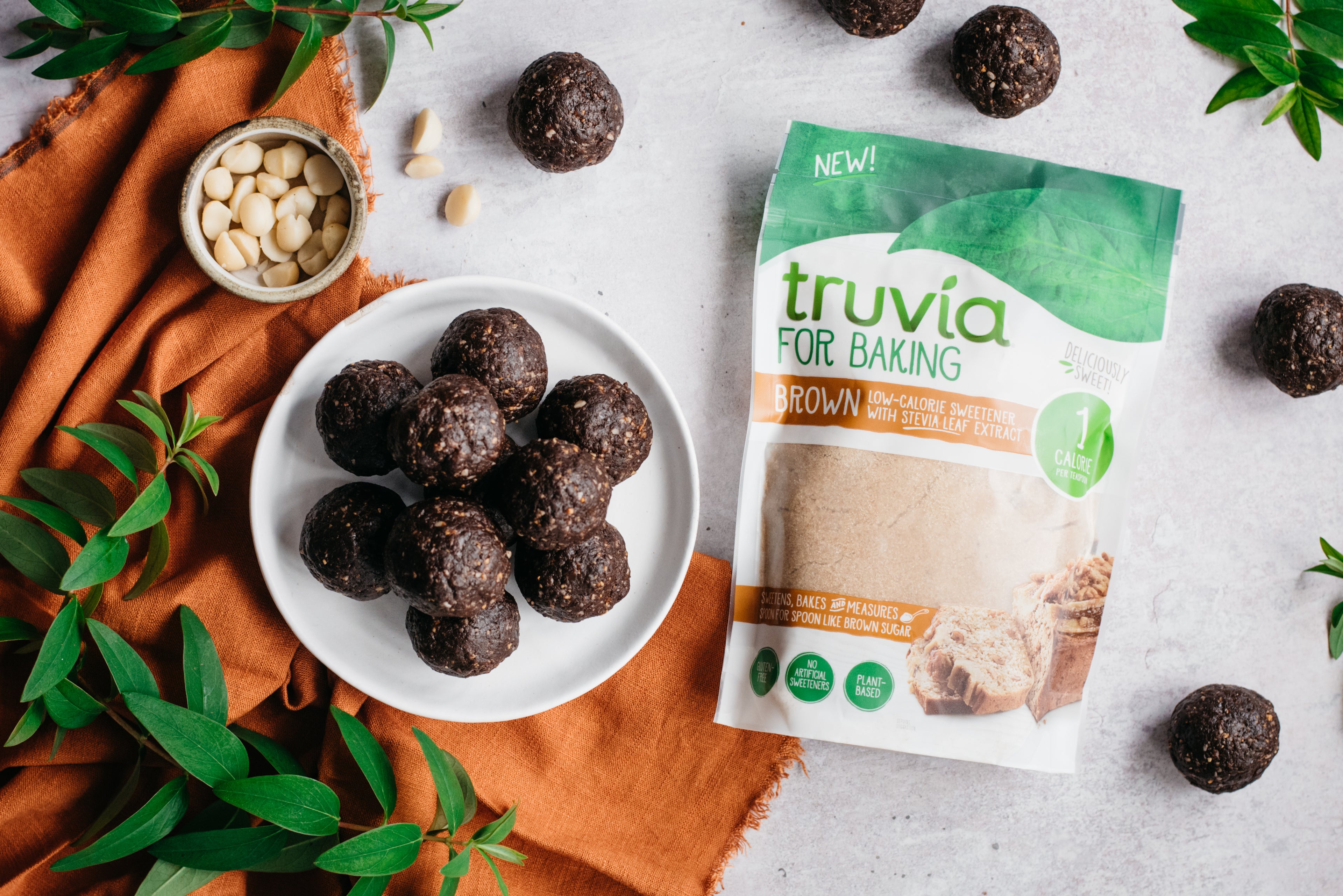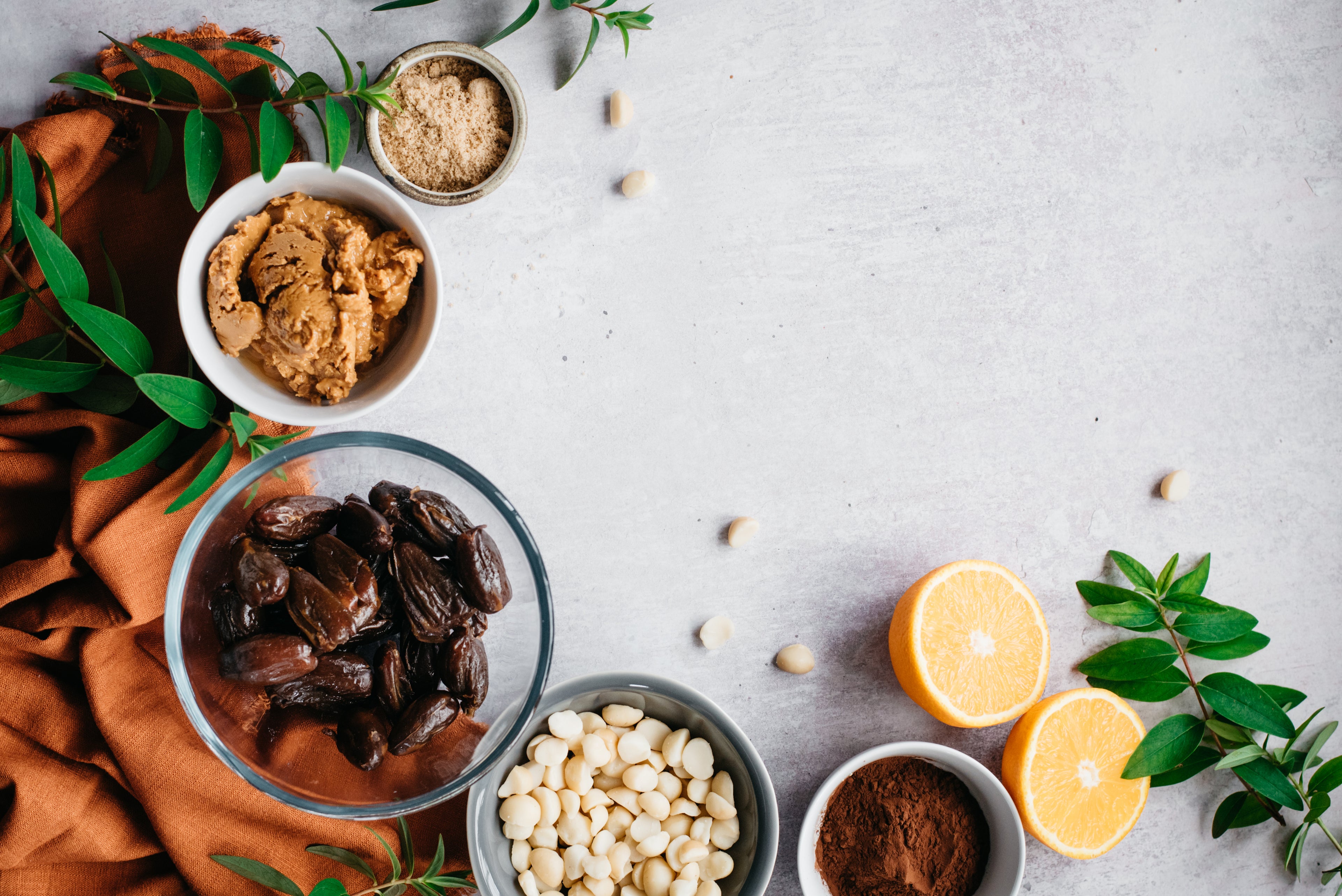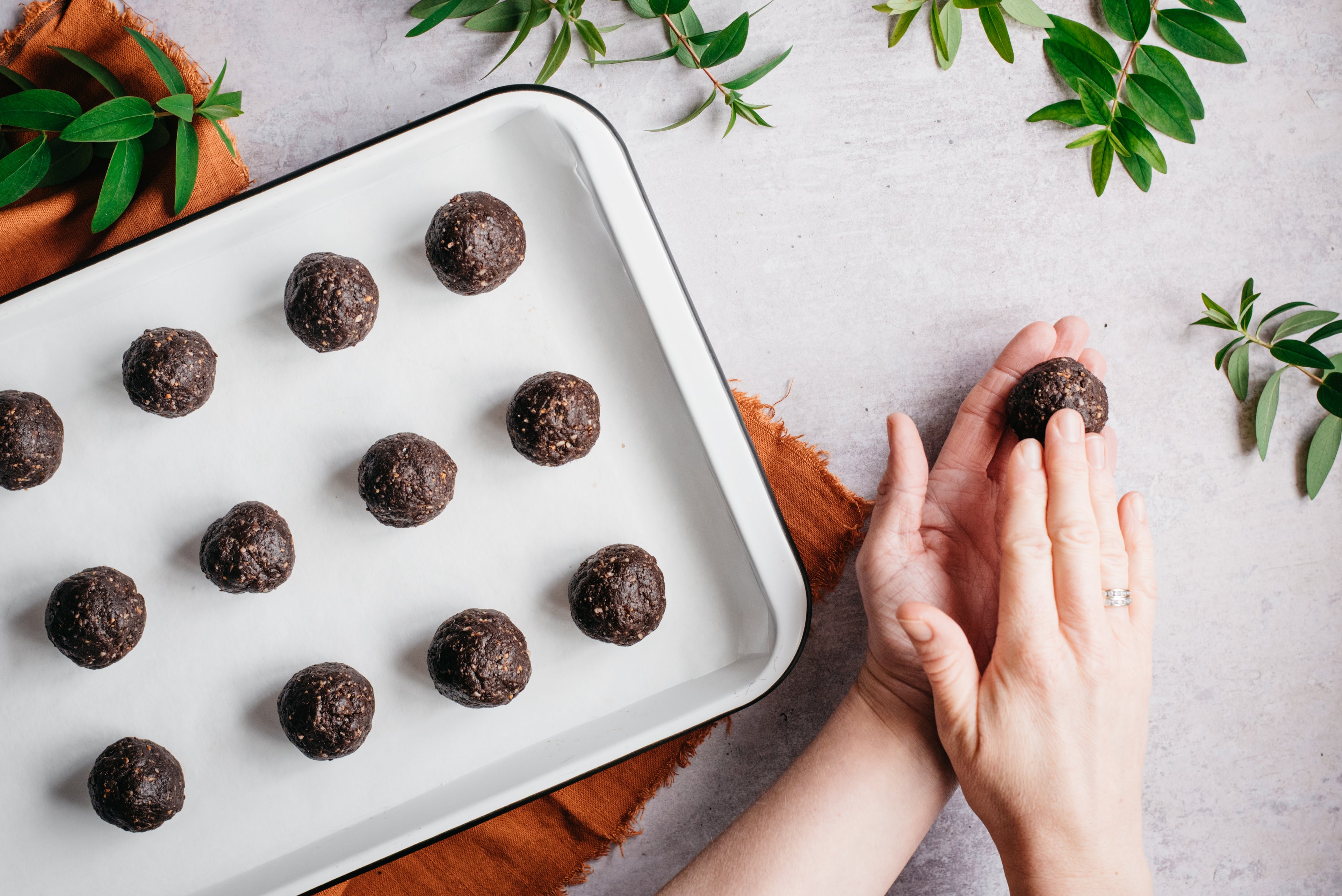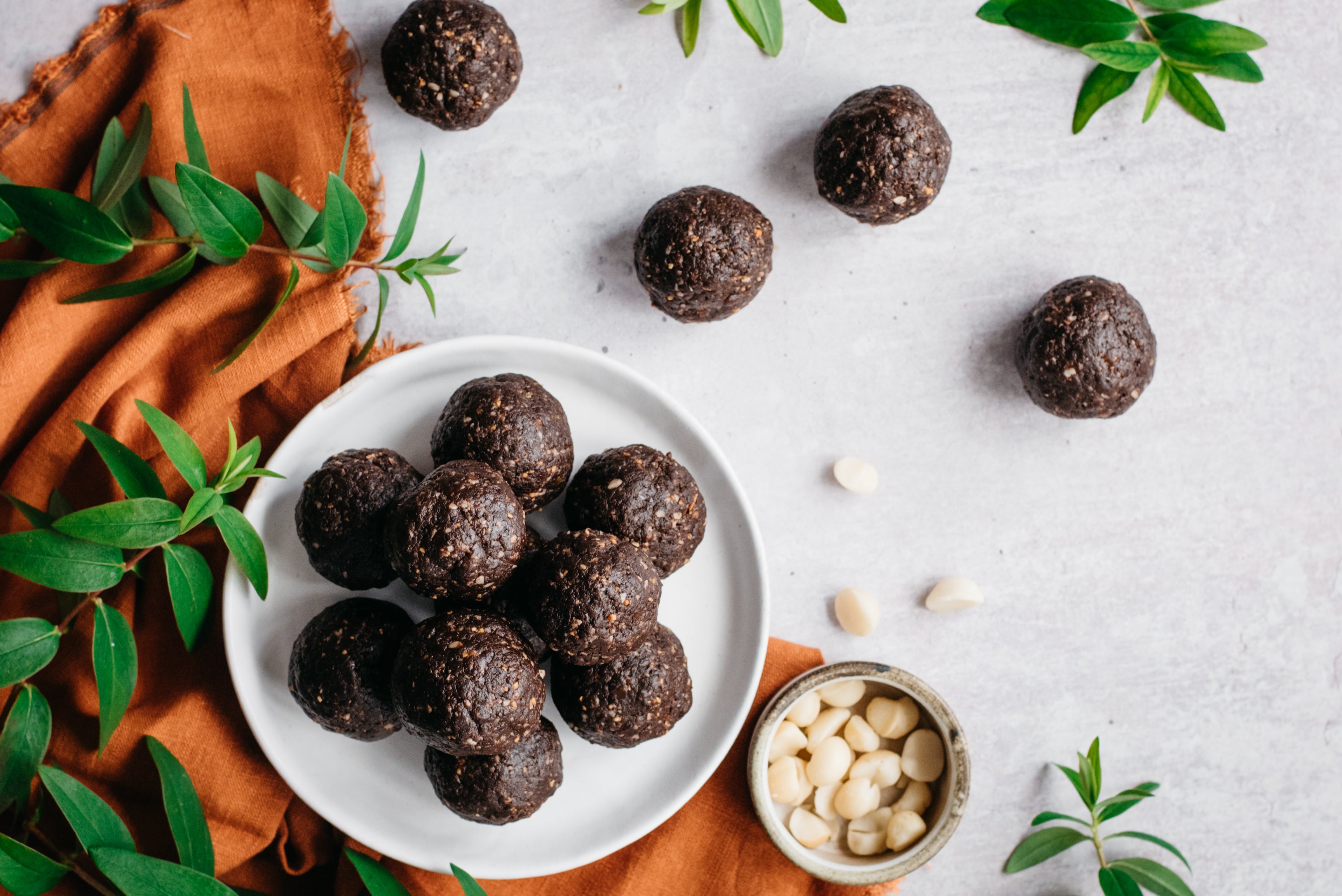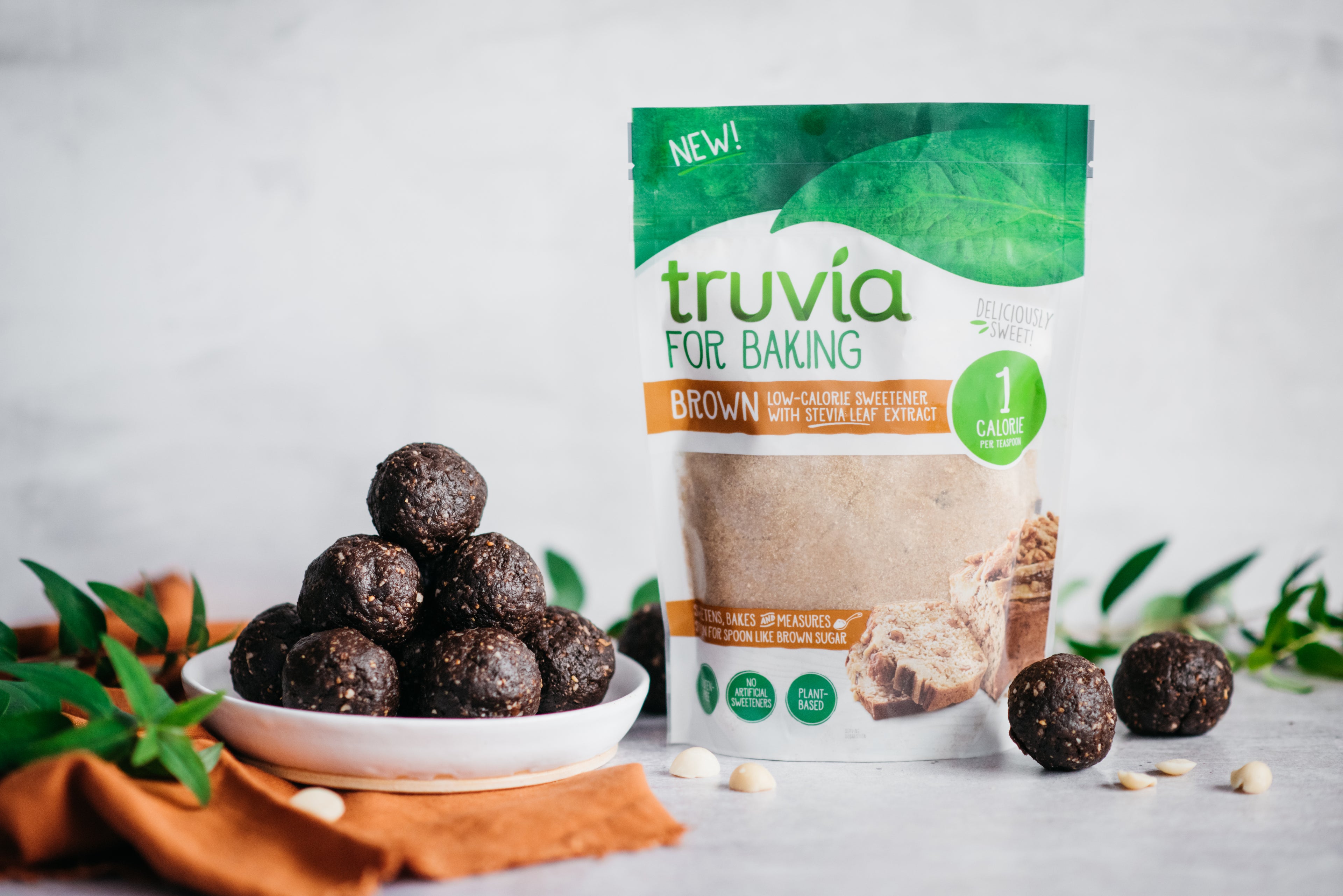 About our Vegan Chocolate Energy Balls
These raw vegan chocolate orange energy balls are small but mighty! You can whip them up in fifteen minutes, there no bake for minimal fuss and can be stored in the fridge for when hunger strikes.
Feel free to sub the nuts in the recipe for whatever you have in the cupboard. Roasted hazelnuts, blanched almonds, or Brazil nuts works well.
The Truvia For Baking Brown sweetener with a hint of molasses gives a warm brown sugar-like taste but is completely refined sugar free. Life has never tasted so sweet.
Method
Step 1:

Roughly chop the dates and put into a bowl with the Truvia For Baking Brown and 2 tbsp of boiling water. Mix well then set aside for 10 minutes to soften the dates.

Step 2:

Meanwhile roughly chop the macadamia nuts and zest the orange using a fine grater.

Step 3:

When the dates are soaked, pop them into a food processor with the peanut butter and blitz together for a few seconds until the mixture resembles a thick paste.

Step 4:

Add the nuts, orange zest, coconut oil and cacao powder and blitz for a few seconds until combined.

Step 5:

Turn the mixture out onto a board and divide into 16 even sized pieces. Roll each piece into a ball then place on a tray lined with parchment paper.

Step 6:

Store the bites in the fridge until ready to eat.
Ingredients
200g

 

Medjool dates (pitted)

1 tbsp

 

Truvia for Baking - Brown

2 tbsp

 

Boiling water

85g

 

Macadamia nuts

1

 

Orange

150g

 Proper Nutty peanut butter

20g

 

Coconut oil

3 tbsp

 

Raw cacao powder
Nutritional Information
per 34g
164cal

 

Energy

11g

 

Fat

2.7g

 

of which Saturates

12g

 

Carbohydrates

9.3g

 

of which Sugars

4.3g

 

Protein

0g

 

Salt
We'd love a slice of advice.
Was it yum? Did the recipe work well? Did you customise the recipe?
Ingredients
200g

 

Medjool dates (pitted)

1 tbsp

 

Truvia for Baking - Brown

2 tbsp

 

Boiling water

85g

 

Macadamia nuts

1

 

Orange

150g

 Proper Nutty peanut butter

20g

 

Coconut oil

3 tbsp

 

Raw cacao powder
Nutritional Information
per 34g
164cal

 

Energy

11g

 

Fat

2.7g

 

of which Saturates

12g

 

Carbohydrates

9.3g

 

of which Sugars

4.3g

 

Protein

0g

 

Salt