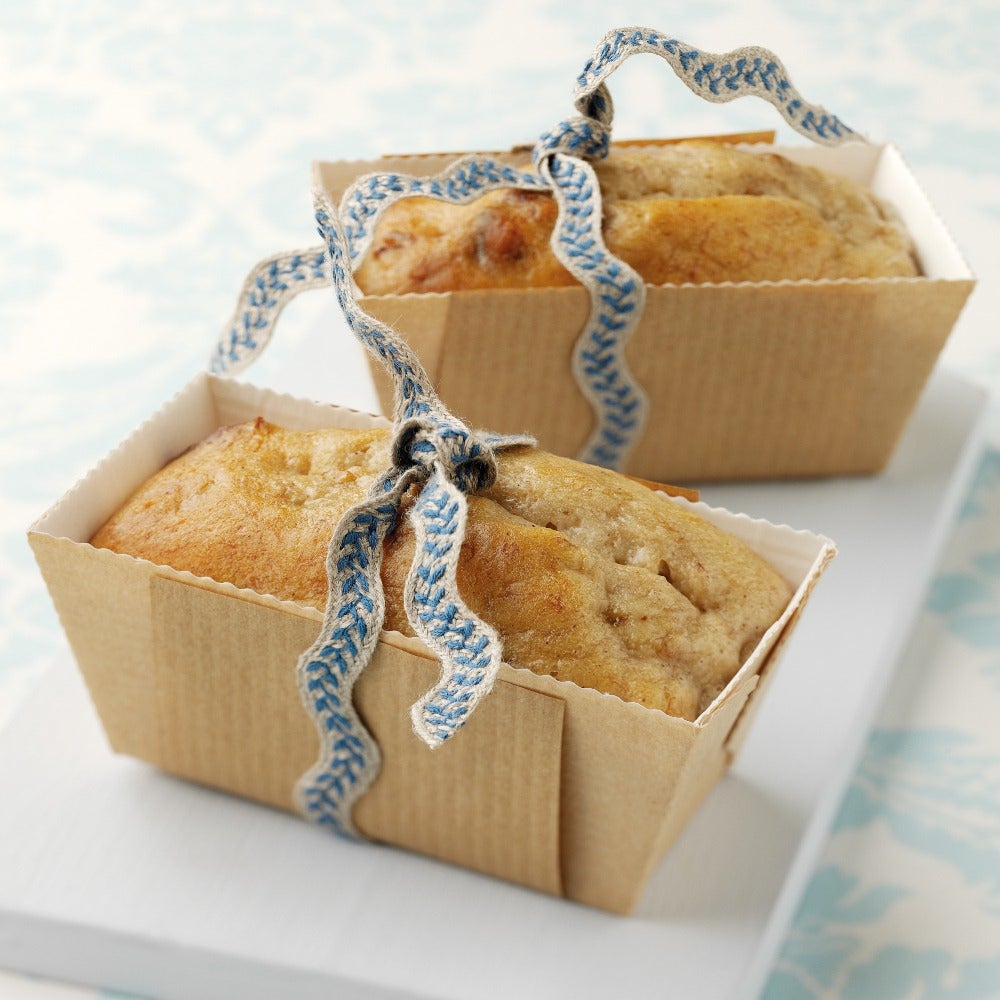 About the bake
This low fat banana bread recipe is ideal to take to work or have at home with a cuppa. We love this low fat banana bread recipe and we are sure you will too.
Method
Step 1:

Preheat oven to 180°C (160°C fan, 350°F, gas mark 4).

Step 2:

Place flour, sugar, spice and nuts in a mixing bowl.

Step 3:

Mash the banana on a plate with a fork until mushy.

Step 4:

Make a well in the centre of the flour mixture.

Step 5:

Mix the banana and the milk together and pour into the flour mixture. Mix well.

Step 6:

Pour the mixture into a loaf tin or the individual loaf tins.

Step 7:

Bake for 20-25minutes (35- 40 minutes for a larger loaf) or until firm to touch and golden brown and when a skewer is inserted in comes out clean.

Step 8:

An alternative idea, is to omit the nuts and add a handful dried fruits or 1 tbsp dark chocolate chips.
Ingredients
For the Loaf

100g

 Allinson's Self Raising White Flour

100ml

 

Milk (semi-skimmed)

25g

 Silver spoon half spoon sugar

25g

 

Pecan nuts (chopped)

2

 

Small ripe bananas

0.5 tsp

 

Mixed spice
Utensils
2lb loaf tin

Or, mini loaf tins
Recipe Reviews
Perfect. My grandpa could eat them because low sugar and they were super delicious. Chocolate chips work really well too but are a bit pointless if you're going for low sugar. A ward, age 10
Did not state the right amount of flour. 100g is too little. Please state correct recipe.
Hello
100g is the right amount of flour, it is quite a small banana loaf!
Happy Baking!
Amazing! I have a very sweet tooth so I added some dates and they turned out yummy! I will definitely be making this again.
Ingredients
For the Loaf

100g

 Allinson's Self Raising White Flour

100ml

 

Milk (semi-skimmed)

25g

 Silver spoon half spoon sugar

25g

 

Pecan nuts (chopped)

2

 

Small ripe bananas

0.5 tsp

 

Mixed spice
Utensils
2lb loaf tin

Or, mini loaf tins