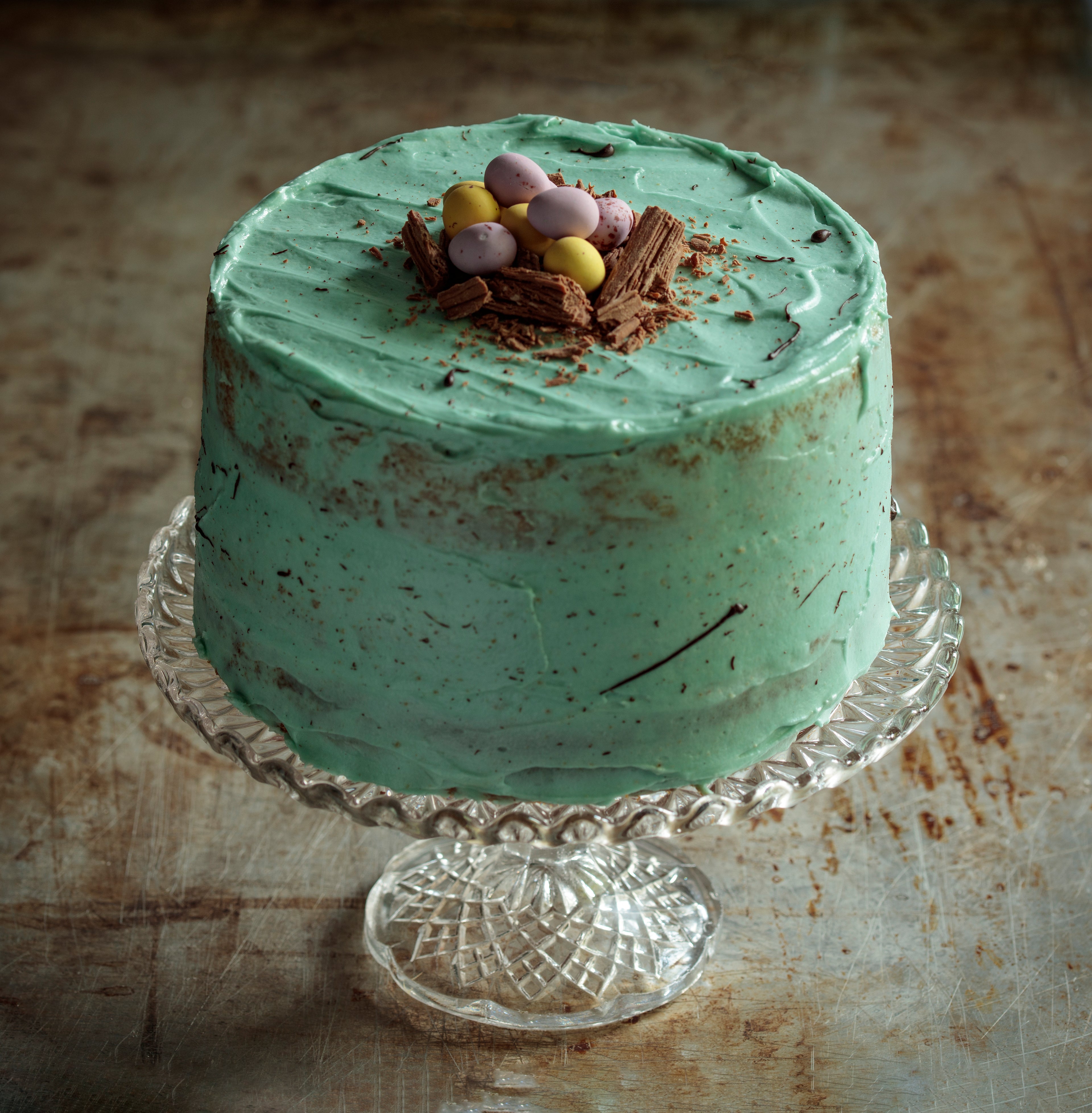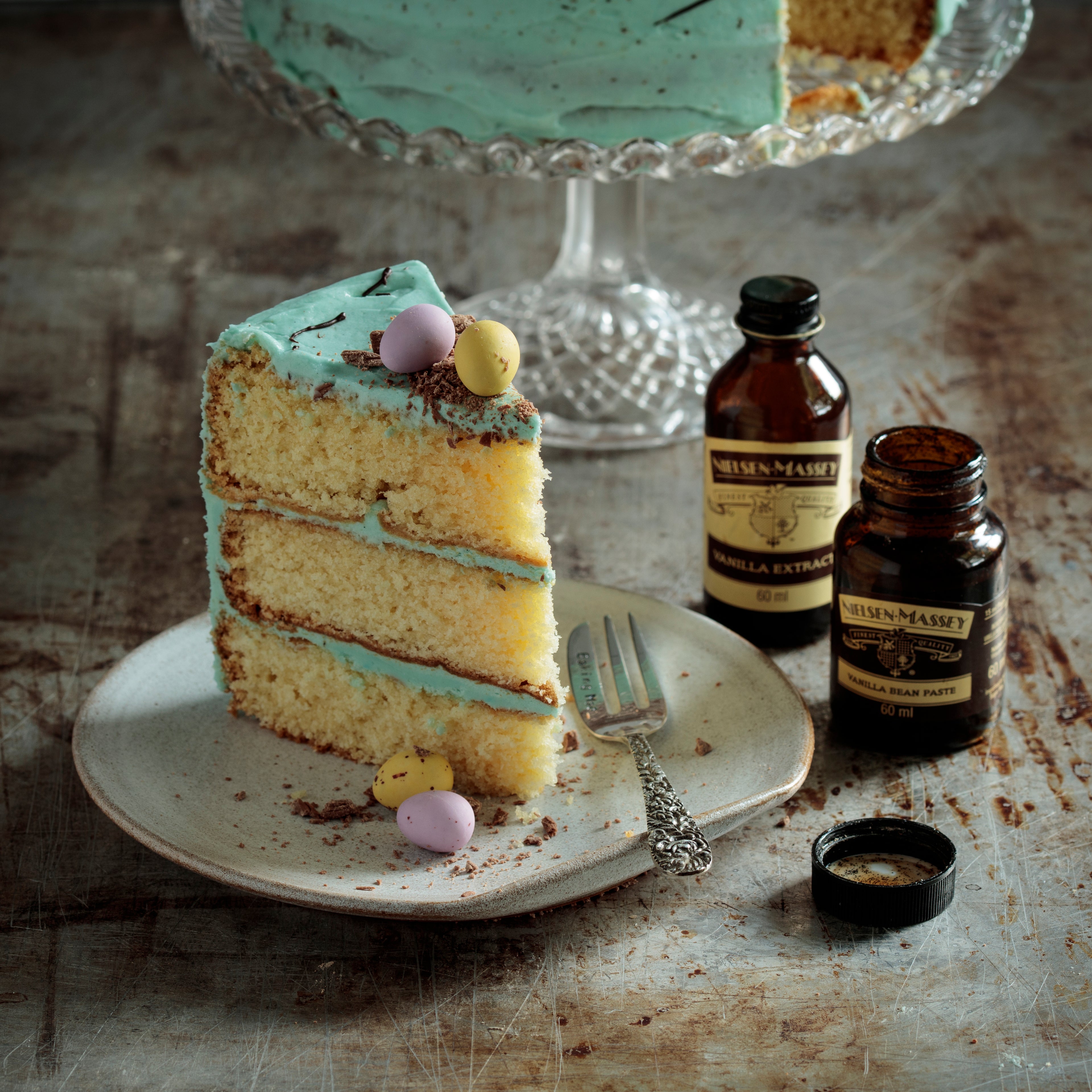 Easy Vanilla Cake by Nielsen-Massey
About the bake
This layered vanilla sponge cake has been decorated with a speckled effect, made to look like the shell of an egg. This technique is really fun to do and gives a really nice finish to the buttercream.
Method
Step 1:

Preheat the oven to 180°C (160°C fan, gas mark 5). Put some water in a cake tin or roasting tin and set in the bottom of the oven. Prepare three 7" sandwich tins by lining with baking parchment.


Step 2:

Cream together the butter and sugar with a wooden spoon or electric hand whisk, until pale and fluffy.


Step 3:

Add the eggs in 3 parts, beating well after each addition so that the egg is well incorporated. Add the vanilla. Sift the flour into the mixture and fold in lightly with a metal spoon, until the mixture is even. Add the milk and mix.


Step 4:

Spoon the mix into tins and bake for 20 minutes, or until a skewer inserted comes out clean. Remove and cool on a wire rack.


Step 5:

Whilst the cake is cooling make the vanilla syrup by heating together the sugar and vanilla in a pan until all of the sugar has dissolved.


Step 6:

Carefully poke holes in the top of your sponges and pour over some of the syrup allowing the sponge to soak it up.


Step 7:

To make the buttercream; beat together the butter, icing sugar and vanilla bean paste until soft and fluffy. Add a small dash of the food colouring gel and mix until you reach the desired colour. You can add a drop of milk to loosen the buttercream if needed.


Step 8:

Layer the sponge with buttercream, then coat the whole cake in buttercream. Pop in the fridge to chill before adding an additional layer of buttercream. To get a smooth finish, run a pallet knife under boiling water before smoothing round the cake.


Step 9:

Once your cake is smooth. Melt 10g of chocolate in a small bowl. Use a paintbrush to flick specks of the chocolate onto the buttercream to get a specked finish. Apply this technique all over your cake. We've used a Cadbury's flake and some mini eggs to decorate the top.

Ingredients
For the Sponges

400g

 

Unsalted butter (softened)

400g

 Billington's Unrefined Golden Caster Sugar

6

 

Free range large eggs

400g

 

Allinson's Self Raising Flour

2 tsp

 Nielsen-Massey Vanilla Extract

3 tbsp

 

Whole milk

For the Vanilla Syrup

100g

 Billington's Unrefined Golden Caster Sugar

1.5 tsp

 Nielsen-Massey Vanilla Bean Paste

For the Buttercream

300g

 

Unsalted butter (softened)

600g

 Silver Spoon Icing Sugar

1.5 tbsp

 Nielsen-Massey Vanilla Bean Paste

Tiny blob

 

Blue food colouring gel

For the Decoration

10g

 

Dark chocolate (melted)

1

 

Cadbury's flake

5

 

Cadbury's mini eggs
Utensils
3x 7in sandwich tin

Mixing bowl

Paintbrush
Recipe Reviews
Oh my god, This is so good. I can't believe it has took me so long to actually try this.
Made this for Mother's Day. It was such a lovely sponge. Light and vanilla-ery this is my new go-to sponge I think.
My very first cake! It turned out so good. Thank you Baking Mad. I'll be making this again for sure.
Ingredients
For the Sponges

400g

 

Unsalted butter (softened)

400g

 Billington's Unrefined Golden Caster Sugar

6

 

Free range large eggs

400g

 

Allinson's Self Raising Flour

2 tsp

 Nielsen-Massey Vanilla Extract

3 tbsp

 

Whole milk

For the Vanilla Syrup

100g

 Billington's Unrefined Golden Caster Sugar

1.5 tsp

 Nielsen-Massey Vanilla Bean Paste

For the Buttercream

300g

 

Unsalted butter (softened)

600g

 Silver Spoon Icing Sugar

1.5 tbsp

 Nielsen-Massey Vanilla Bean Paste

Tiny blob

 

Blue food colouring gel

For the Decoration

10g

 

Dark chocolate (melted)

1

 

Cadbury's flake

5

 

Cadbury's mini eggs
Utensils
3x 7in sandwich tin

Mixing bowl

Paintbrush