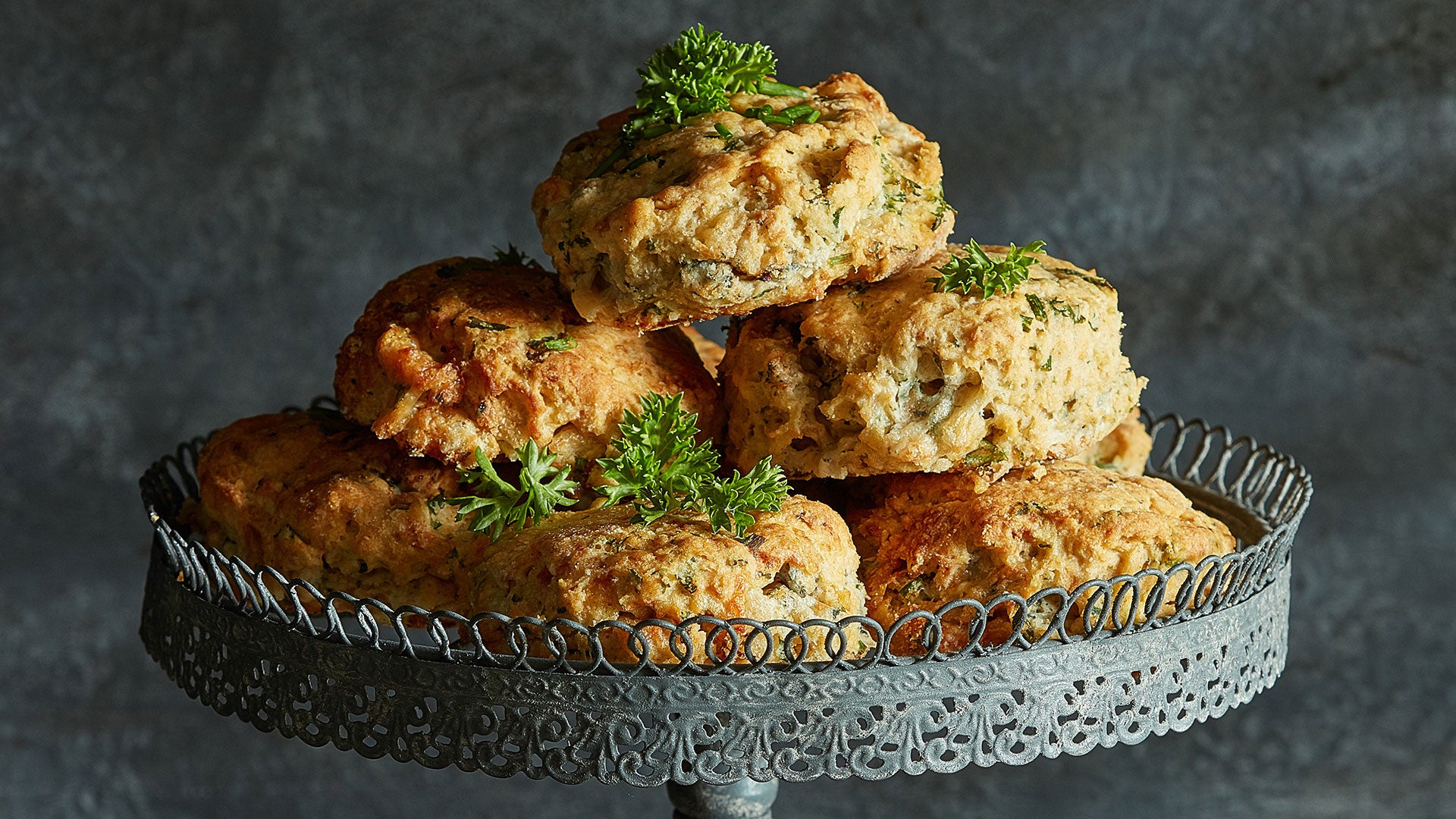 About the bake
These Stilton and Parsley scones truly are delicious for a bit of added heat- add some cayenne pepper. Perfect for a picnic! Why not try making mini ones for canapés too?
Method
Step 1:

Pre heat the oven to 200°C (fan 180°C, gas mark 6).

Step 2:

Mix together the flour, salt, pepper and mustard. Rub in the butter then stir in the Stilton and herbs.

Step 3:

Add enough milk to make a dough that is not too wet, you may not need it all. Gather together and knead lightly.

Step 4:

Place the dough on a floured board and pat out until about 3cm thick. Using a 5-6 cm round cutter, stamp out about 10-12 scones, re rolling the dough if needed.

Step 5:

Place scones on a greased and floured baking sheet, and bake in oven for 12-15 minutes until golden.
Ingredients
225g

 

Self raising white flour

1pinch

 

Salt

1/4 tsp

 

Cayenne pepper

1/2 tsp

 

Mustard powder

50g

 

Butter

100g

 

Stilton

2 tbsp

 

Parsley

1 tbsp

 

Chives

150ml

 

Milk
Recipe Reviews
I made a double batch of these and they were excellent!
Made these today, delicious!
Made today,delicious! Very quick and easy.
Will definitely add to favourites.
Made these today as per the recipe and instructions above. Pressing out scones at 3cm thick using a 5-6 cm diameter cutter only gave 6 scones not the 10 -12 suggested in the recipe.
Scones themselves were absolutly lovely but next time will cut out a bit thinner and possibly also brush with beaten egg before baking.
Ingredients
225g

 

Self raising white flour

1pinch

 

Salt

1/4 tsp

 

Cayenne pepper

1/2 tsp

 

Mustard powder

50g

 

Butter

100g

 

Stilton

2 tbsp

 

Parsley

1 tbsp

 

Chives

150ml

 

Milk