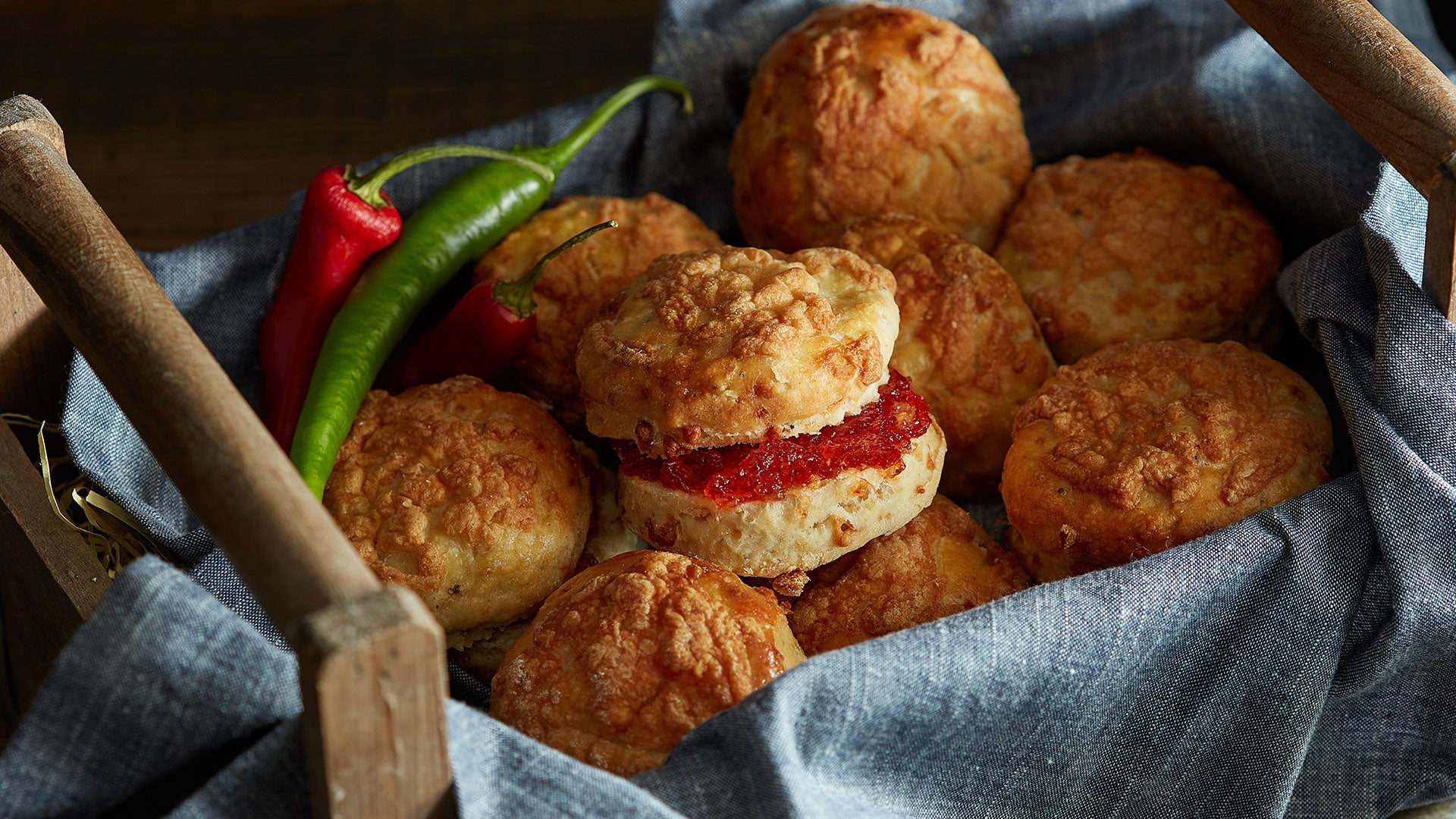 About the bake
If you like savoury treats with a fiery kick then these scones are the pick for you. These soft cheese scones are best served smothered with warm butter.
Method
Step 1:

Preheat the oven to 220°C (200°C fan, Gas Mark 7) Lightly oil and flour a baking tray and keep to one side.


Step 2:

In a large bowl combine the flour, salt, cream of tartar, cheddar cheese, chilli powder and black pepper.


Step 3:

Combine the buttermilk, olive oil, water, Worcestershire sauce and mustard in a seperate bowl.


Step 4:

Make a well in the centre of the flour mixture and pour in the buttermilk mixture.


Step 5:

Using your hand, mix the buttermilk and flour mixtures together until well combined adding a little more cold water if the mixture becomes too dry.


Step 6:

Place your dough on a lightly floured work surface. Using a rolling pin, roll out the dough to approximately 2.5cm thick.


Step 7:

Use a circular cutter to stamp out circles of dough and place close together on the prepared baking tray. Repeat this process until all the dough has been used.


Step 8:

Beat the egg and brush the scones with it, before evenly sprinkling the 25g cheddar cheese on top.


Step 9:

Bake the scones in the oven for 20 minutes or until risen and golden. Cover the scones with foil during the baking if the cheese begins to brown too much.


Step 10:

Serve with a large fiery serving of homemade Chilli Jam. Our recipe for this delicious jam can be found by searching 'Chilli Jam'

Ingredients
For the Scones

500g

 Self-raising white flour

1 tsp

 

Salt

3 tsp

 

Cream of tartar

100g

 

Cheddar cheese (mature, grated)

3 grinds

 

Black pepper (freshly ground)

284ml

 

Buttermilk

1 tbsp

 

Olive oil

1 tbsp

 

Water (cold)

2 tsp

 

Worcestershire sauce

2 tsp

 

Wholegrain mustard

1

 

Eggs (medium)

1 tsp

 

Chilli powder

25g

 

Cheddar cheese (grated for sprinkling)
We'd love a slice of advice.
Was it yum? Did the recipe work well? Did you customise the recipe?
Ingredients
For the Scones

500g

 Self-raising white flour

1 tsp

 

Salt

3 tsp

 

Cream of tartar

100g

 

Cheddar cheese (mature, grated)

3 grinds

 

Black pepper (freshly ground)

284ml

 

Buttermilk

1 tbsp

 

Olive oil

1 tbsp

 

Water (cold)

2 tsp

 

Worcestershire sauce

2 tsp

 

Wholegrain mustard

1

 

Eggs (medium)

1 tsp

 

Chilli powder

25g

 

Cheddar cheese (grated for sprinkling)