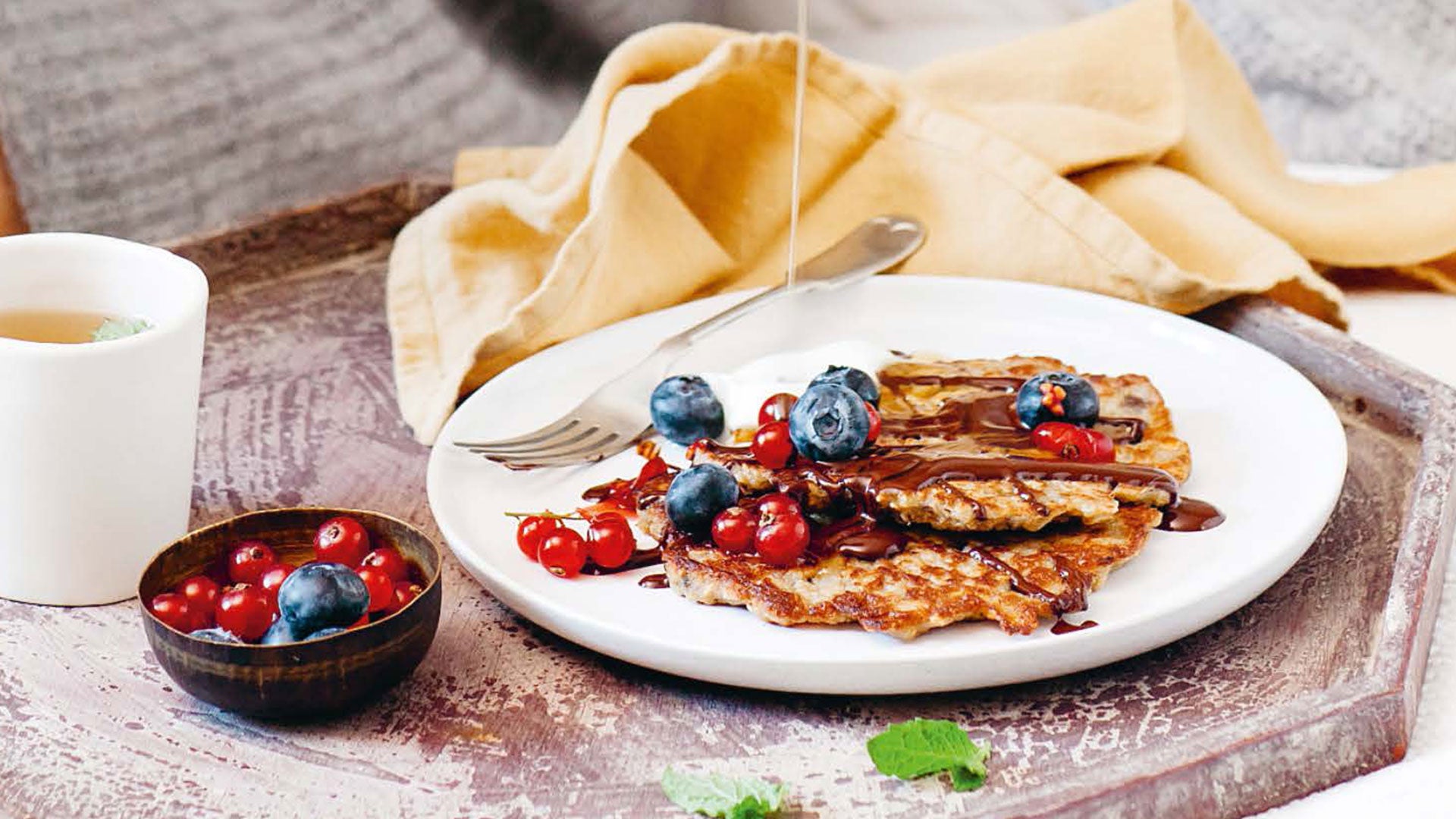 About the bake
"I often make banana pancakes at the weekend after we've been to the gym. Bananas are a great pre- or post-workout snack because they give you a quick burst of energy, and they replenish the potassium lost from sweating during your workout session, helping to maintain muscle and nerve function. Add some protein powder to supercharge these pancakes." Madeline Shaw - A Year of Beautiful Eating
Method
Step 1:

Whisk the egg in a bowl and mash the banana into it. Add the oats and stir well. The mixture should be thicker than a crepe batter but thinner than a batter for a cake.


Step 2:

Heat the coconut oil in a small frying pan over a medium heat. Wait until the pan is hot, then spoon in 2 tablespoons of the mixture. Fry the pancake for 2 minutes on one side, then turn over and fry for a further minute or so, until cooked through. Repeat with the rest of the mixture.


Step 3:

To serve the pancakes, drizzle over melted dark chocolate and top with berries, yoghurt and maple syrup.

Ingredients
For the Pancakes

1

 

Egg (large free range)

1

 

Banana

4 tbsp

 

Oats (or protein powder)

3 tbsp

 

Coconut oil

For the Toppings

50g

 

Dark chocolate (melted)

Handful

 

Fresh berries (chopped)

3 tbsp

 

Natural yoghurt

A drizzle

 

Maple syrup
Utensils
Mixing bowl

Frying pan

Whisk
We'd love a slice of advice.
Was it yum? Did the recipe work well? Did you customise the recipe?
Ingredients
For the Pancakes

1

 

Egg (large free range)

1

 

Banana

4 tbsp

 

Oats (or protein powder)

3 tbsp

 

Coconut oil

For the Toppings

50g

 

Dark chocolate (melted)

Handful

 

Fresh berries (chopped)

3 tbsp

 

Natural yoghurt

A drizzle

 

Maple syrup
Utensils
Mixing bowl

Frying pan

Whisk