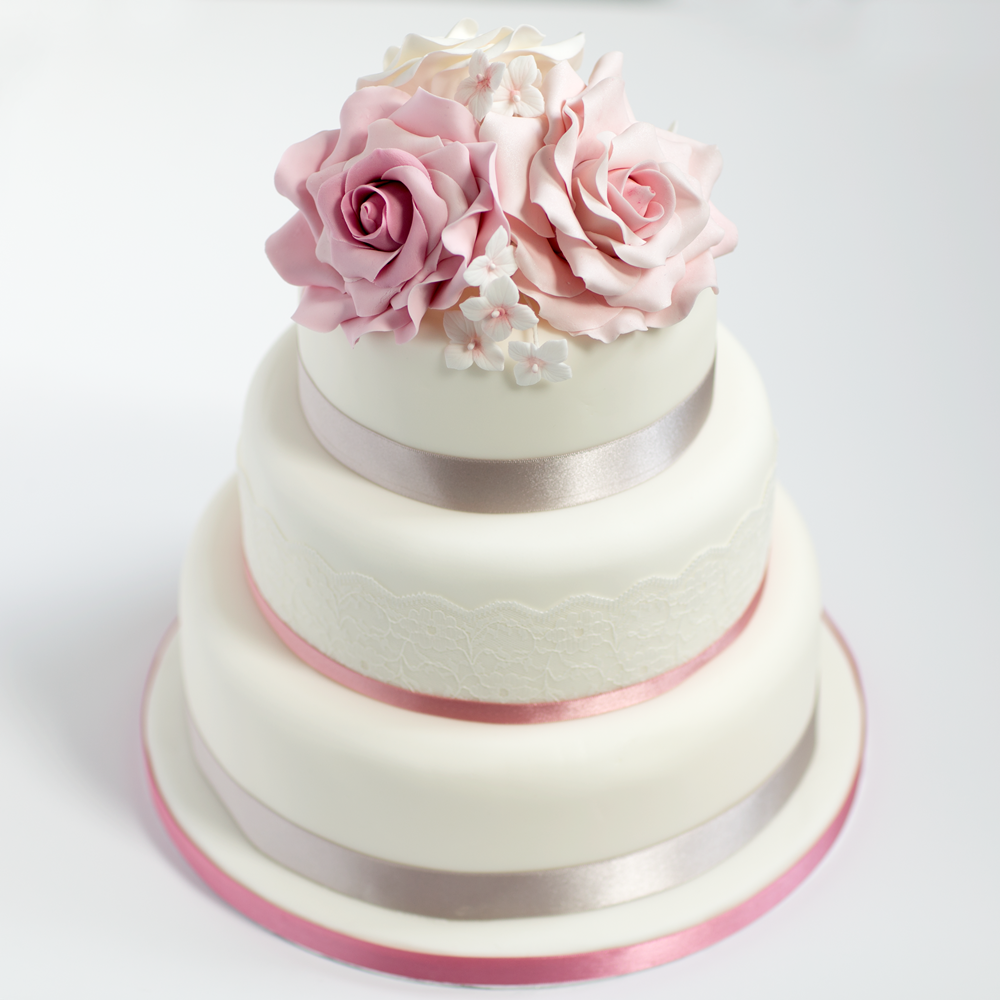 About the bake
Weddings can be expensive business so why not challenge yourself to bake and decorate your own beautiful personalised showstopper. The beauty of this cake is that the sponges can be baked and frozen up to 3 months in advance, simple allow 24 hours to defrost and before adding the marzipan and icing.
Method
Step 1:

Preheat the oven to 180°C (160°C Fan, gas mark 4) and grease and line your tins. If you are filling your cakes, you can bake in sandwich tins or slice after baking.

Step 2:

To make the sponge cakes: Place the butter in a large mixing bowl and add the sugar. Beat together, preferably with an electric whisk until the mixture is wonderfully light and fluffy. This can take up to 5-7 minutes, so this stage should not be rushed.

Step 3:

Beat in the vanilla extract and eggs one at a time, with a spoonful of the flour with each one to prevent the mixture from curdling. Fold in the remaining flour with a metal spoon until you have a soft, smooth cake batter. Fill the tins with the correct sponge mix for that sized tin.

Step 4:

Place in the oven and bake the 6" cake for 25 minutes, the 9" cake for 30 minutes and the 11" cake for 40 minutes.

When cakes are cooked they should be pale golden in colour. When baked, remove from the oven and leave to cool in the tin and then transfer to a wire cooling rack. Wrap in cling film to keep for up to a day in a cool dry place. If you want to make the cakes in advance – wrap and freeze.

Step 5:

Once the cakes are cool, slice and fill with strawberry jam.

Step 6:

To ice the cakes, pipe a little royal icing in the middle of the cake board to help secure the cakes. Lightly dust the work surface and rolling pin with sifted icing sugar. Roll the marzipan, turning the icing 90 degrees after every roll to get an even thickness. Roll to a thickness of a £1 coin.

Step 7:

Lightly brush the outside of the sponge cakes with boiled apricot jam to help the marzipan stick.

Step 8:

Using the rolling pin, lift the marzipan and ease it over the cake. Use your hands to smooth the marzipan into place, making sure there are no air pockets. Trim away the excess marzipan from the base of the cake using a small knife.

Step 9:

Repeat step 8 with the sugar paste icing placing it over the marzipan layer. Lightly dust your hands with icing sugar and gently run over the cake with your hands to even out any lumps or bumps.

Step 10:

To build the tiers, cut a template the same size as the second layer and sit in the position of the second tier. Mark each corner with a needle. Push a plastic dowel into the cake and mark with a pencil where it comes out of the cake. Lift out of the dowels and trim the dowels about 1-2mm above the mark then stick them back into the cake.

Step 11:

Pipe some royal icing onto the centre of the bottom tier to secure the second tier. Carefully place the second tier onto the bottom one. Mix some icing and pipe a thin line along the bottom edge of each tier. While wet, run a finger over the line to smooth the icing and fill any gap between the two cake layers. A ribbon can also be added here to hide any unevenness that may appear. Repeat the process for the top tier.


Step 12:

Decorate the cake with ribbon, lace or sugar paste flowers to match the wedding theme and colours. Alternatively you could pipe royal icing patterns on to your cake. Cake decoration videos can be found in our 'how to' section of our website.
Ingredients
For the 12cm square/15cm (6") round sponge cake

200g

 

Butter (unsalted) (softened)

200g

 Billington's Unrefined Golden Caster sugar

4

 

Egg(s) (free range)

1 tsp

 Nielsen-Massey Vanilla Extract

200g

 Self-raising white flour

350g

 

Marzipan

350g

 

White sugar paste icing

For the 20cm square/23cm (9") round sponge cake

300g

 

Butter (unsalted) (softened)

300g

 Billington's Unrefined Golden Caster sugar

6

 

Egg(s) (free range)

1.5 tsp

 Nielsen-Massey Vanilla Extract

300g

 Self-raising white flour

800g

 

Marzipan

800g

 

White sugar paste icing

For the 25cm square/28cm (11") round sponge cake

400g

 

Butter (unsalted) (softened)

400g

 Billington's Unrefined Golden Caster sugar

8

 

Egg(s) (free range)

400g

 Self-raising white flour

2 tsp

 Nielsen-Massey Vanilla Extract

1kg

 

Marzipan

1kg

 

White sugar paste icing

For the cake filling

750g

 

Strawberry jam

250g

 

Apricot Jam
Recipe Reviews
Hi I am 11 and I love the recipe it was so nice to make it.
Instead of using vanilla extract, could I use lemon extract and zest to make it into a lemon cake? I'm planning to have different flavoured sponges and thought I could do one lemon for the 9inch tier. xx
________________________________________________
Hello,

That sounds wonderful, I would use the same quantity of extract and add in a zest of 1 lemon to give it more zing.

Happy Baking!
I really like the look of this recipe. Did you use X2 of all the cake pans or just one each? How many inches deep are the pans also? I'm doing a test run as I'm making my own wedding cake. X
_______________________________________________
Hello,
We used a 6, 9 and 11 inch cake tins, each cake was cut in half once cooled. You need deep cake tins 3 1/2 inches deep would be ideal.
Good luck.
Happy Baking
Hi can you tell me the best way to freeze the 11 inch cake once it has the butter cream and jam on it also how long to defrost
thankyou
Elaine
_____________________________________________
Hello,

We would only recommend freezing a cake before adding buttercream and jam to it.

Happy Baking!
Very disappointed - made the 6 inch cooked for time stated took it out to let it cool and its still raw in the middle, Waste of ingredients and time
I am a beginner in need of some help! I want to bake this cake in one 7" tin that is 4" deep. I'm not sure how much batter I would need for this or how long I should bake for? I have a baking rod if needed!
Ingredients
For the 12cm square/15cm (6") round sponge cake

200g

 

Butter (unsalted) (softened)

200g

 Billington's Unrefined Golden Caster sugar

4

 

Egg(s) (free range)

1 tsp

 Nielsen-Massey Vanilla Extract

200g

 Self-raising white flour

350g

 

Marzipan

350g

 

White sugar paste icing

For the 20cm square/23cm (9") round sponge cake

300g

 

Butter (unsalted) (softened)

300g

 Billington's Unrefined Golden Caster sugar

6

 

Egg(s) (free range)

1.5 tsp

 Nielsen-Massey Vanilla Extract

300g

 Self-raising white flour

800g

 

Marzipan

800g

 

White sugar paste icing

For the 25cm square/28cm (11") round sponge cake

400g

 

Butter (unsalted) (softened)

400g

 Billington's Unrefined Golden Caster sugar

8

 

Egg(s) (free range)

400g

 Self-raising white flour

2 tsp

 Nielsen-Massey Vanilla Extract

1kg

 

Marzipan

1kg

 

White sugar paste icing

For the cake filling

750g

 

Strawberry jam

250g

 

Apricot Jam