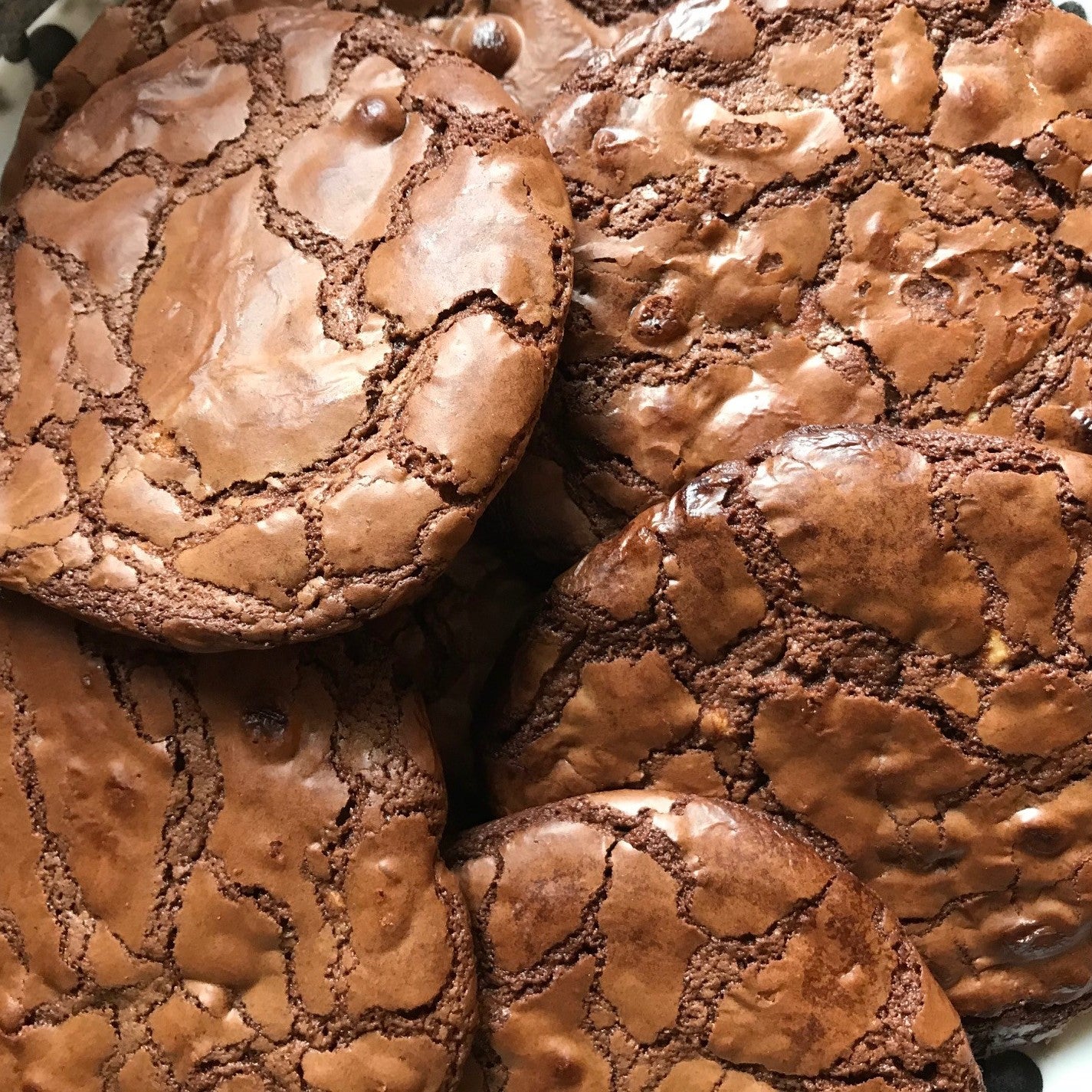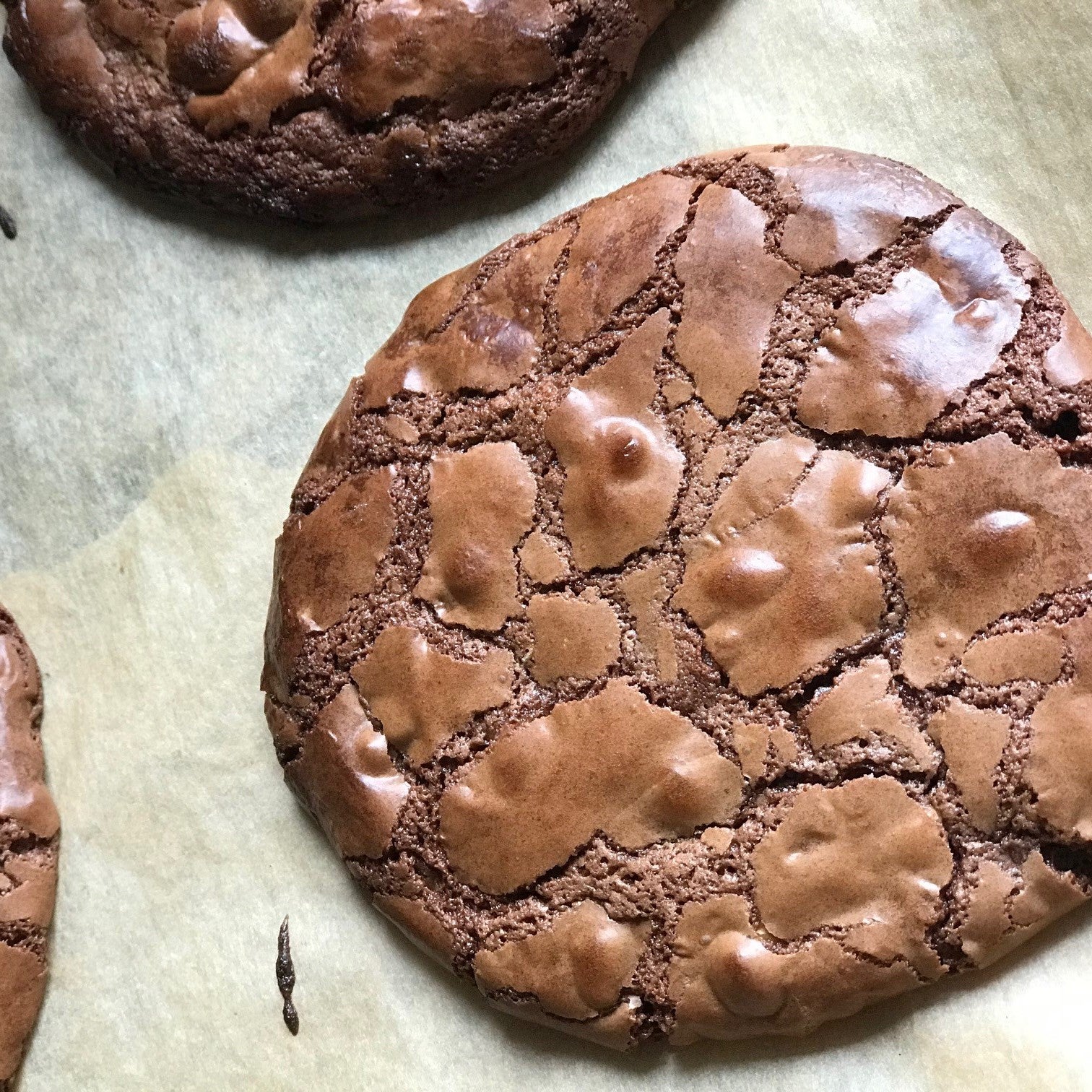 About the bake
These are no ordinary chocolate chip cookies, these are the absolutely moreish, 'I can't stop at one', chewy chocolate chip cookies.
With not one, not two, but three types of chocolate, these triple chocolate cookies, resemble the taste and texture of a scrumptious chocolate brownie in the shape and form of a cookie. Mind boggling right?
Whilst not the usual consistency of cookie dough, trust the process these cookies are worth every mouthful.
Method
Step 1:

Preheat the oven to 170°C, (150°C, gas mark 3) and line 2 baking trays with baking parchment.


Step 2:

Melt the butter and the plain chocolate in a heatproof bowl over a pan of simmering water, then set to one side.

Alternatively melt in the microwave, in short bursts, stirring in between to avoid the chocolate burning. Microwave until the chocolate is fully melted and smooth in consistency.


Step 3:

In a large bowl beat together the eggs, sugars and vanilla extract until well mixed. Pour in the chocolate mixture and mix until well combined

Step 4:

Sift the flour, salt and baking powder into a bowl and then add to the chocolate mixture in two batches, mixing thoroughly then stir in the white chocolate chunks and milk chocolate chips.

The mixture will resemble a brownie batter as opposed to the solid cookie dough. This is correct so don't worry.

Step 5:

Use a spoon to scoop the cookie mix and position on the baking sheet leaving plenty of space between each one. These cookies like to spread out in the oven.

Your mixture should make 12 large cookies. If you prefer smaller cookies, reduce the amount of mixture that you scoop out.

Step 6:

Place in the oven and bake for 10-15 minutes until they start to crack on top and look shiny. Leave to cool on the trays for about 10 minutes then transfer onto a cooling rack to cool completely.

Step 7:

If you love these cookies as much as we do, why not try making a giant cookie cake using this mix next time?

Use a pizza tray or circular cake tin to help keep the shape whilst baking. You will need to bake the cookie for slightly longer so keep an eye on it in the oven.
Ingredients
50g

 

Butter (unsalted)

250g

 

Plain chocolate (70% cocoa) (roughly chopped)

2

 

Egg(s) (free range) (medium)

175g

 Billington's Unrefined Light Muscovado Sugar

1/2 tsp

 Nielsen-Massey Vanilla Extract

90g

 Allinson's Plain White Flour

A pinch

 

Salt

1/2 tsp

 

Baking powder

50g

 

Milk Chocolate Chips

50g

 

White Chocolate (broken into chunks)
Nutritional Information
per 55g
290cal

 

Energy

16g

 

Fat

9g

 

of which Saturates

32g

 

Carbohydrates

25g

 

of which Sugars

4.5g

 

Protein

0.31g

 

Salt
Recipe Reviews
Are you sure the chocolate quantity is right? It seems an awful lot for 12 cookies! And also, shd the consistency look more like a brownie mix Than a dough? I've just followed the instructions and now wondering what to do with the sloppy mix! Shall I just spoon it out and see? Hope I haven't wasted all these ingredients🙏🏽
Hello,
It does seem quite heavy in chocolate, was it a success?
I will take a look at this recipe as soon as we are able to to make sure the quantities are correct.
Thanks and Happy Baking!
Ingredients
50g

 

Butter (unsalted)

250g

 

Plain chocolate (70% cocoa) (roughly chopped)

2

 

Egg(s) (free range) (medium)

175g

 Billington's Unrefined Light Muscovado Sugar

1/2 tsp

 Nielsen-Massey Vanilla Extract

90g

 Allinson's Plain White Flour

A pinch

 

Salt

1/2 tsp

 

Baking powder

50g

 

Milk Chocolate Chips

50g

 

White Chocolate (broken into chunks)
Nutritional Information
per 55g
290cal

 

Energy

16g

 

Fat

9g

 

of which Saturates

32g

 

Carbohydrates

25g

 

of which Sugars

4.5g

 

Protein

0.31g

 

Salt