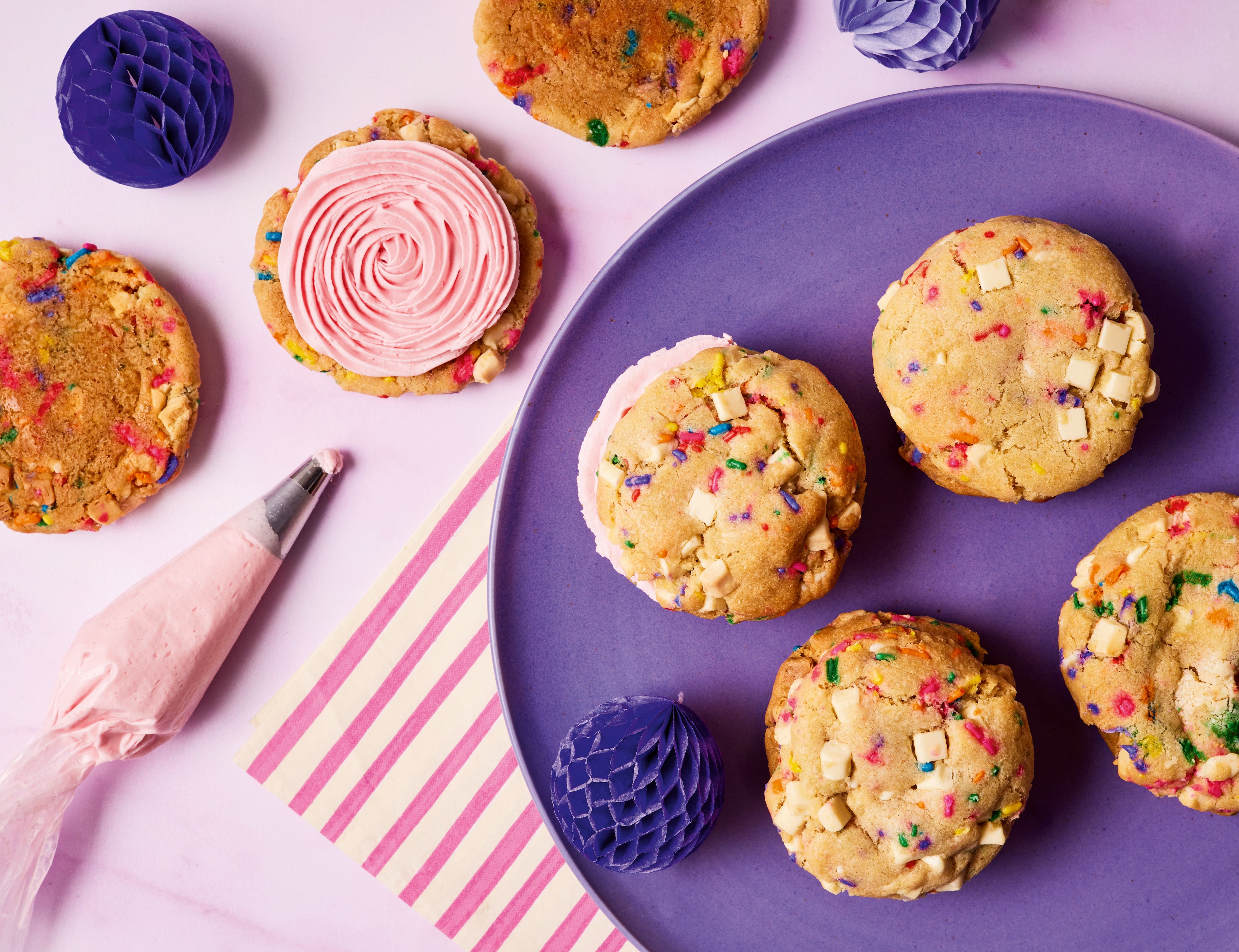 About the cookies
Whilst birthday cakes are a great way to celebrate we think birthday cookies are equally as tasty and a great homemade gift.
Two delicious vanilla cookies laced with brightly coloured sprinkles and white chocolate, sandwiched together with a bright buttercream frosting.
If you want to make a chocolate cookie dough, you can remove 50g plain flour from the recipe and add 35g cocoa powder instead.
Use any colour buttercream you want in the middle – think red or green for Christmas or lilac for Easter... it's up to you!
Extracted from Jane's Patisserie: Celebrate! by Jane Dunn (Ebury Press, £20). Photography by Ellis Parrinder
Method
Step 1:

In a large bowl, cream the butter, brown sugar and white sugar together until smooth. Add the egg and vanilla extract and beat again. Add the flour, bicarbonate of soda and sea salt, then beat until a dough is formed. Add the chocolate chips and funfetti sprinkles and mix until well distributed.

Step 2:

Portion the dough out into 16 balls – each should weigh about 60g. Lay the balls out onto a flat tray that fits in the freezer and freeze for at least 30 minutes, or chill in the fridge for an hour or so.

Step 3:

Meanwhile, preheat the oven to 180ºC/160ºC fan and line three baking trays with parchment paper. Remove the balls from the freezer or fridge and put them onto the lined baking trays. Jane does roughly six cookies per tray. Bake in the oven for 10–11 minutes. Leave to cool on the trays while you make the filling.

Step 4:

For the filling, in a large bowl, beat the butter for a few minutes to loosen it. Add the icing sugar and beat again until smooth. Add a few drops of food colouring (I used pink, but you can use any!) and beat well.

Step 5:

Transfer the pink filling to a piping bag with the piping nozzle of your choice filled and pipe over eight of the cookies. Sandwich the cookies together with the remaining eight cookies.
Ingredients
For the Cookies

115g

 

Unsalted butter (softened)

100g

 Billington's Light Muscovado Sugar

100g

 Silver Spoon Caster Sugar

1

 

Large Egg

1 tsp

 Nielsen-Massey Vanilla Extract

300g

 

Allinson's plain flour

1/2 tsp

 

Bicarbonate of soda

1/2 tsp

 

Sea Salt

250g

 

White chocolate chips

75g

 

Funfetti

For the filling

75g

 

Unsalted butter (softened)

150g

 Silver Spoon Icing Sugar

a drop

 

Pink food colouring
Utensils
Large bowl

Electric whisk/food mixer

Baking trays

Parchment paper

Piping bag

Piping nozzle
Ingredients
For the Cookies

115g

 

Unsalted butter (softened)

100g

 Billington's Light Muscovado Sugar

100g

 Silver Spoon Caster Sugar

1

 

Large Egg

1 tsp

 Nielsen-Massey Vanilla Extract

300g

 

Allinson's plain flour

1/2 tsp

 

Bicarbonate of soda

1/2 tsp

 

Sea Salt

250g

 

White chocolate chips

75g

 

Funfetti

For the filling

75g

 

Unsalted butter (softened)

150g

 Silver Spoon Icing Sugar

a drop

 

Pink food colouring
Utensils
Large bowl

Electric whisk/food mixer

Baking trays

Parchment paper

Piping bag

Piping nozzle