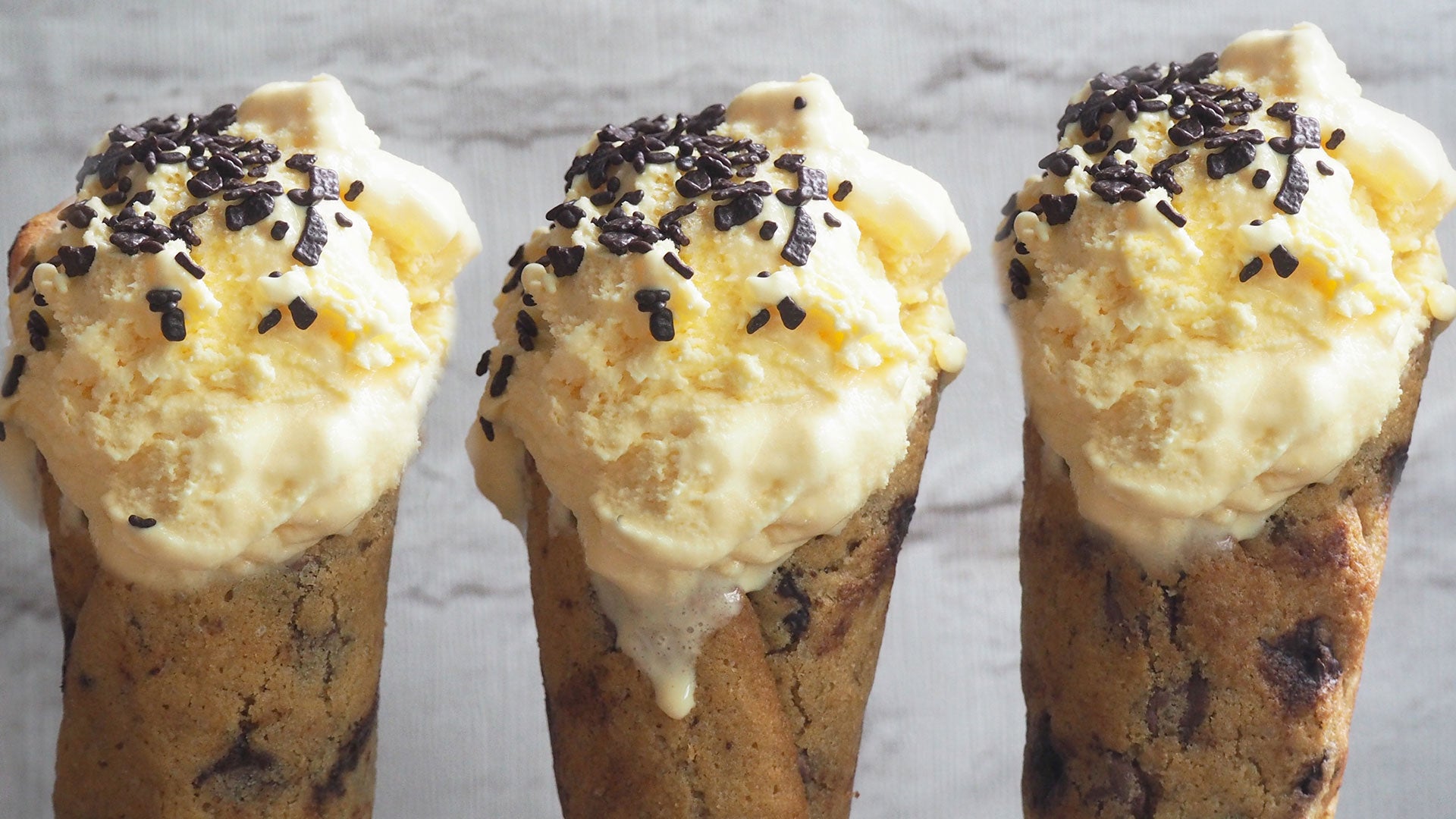 About the bake
These chocolate chip cookie cones are a great alternative to ice cream cones. You'll be racing through the ice cream to get to the cone! Once you've made a batch of them, you can freeze them and use them when you want.
Method
Step 1:

Preheat the oven to 175c/160Fan. Mix together the flour, salt and bicarbonate or soda and set aside.


Step 2:

Beat together the butter, sugars and vanilla until creamy, then add the eggs and beat again.


Step 3:

Mix in the flour mixture and then the chocolate chips. You should have a medium stiff spoonable dough.




Step 4:

Line your baking tray with parchment and draw a 4inch/11cm circle on it in pencil. Spoon 1/4 cup/60g mixture into the circle and spread it out to fill the pencil line. Bake this cookie for exactly 9 minutes.




Step 5:

While it is baking, grease your cream horn mould and line the outside with parchment. Chill in the fridge.


Step 6:

Remove the cookie from the oven and rest it for exactly one minute. Working quickly while the cookie is still soft and warm...

Your aim is to turn it over ready to shape around the horn. Do this by placing a piece of parchment slightly larger than the cookie over the warm cookie and use it and the lining paper beneath to flip it in your hands and onto your work surface. Peel off the baking paper to reveal the underside of the cookie.



Now take the Cream Horn mould you wrapped with parchment and using the paper now beneath the surface of the cookie, wrap the warm cookie around the mould and press it on using the paper.


Step 7:

Leave the cookie wrapped if you can and let it cool on the mould for at least 15 minutes. If the paper won't stay on, use it to gently press the cookie around the mould and then stand upright on a cooling rack to cool completely. Once cool you can remove the mould and chill further in the fridge to firm completely. Repeat until your dough is used up.

Ingredients
For the cookie dough

280g

 

Plain flour

1 tsp

 

Bicarbonate of soda

1 tsp

 

Salt

225g

 

Unsalted butter (softened)

130g

 Billington's Unrefined Golden Caster Sugar

135g

 Billington's light muscovado sugar

2 tsp

 Nielsen-Massey Vanilla Extract

2

 

Eggs (large)

200g

 

Dark chocolate chips
Utensils
Cream horn moulds

1/4 cup measure

Baking parchment

Ruler and pencil

Baking tray

Timer
Nutritional Information
per 74g
413cal

 

Energy

21g

 

Fat

13g

 

of which Saturates

49g

 

Carbohydrates

32g

 

of which Sugars

4.5g

 

Protein

0.77g

 

Salt
Recipe Reviews
Did not work! Breaks when twirling so we had to make them into cookies which taste nice 👍 (if your making cookies bake for 11-12min on same temperature)
Ingredients
For the cookie dough

280g

 

Plain flour

1 tsp

 

Bicarbonate of soda

1 tsp

 

Salt

225g

 

Unsalted butter (softened)

130g

 Billington's Unrefined Golden Caster Sugar

135g

 Billington's light muscovado sugar

2 tsp

 Nielsen-Massey Vanilla Extract

2

 

Eggs (large)

200g

 

Dark chocolate chips
Utensils
Cream horn moulds

1/4 cup measure

Baking parchment

Ruler and pencil

Baking tray

Timer
Nutritional Information
per 74g
413cal

 

Energy

21g

 

Fat

13g

 

of which Saturates

49g

 

Carbohydrates

32g

 

of which Sugars

4.5g

 

Protein

0.77g

 

Salt