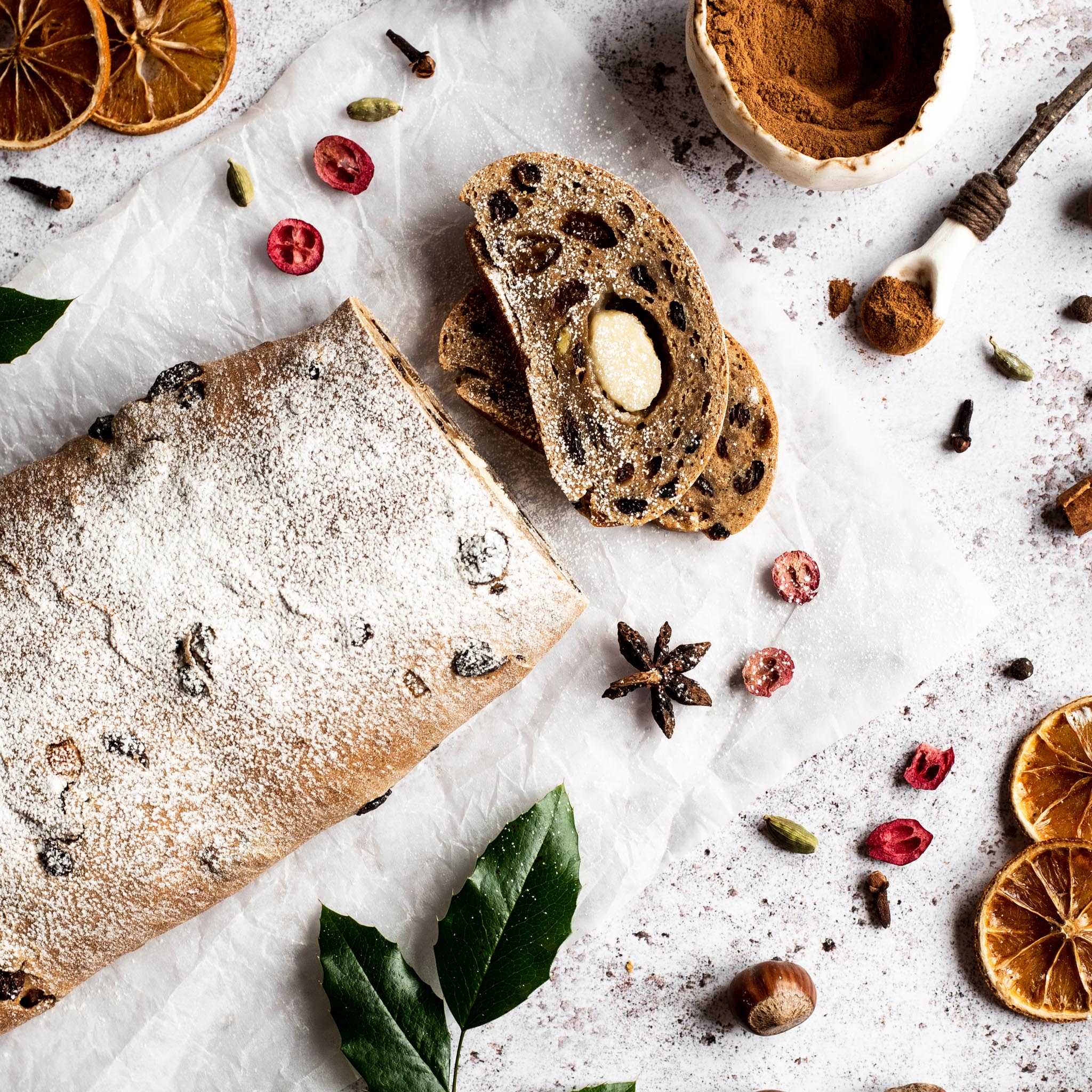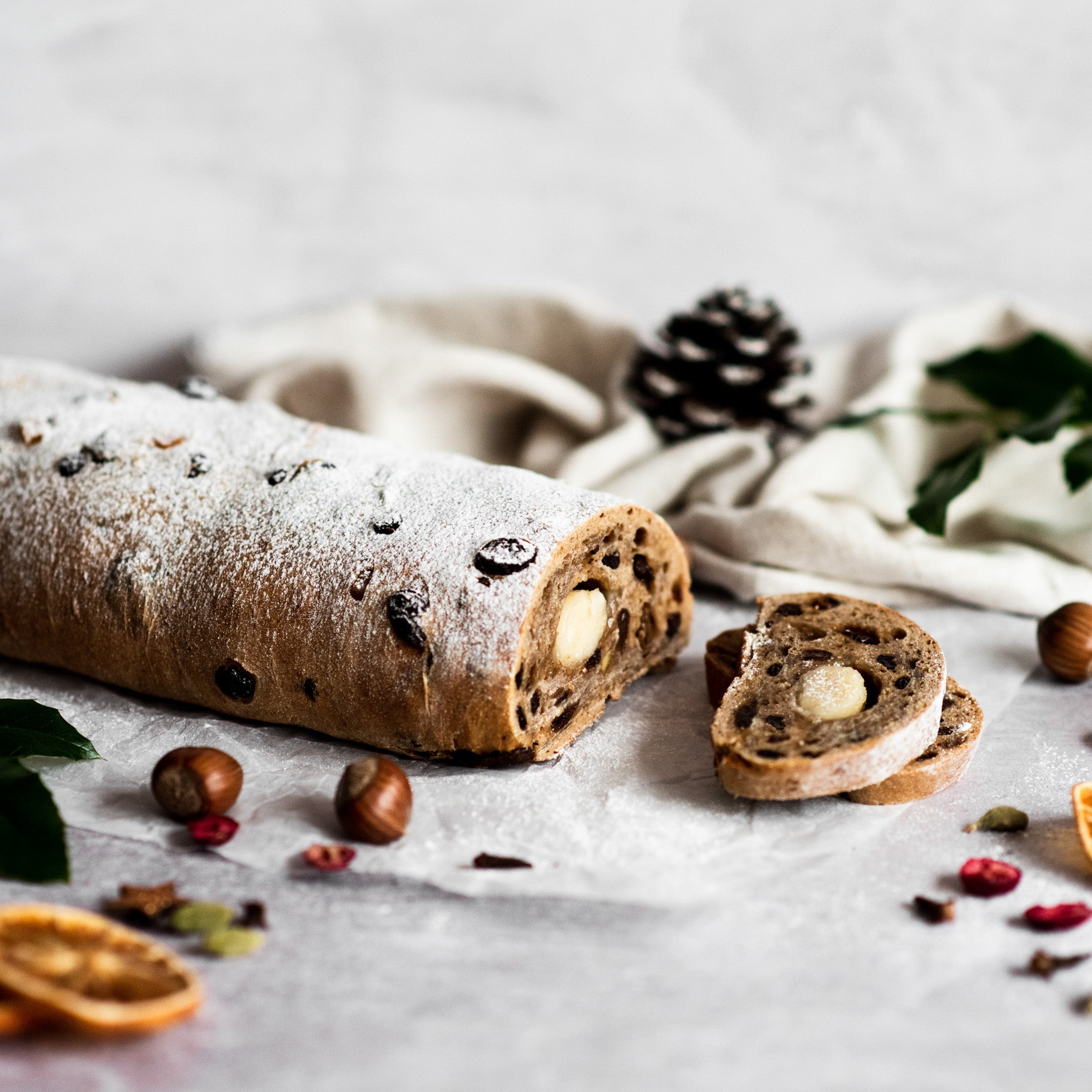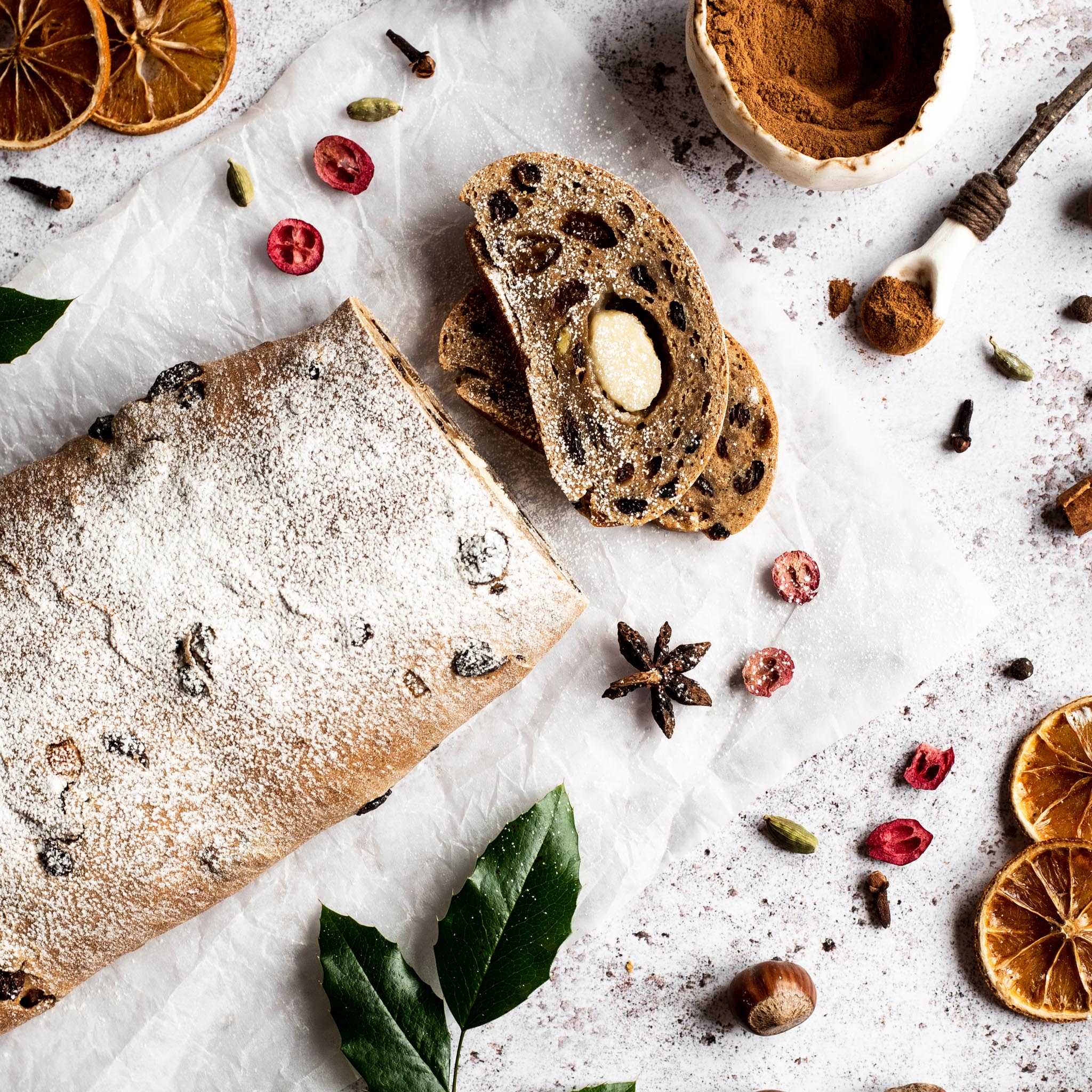 About the bake
In this recipe, we show you how to make vegan stollen. This recipe uses vegan butter as a substitute so you can still enjoy the same festive treats as everyone else! For the best stollen, make 2-3 weeks in advance as it matures with flavour over time. Store in baking parchment in an airtight container at room temperature.
Method
Step 1:

Peaheat your oven to 180ºc/ gas mark 4/350ºf.


Step 2:

Melt the butter in the microwave and set aside. (Increments of 15 seconds is usually best in the microwave, this will stop you from accidentally burning it).


Step 3:

Combine the flour, yeast, sugar, milk, rum, ground almonds and spices in a mixing bowl.


Step 4:

Add the melted butter to form a dough. Cover with a damp cloth and place in a warm area to rise until it has doubled in size. This will roughly take 40-60 minutes in a warm room.


Step 5:

When the dough is ready gently fold in the chopped dried apricots, raisins and candied peel.


Step 6:

Set the dough to one side and start to form your marzipan into a long sausage shape.

Using your stollen dough you set to one side, roll the dough into a 9x13" rectangle. Place the marzipan into the middle of the rectangle and fold the stollen dough over to seal it (A bit like a giant sausage roll).


Step 7:

Bake in your preheated oven for 45 minutes or until golden brown.


Step 8:

When the Stollen is cooled sprinkle with the icing sugar. Wrapped in baking parchment and keep in an air tight container.


Step 9:

New to vegan baking? Check out our vegan substitutes video which will help you for your next bake.

Ingredients
For the Stollen

480g

 Allinson's Strong White Bread Flour

7g

 

Allinson's dried yeast

280g

 Billington's Unrefined Dark Muscovado Sugar

200g

 

Vegan butter

160ml

 

Soya milk

2 tbsp

 

Dark rum

1 tsp

 

Cinnamon

1 tsp

 

Ground ginger

1 tsp

 

Mixed spice

70g

 

Almonds

90g

 

Raisins

90g

 

Candied peel

6

 

Dried apricots

For the Decoration

1 tbsp

 Billington's golden icing sugar
Recipe Reviews
I made this recipe and it was tasty. I added more marzipan to the middle because I LOVE marzipan.
Ingredients
For the Stollen

480g

 Allinson's Strong White Bread Flour

7g

 

Allinson's dried yeast

280g

 Billington's Unrefined Dark Muscovado Sugar

200g

 

Vegan butter

160ml

 

Soya milk

2 tbsp

 

Dark rum

1 tsp

 

Cinnamon

1 tsp

 

Ground ginger

1 tsp

 

Mixed spice

70g

 

Almonds

90g

 

Raisins

90g

 

Candied peel

6

 

Dried apricots

For the Decoration

1 tbsp

 Billington's golden icing sugar