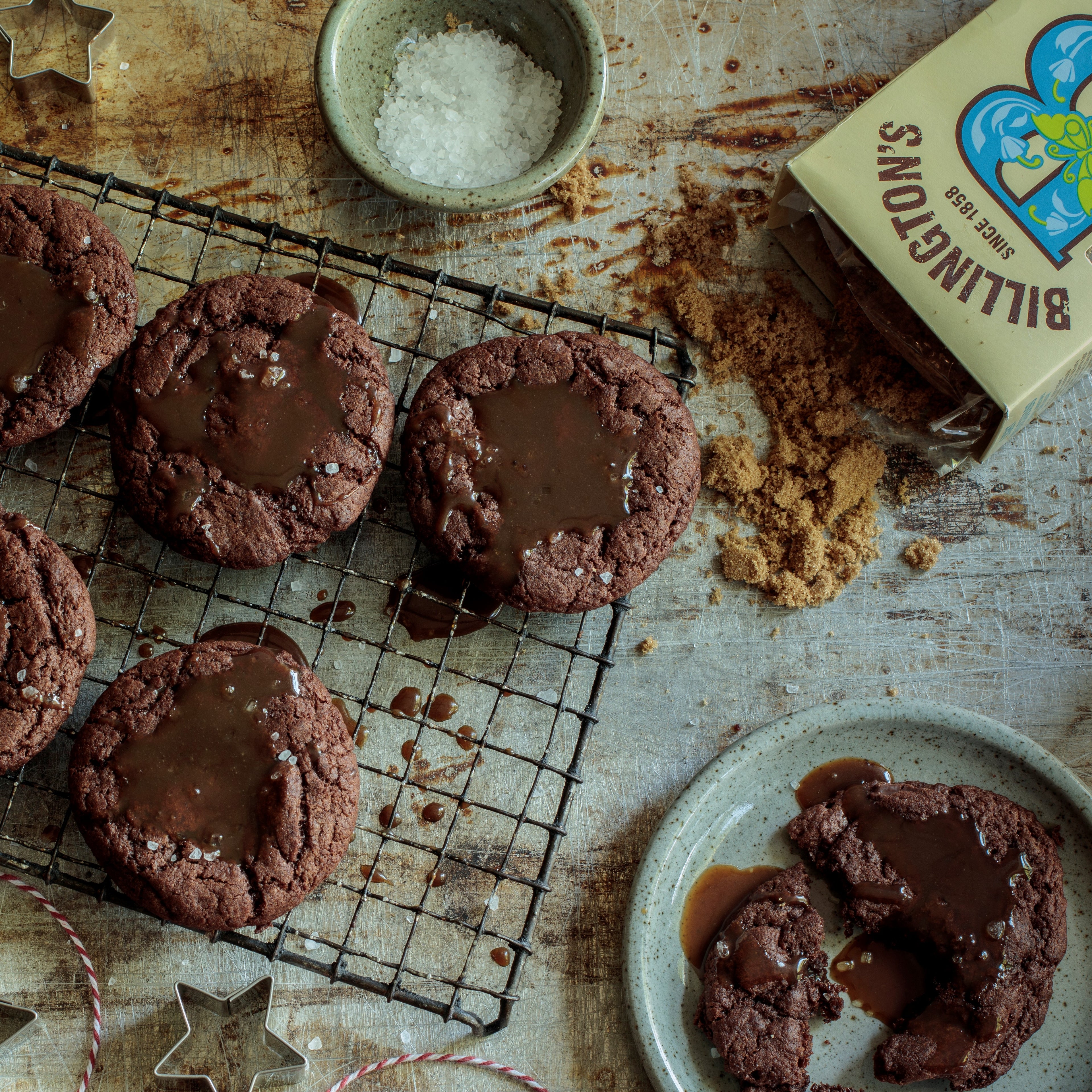 About the bake
These vegan salted caramel chococlate chip cookies are thick and delicious. These rich decedent vegan cookies are crispy on the edges and soft in the centres. They are loaded with salted caramel and chocolate chunks.
Method
Step 1:

Preheat the oven to 180ºC/350ºF


Step 2:

Step 3:

Cream the sugar and butter with an electric whisk until it is creamy and soft.


Step 4:

Mix together the arrowroot & water in a small bowl. Add the vanilla bean paste and stir altogether.


Step 5:

In a separate bowl, sift together the flour and baking powder. Then sift in the cocoa powder and mix together.


Step 6:

Chop the chocolate into small chunks and stir into the main flour mixture.


Step 7:

Next, take two large baking trays and line them with baking paper.


Step 8:

Divide the mixture evenly into 16 balls


Step 9:

Place them onto your baking parchment lined tray. Make sure you spread these enough as they will spread during the baking process.


Step 10:

Bake these in the oven for 10-12 minutes. They may look soft but they will harden when they're out and left to cool


Step 11:

After 5 minutes of the cookies cooling, add a teaspoon of the vegan caramel to the top of each cookie. You can add some sea salt flakes for decoration if you wish.

Ingredients
For the Cookies

115g

 

Vegan butter

200g

 Billington's Unrefined Light Muscovado Sugar

1 tsp

 

Baking powder

1 tbsp

 

Arrowroot powder

1 tbsp

 

Water

180g

 

Allinson's plain flour

2 tbsp

 Nielsen-Massey Vanilla Bean Paste

25g

 

Cocoa powder

100g

 

Dark chocolate

4 tbsp

 

Vegan salted caramel
Nutritional Information
per 41g
197cal

 

Energy

8.3g

 

Fat

3.4g

 

of which Saturates

27g

 

Carbohydrates

17g

 

of which Sugars

2.2g

 

Protein

0.27g

 

Salt
Ingredients
For the Cookies

115g

 

Vegan butter

200g

 Billington's Unrefined Light Muscovado Sugar

1 tsp

 

Baking powder

1 tbsp

 

Arrowroot powder

1 tbsp

 

Water

180g

 

Allinson's plain flour

2 tbsp

 Nielsen-Massey Vanilla Bean Paste

25g

 

Cocoa powder

100g

 

Dark chocolate

4 tbsp

 

Vegan salted caramel
Nutritional Information
per 41g
197cal

 

Energy

8.3g

 

Fat

3.4g

 

of which Saturates

27g

 

Carbohydrates

17g

 

of which Sugars

2.2g

 

Protein

0.27g

 

Salt