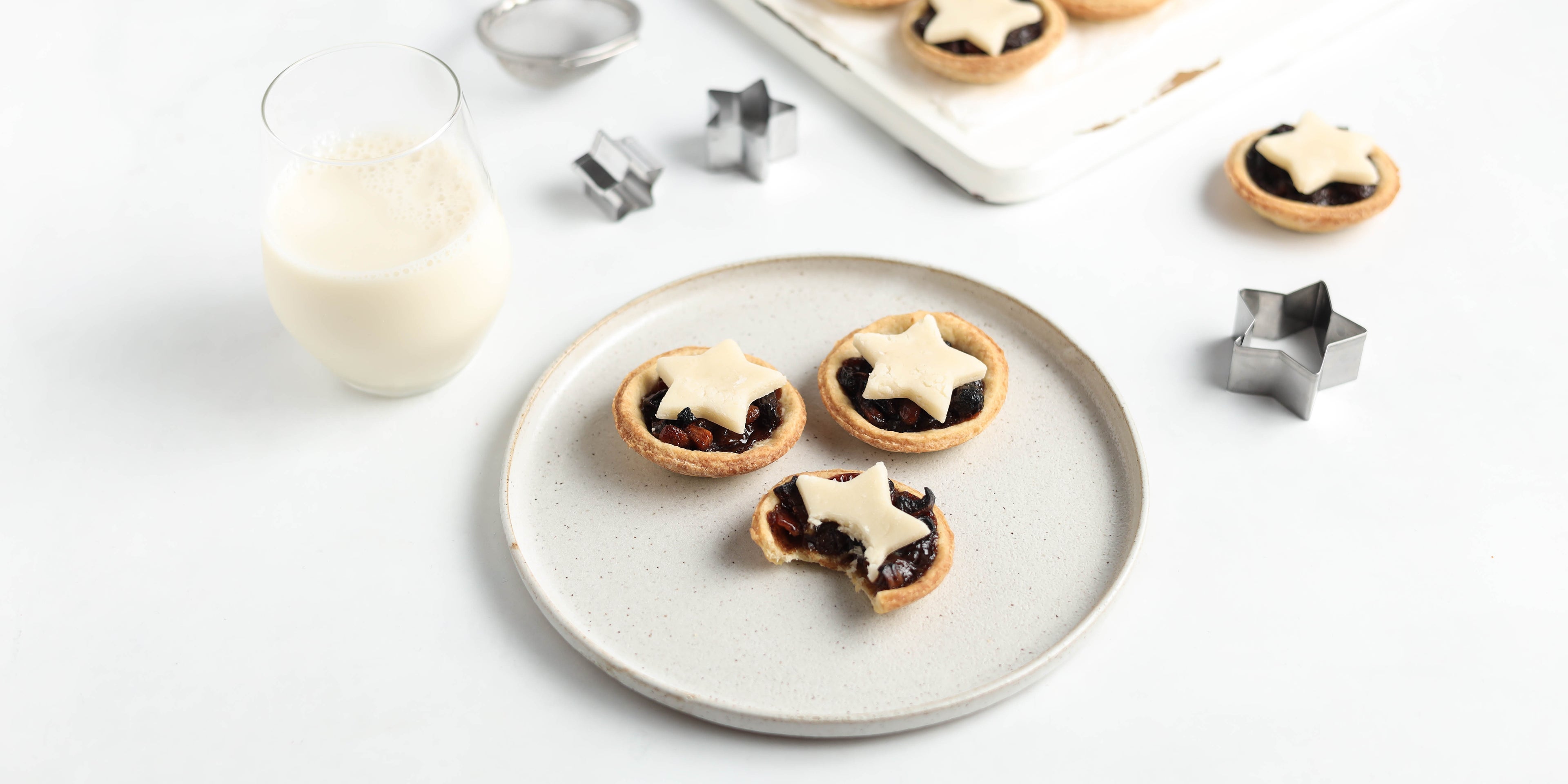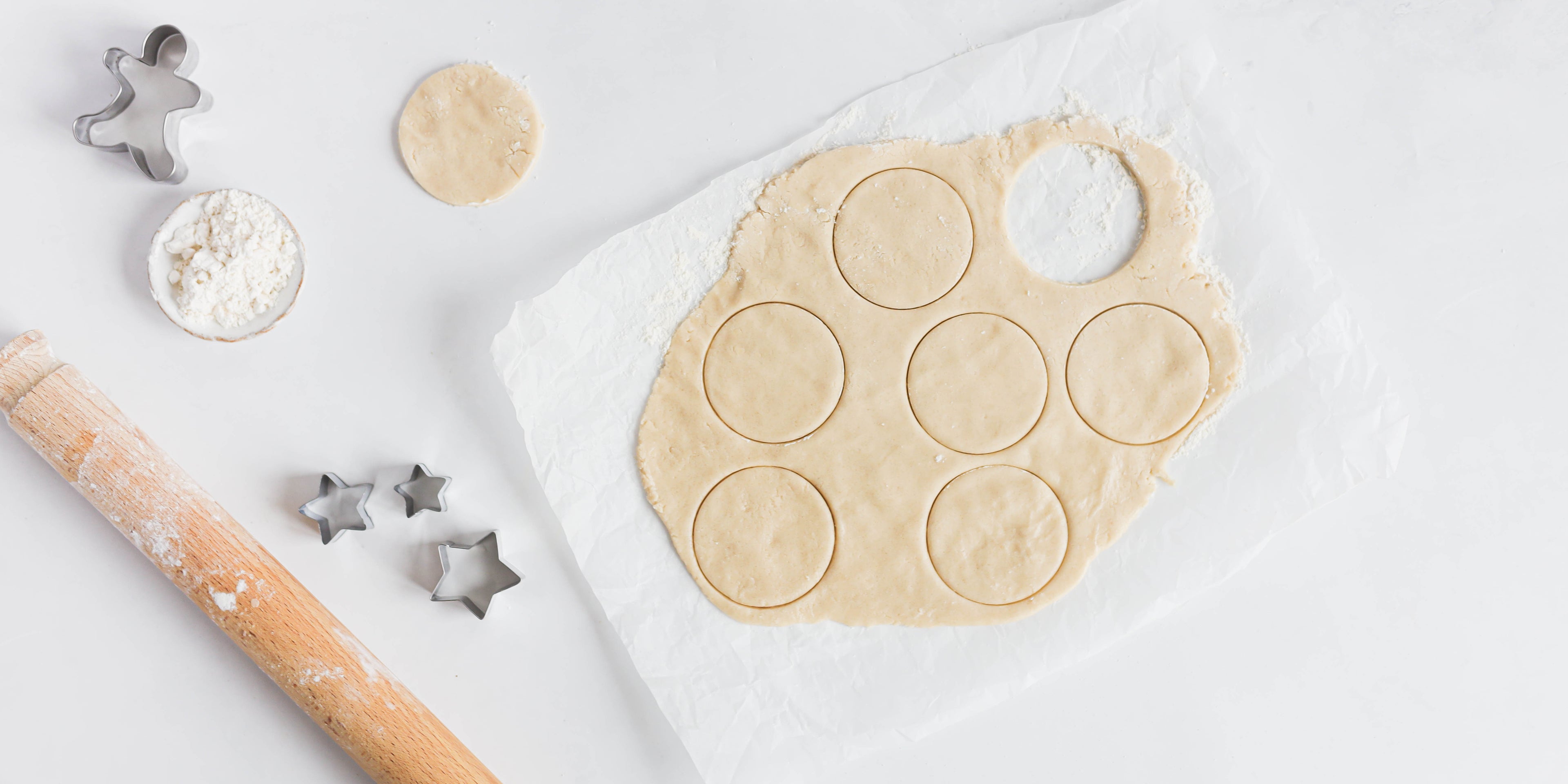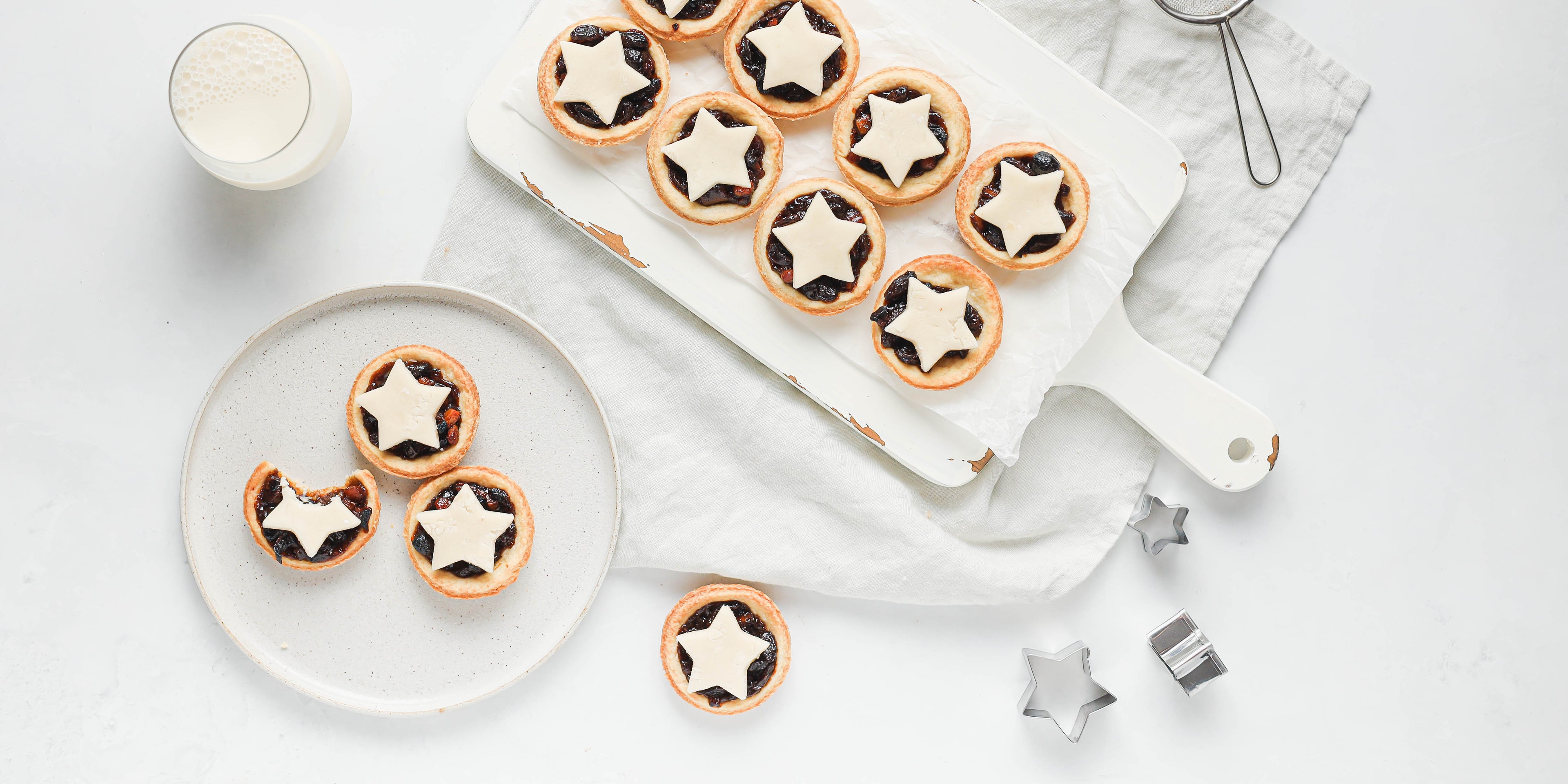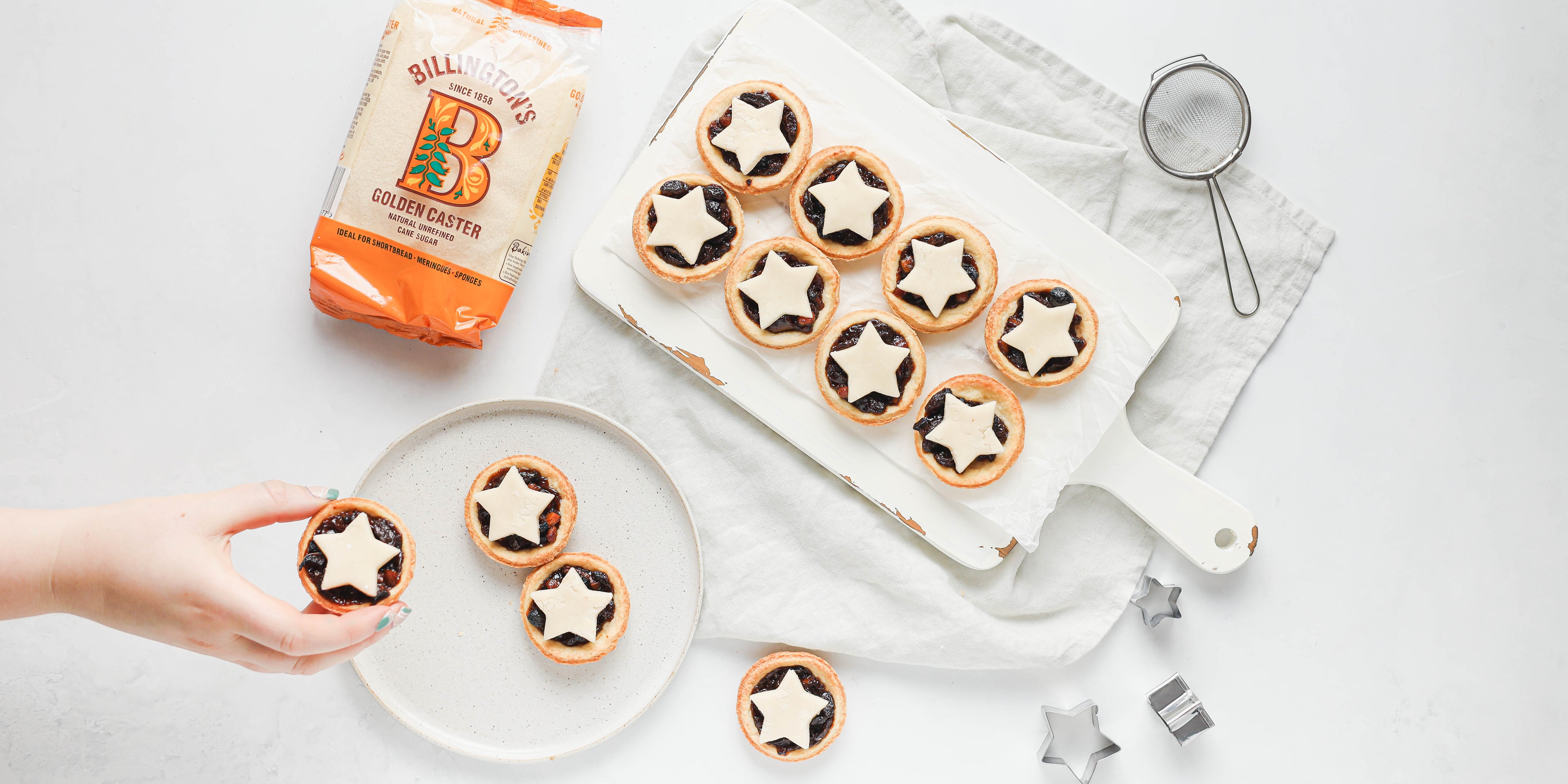 About the bake
We've got a really good recipe for vegan mince pies topped with vegan marzipan. These festive traditional treats have a a great texture which isn't compromised just because it doesn't have dairy or egg in the recipe. Treat yourselves this Christmas to these vegan marzipan topped mince pies.
Method
Step 1:

Make the mincemeat in advance following Billington's recipe.


Step 2:

(Chill the shallow cupcake tin in the fridge.) Rub together the flour, coconut oil & sugar in a food processor or by hand until the mixture resembles breadcrumbs.


Step 3:

Add a tablespoon of water a little at a time until the dough begins to come together as a ball. It is important not to overwork the pastry otherwise it can become very tough.


Step 4:

Turn the dough out on to a floured surface and bring it together. Using a floured rolling pin begin to evenly roll out the pastry to about 2-3mm thickness.


Step 5:

Use small circular cutter and stamp out 16 circles and place them in the holes in the baking tin.


Step 6:

Fill generously with mincemeat to the top of the edges of the pastry.


Step 7:

Roll out the marzipan to 2-3mm thickness and use a snowflake cutter to stamp out shapes. Place them on top of the pastry cases and brush the rims of the pastry with the almond milk.


Step 8:

Preheat the oven to 200°C and bake the pies for 20 minutes until the pastry is golden and cooked throughout.


Step 9:

Remove from the oven and then leave for 1-2 minutes before removing from the tin.


Step 10:

Place on a rack to cool.



If you love this vegan mince pie recipe, why not try our easy vegan chocolate cake recipe?

Ingredients
For the Pastry Cases

70g

 

Allinson's plain flour

100g

 

Coconut oil (cold, hard)

0.5 tsp

 

Salt

80g

 Billington's Unrefined Golden Caster Sugar

200g

 

Marzipan

10ml

 

Almond milk (to glaze)

For the Mincemeat

225g

 

Bramley apples

0.5 tsp

 

Ground cinnamon

0.5 tsp

 

Ground nutmeg

1.5 tsp

 

Mixed spice

3 tbsp

 

Brandy

115g

 

Sultanas

115g

 

Raisins

115g

 

Currants

115g

 

Shredded vegetable suet

115g

 

Whole candied peel (finely chopped)

150g

 Billington's Unrefined Dark Muscovado Sugar

1

 

Orange zest & juice

1

 

Lemon zest & juice
Utensils
Food processor

Rolling pin

Circular cutter

Shallow bun tin
We'd love a slice of advice.
Was it yum? Did the recipe work well? Did you customise the recipe?
Ingredients
For the Pastry Cases

70g

 

Allinson's plain flour

100g

 

Coconut oil (cold, hard)

0.5 tsp

 

Salt

80g

 Billington's Unrefined Golden Caster Sugar

200g

 

Marzipan

10ml

 

Almond milk (to glaze)

For the Mincemeat

225g

 

Bramley apples

0.5 tsp

 

Ground cinnamon

0.5 tsp

 

Ground nutmeg

1.5 tsp

 

Mixed spice

3 tbsp

 

Brandy

115g

 

Sultanas

115g

 

Raisins

115g

 

Currants

115g

 

Shredded vegetable suet

115g

 

Whole candied peel (finely chopped)

150g

 Billington's Unrefined Dark Muscovado Sugar

1

 

Orange zest & juice

1

 

Lemon zest & juice
Utensils
Food processor

Rolling pin

Circular cutter

Shallow bun tin