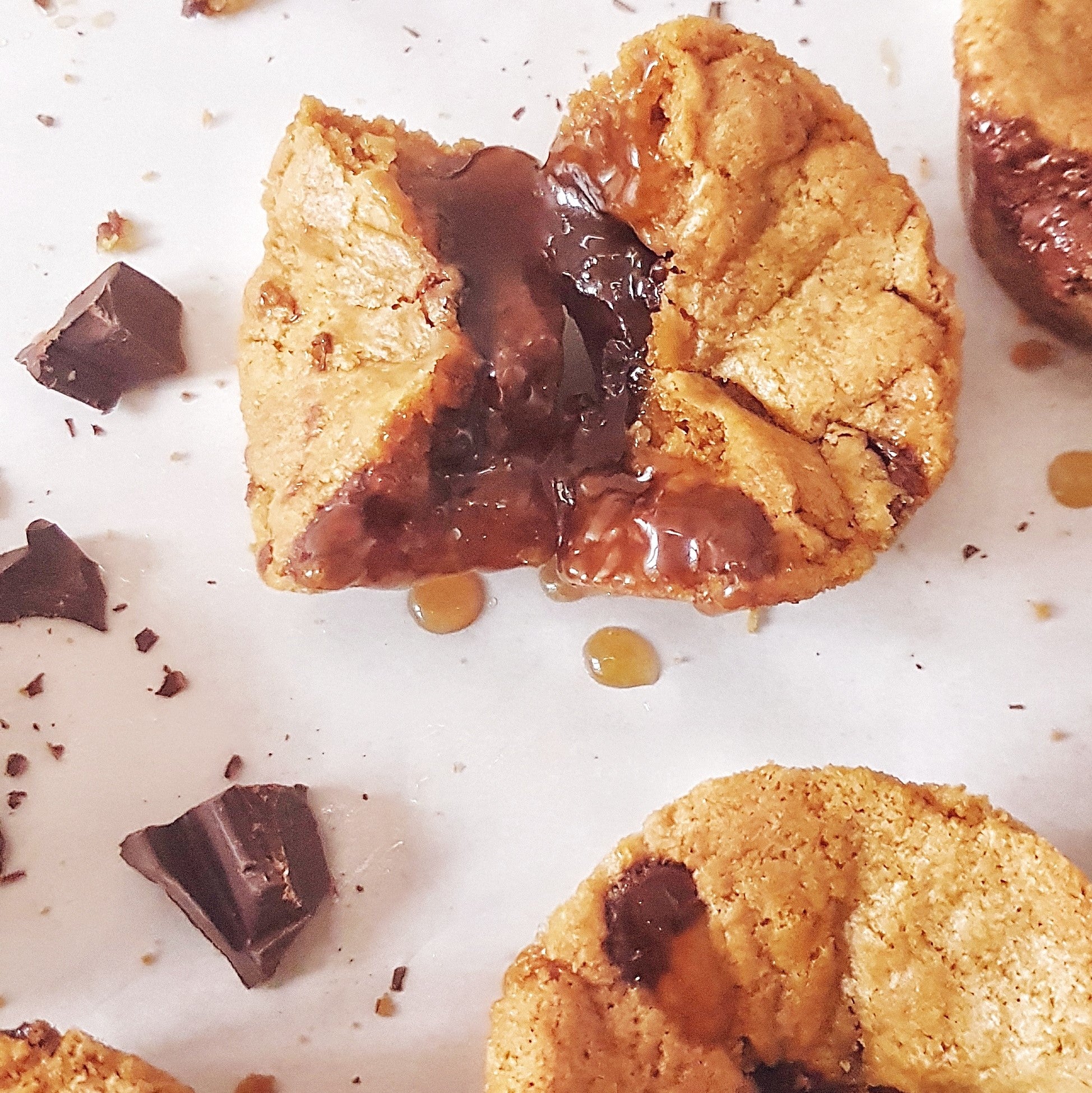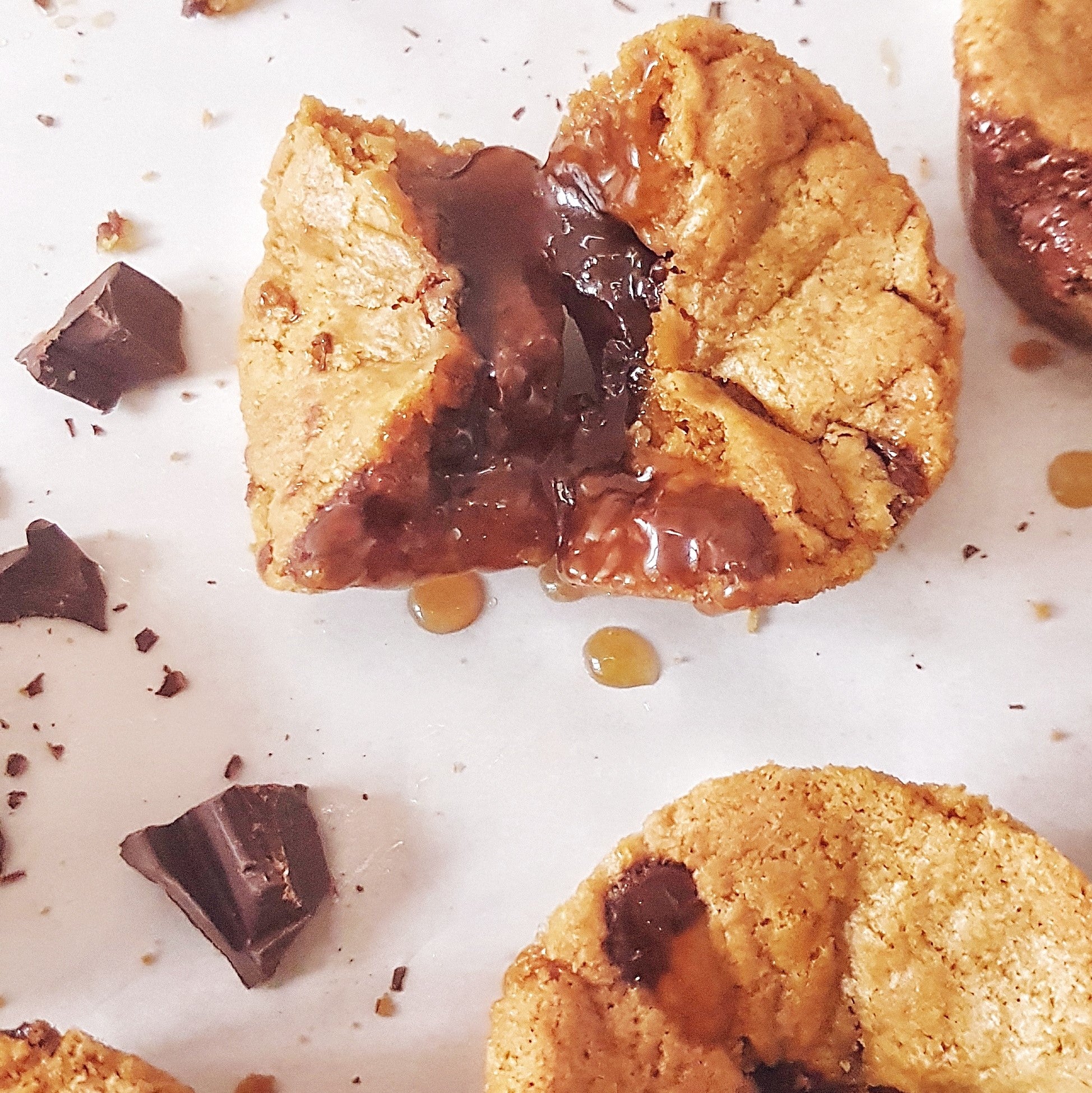 About the bake
These deep filled salted caramel chocolate chip cookies are completely vegan. These cookies are filled with a sumptious vegan caramel made with Billington's unrefined light muscovado sugar which brings a depth of flavour that is unparalleled.
Method
Step 1:

Start by making your vegan caramel. Heat a heavy bottomed saucepan to a medium high heat.


Preperation & Storage

Make the caramel at least 2 hours ahead of the cookies, it will thicken up with time in the fridge, it keeps well sealed airtight in the fridge for a week.

Step 2:

Now add the sugar and stir it around the pan for about 1 minute to heat through. Add the coconut milk and and sea salt stir to combine.


Step 3:

Bring everything to a boil, then reduce it to a medium-low heat and let simmer for about 15 minutes, until caramel has thickened, stirring occasionally. It should be sticking to the back of the spatula.


Step 4:

Stir in your salt - don't try and taste this while its hot, just wait until its cool, you can always add more salt.


Step 5:

Remove pan from the heat and allow it to cool slightly (for around 10 minutes) before transferring to a sealed container and into the fridge for at least two hours, it will thicken up more in the fridge.


Step 6:

Preheat the oven to 180ºc/160ºc fan/ 350ºf' gas mark 4.


Step 7:

Now for the cookies. Mix together the oil, water and sugar until they are nice and evenly mixed.


Step 8:

In a separate bowl, mix together the flour, baking powder, bicarb, salt and the chocolate chips evenly, so the chips are nicely coated in the flour mix.


Step 9:

Now just stir the dry mix into the oil mix, so its really evenly mixed and nice and smooth.


Step 10:

Grease your cupcake or muffin pan really well, all the way to the top.


Step 11:

Now scoop in some of the mixture so it fills the base of the muffin pan. Then spoon in some of the vegan caramel, then scoop some more of the batter on top.


Step 12:

Then bake for 16-18 minutes. They should still be chewy and a bit soft - don't over bake them!


Step 13:

Sprinkle the top of the cookie with some more salt if you like.

Ingredients
For the Caramel

150g

 Billington's Unrefined Light Muscovado Sugar

250ml

 

Coconut milk

To taste (approx 1 tbsp)

 

Salt (preferably good flaked sea salt)

For the Cookies

420g

 Billington's Unrefined Dark Muscovado Sugar

225ml

 

Vegetable oil

500g

 Allinson's plain white flour

2 tsp

 

Baking powder

1.5 tsp

 

Bicarbonate of soda

1 tsp

 

Salt

125g

 

Dark chocolate chips

125ml

 

Water
Utensils
Cupcake or muffin pan

Sauce pan
Nutritional Information
per 149g
701cal

 

Energy

29g

 

Fat

7.6g

 

of which Saturates

102g

 

Carbohydrates

65g

 

of which Sugars

6g

 

Protein

3.2g

 

Salt
We'd love a slice of advice.
Was it yum? Did the recipe work well? Did you customise the recipe?
Ingredients
For the Caramel

150g

 Billington's Unrefined Light Muscovado Sugar

250ml

 

Coconut milk

To taste (approx 1 tbsp)

 

Salt (preferably good flaked sea salt)

For the Cookies

420g

 Billington's Unrefined Dark Muscovado Sugar

225ml

 

Vegetable oil

500g

 Allinson's plain white flour

2 tsp

 

Baking powder

1.5 tsp

 

Bicarbonate of soda

1 tsp

 

Salt

125g

 

Dark chocolate chips

125ml

 

Water
Utensils
Cupcake or muffin pan

Sauce pan
Nutritional Information
per 149g
701cal

 

Energy

29g

 

Fat

7.6g

 

of which Saturates

102g

 

Carbohydrates

65g

 

of which Sugars

6g

 

Protein

3.2g

 

Salt