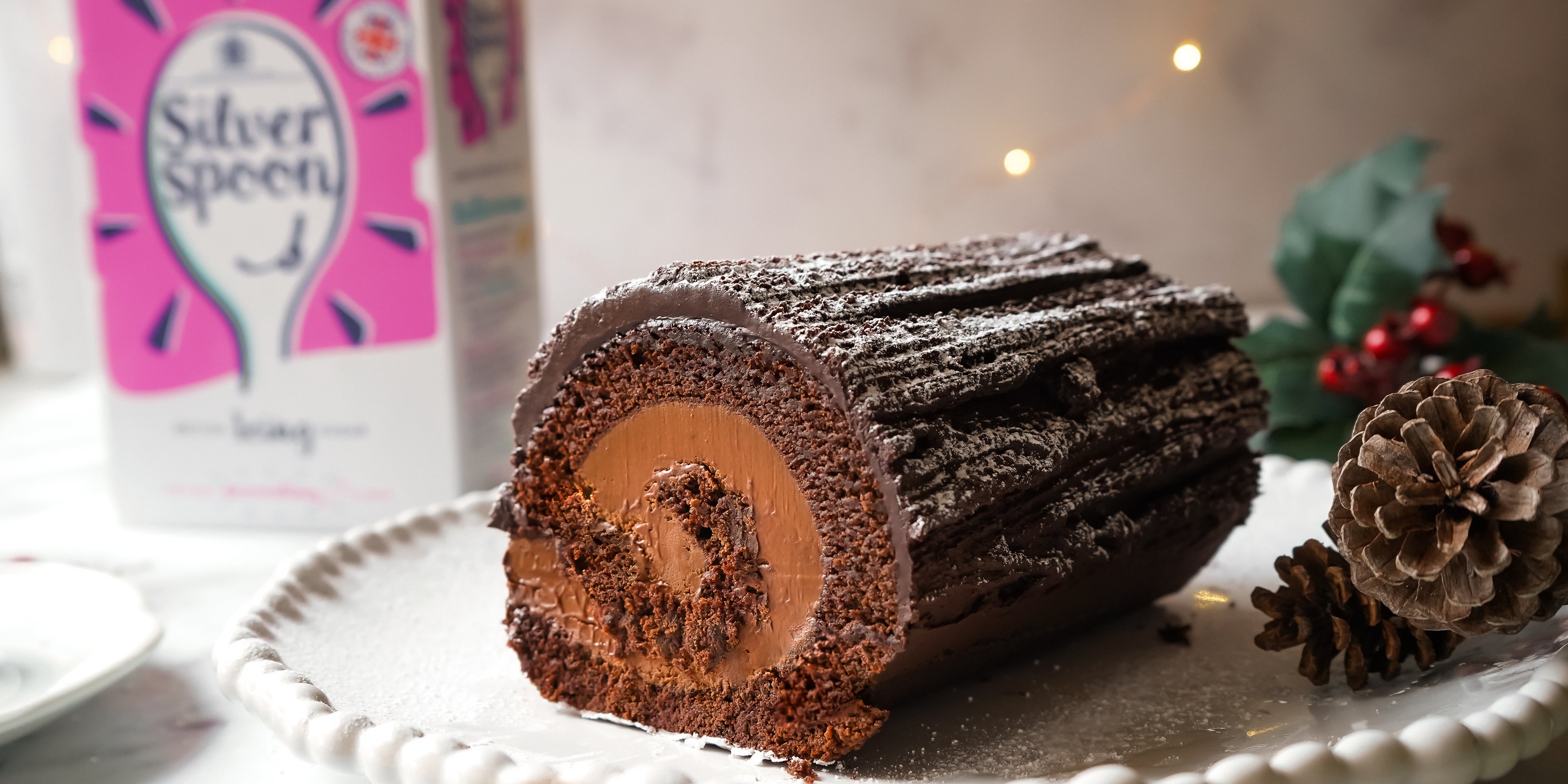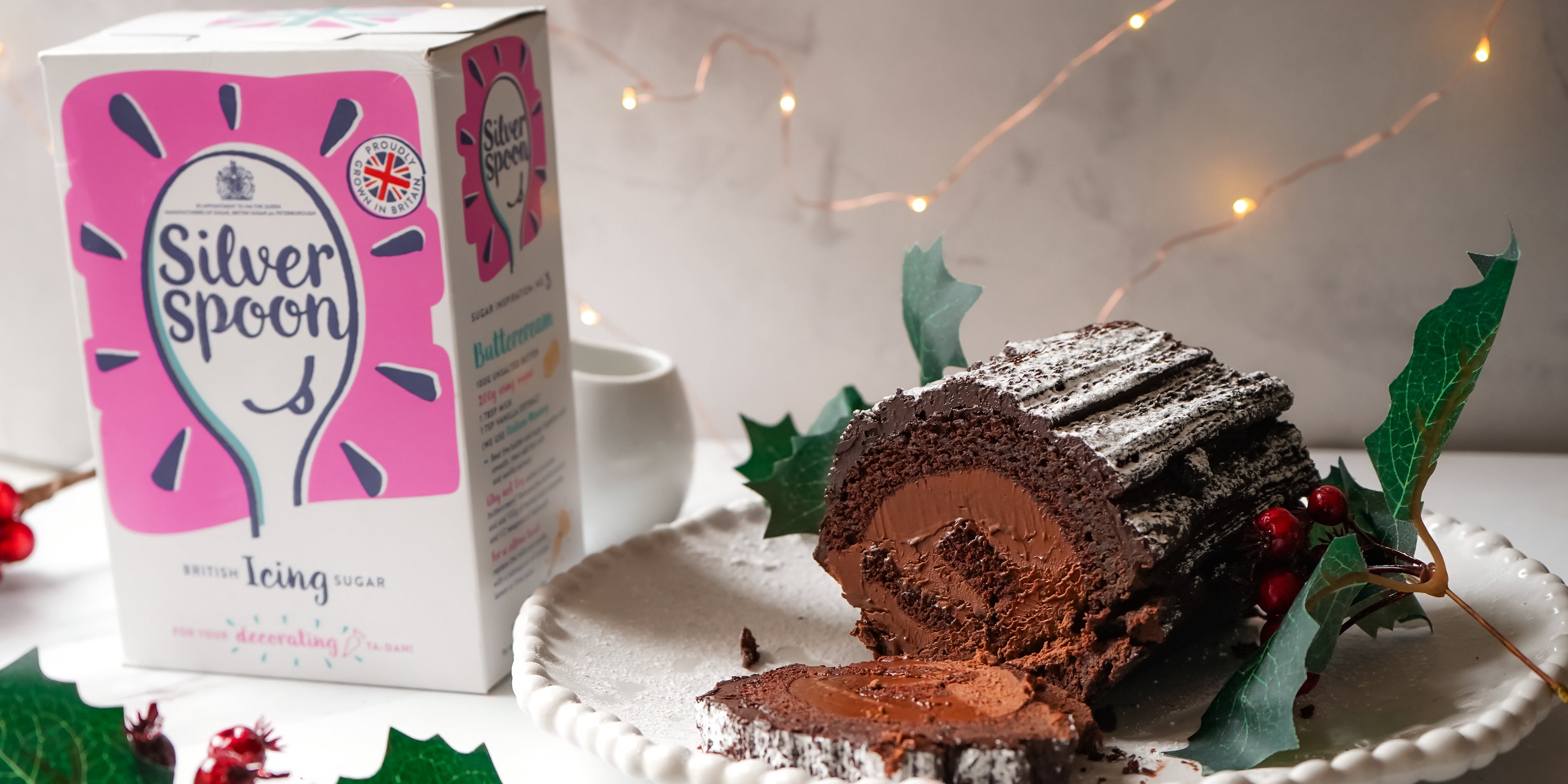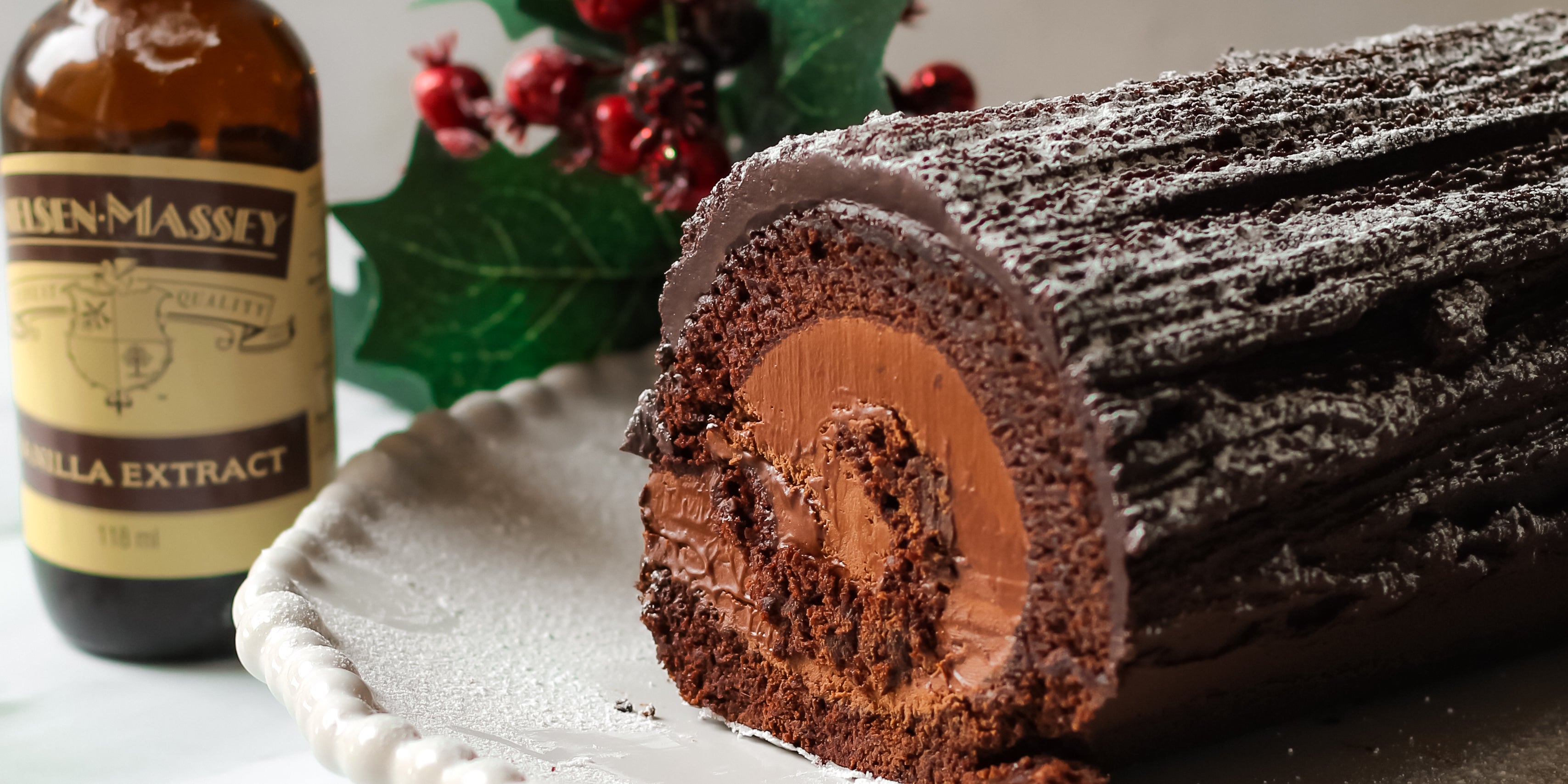 About the Vegan Yule Log
Yule log or Bûche de Noël... whatever you call it, Project Vegan Baking has got your back. Plant based lovers rejoice.
From a rich spongey cake, to swirls of creamy chocolatey ganache, send your guests head first into chocolate heaven with just a small slice of this deliciously luxurious vegan Bûche de Noël.
Complete your festive plant based spread with a delicious selection of our plant based Christmas recipes just waiting for you to whip up. Make your very own Vegan gingerbread house with our popular Gingerbread dough or bake up a classic vegan panettone. If you're all for shaking up tradition, then our Citrus Plant Based Cookies are just what you're looking for.
Method
Step 1:

Pre-heat the oven to 180C (356F).

Step 2:

Line a Swiss roll tray (or baking tray with high walls) with baking parchment.

Step 3:

Sieve together the dry ingredients (flour, caster sugar, cocoa powder, espresso powder, baking soda and salt).

Step 4:

Melt the dark chocolate in the microwave or using the bain marie method and combine it with the vegetable oil and plant milk.

Step 5:

Pour the wet mix into the dry mix and stir vigorously until fully incorporated. Pour the batter into the baking tray. Use a spatula to spread the batter evenly across the tray.

Step 6:

Place the tray in the middle shelf and bake for 7-8 minutes. Keep an eye on the cake around the 7-minute mark, if it looks raw or uncooked then wait until 8 minutes. If you bake it for any longer it will likely crack when rolling.

Step 7:

Take it out of the oven and leave to cool on a cooling rack. Optionally, trim off any edges that are too browned that may crack when rolling later.

Step 8:

Meanwhile make the chocolate ganache filling. Heat up the soy cream using your preferred method and pour this over the chopped dark chocolate. Wait 5 minutes for the chocolate to melt, add a splash of vanilla and then stir until smooth.

Step 9:

Spread the ganache evenly over the cooled layer of cake.

Step 10:

Carefully roll the cake into a log, using the baking parchment to tightly wind up the cake. Once rolled up, place into the fridge to chill while you work on the chocolate coating.

Step 11:

Once again, heat up the plant milk and pour over chopped chocolate to melt. Pour the ganache over the chilled Yule Log (or wait for it to cool then pipe it on).

Step 12:

Sprinkle with icing sugar then serve!
Ingredients
For the cake

200g

 Allinson's Plain White Flour

50g

 

Dark chocolate

30g

 

Cocoa powder

100g

 Silver Spoon Caster Sugar

210ml

 

Plant-based milk

1 tbsp

 

Espresso powder

50ml

 

Vegetable oil

1 tsp

 

Baking soda

 

Pinch of salt

For the chocolate ganache filling

250g

 

Dark chocolate (chopped)

200ml

 

Soy cream

2 tsp

 Nielsen-Massey Vanilla Extract

For the chocolate bark coating

200g

 

Chocolate

100ml

 

Plant-based milk
Utensils
Parchment paper

Swiss roll tin

Spatula
Recipe Reviews
Sponge was incredible! Would make this again. A great vegan alternative.
After cooling and adding ganache became a tray of breadcrumbs.
After thirty years of searching I still can't find a vegan sponge that rolls.
Sponge tasted good though!
10/10 taste, amazing !!!
First time making a Yule log, such an easy to follow recipe!
Rolling it was a bit of a challenge but soon got it sorted out and it looked AMAZING :)
Ingredients
For the cake

200g

 Allinson's Plain White Flour

50g

 

Dark chocolate

30g

 

Cocoa powder

100g

 Silver Spoon Caster Sugar

210ml

 

Plant-based milk

1 tbsp

 

Espresso powder

50ml

 

Vegetable oil

1 tsp

 

Baking soda

 

Pinch of salt

For the chocolate ganache filling

250g

 

Dark chocolate (chopped)

200ml

 

Soy cream

2 tsp

 Nielsen-Massey Vanilla Extract

For the chocolate bark coating

200g

 

Chocolate

100ml

 

Plant-based milk
Utensils
Parchment paper

Swiss roll tin

Spatula