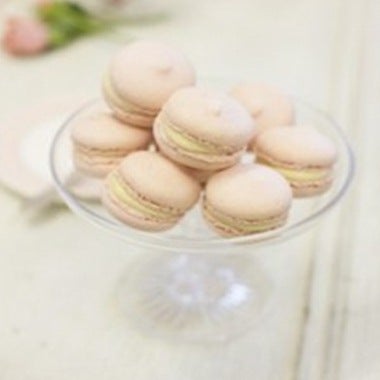 About the bake
Macaroons are often a tricky recipe for bakers to tackle. The key to making any Macaroon is to create really good soft peaks for your egg whites. We've included a video within the method which shows you how to get those all important peaks. Make sure you are being consistent with piping your Macaroons so that they do not merge into each other on the baking tray.
Method
Step 1:

Mix the ground almonds in a food processor for 30 seconds and then sift to ensure they're as fine as possible. Sift the icing sugar into the ground almonds.

Step 2:

Measure 60g of egg whites and stir in to the almonds and icing sugar along with the rose water extract and colouring to make a thick paste.


Step 3:

Place the water and the golden caster sugar into a small saucepan and heat. Bring to the boil and cook until the temperature reaches 118°C. Do not over stir or the syrup will crystallise. Remove from the heat.

Step 4:

Place the remaining egg whites in a bowl. Whisk into soft peaks, gradually adding the sugar syrup. Whisk on high until the mixture has thickened and stands in firm peaks. Fold the mixture into the ground almonds.


Step 5:

Heat oven to 170°C (fan 150°C, gas mark 3). Line three baking sheets with baking parchment and pipe your mixture in rounds roughly the size of a 10p piece. Leave for 30 minutes at room temperature before baking.

Step 6:

Bake for 10 minutes then cover with baking parchment and bake for a further 4-5 minutes. Cool on a wire rack.

Step 7:

Place the cream and white chocolate in a small saucepan and heat until melted and smooth. Leave to cool and then use to sandwich your macaroons together.
Ingredients
For the Macaroons

180g

 

Ground Almonds

175g

 Silver Spoon Icing Sugar

4

 

Large free range egg whites

1 tsp

 Nielsen-massey rose water

3 drops

 

Pink food colouring gel

50ml

 

Water

160g

 Billington's Unrefined Golden Caster Sugar

For the Ganache

300g

 

White chocolate

150g

 

Double cream
Utensils
Food processor

Sieve

Saucepan

3x Baking sheet

Baking parchment

Piping bag

Cooling rack
Nutritional Information
per 46g
242cal

 

Energy

13g

 

Fat

5.4g

 

of which Saturates

26g

 

Carbohydrates

25g

 

of which Sugars

4.3g

 

Protein

0.08g

 

Salt
We'd love a slice of advice.
Was it yum? Did the recipe work well? Did you customise the recipe?
Ingredients
For the Macaroons

180g

 

Ground Almonds

175g

 Silver Spoon Icing Sugar

4

 

Large free range egg whites

1 tsp

 Nielsen-massey rose water

3 drops

 

Pink food colouring gel

50ml

 

Water

160g

 Billington's Unrefined Golden Caster Sugar

For the Ganache

300g

 

White chocolate

150g

 

Double cream
Utensils
Food processor

Sieve

Saucepan

3x Baking sheet

Baking parchment

Piping bag

Cooling rack
Nutritional Information
per 46g
242cal

 

Energy

13g

 

Fat

5.4g

 

of which Saturates

26g

 

Carbohydrates

25g

 

of which Sugars

4.3g

 

Protein

0.08g

 

Salt