5 Minutes with Liam Charles
Chef Tips
We've caught up with Liam Charles, the happy-go-lucky chappy from The Great British Bake Off 2017. Liam impressed the judges and made his way right through to the Quarter Final. Since he left the tent he has continued his success as a presenter of 'Bake Off: The Professionals' and now releasing his debut recipe book 'Cheeky Treats'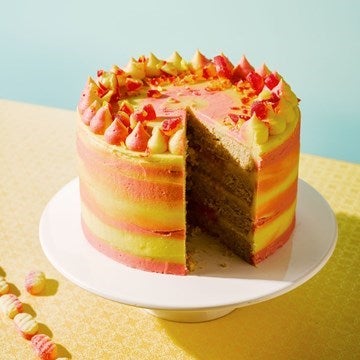 We were lucky enough to have a sneak peek at the book and wow! Let's just say we will most definitely be baking these in the near future. You can find three of Liam Charle's brand new recipes on Baking Mad; Rhubarb X Custard Cake and Toffee Apple Crumble Layer Cake.

What a whirlwind the last year has been for you! Tell us some of the exciting things that you have been up over the last 12 months?

It's literally been a massive roller coaster. But yeh I did bake off pros which was sick, I've published my first book...but yeh it's been great just taking everyday in my stride.

We love the title of your new book, Cheeky Treats – you were definitely one of the cheekiest contestants that have graced the Bake Off tent. What was your funniest memory of your time there?

Ahaha cheers!! Ermm I'll say it was week 7, technical challenge and Paul, Prue, Noel, Sandi came into the tent with glasses on which was jokes.

What kind of baker would you describe yourself as?

I'll say I'm a baker that loves to experiment, but I also love to draw inspiration from my everyday surroundings.

What is your earliest baking memory?

First batch of cupcakes I've made, super dense lemon cupcakes bright green red squiggles. Thought they were amazing at the time......look back now. Ahhhh man!!

What is your favourite go-to recipe?

Salted caramel standard

Where do you get your inspiration from for your recipes?

Sounds weird but literally anything. It's good to draw inspiration from things that's not related to baking. It encourages you to look at baking differently.

Are there any ingredients you really love baking with at the moment?

I've got a thing for white chocolate, I don't know why. Ohhh and peanut butter. Of course. Ohhh and activated charcoal as well.

Any that you really don't like?

Hmmmmmmmmm I pretty much like everything apart from lining tins.

If we just baked one recipe from your new book, which one would you recommend?

Defo the salted nutter. It's pretty much me in cake form. But for more of a savoury vibe I'll goooo pie n play v 1

What exciting plans can you share with us over the next few months?

Yeh yeh there's something coming. Don't wanna say yet. Top secret top secret.