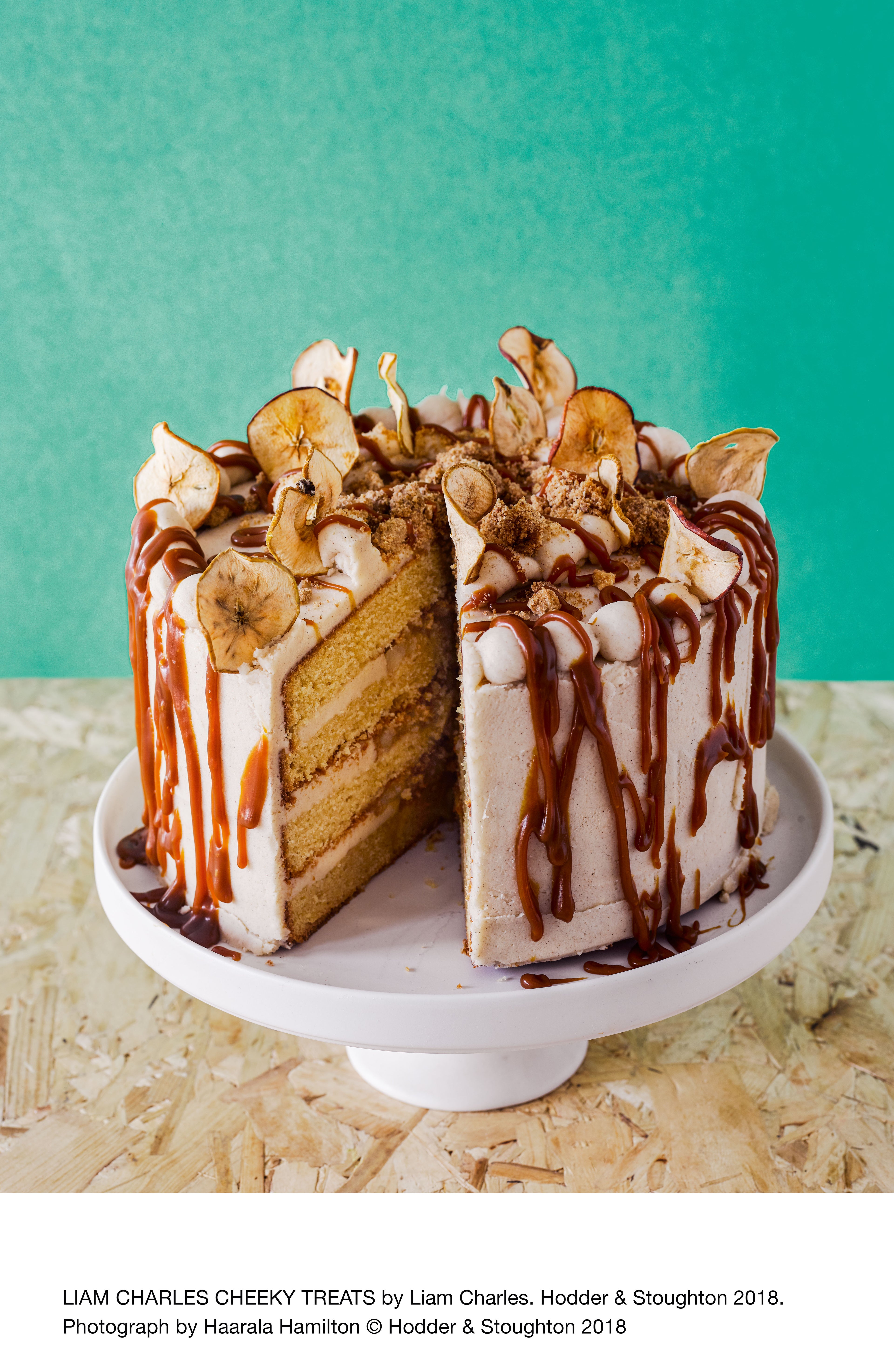 About the bake
We love this toffee apple crumble recipe made by Great British Bake Off contestant Liam Charles.
Talking about the recipe he said: "It is pretty evident I am obsessed with apple crumble. This cake has four layers of light brown sugar sponges, apple compote filling, and squiggles of salted caramel. And a few clusters of crumble, you know, for texture, as they say."
This recipe is extracted from Cheeky Treats by Liam Charles, published by Hodder & Stoughton on 12th July priced at £20.00. Photography by Haarala Hamilton © Hodder & Stoughton 2018.
If you're looking for more recipes by GBBO contestants, try out Nadiya Hussain's Her Majesty's Cake, or Frances Quinn's coffee bean biscuits.
Method
Step 1:

Preheat oven to 180ºC/Fan 160ºC/Gas 4 and grease and line the cake tins.


Step 2:

For the cakes:

Cream your butter and both sugars together in a large bowl with a freestanding or hand-held mixer until light and fluffy.


Step 3:

Crack the eggs in one at a time, mixing after each addition.


Prevent Curdling

If the mixture begins to curdle, just pop in a couple of tablespoons of the flour to bring it back together.

Step 4:

Turn the speed down very low and add your flour and baking powder.


Step 5:

Finally, add the milk and vanilla and give it one more blast.


Step 6:

Divide your mixture evenly between the cake tins and bake for 25–30 minutes, or until a skewer inserted into the middle comes out clean. Remove from the oven and allow to cool for 10–15 minutes in the tins before turning out on to a wire rack.


Step 7:

For the crumble:

Line a baking tray with baking paper. Tip your flour, sugar and salt into a large bowl and give it a good mix. Take the cubes of butter and begin to rub them into the flour. Your aim is to have a clustery crumble.


Step 8:

Tip the crumble on to the baking tray and bake for 25–30 minutes, until deep golden brown.

Remove from the oven and leave to cool. Now take this opportunity to relieve some stress – SMASH IT!

Tip into an airtight container ready for later.


Step 9:

For the buttercream:

Measure your butter into a large bowl and beat with your free-standing or hand-held mixer until light and pale.


Step 10:

Sift your icing sugar and cinnamon into a separate bowl, then add it to the butter in 3 stages, beating after each addition.


Step 11:

Scrape down the sides of the bowl from time to time. Add your milk and vanilla to loosen the buttercream and give it one more mix.


Step 12:

Assemble:

Use a cake leveller or sharp knife to trim the top off all the cakes so they are level.


Step 13:

Spread a small amount of buttercream on a board that is slightly bigger than your sponges and place your first layer of sponge on top. Place that board on a turntable, if you have one.


Step 14:

Place half the buttercream in a piping bag, snip the end and pipe a circle around the edge of the first layer of sponge, leaving a 10cm circle in the middle.


Step 15:

Fill that circle with apple sauce and sprinkle with crumble. Spoon the caramel into a piping bag and cut the tip off, then squiggle the salted caramel on top.


Step 16:

Repeat until all the sponges are stacked. Your last sponge should be placed upside down on top.


Step 17:

For the crumb coat:

Using a palette knife, cake scraper and a turntable, coat the outside and top of the cake with a thin layer of the remaining buttercream. Place in the fridge for at least an hour to set.


Step 18:

Finale:

Remove the cake from the fridge and apply another layer of buttercream around the sides and top of the cake.


Step 19:

Use any leftover buttercream to pipe around the top edges of your cake. Finally, place apple crisps on top with more crumble and – YES – MORE CARAMEL!

Ingredients
For the Sponge

750g

 

Unsalted butter (softened)

600g

 Billington's Unrefined Golden Caster Sugar

150g

 Billington's Unrefined Light Muscovado Sugar

12

 

Free range large eggs

750g

 

Self Raising Flour

0.5 tsp

 

Baking powder

180ml

 

Whole milk

0.5 tsp

 Nielsen-Massey Vanilla Extract

For the Crumble

225g

 Allinson's Plain White Flour

135g

 

Billington's unrefined soft brown sugar

1 tsp

 

Sea salt

150g

 

Unsalted butter (cold & cubed)

For the Cinnamon Buttercream

900g

 

Unsalted butter (softened)

1.95kg

 Silver Spoon Icing Sugar

2 tsp

 

Ground cinnamon

180ml

 

Whole milk

1.5 tsp

 Nielsen-Massey Vanilla Extract

For the Filling & Topping

1 jar

 

Apple sauce

300ml

 

Salted caramel

10

 

Apple crisps (optional)
Utensils
Hand held mixer

4x 25 cm cake tins
Recipe Reviews
One heck of a lot of buttercream. Had enough to cover a second cake with half the ingredients! Definitely not complaining though!
I like Nielsen Massey as well.Made a similar apple cake and it is delicious.
Ingredients
For the Sponge

750g

 

Unsalted butter (softened)

600g

 Billington's Unrefined Golden Caster Sugar

150g

 Billington's Unrefined Light Muscovado Sugar

12

 

Free range large eggs

750g

 

Self Raising Flour

0.5 tsp

 

Baking powder

180ml

 

Whole milk

0.5 tsp

 Nielsen-Massey Vanilla Extract

For the Crumble

225g

 Allinson's Plain White Flour

135g

 

Billington's unrefined soft brown sugar

1 tsp

 

Sea salt

150g

 

Unsalted butter (cold & cubed)

For the Cinnamon Buttercream

900g

 

Unsalted butter (softened)

1.95kg

 Silver Spoon Icing Sugar

2 tsp

 

Ground cinnamon

180ml

 

Whole milk

1.5 tsp

 Nielsen-Massey Vanilla Extract

For the Filling & Topping

1 jar

 

Apple sauce

300ml

 

Salted caramel

10

 

Apple crisps (optional)
Utensils
Hand held mixer

4x 25 cm cake tins