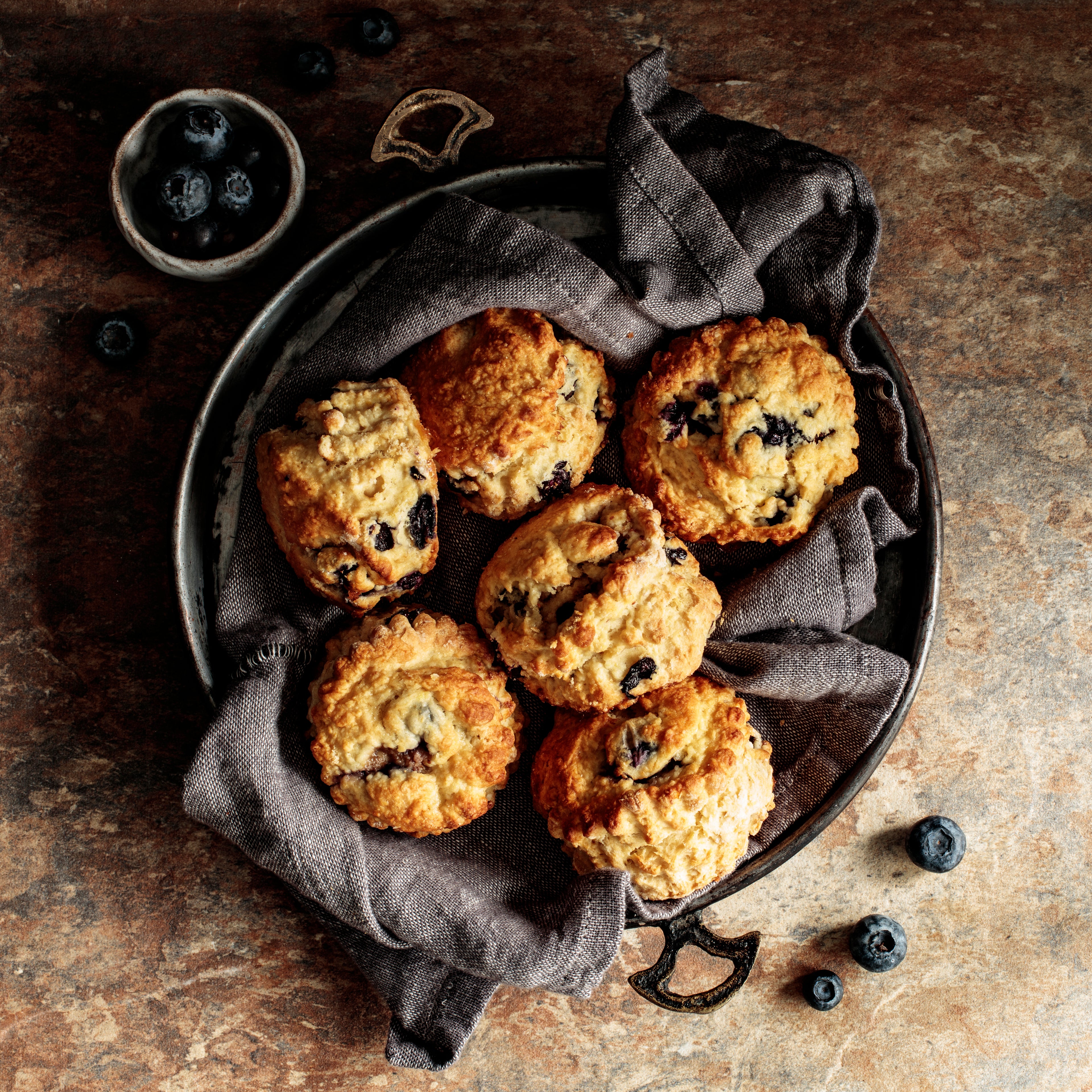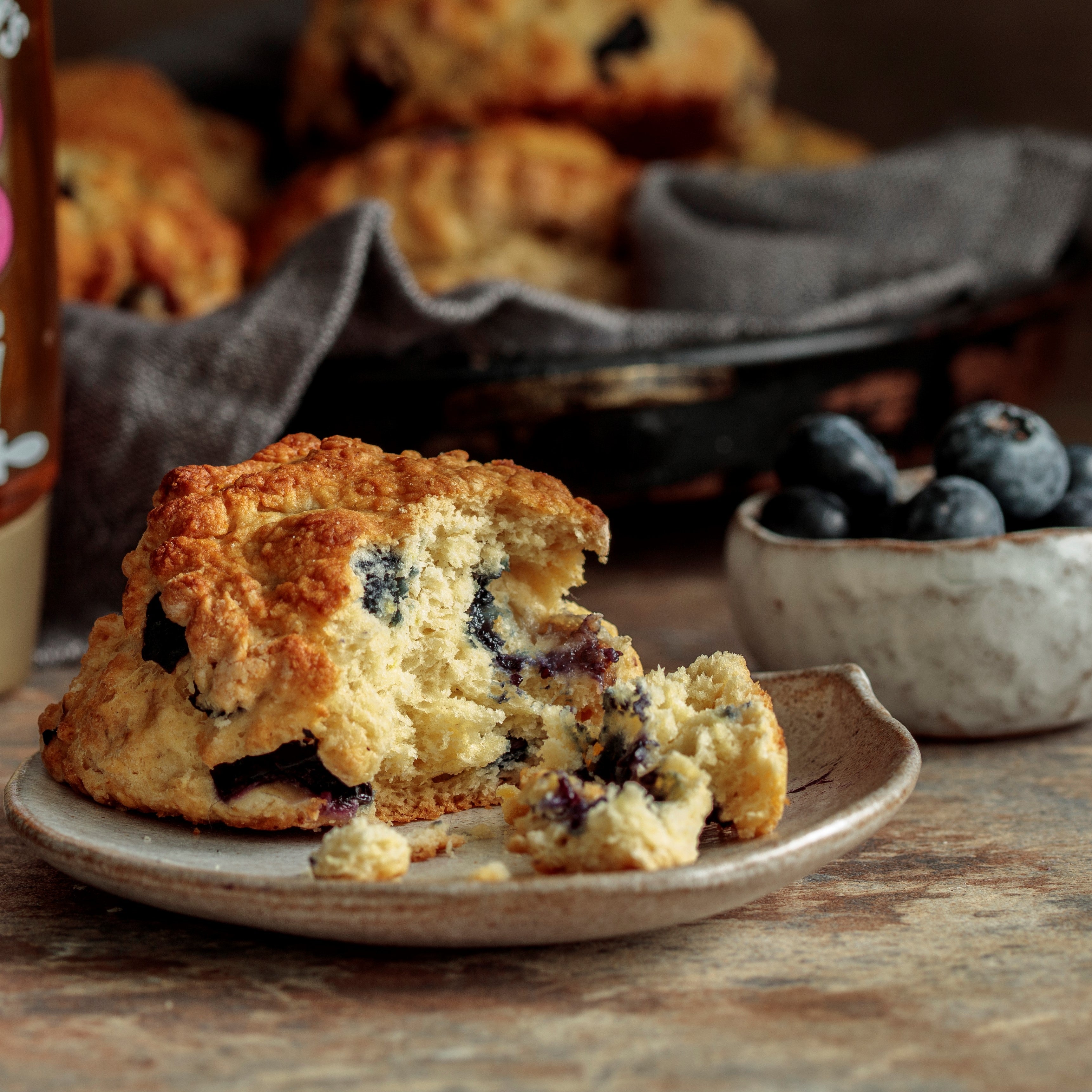 About the bake
These blueberry & honey scones are really something else. We've used honey in our recipe which really brings not only the flavour, but the texture to life as well. Honey in baking helps retain the moisture of the bake. For a the best results, serve these warm.
Method
Step 1:

Preheat the oven to 180°C (fan). Lightly dust a nonstick baking tray with flour.


Step 2:

Put the flour, baking powder and lemon zest into a large bowl before adding the cold butter and lightly rubbing in with your fingers until just combined and the mix looks like coarse breadcrumbs. Stir in the blueberries.


Step 3:

In a jug combine the milk, eggs, vanilla and honey before pouring into the flour mix. Use a knife to lightly combine the wet and dry ingredients until they just come together. Lightly dust the work surface with flour and tip the mixture out. Gently and lightly knead the dough until it comes together. Shape into a round and flatten to approximately 2.5cm depth. Use a knife to cut into 8 Triangles and arrange the scones individually onto the baking tray.


Step 4:

Place the scones into the oven for approx. 20 minutes. Prepare the glaze by combining the butter and honey into a small jug and placing into the microwave for a few seconds until the butter has melted and the honey combined. Once the 20 minutes baking is up remove the scones from the oven and brush the glaze generously over the scones before putting back in the over for a further 5 mins.


Step 5:

To prepare the honey cream whip the cream in a clean bowl until it forms stiff peaks before folding in the honey. Serve the scones slightly warm, cut in half with plenty of whipped honey cream.

Ingredients
For the Scones

370g

 Allinson's Self Raising Flour

1 tsp

 

Baking powder

1

 

Lemon zest of 1 lemon

90g

 

Salted butter (chilled & diced)

240g

 

Blueberries

90ml

 

Milk

2

 

Eggs

1 tsp

 Nielsen-Massey Vanilla Extract

60g

 

Honey

For the Glaze

45g

 

Honey

30g

 

Salted butter

For the Honey Cream

150ml

 

Double cream

50g

 

Honey
Recipe Reviews
Best scones I have ever had! My family all love them. I would definitely recommend this recipe. I used a traditional scone cutter instead of cutting it into 8 and got a lot more than 8 scones which I was very pleased about!
They were quite nice.. Definitely not in my top 5 scones of though.. Don't think I will make again.
TASTES AMAZING! I wanted a recipe that wasn't so boring, a new taste. And blueberry scones sounded great, which they were amazing but I found the glaze was quite hard to melt.
Ingredients
For the Scones

370g

 Allinson's Self Raising Flour

1 tsp

 

Baking powder

1

 

Lemon zest of 1 lemon

90g

 

Salted butter (chilled & diced)

240g

 

Blueberries

90ml

 

Milk

2

 

Eggs

1 tsp

 Nielsen-Massey Vanilla Extract

60g

 

Honey

For the Glaze

45g

 

Honey

30g

 

Salted butter

For the Honey Cream

150ml

 

Double cream

50g

 

Honey