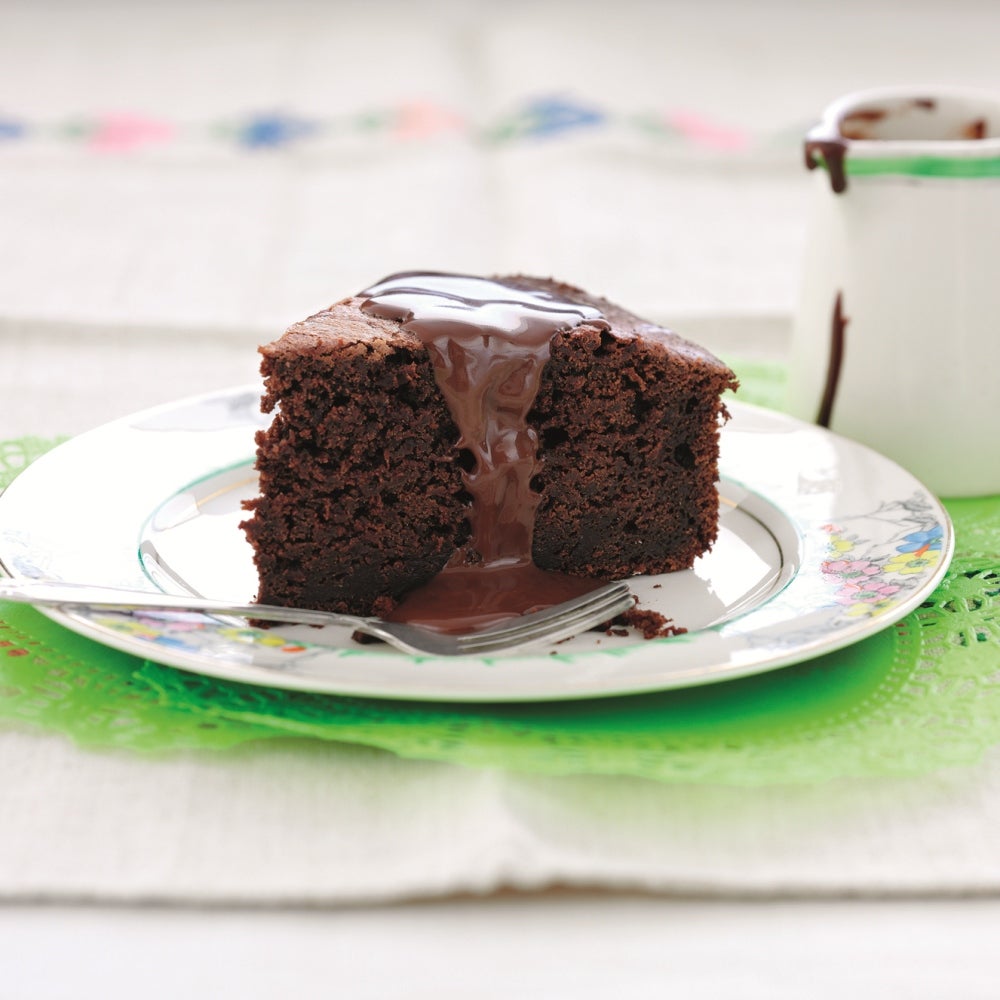 About the bake
You may think that chocolate and beetroot is an odd combination but once you have tasted this chocolate and beetroot cake with hot chocolate sauce you will find it irresistible. This recipe was created for the 2013 edition of The Little Book of Treats. The Little Book of Treats is produced by Macmillan Cancer Support and 100% of the proceeds go towards helping people affected by cancer.
Method
Step 1:

Grease and line the base of a 20cm tin with baking paper. Preheat the oven to 180°C (160°C fan/gas mark 4). Then blitz the beetroot in a blender until pureed.

Step 2:

Melt the chocolate in a bowl set over a pan of water on a gentle heat. Then leave to cool slightly. Meanwhile beat together the butter and sugar until light and creamy. Add the eggs, one at a time, to the butter and sugar, and mix until combined. Stir in the melted chocolate.

Step 3:

Fold in the flour, cocoa powder and a pinch of salt. Add the beetroot puree and stir in well.

Step 4:

The cake mix will become a lovely deep burgundy colour, but don't worry – it will look like chocolate cake once it's cooked. Pour the mix into the prepared pan and cook for one hour. Leave the cake to cool for 10 minutes before turning out on to a wire rack to cool.

Step 5:

To make the sauce, heat the cream and liqueur in a saucepan and add the chocolate, syrup and butter. Keep stirring until melted and then serve warm, poured over your cake.
Ingredients
For the cake

300g

 

Beetroot (cooked)

100g

 

Dark chocolate

125g

 

Butter (unsalted)

300g

 Billington's Unrefined Light Muscovado Sugar

3

 

Egg(s) (free range)

225g

 Self-raising white flour

40g

 

Cocoa powder

1pinch

 

Salt

For the chocolate sauce

300ml

 

Single cream

3 tbsp

 

Baileys

200g

 

Dark chocolate (chopped)

1 tbsp

 

Golden syrup

30g

 

Butter (unsalted)
We'd love a slice of advice.
Was it yum? Did the recipe work well? Did you customise the recipe?
Ingredients
For the cake

300g

 

Beetroot (cooked)

100g

 

Dark chocolate

125g

 

Butter (unsalted)

300g

 Billington's Unrefined Light Muscovado Sugar

3

 

Egg(s) (free range)

225g

 Self-raising white flour

40g

 

Cocoa powder

1pinch

 

Salt

For the chocolate sauce

300ml

 

Single cream

3 tbsp

 

Baileys

200g

 

Dark chocolate (chopped)

1 tbsp

 

Golden syrup

30g

 

Butter (unsalted)