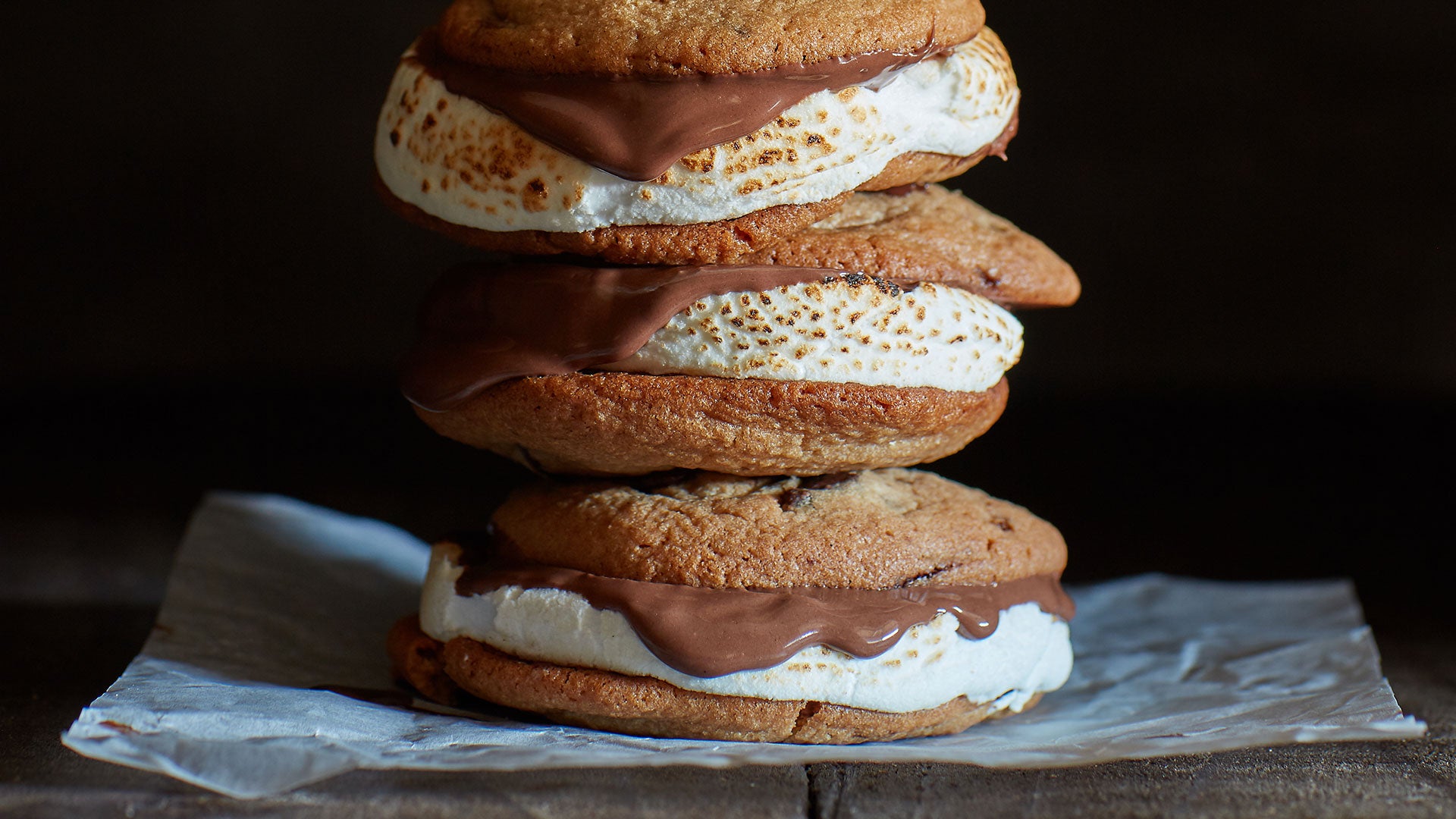 About the bake
Our friend Juliet Sear made this recipe especially for us. This recipe takes a traditional American campfire treat to a whole new level. Marshmallows sandwiched between COOKIES! Warmed up to the point where the marshmallows melt with the nutella filling, these 'smores are sure to leave you wanting more.
Method
Step 1:

Preheat your oven to 180°C (160°C fan) gas mark 6 and line a couple of baking sheets with baking parchment or greaseproof paper.


Step 2:

Cream the butter, light muscovado sugar and vanilla in your mixer with the paddle beater on medium speed until pale and fluffy. Reduce the speed and beat in the egg until combined.


Step 3:

Add the flour and mix on slow until combined and you have a sticky dough.


Step 4:

Drop in the chocolate chunks and mix on slow just to distribute a bit.


Step 5:

With your hands take out a generous ball of the dough with couple/few chocolate chunks in and roll them into a large walnut size ball. It's pretty sticky and a good tip is to dampen your hands first, this helps to roll it without sticking too much.


Step 6:

Put 8 balls on each large baking tray, they will flatten and spread into a large disc so allow plenty of space.


Step 7:

Bake for around 12 to 15 minutes, until the cookies are lightly golden around the edges but are still a bit squidgy in the centre. Allow to cool on the tray.


Step 8:

To make your 'smores sandwich cookies

Preheat a grill to a high heat and line a baking sheet with parchment.


Step 9:

Put 8 of the cookies on the tray with the flat side facing up and top with a large marshmallow, (if they are the really big ones, snip them in half) or a few small, just to fit within the edge of the cookies allowing for some spreading out.


Step 10:

Grill until the marshmallow begins to brown and melt. Alternatively if you have one you can do this with a blowtorch.


Step 11:

It's easier to pop your Nutella in a piping bag to warm it and get it piped neatly, then you can pipe a lovely slick of Nutella all over your other cookies, or alternatively, spread Nutella on the cookies and sandwich on top of the melted marshmallow layer. Prepare to get messy!

Ingredients
For The Cookies

125g

 

Butter (salted)

150g

 Billington's Unrefined Light Muscovado Sugar

1 tsp

 Nielsen-Massey Vanilla Bean Paste

1

 

Eggs (large)

180g

 Allinson's Self Raising Flour

150g

 

Chocolate chunks

For The Sandwich

125g

 

Large marshmallows

150g

 

Nutella
Nutritional Information
per 95g
538cal

 

Energy

26g

 

Fat

14g

 

of which Saturates

68g

 

Carbohydrates

49g

 

of which Sugars

6.4g

 

Protein

0.62g

 

Salt
Recipe Reviews
1000000000000000000000000000000000000000000000000 per-cent delicious!
Ingredients
For The Cookies

125g

 

Butter (salted)

150g

 Billington's Unrefined Light Muscovado Sugar

1 tsp

 Nielsen-Massey Vanilla Bean Paste

1

 

Eggs (large)

180g

 Allinson's Self Raising Flour

150g

 

Chocolate chunks

For The Sandwich

125g

 

Large marshmallows

150g

 

Nutella
Nutritional Information
per 95g
538cal

 

Energy

26g

 

Fat

14g

 

of which Saturates

68g

 

Carbohydrates

49g

 

of which Sugars

6.4g

 

Protein

0.62g

 

Salt