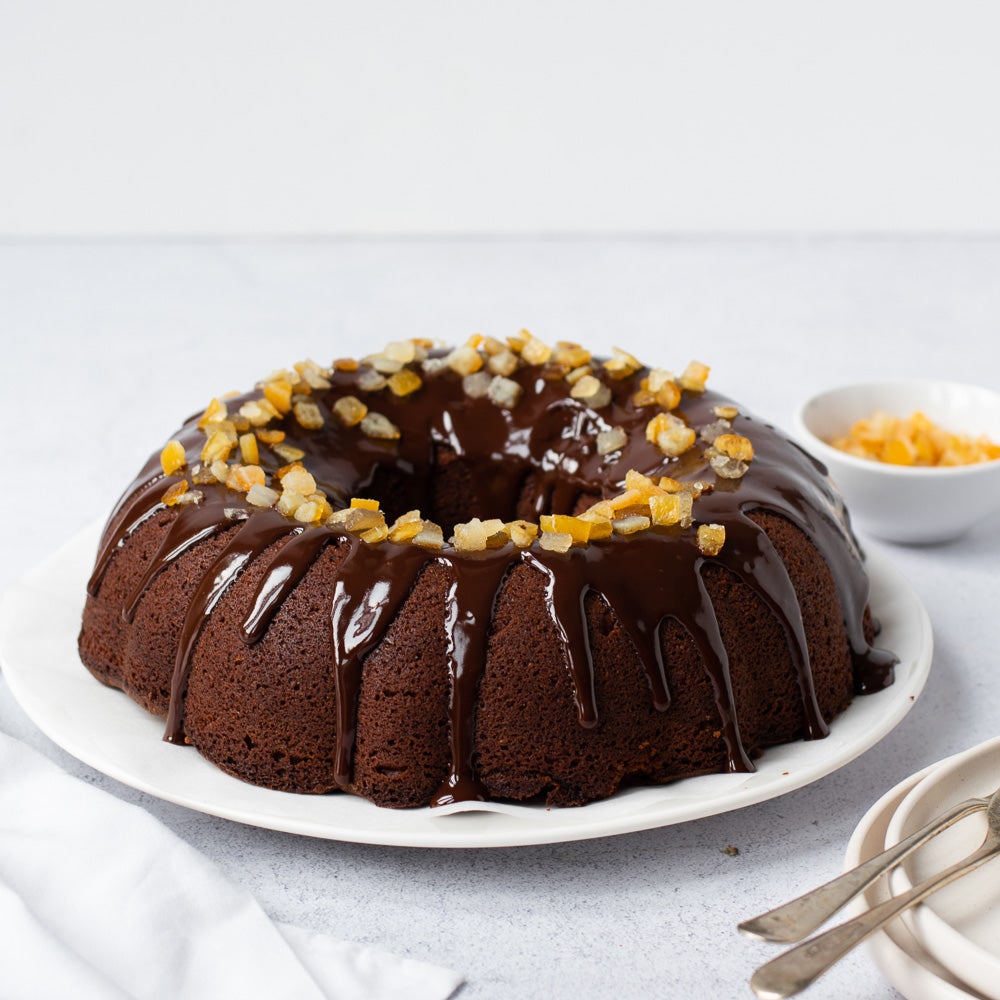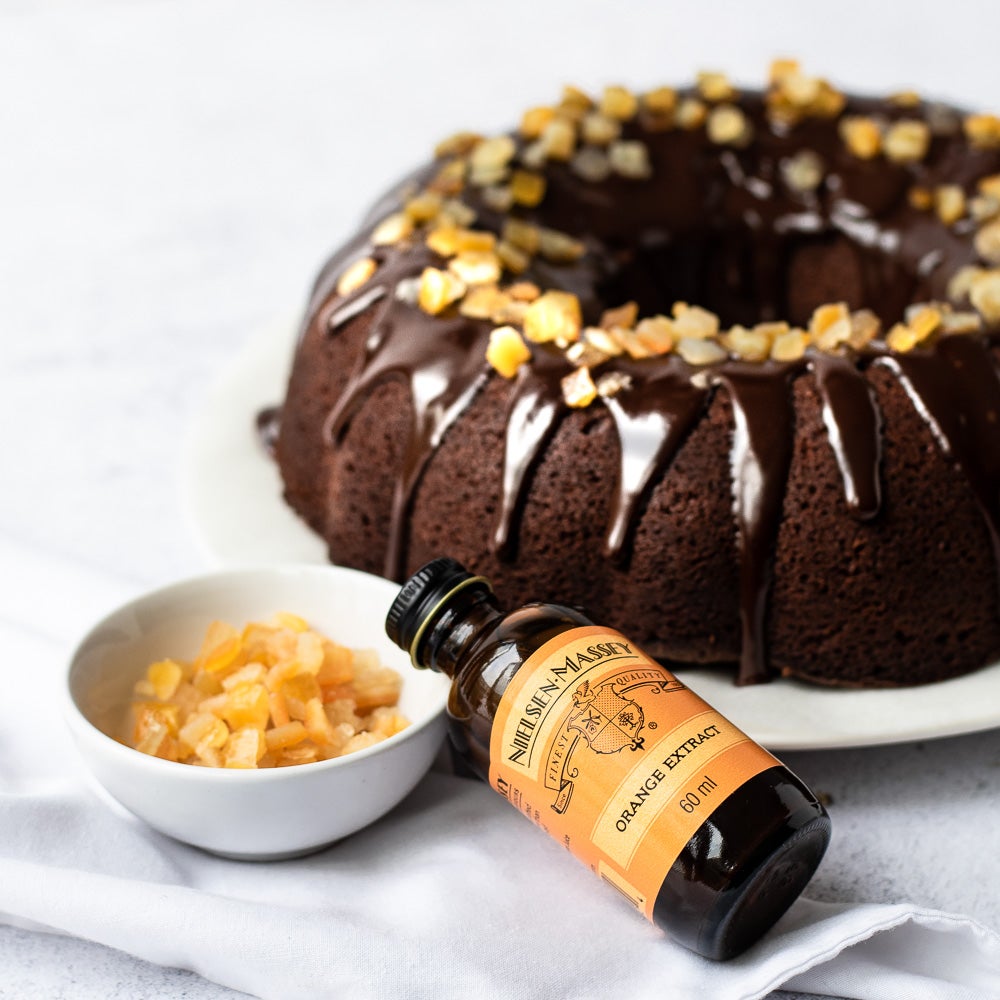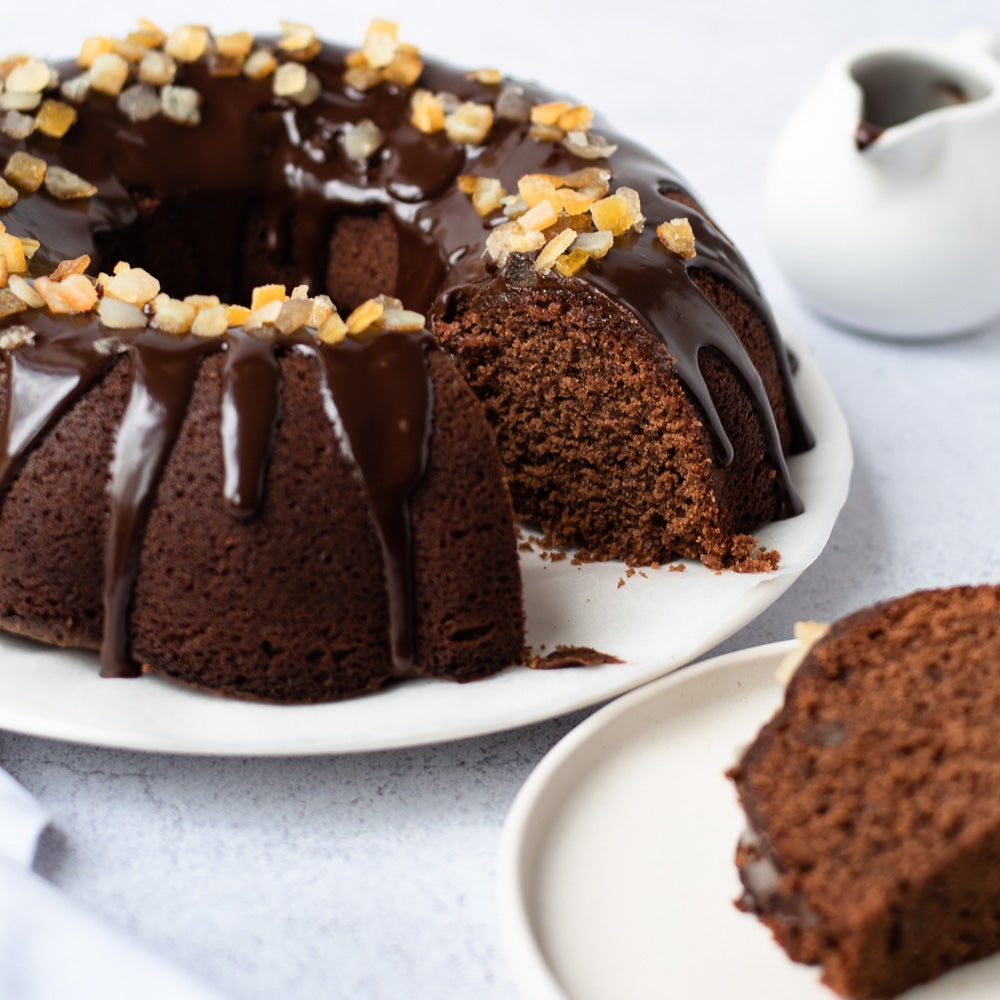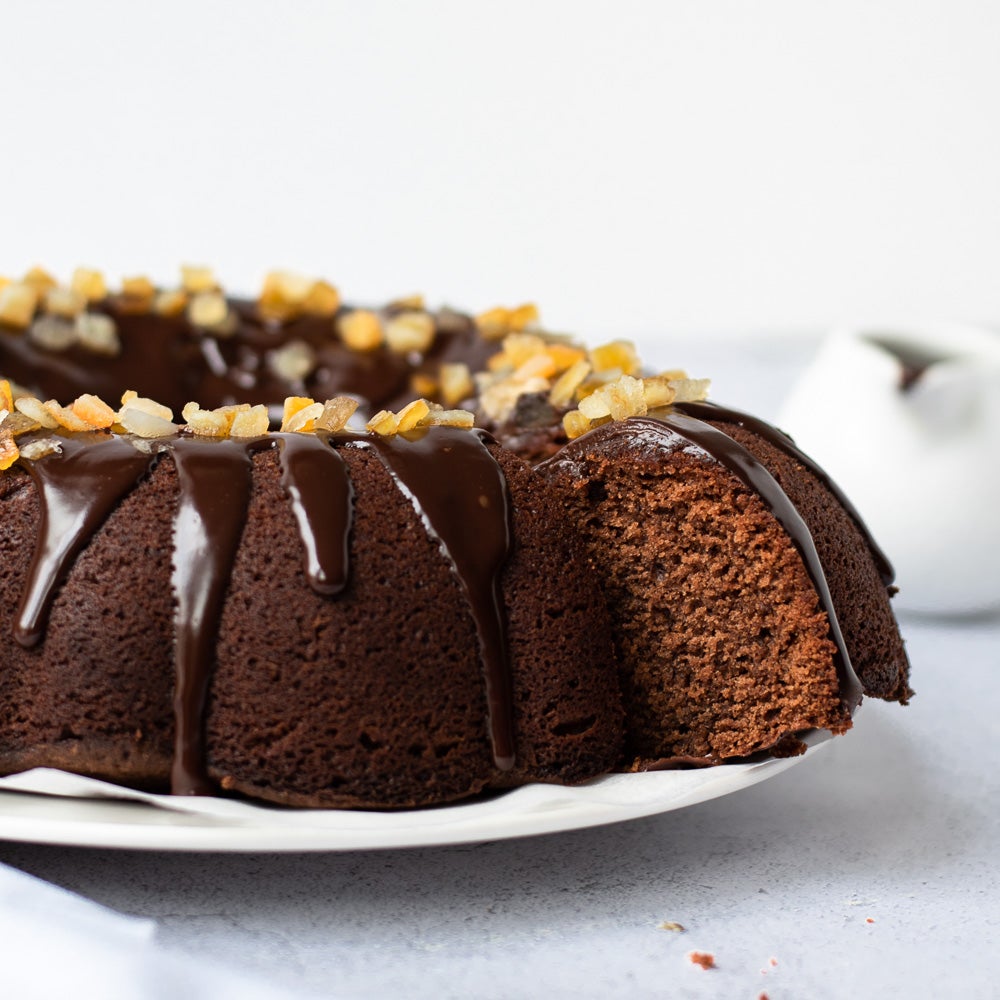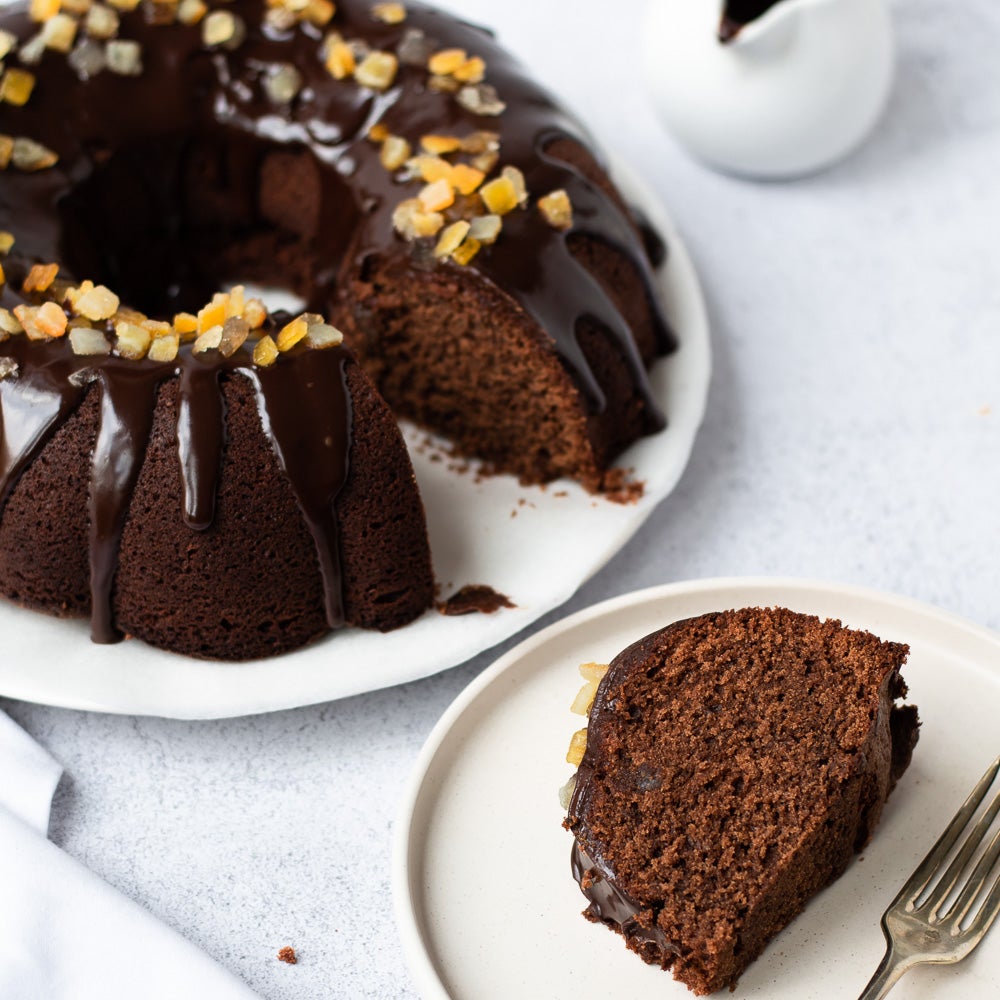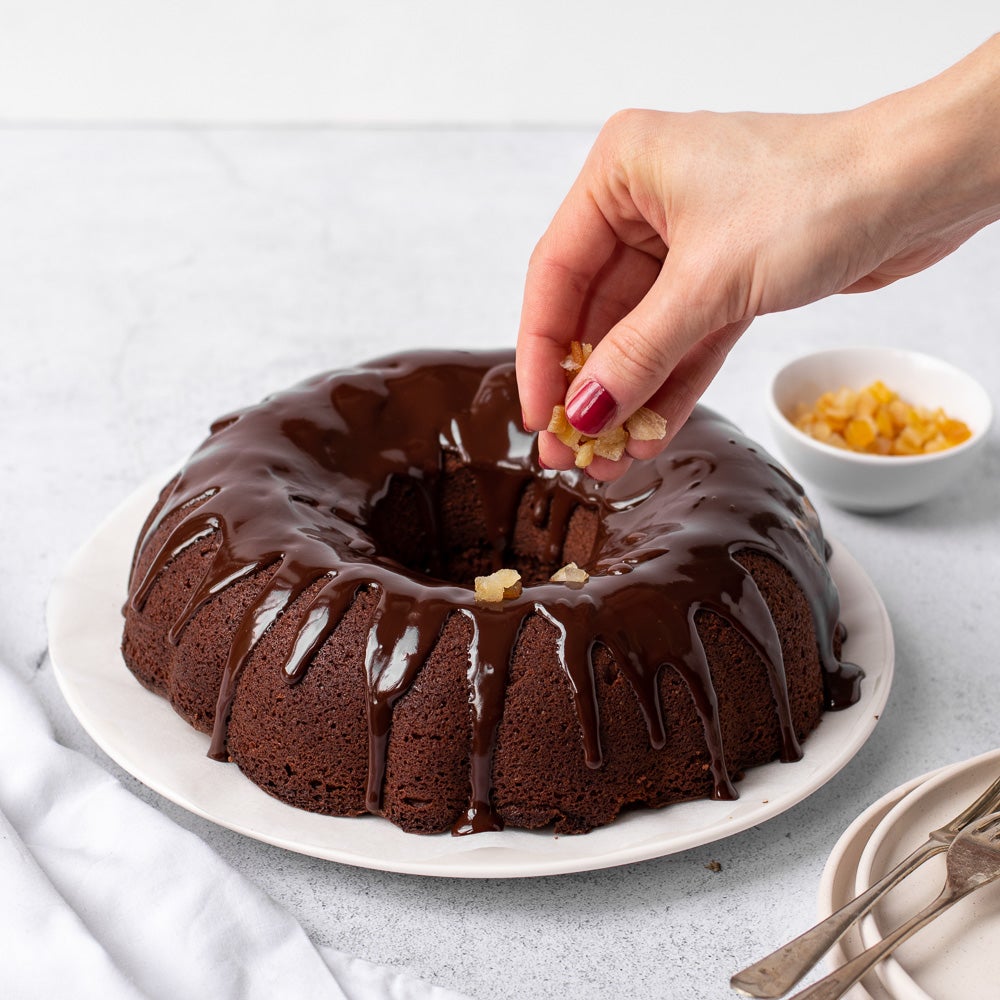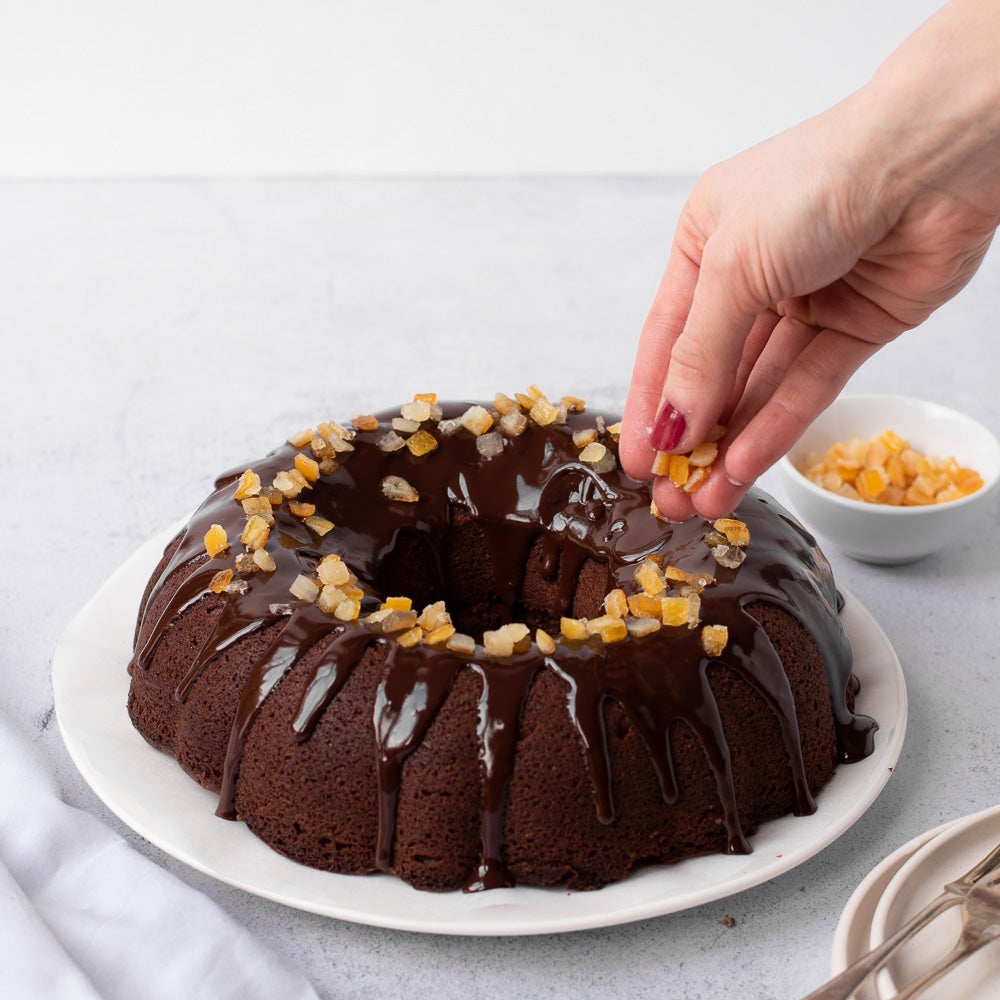 About the bake
This chocolate orange cake is made in a crown shape which makes it a really fun table centre. It features a whole orange which really brings the orange flavour to life. Eric Lanlard showed how to bake this cake on Baking Mad with Eric Lanlard on Channel 4.
Method
Step 1:

Preheat the oven to 180°C (160°C fan, 350°F, gas mark 4). Grease and line a large silicone crown mould or the base of a 23cm/ 9inch round cake tin

Step 2:

Pierce the orange with a skewer right through. Cook in boiling water for 30 minutes until soft. Whizz the whole orange in a food processor until smooth then leave to cool.

Step 3:

Melt the chocolate in a heatproof bowl set over a pan of simmering water or in the microwave for 2 minutes on high, stirring after 1 minute. Leave to cool.

Step 4:

In a large bowl, lightly beat the eggs, sugar and oil. Gradually beat in the pureed orange, discarding any pips, then stir in the cooled melted chocolate.


Step 5:

Sift in the cocoa, flour and baking powder. Mix well and pour into the tin.

Step 6:

Bake in the centre of the oven for 35-40 minutes, or until the cake springs back when lightly pressed in the middle. (Check after 45 minutes and cover with foil if it is browning too much.)

Step 7:

Allow to cool for 10 minutes in the tin, and then turn out on to a wire rack to cool completely.

Step 8:

To make the chocolate ganache, put the chocolate, butter and cream into a heatproof bowl. Bring the cream to the boil and leave for 2 minutes, then stir until smooth. Set aside until firm enough to spread over the cake. Decorate with the candied orange peel.
Ingredients
For The Cake

1

 

Seville orange

100g

 

Dark chocolate

3

 

Free range medium eggs

280g

 Billington's Unrefined Golden Caster Sugar

240ml

 

Sunflower oil

25g

 

Cocoa powder

250g

 Allinson's plain white flour

1.5 tsp

 

Baking powder

Pinch

 

Orange peel

1 tsp

 

Nielsen-massey orange flavouring

For the decoration

220g

 

Dark chocolate (broken into pieces)

225ml

 

Double cream

50g

 

Butter (unsalted)
Utensils
Silicone crown mould

Mixing bowl

Saucepan

Sieve

Cooling rack
Recipe Reviews
Could you please convert to American measurements ? thank you.
Simple and delicious recipe, good balance of chocolate and orange flavours, cake is light in texture but intense in flavour and the addition of the ganache makes it perfect!
Ingredients
For The Cake

1

 

Seville orange

100g

 

Dark chocolate

3

 

Free range medium eggs

280g

 Billington's Unrefined Golden Caster Sugar

240ml

 

Sunflower oil

25g

 

Cocoa powder

250g

 Allinson's plain white flour

1.5 tsp

 

Baking powder

Pinch

 

Orange peel

1 tsp

 

Nielsen-massey orange flavouring

For the decoration

220g

 

Dark chocolate (broken into pieces)

225ml

 

Double cream

50g

 

Butter (unsalted)
Utensils
Silicone crown mould

Mixing bowl

Saucepan

Sieve

Cooling rack