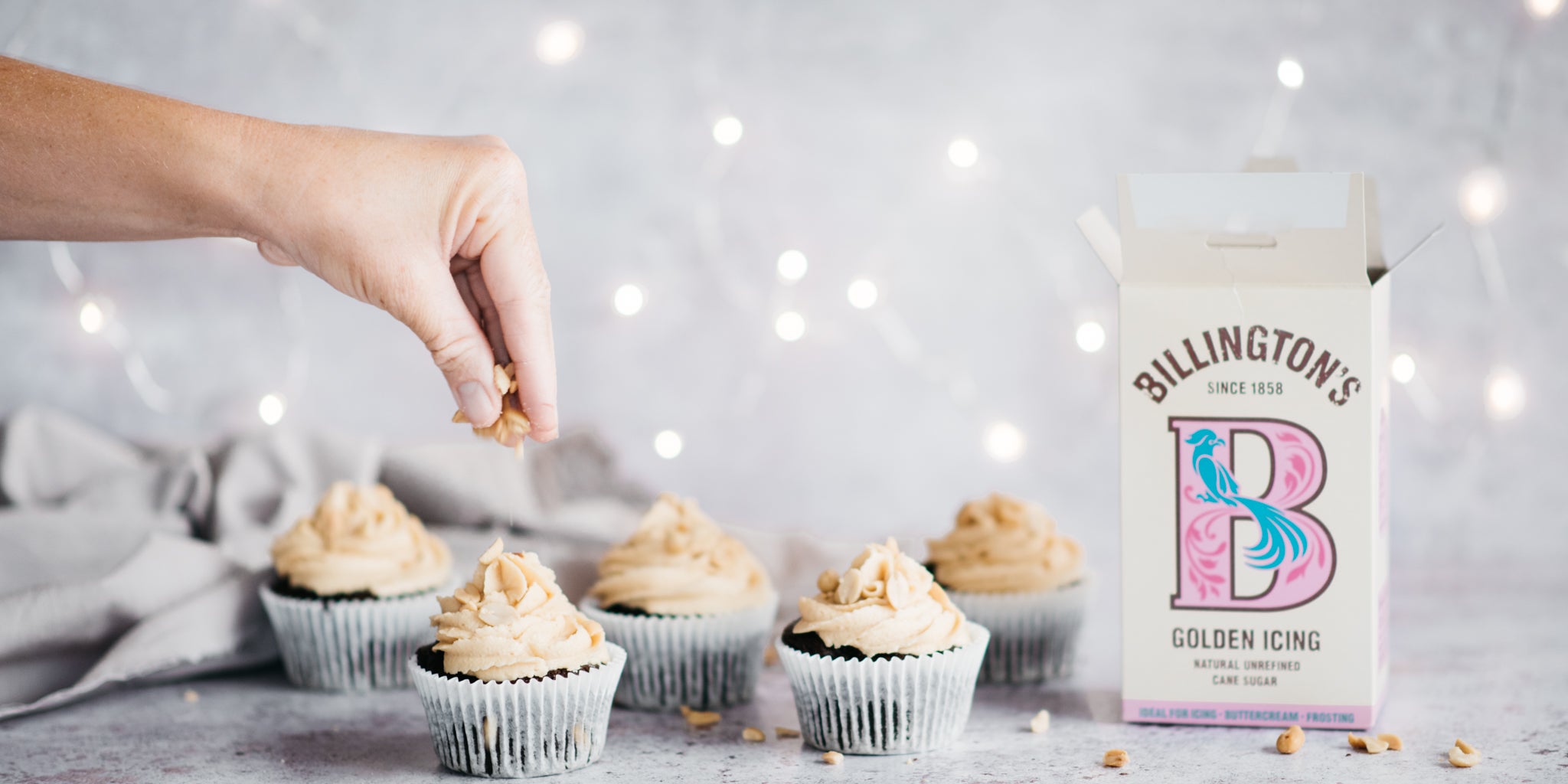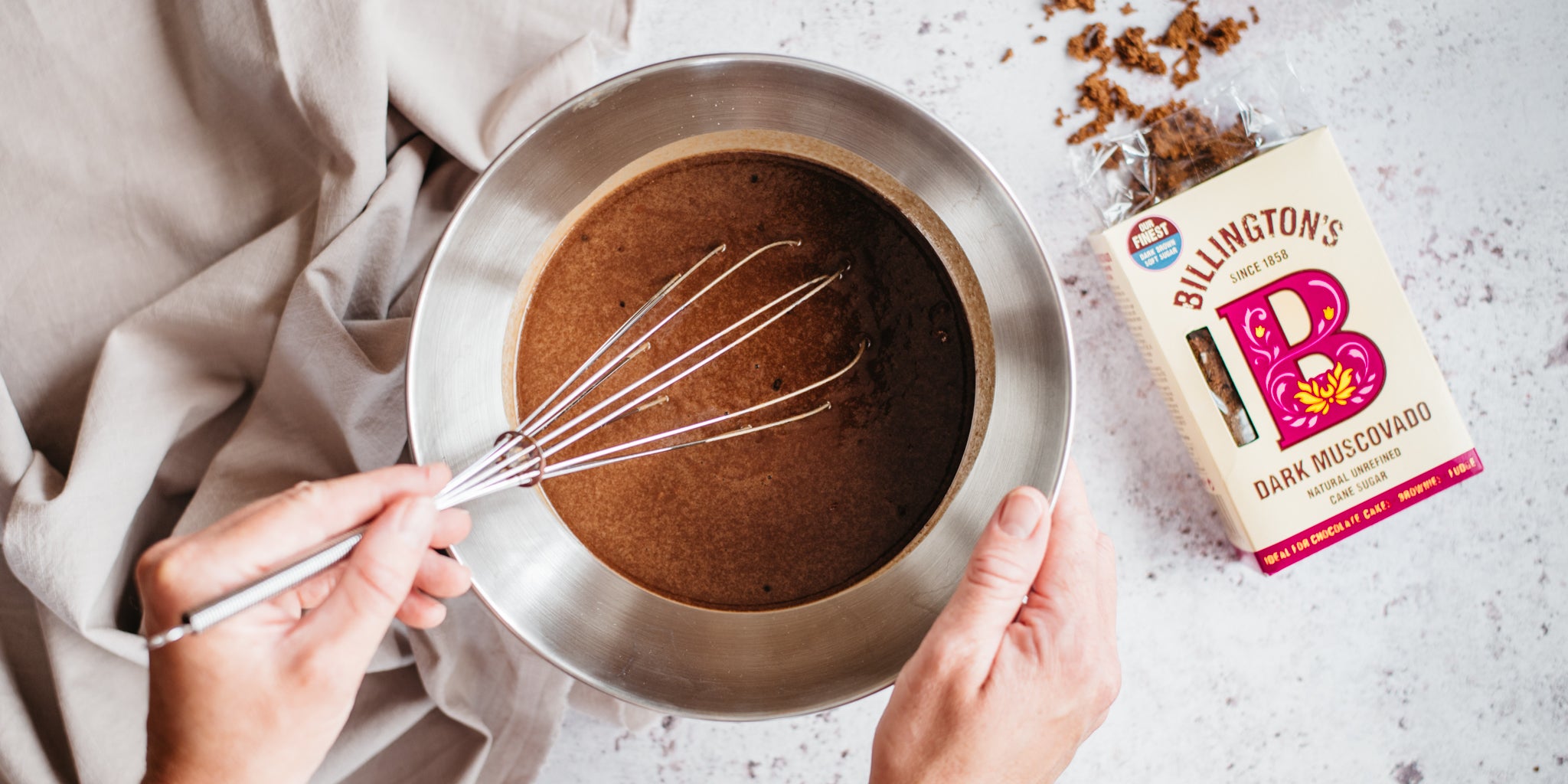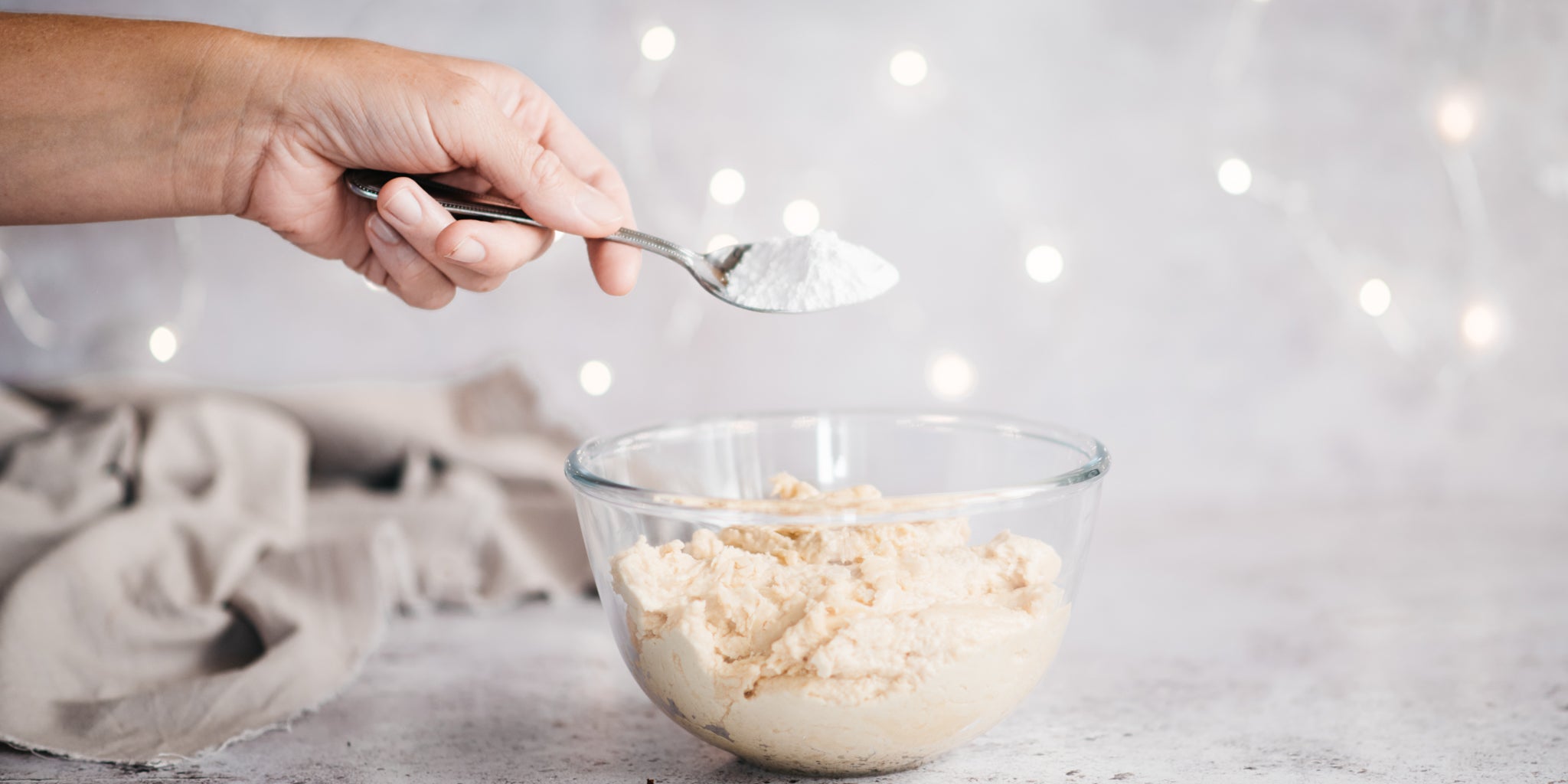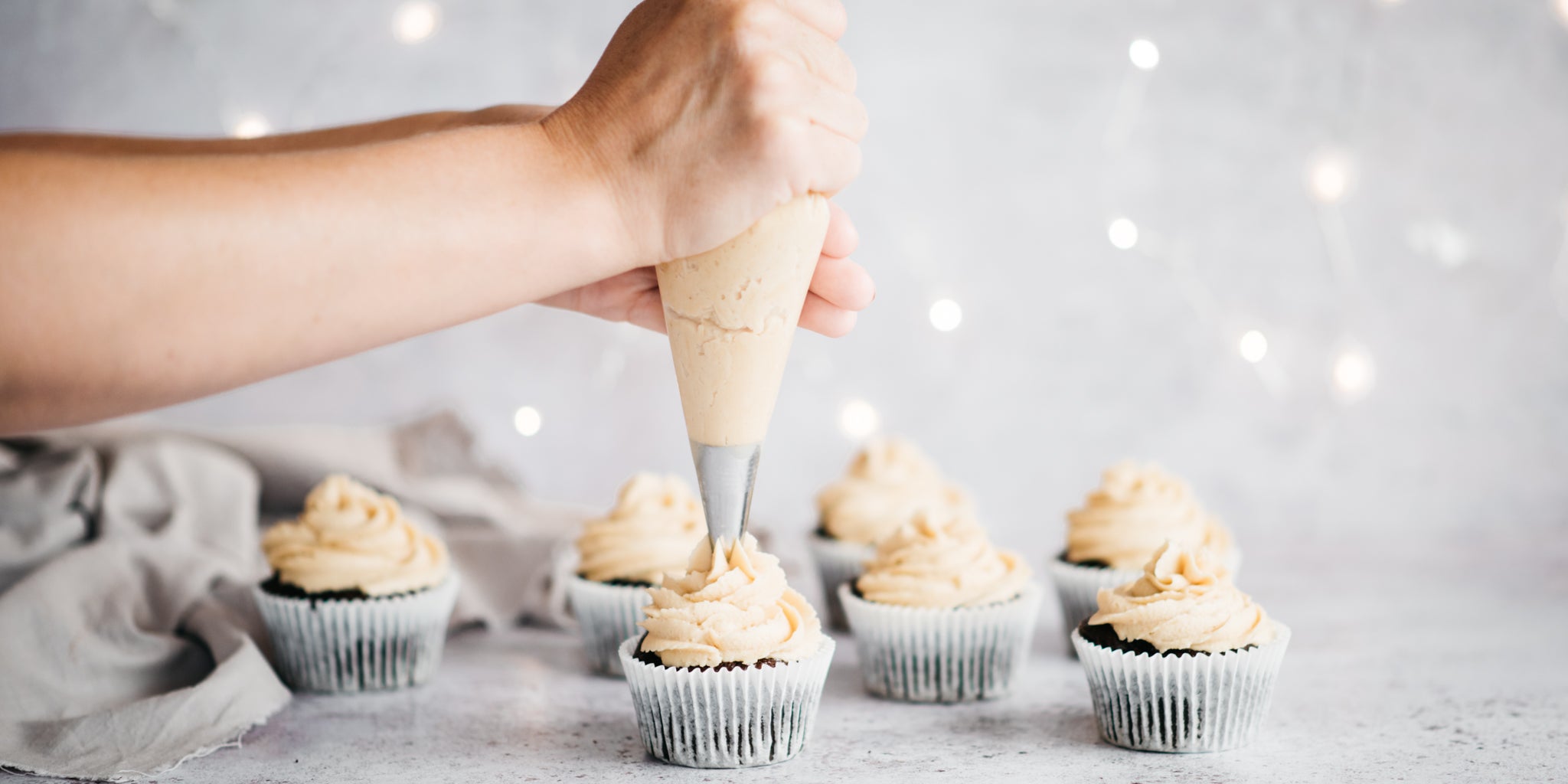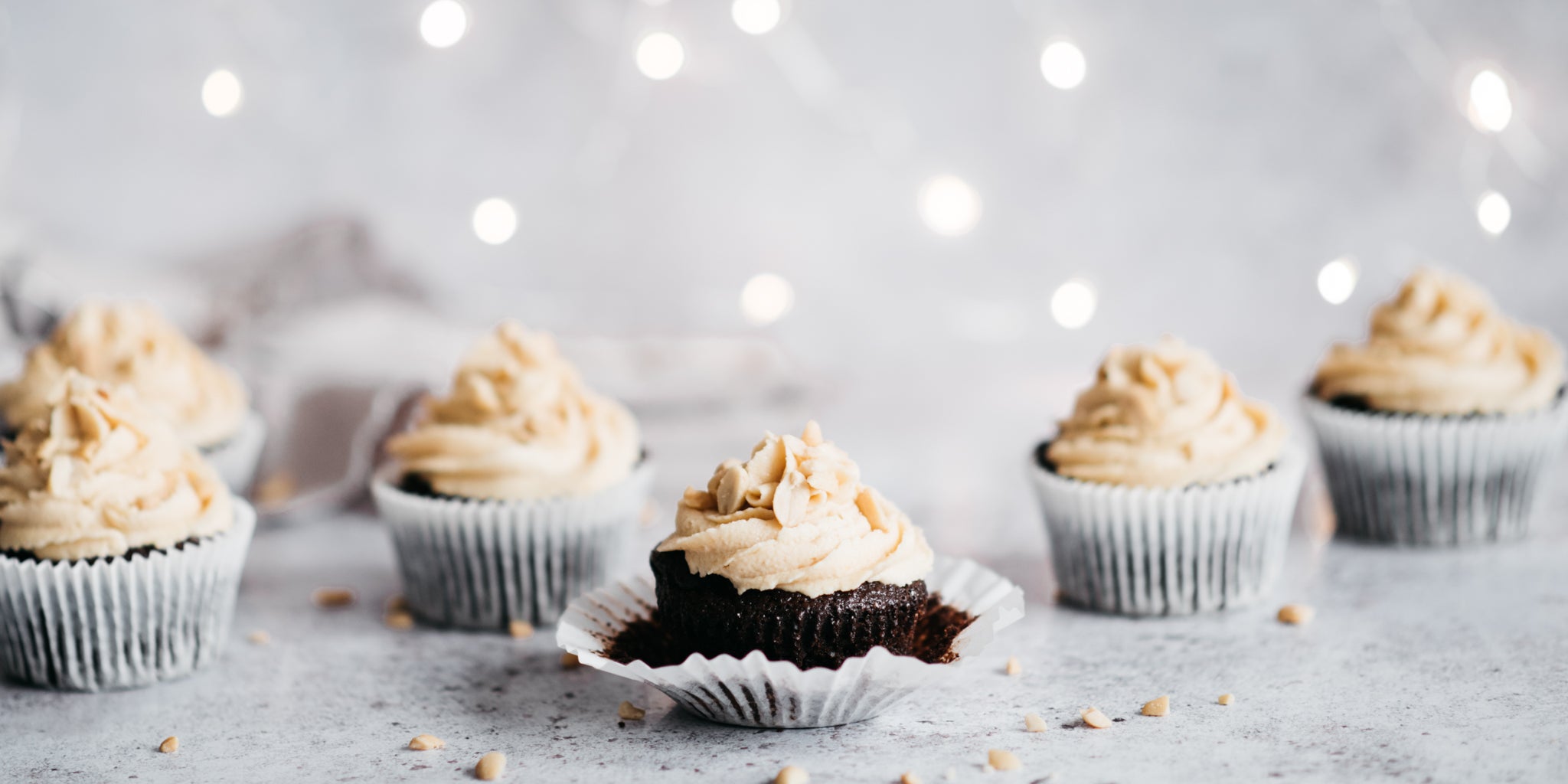 About the bake
Arguably one of the best flavour combinations is chocolate and peanut butter. John Whaite has created the best muffin recipe for peanut butter lovers everywhere.
Method
Step 1:

Preheat the oven to 190C/170C fan. Line a 12-hole deep muffin pan with muffin cases. Into a bowl, sift together the flour, cocoa powder, baking powder, bicarb, salt and sugars, and whisk to fully combine.

Step 2:

Put the oil and water into a small saucepan and bring to a boil, then remove from the heat and add the buttermilk.

Step 3:

Break the egg into the bowl containing the dry ingredients, add the hot liquids, and whisk to a smooth cake batter – it will be very runny.

Step 4:

Divide between the muffin cases and bake for 15-18 minutes, until well risen, beautifully dark, and a skewer inserted into the centre comes out clean. Allow the muffins to cool completely.

Step 5:

For the buttercream, beat together the butter and peanut butter until pale and fluffy – this is best done using a handheld electric mixer – then add the icing sugar and whisk until very pale – a good 5 minutes. Load the buttercream into a piping bag fitted with large star nozzle and pipe the buttercream onto the cooled cakes in generous swirls. Finish by scattering over the chopped salted peanuts, if using.
Ingredients
For the muffins

125g

 

Plain Flour

40g

 

Cocoa Powder

1/2 tsp

 

Baking Powder

1 tsp

 

Bicarbonate of soda

1/4 tsp

 

Fine sea salt

100g

 Billington's Unrefined Dark Muscovado Sugar

50g

 Billington's Unrefined Golden Caster Sugar

50g

 

Sunflower Oil

120ml

 

Water

120g

 

Buttermilk

1

 

Large Egg

For the buttercream

100g

 

Unsalted Butter

100g

 

Peanut butter

400g

 Billington's Unrefined Golden Icing Sugar

400g

 

Peanuts (salted)
Utensils
12 hole muffin tin

Muffin cases

Sieve

Whisk

Saucepan

Electric mixer

Piping bag

Large star nozzle
Recipe Reviews
End result tastes great -- I will use this recipe again, but probably up the chocolate.

HOWEVER, the buttercream ratios are way off; it uses FAR too much icing sugar for the amount of other ingredients. I've been making buttercream for almost 30 years and have never had one go this wrong. I added probably 50-75 ml of milk (just kept splashing it in til it was nice again) to bring the wet/dry ratio back where it should be.
Ingredients
For the muffins

125g

 

Plain Flour

40g

 

Cocoa Powder

1/2 tsp

 

Baking Powder

1 tsp

 

Bicarbonate of soda

1/4 tsp

 

Fine sea salt

100g

 Billington's Unrefined Dark Muscovado Sugar

50g

 Billington's Unrefined Golden Caster Sugar

50g

 

Sunflower Oil

120ml

 

Water

120g

 

Buttermilk

1

 

Large Egg

For the buttercream

100g

 

Unsalted Butter

100g

 

Peanut butter

400g

 Billington's Unrefined Golden Icing Sugar

400g

 

Peanuts (salted)
Utensils
12 hole muffin tin

Muffin cases

Sieve

Whisk

Saucepan

Electric mixer

Piping bag

Large star nozzle