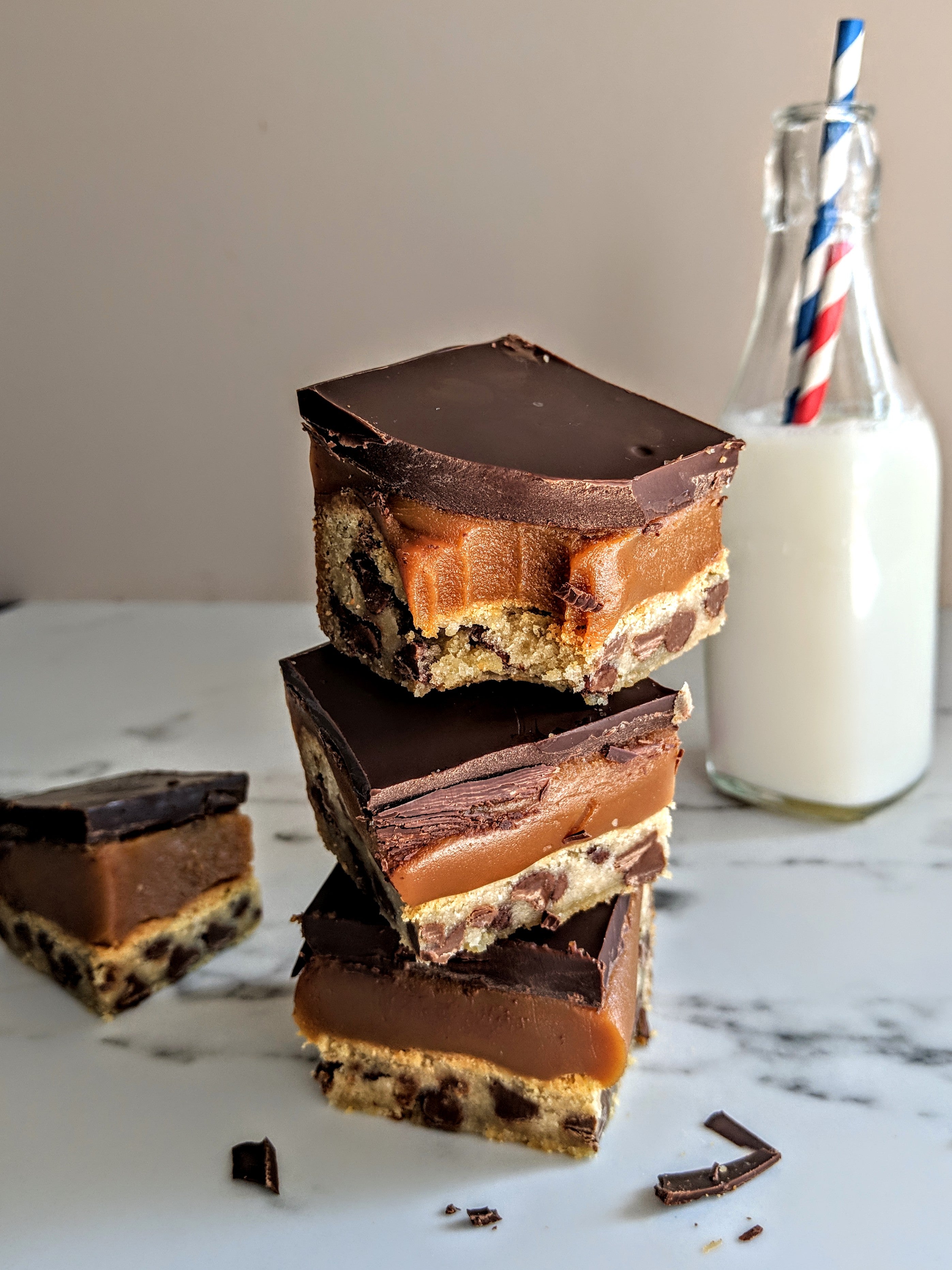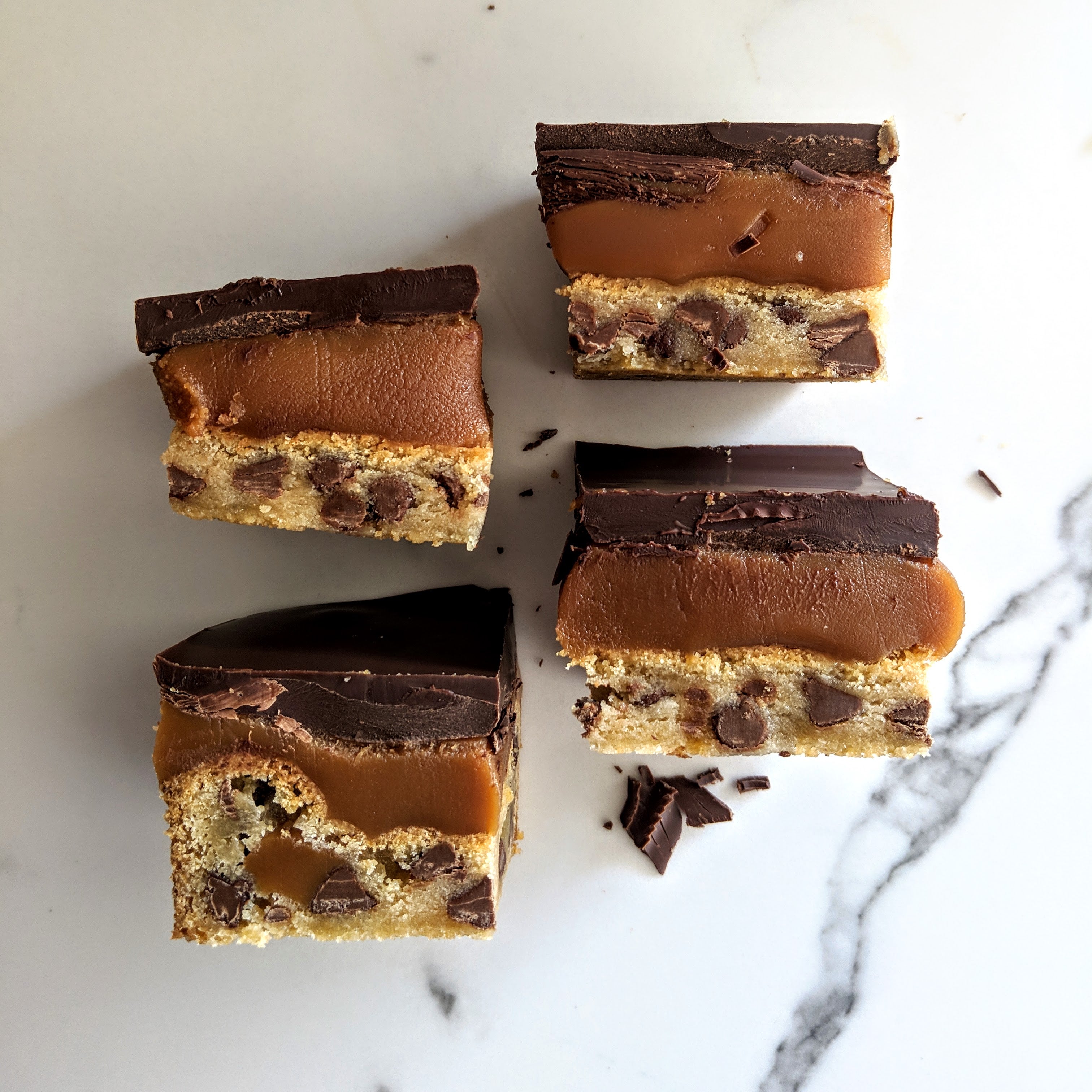 About the bake
We've taken two classic treats and merged them into one with our cookie based milionaire's shortbread recipe.
We've taken your favourite copycat Millie's Cookie base and topped it with lashings of homemade thick caramel and chocolate on the top to make a millionaire's shortbread with a twist. It's not for the faint hearted.

For best results, turn it upside down to slice, this way the hard chocolate won't squash the softer layers underneath as you take your knife through it.
If you prefer a more traditional version, our classic millionaire's shortbread boasts 5 star reviews.
Method
Step 1:

Preheat the oven to 200°C, (fan 180°C, gas mark 4) Line a 20cm x 20cm tin with baking paper, making sure the paper overhangs slightly so it makes it easier to remove finished bake .


Step 2:

For the cookie base: In a large bowl cream together the butter and sugars until pale and fluffy then add the egg and vanilla extract and mix together well.


Step 3:

Sift the flour and salt and then add to the egg mixture. Mixing thoroughly until a soft dough forms. Finally stir in the chocolate chips.


Step 4:

Place in the oven and bake for 15 minutes for the ultimate Leave to cool and start your caramel.


Step 5:

To make the caramel, place the butter, sugar, syrup and condensed milk into a saucepan and stir over a low heat until the butter has melted.


Step 6:

Bubble and stir the mixture gently for five to eight minutes, until you get a thick and fudge-like mix. Pour over the cold shortbread in an even layer. Leave to cool.


Step 7:

Once the caramel has cooled, chop the chocolate and place in a bowl suspended over a pan of simmering water. Do not let the water touch the bottom of the pan as this can cause the chocolate to burn. Stir the chocolate until melted. Once it has totally melted, pour it over the cooled caramel. Allow it to set at room temperature.


Step 8:

When it's ready to serve, remove it from the tin using the paper to help. Cut it into little squares (or big ones if you're feeling naughty).

Ingredients
For the Base

125g

 

Unsalted butter (softened)

115g

 Billington's unrefined light mucovado sugar

110g

 Silver Spoon White Caster Sugar

1

 

Medium egg

1 tsp

 Nielsen-Massey Vanilla Bean Paste

220g

 Allinson's Self Raising Flour

0.5 tsp

 

Salt

200g

 

Chocolate chips (we used milk chocolate)

For the Caramel

175g

 

Unsalted butter (softened)

150g

 Billington's Unrefined Molasses Sugar

4 tbsp

 

Golden syrup

397ml

 

Condensed milk

For the Topping

150g

 

Dark chocolate

200g

 

Milk chocolate
Recipe Reviews
I absolutely love this, it's delicious
Is the cookie base meant to to be mega thick? It said to use a 20cmx20cm baking tin. Ours was 22x22cm so we thought they'd be a bit thinner but the cookie base has risen to nearly fill the entire tin.
Hello,
The base will be thick as its a cookie dough base, so will need to be spread into the tin. The cookie dough will rise as it has self raising flour in it. I hope you enjoyed the cookie base with the chocolate and caramel, what a combination!
Happy Baking!
I made these for my friend's birthday. She'd never seen anything like it before! She looooooooooooooooves cookies and chocolate and caramel.
Ingredients
For the Base

125g

 

Unsalted butter (softened)

115g

 Billington's unrefined light mucovado sugar

110g

 Silver Spoon White Caster Sugar

1

 

Medium egg

1 tsp

 Nielsen-Massey Vanilla Bean Paste

220g

 Allinson's Self Raising Flour

0.5 tsp

 

Salt

200g

 

Chocolate chips (we used milk chocolate)

For the Caramel

175g

 

Unsalted butter (softened)

150g

 Billington's Unrefined Molasses Sugar

4 tbsp

 

Golden syrup

397ml

 

Condensed milk

For the Topping

150g

 

Dark chocolate

200g

 

Milk chocolate