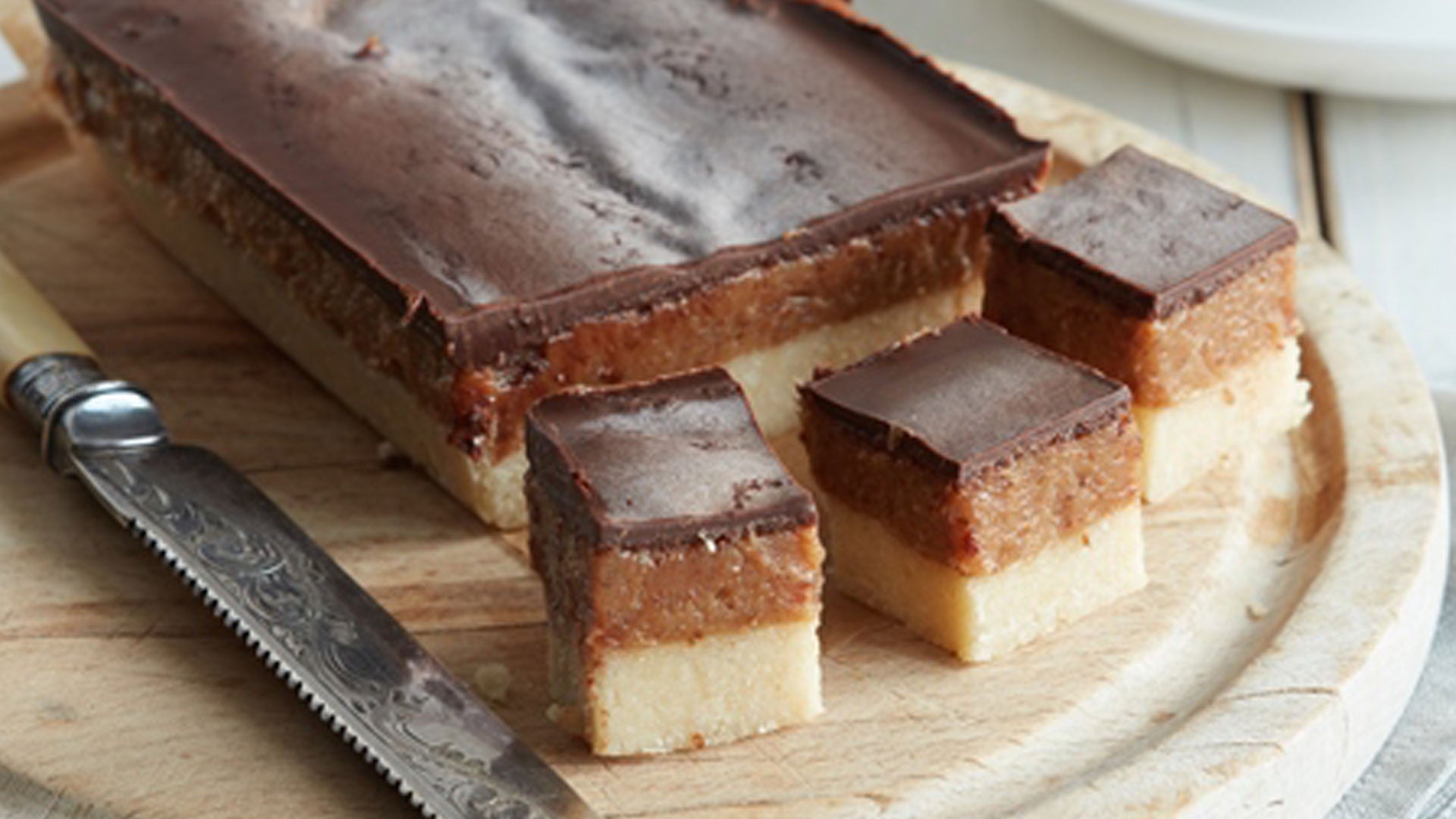 About the bake
These Truvía® No-Bake Millionaire bites are courtesy of bloggers SpamellaB & Chyaz who have created these millionaire bites which are the perfect sweet treat for your New Year's Eve celebrations or simply enjoyed with a nice cup of tea or coffee.
Method
Step 1:

Line a shallow 18cm square cake tin with baking parchment.


Step 2:

For the base, blitz the cashew nuts and oats in a food processor until they are chopped finely. Add the ground almonds and Truvia and pulse for a couple of seconds to combine.


Step 3:

Pour the wet ingredients into the food processor and pulse for a few seconds, until a soft dough forms. Press the dough gently into the tin then put the tin into the freezer whilst you make the caramel.

Step 4:

For the caramel layer, roughly chop the dates and put into a bowl with the Truvia for Baking Brown and 2 tbsps. of boiling water. Mix well, then set aside for 10 minutes to soften the dates.

Ingredients
For the base

100g

 

Cashew nuts

60g

 

Porridge oats

40g

 

Truvia for Baking - Caster

30g

 

Coconut oil (melted)

2 tbsp

 

Almond milk

1 tsp

 Nielsen-Massey Vanilla Extract

50g

 

Ground Almonds

For the caramel layer

200g

 

Medjool dates (stoned)

75g

 Proper Nutty peanut butter

1 tbsp

 

Truvia for Baking - Brown

2 tbsp

 Billington's very dark maple syrup

For the chocolate layer

100g

 

Dairy free plain chocolate
Recipe Reviews
First time making these and wow! Ill be using this recipe and making some more delicious!!!!
These were amazing ! I changed the topping to dark organic choc and a tablespoon of cream to add richness or just dark choc melted was also delicious
Ingredients
For the base

100g

 

Cashew nuts

60g

 

Porridge oats

40g

 

Truvia for Baking - Caster

30g

 

Coconut oil (melted)

2 tbsp

 

Almond milk

1 tsp

 Nielsen-Massey Vanilla Extract

50g

 

Ground Almonds

For the caramel layer

200g

 

Medjool dates (stoned)

75g

 Proper Nutty peanut butter

1 tbsp

 

Truvia for Baking - Brown

2 tbsp

 Billington's very dark maple syrup

For the chocolate layer

100g

 

Dairy free plain chocolate