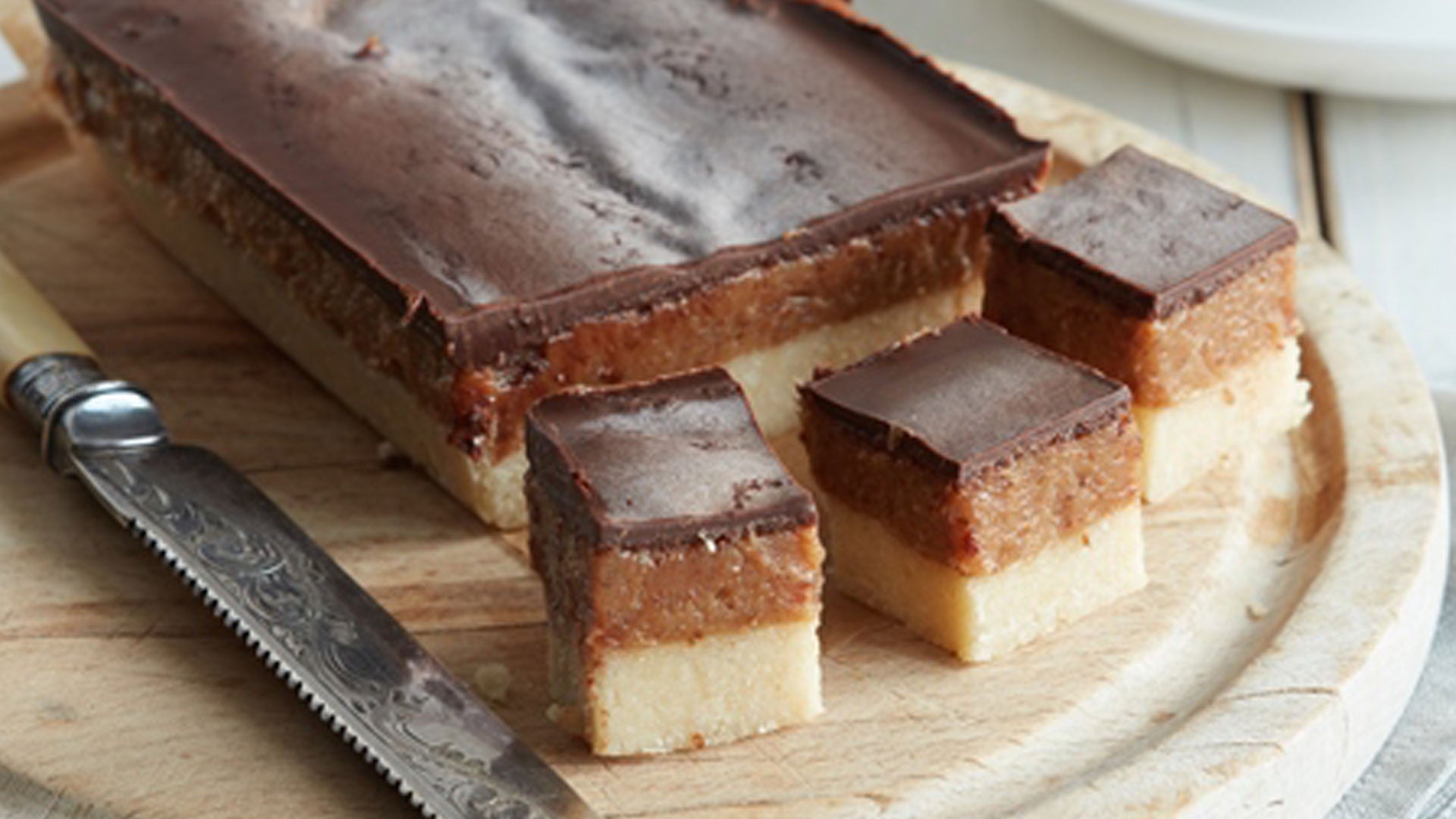 About the bake
These Truvía® No-Bake Millionaire bites are courtesy of bloggers SpamellaB & Chyaz who have created these millionaire bites which are the perfect sweet treat for your New Year's Eve celebrations or simply enjoyed with a nice cup of tea or coffee.
Method
Step 1:

First make the base: Whizz up the oats in a blender to form a flour. Place in a bowl with the ground almonds and Truvía® and mix together. Pour in the wet ingredients and stir well, until a soft dough forms. Press this into a silicone loaf tin, or small baking tray lined with greaseproof paper. Freeze for 30 minutes.


Step 2:

Now make the caramel layer: Drain the dates (but keep the water!) and add to a food processor with 2 tbsp of the water, peanut butter, coconut oil and Truvía®. Gradually add a dash of water to help everything blend into a smooth, caramel like mixture then spread this over base and freeze for at least 2 hours.


Step 3:

Finally make the chocolate topping: Melt the coconut oil in a small pan, remove from the heat then whisk in the Truvía® and cacao powder until smooth and glossy. Pour over the caramel layer then return to the freezer for at least 2 hours to set.


Step 4:

Gently pop out the whole block and slice up into squares. Enjoy straight away!

Ingredients
For the Base

120g

 

Ground Almonds

90g

 

Rolled oats

3 tbsp

 Truvia

2 tbsp

 

Coconut oil (melted)

4 tbsp

 

Almond milk

1 tsp

 Nielsen-Massey Vanilla Extract

For the Caramel Layer

175g

 

Dates (soaked in hot water)

4 tbsp

 

Peanut butter (smooth)

1 tbsp

 

Coconut oil (melted)

1 tbsp

 Truvia

For the Chocolate Topping

2 tbsp

 

Coconut oil

1 tbsp

 Truvia

3 tbsp

 

Raw cacao powder
Recipe Reviews
First time making these and wow! Ill be using this recipe and making some more delicious!!!!
These were amazing ! I changed the topping to dark organic choc and a tablespoon of cream to add richness or just dark choc melted was also delicious
Ingredients
For the Base

120g

 

Ground Almonds

90g

 

Rolled oats

3 tbsp

 Truvia

2 tbsp

 

Coconut oil (melted)

4 tbsp

 

Almond milk

1 tsp

 Nielsen-Massey Vanilla Extract

For the Caramel Layer

175g

 

Dates (soaked in hot water)

4 tbsp

 

Peanut butter (smooth)

1 tbsp

 

Coconut oil (melted)

1 tbsp

 Truvia

For the Chocolate Topping

2 tbsp

 

Coconut oil

1 tbsp

 Truvia

3 tbsp

 

Raw cacao powder