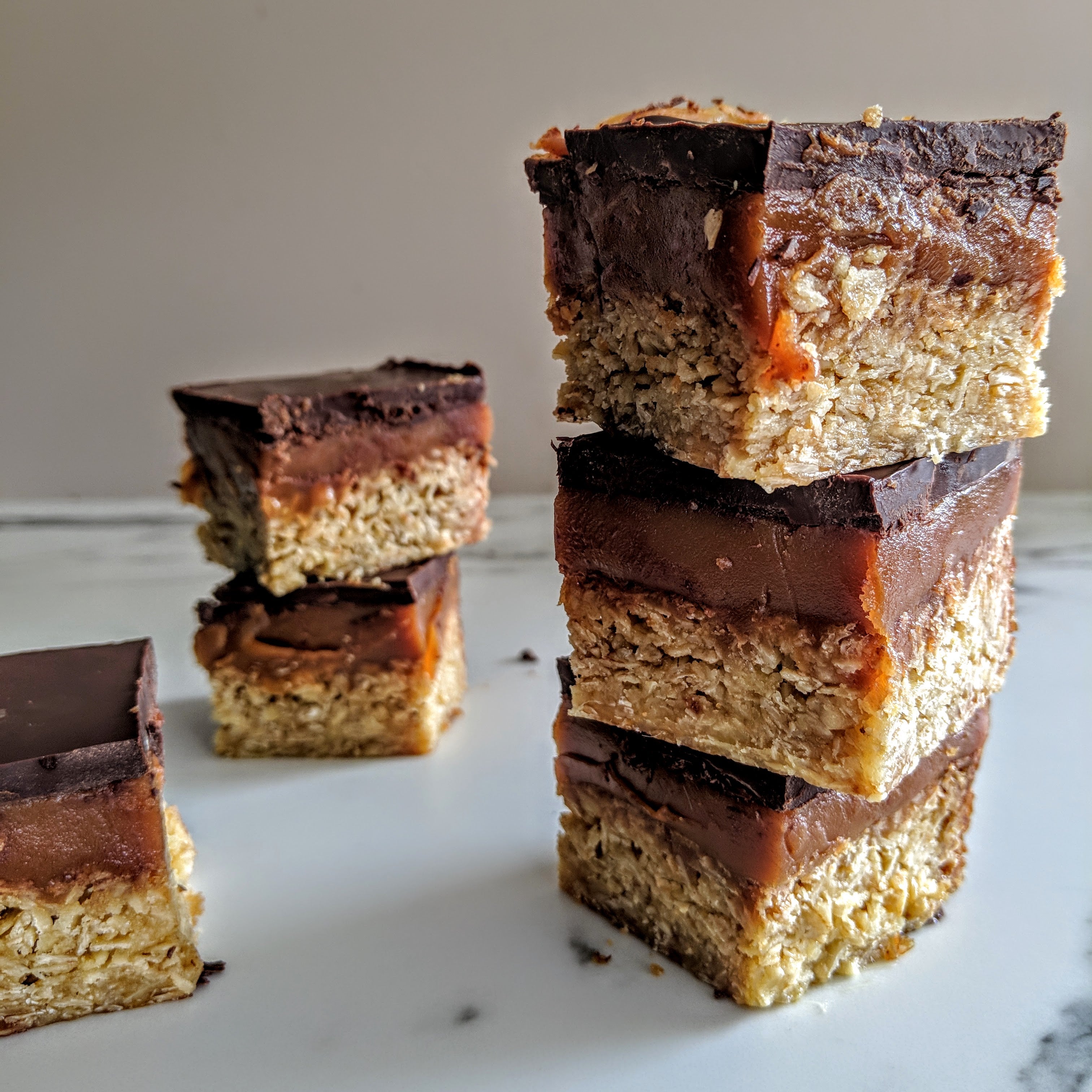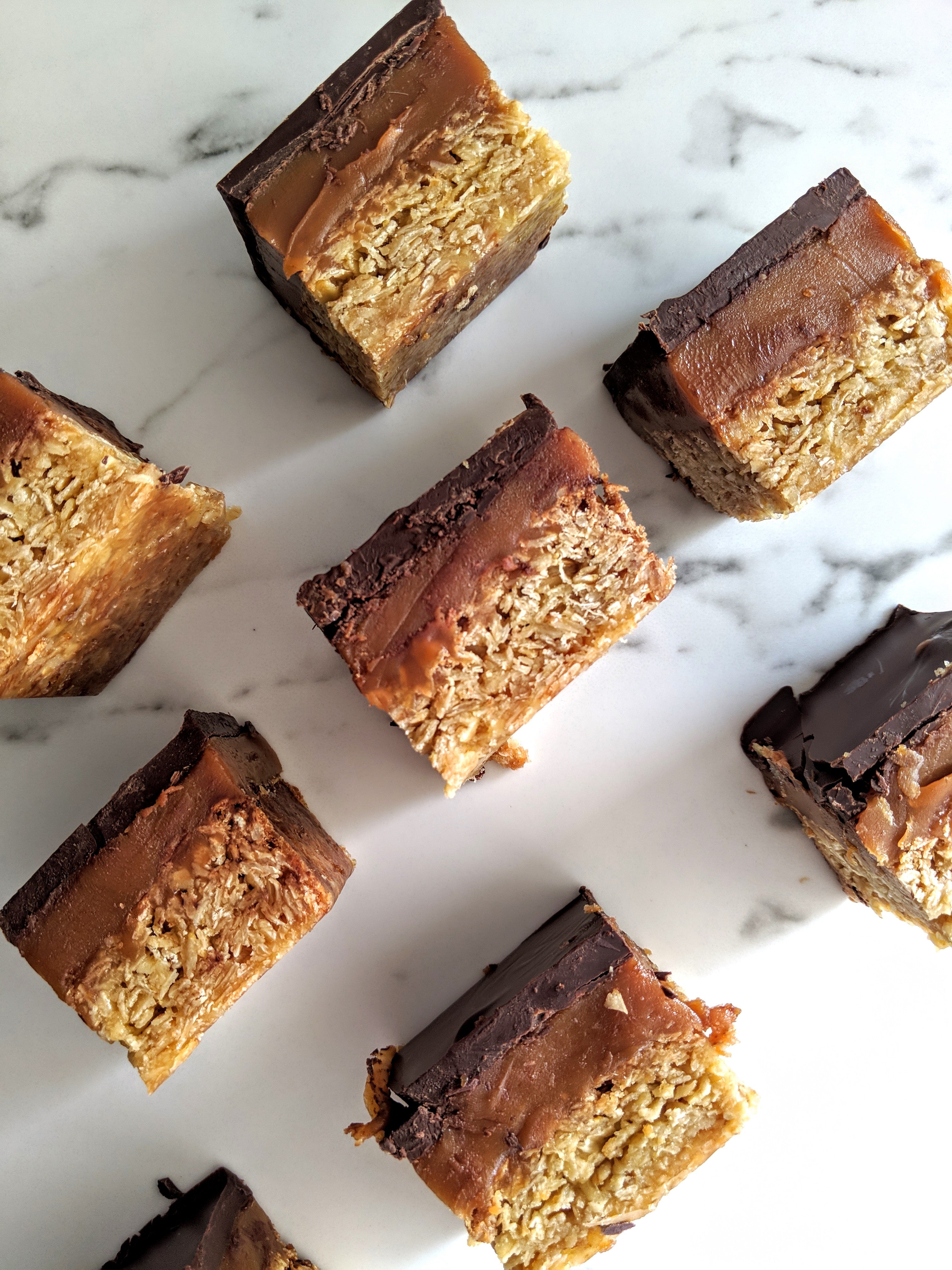 About the bake
We've taken two timeless classic favourites and stuck them together making a hybrid fit for royalty, the mouthwatering flapjack based millionare's shortbread.
We've used a classic flapjack base and topped this with lashings of homemade caramel and chocolate to make a millionaire's shortbread meets flapjack wonder. For the caramel, make sure you use a thermometer, if the caramel goes too hot- you'll end up with toffee which is thicker and harder on the old teeth. Apron on, let's bake.
Like your millionaire's shortbread with a twist? Give our millionaire's cheesecake a try.
Method
Step 1:

Preheat the oven to 180°C (350°F or gas mark 4). Line a tin with baking paper, the tin should approx measure 8"x8"


Step 2:

In a large pan gently heat the butter or margarine, golden syrup and maple sauce. Heat until the butter is all melted, do not boil. (Using a wooden spoon is advised)


Step 3:

Remove pan from the heat and add in the oats, sugar and salt. Mix very well until all the oats are covered.


Step 4:

Put the mixture into the prepared tin and smooth evenly into the corners.


Step 5:

Bake in the oven for approximately 15 minutes, then turn the tin around and bake for a further 5 minutes. Bake until golden brown.


Step 6:

Remove the tin from the oven and allow to cool.


Step 7:

To make the caramel, place the butter, sugar, syrup and condensed milk into a saucepan and stir over a low heat until the butter has melted.


Step 8:

Bubble and stir the mixture gently for five to eight minutes, until you get a thick and fudge-like mix. Pour over your cooled cookie which will still be in the cake tin and leave to cool.


Step 9:

While your caramel is cooling, it's time to melt your chocolate.

Chop the chocolate and place in a bowl suspended over a pan of simmering water. Do not let the water touch the bottom of the pan. Stir the chocolate until melted. Spread evenly over the caramel and allow to set at room temperature.

Ingredients
For the Base

225g

 

Unsalted butter (softened)

170g

 Billington's Unrefined Golden Caster Sugar

340g

 

Porridge oats

0.25 tsp

 

Salt

3 tbsp

 

Golden syrup

1 tbsp

 

Maple syrup

For the Caramel

175g

 

Unsalted butter (softened)

175g

 Billington's Unrefined Golden Caster Sugar

4 tbsp

 

Golden syrup

397ml

 

Condensed milk

For the Topping

150g

 

Dark chocolate

200g

 

Milk chocolate
Utensils
8in x8in square baking tin
Recipe Reviews
Caramel does take a good 10 mins to make but that shouldn't deter you. These are fabulous but extremely rich, but they've so much sugar they last well stored in tupperware.
These are so easy to make and yes the caramel does take a while to colour and thicken, but it's well worth the wait.
The base and chocolate topping on the other hand are easy and quick to make. I followed the recipe to the dot and had the yummiest treat I've ever baked. 5 stars from me and those who've tasted them so far.
Although the caramel does take ages to change colour and thicken, the recipe is easy. Added some salt to the caramel and end result yummy. Thanks
Very easy recipe!
However it took quite a long time but had no problems with following the steps!
Amazing!!! Cut very well and went down a storm! I used a smaller tray so everything was chunkier.
Ingredients
For the Base

225g

 

Unsalted butter (softened)

170g

 Billington's Unrefined Golden Caster Sugar

340g

 

Porridge oats

0.25 tsp

 

Salt

3 tbsp

 

Golden syrup

1 tbsp

 

Maple syrup

For the Caramel

175g

 

Unsalted butter (softened)

175g

 Billington's Unrefined Golden Caster Sugar

4 tbsp

 

Golden syrup

397ml

 

Condensed milk

For the Topping

150g

 

Dark chocolate

200g

 

Milk chocolate
Utensils
8in x8in square baking tin