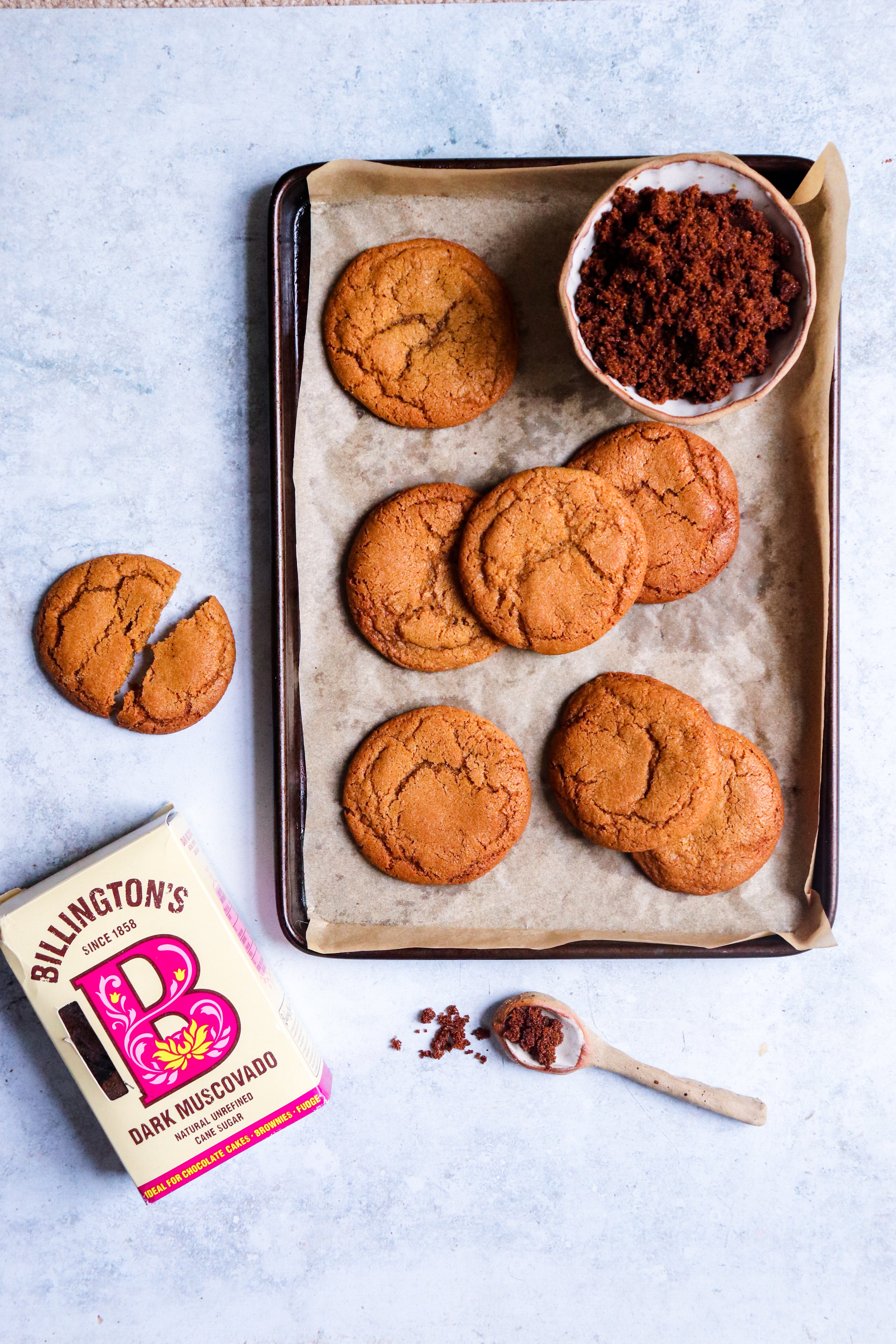 About the bake
The very talented Martha Collison has made these delicious ginger brown sugar cookies using Billington's Dark Muscovado and Golden Caster Sugar. These are best eaten freshly made and warm, but will keep for up to 4 days in a tin – but we doubt they'll last that long!
Method
Step 1:

In a large bowl, beat together the soft butter with both the sugars using a wooden spoon. Beat the mixture until they are well combined, but there is no need for it to be light and fluffy.


Step 2:

Add the vanilla extract and egg to the butter mixture and beat again until all the ingredients are smooth. In a separate bowl, combine the remaining dry ingredients.


Step 3:

Pour the dry ingredients into the wet mixture and fold using a spatula until a stiff dough forms. Refrigerate the dough for at least 30 minutes (up to 72 hours for optimum flavour and texture).


Step 4:

Preheat the oven to 170oC. Grease and line 2 large baking trays with baking paper or a silicon baking sheet. Use a small ice-cream scoop (a teaspoon or tablespoon will work too, but won't be as regularly shaped) to form balls of dough and place onto the trays, leaving enough space for each to spread out.


Step 5:

Bake the cookies for 12-15 minutes, or until the mixture has spread out and is just beginning to colour around the edges. Remove from the oven - they should look undercooked in the middle - and allow to cool for at least 10 minutes.


Storage & Consumption

These are best eaten freshly made and warm, but will keep for up to 4 days in a tin – but I doubt they'll last that long!
Ingredients
For the Cookies

140g

 

Butter (softened)

125g

 Billington's Unrefined Dark Muscovado Sugar

100g

 Billington's Unrefined Golden Caster Sugar

1g

 

Large Egg

1 tsp

 Nielsen-Massey Vanilla Extract

150g

 Allinson's plain white flour

0.5 tsp

 

Baking soda

0.5 tsp

 

Baking powder

1 tsp

 

Ground ginger

100g

 

Strong plain flour
Nutritional Information
per 36g
180cal

 

Energy

7.6g

 

Fat

4.7g

 

of which Saturates

25g

 

Carbohydrates

14g

 

of which Sugars

2.2g

 

Protein

0.12g

 

Salt
Recipe Reviews
Not quite enough Ginger for me. I would add another 1/2 tsp next time.
Delicious ginger flavour my brother loved them great recipe.
We halved the sugar, used only Olin flour used at least 1 tablespoon of ginger. They were delicious - thanks so much!!
Hey. Just wondering, where it says 'Strong Plain Flour', is this strong white bread flour? Thank you. Xxx
Ingredients
For the Cookies

140g

 

Butter (softened)

125g

 Billington's Unrefined Dark Muscovado Sugar

100g

 Billington's Unrefined Golden Caster Sugar

1g

 

Large Egg

1 tsp

 Nielsen-Massey Vanilla Extract

150g

 Allinson's plain white flour

0.5 tsp

 

Baking soda

0.5 tsp

 

Baking powder

1 tsp

 

Ground ginger

100g

 

Strong plain flour
Nutritional Information
per 36g
180cal

 

Energy

7.6g

 

Fat

4.7g

 

of which Saturates

25g

 

Carbohydrates

14g

 

of which Sugars

2.2g

 

Protein

0.12g

 

Salt