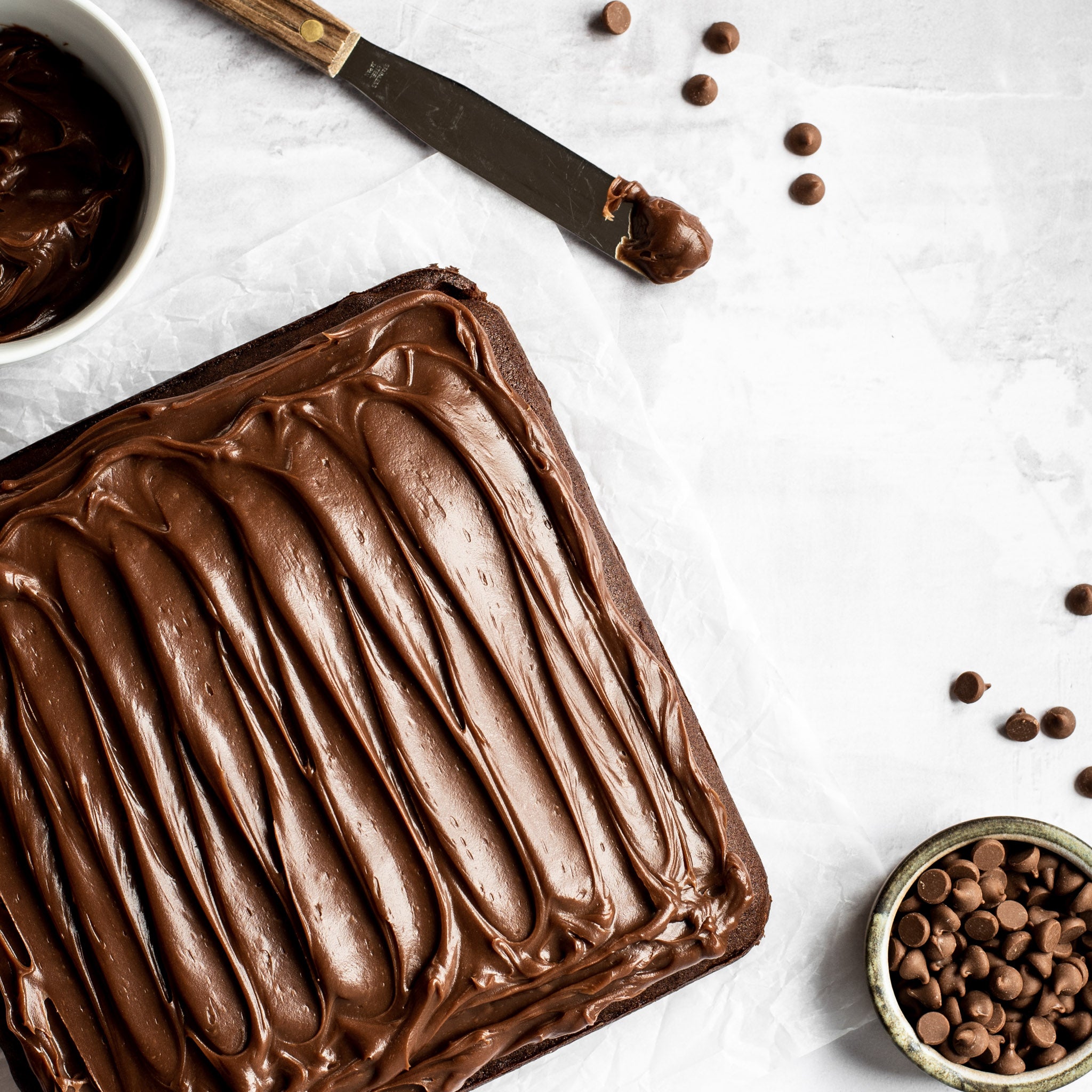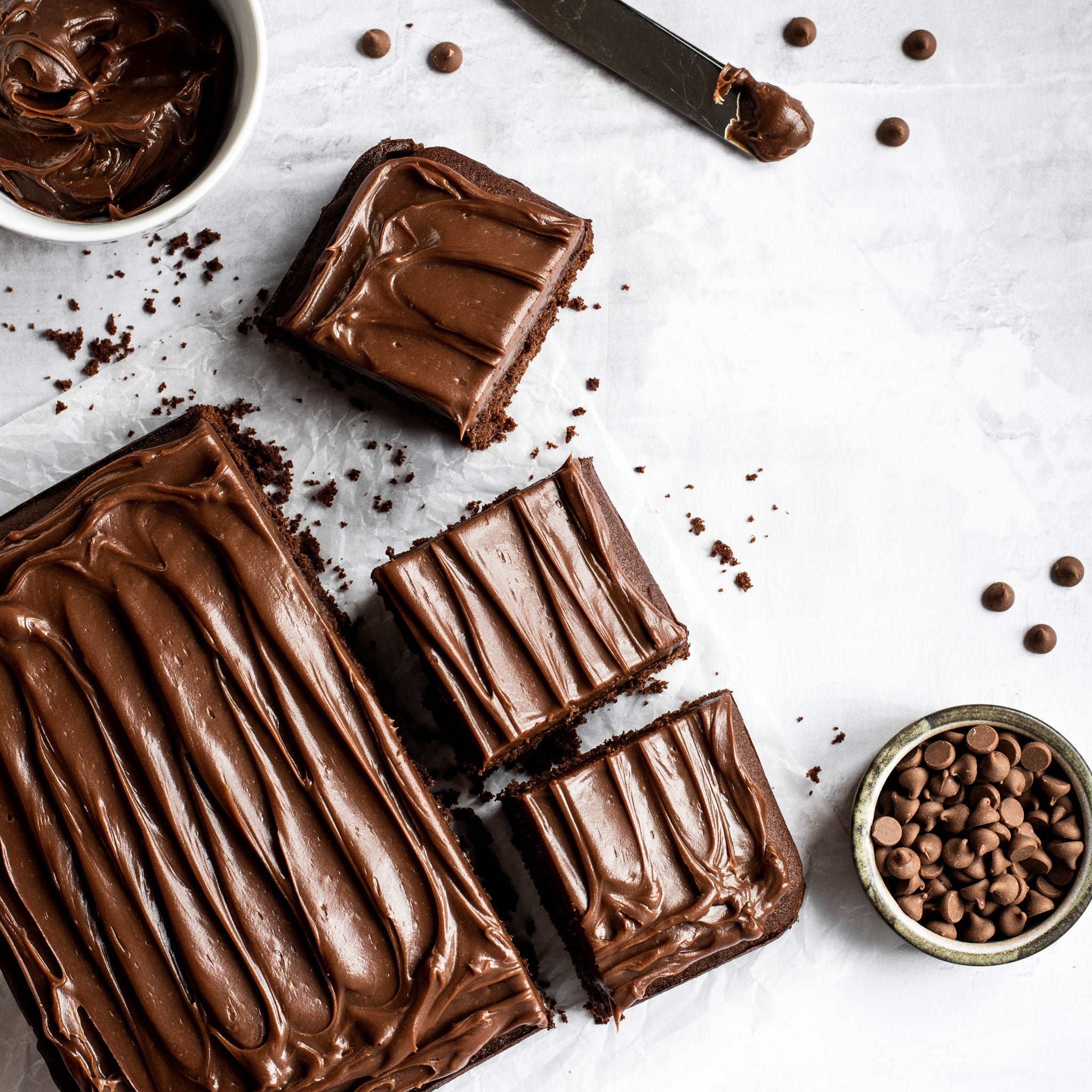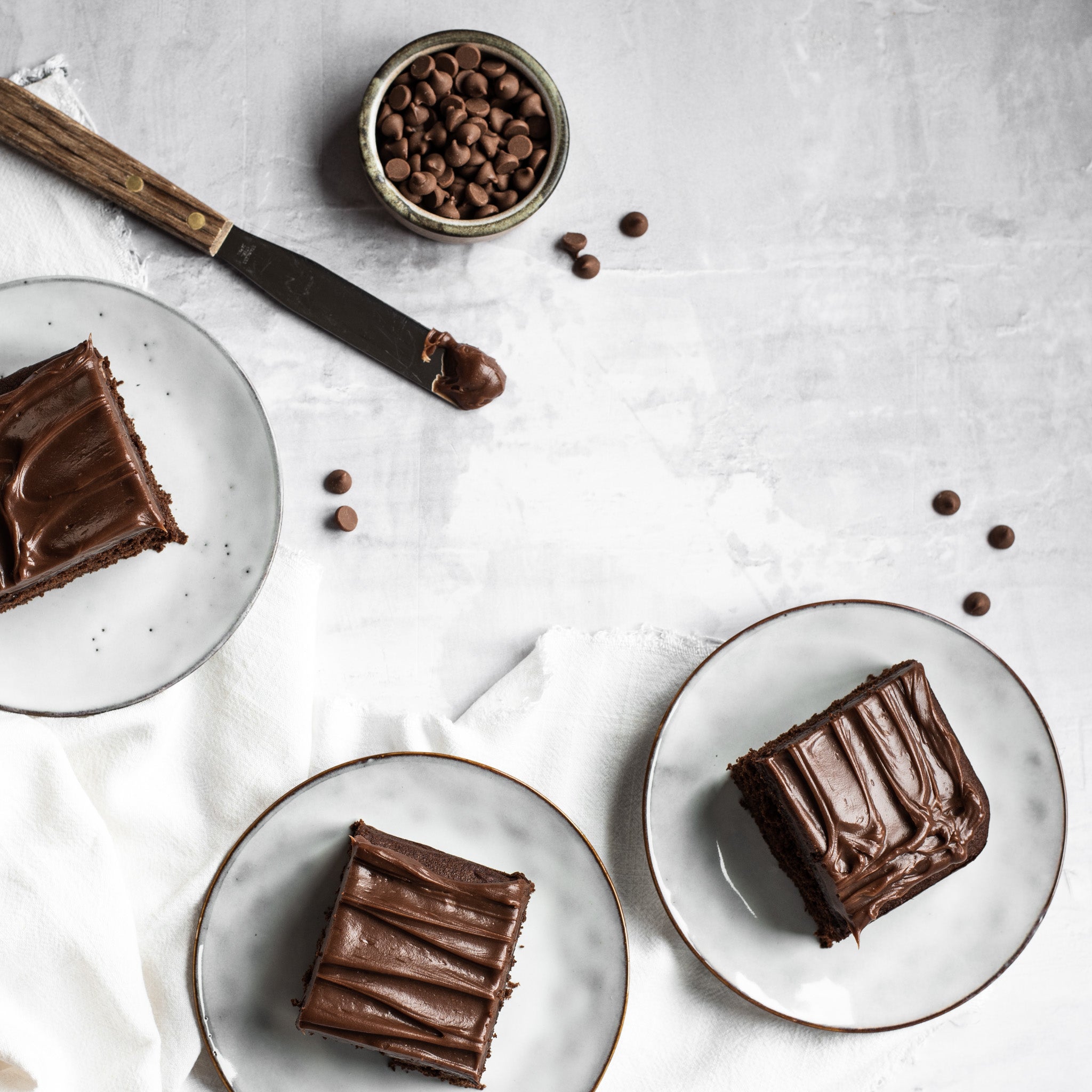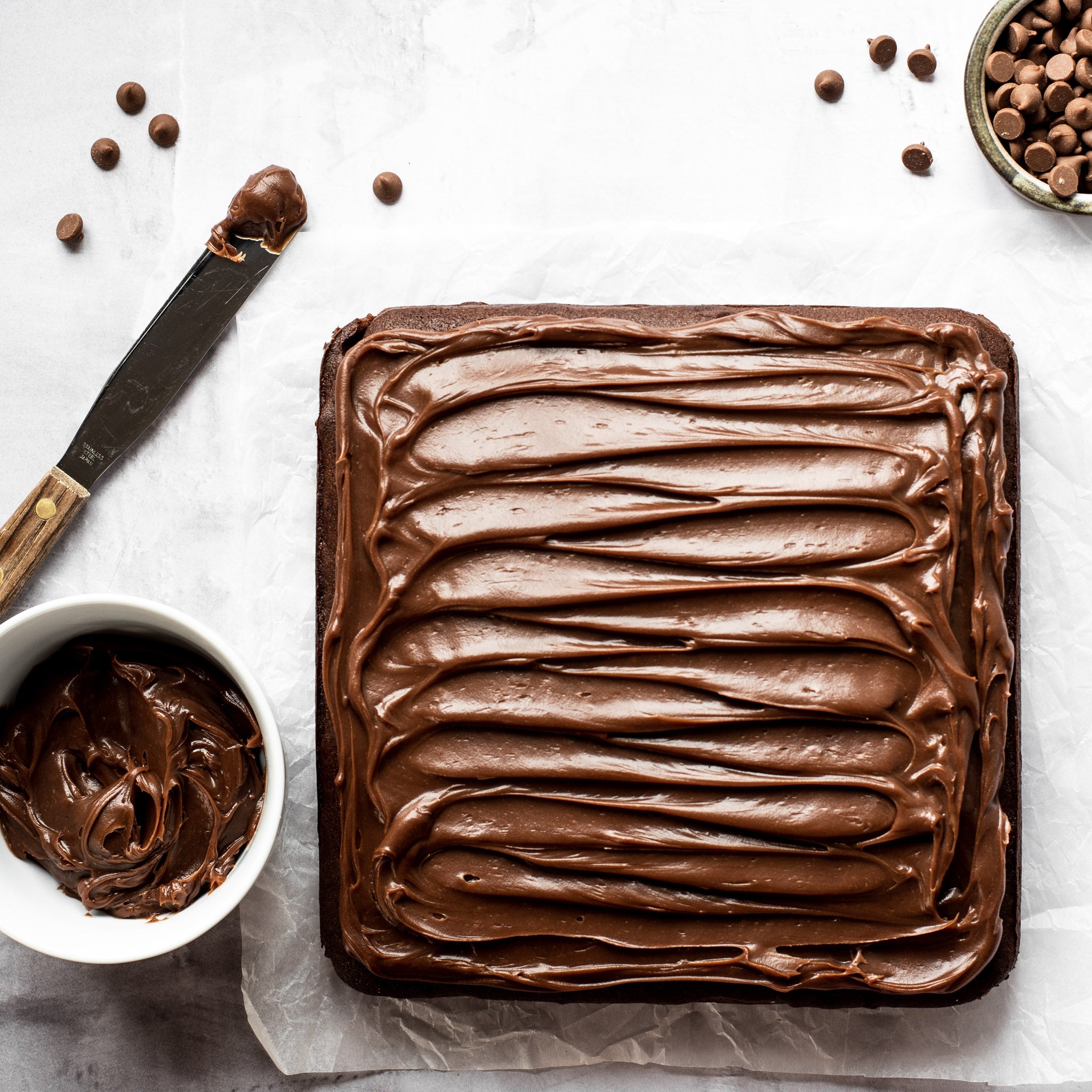 About our gluten free chocolate traybake
This gluten free chocolate traybake is simple to make and extremely tasty. The chocolate icing is so smooth and rich that it glides onto the sponge really nicely. It's perfect for when you have a few people to bake for, or that last-minute Bake Sale your kids told you about the night before (we've all been there).
For more gluten free recipes, try our gluten free chocolate muffins or our gluten free chocolate banana bread.
Method
Step 1:

Preheat the oven to 180°C /160°C Fan/ Gas mark 4. Meanwhile grease and line a 24cm square cake with parchment paper ensuring that the bottom and sides are lined.


Step 2:

Put the flour into a mixing bowl with the sugar, salt and xanthan gum.

Step 3:

Warm the milk in a small saucepan until it is steaming, but not quite boiling. Pour the hot milk onto the flour mixture, add the vanilla extract and use a balloon whisk or electric whisk to beat vigorously until you have a smooth batter.

Step 4:

Add the butter to the batter, push it down under the surface and leave to soften for a couple of minutes. When the butter has softened, use your balloon whisk or electric whisk and beat until the mixture is smooth again and lighter in colour.


Step 5:

Sieve the cocoa powder and baking powder over the cake mixture then add the eggs and beat for a few seconds until incorporated.


Step 6:

Pour the cake mixture into the prepared tin and bake for 40- 45 minutes until firm and springy and when a skewer is inserted it comes out clean. Eat while still warm with pouring cream or cool completely before frosting with something delicious such as this chocolate fudge icing recipe.

Ingredients
For the sponge

200g

 Billington's Light Brown Soft Sugar

150g

 

Dove's Farm Teff Flour Blend

Pinch

 

Salt

0.5 tsp

 

Xanthan gum

125ml

 

Milk

1 tsp

 Nielsen-Massey Vanilla Extract

150g

 

Salted butter (cubed)

50g

 

Cocoa powder

2 tsp

 

Gluten free baking powder

2

 

Large eggs
Utensils
Square or oblong cake tin (23cm)

Spatula

Electric whisk (optional)
Recipe Reviews
Tried and tasted recipes easy to follow and great results always
Easy to make bake and tasty
Ingredients
For the sponge

200g

 Billington's Light Brown Soft Sugar

150g

 

Dove's Farm Teff Flour Blend

Pinch

 

Salt

0.5 tsp

 

Xanthan gum

125ml

 

Milk

1 tsp

 Nielsen-Massey Vanilla Extract

150g

 

Salted butter (cubed)

50g

 

Cocoa powder

2 tsp

 

Gluten free baking powder

2

 

Large eggs
Utensils
Square or oblong cake tin (23cm)

Spatula

Electric whisk (optional)