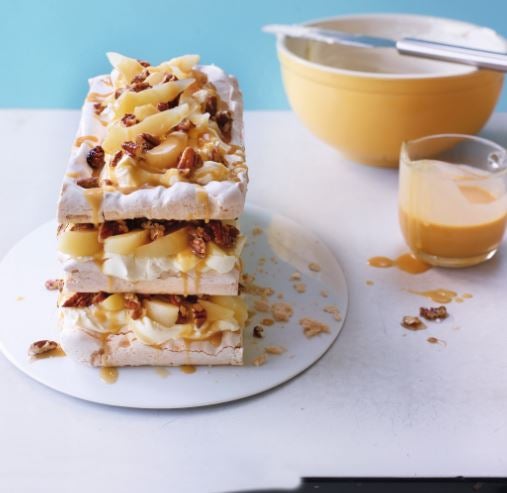 About the bake
This decadent dessert never fails to impress and is very easy to make. I even use tinned pears for convenience but you can, of course, poach fresh ones. I sometimes also use tinned peaches, for added colour. 'Essential Gluten Free by Phil Vickery', published by Kyle Books. Photography by Kate Whitaker.
Method
Step 1:

Preheat oven to 120ºc/gas mark ½. Line a Swiss roll tin with baking paper.


Step 2:

Place the egg whites and cream of tartar into a bowl and mix until light and foamy. Add half the sugar and whisk well on a medium speed, until thick and glossy but not over beaten. If you over-whisk, the meringue will be dull and firm. Add the rest of the sugar and just bring together for about 2 minutes.


Step 3:

Remove the bowl from the mixer and fold in the cornflour, 1 teaspoon of the vanilla extract and the vinegar. Mix it together well. Spread the mixture into a swiss roll tin, and place into the pre-heated oven and cook for 1 hour 15 minutes.


Step 4:

Remove from the oven and cool, slightly. Cut into 3 even pieces and cool completely.


Step 5:

Heat a non-stick pan and gently toast the pecans. When nicely browned, tip into a bowl, add the honey and mix well

Step 6:

Whip together the cream and remaining vanilla until glossy and soft. Quickly spread half the whipped cream over one of the meringue pieces. Lay the sliced pears on top. Sprinkle over one third of the honeyed pecans and drizzle with a little of the caramel sauce. Place a second meringue on top and repeat, finishing with the last meringue layer. Gently but firmly press down on the cake using a cooling rack to ensure the layers are even.


Step 7:

Decorate the top of the cake with the remaining piped cream, slices of pear and the remaining pecans. Dust well with icing sugar. Just before serving, drizzle over a little more caramel sauce and dust well with icing sugar. Slice and serve with extra sauce.


Step 8:

To make the caramel sauce, place the sugar into a saucepan and just cover with water. Boil until all the water has evaporated - leaving a light caramel. Carefully add the cream and butter and stir well until it is all incorporated. Chill well and serve.

Ingredients
For the Meringue

4

 

Medium free range egg whites (room temperature)

1 pinch

 

Cream of tartar

200g

 

Caster sugar

1 tsp

 

Cornflour

1 tsp

 Nielsen-Massey Vanilla Extract

1 tsp

 

White wine vinegar

150g

 

Pecan nuts (roughly chopped)

4 tbsp

 

Honey

750ml

 

Double cream

175ml

 

Double cream (for topping)

410g

 

Pears (canned) (2 cans, drained & sliced lengthways)

For the Caramel Sauce

175g

 Billington's Unrefined Light Muscovado Sugar

200ml

 

Whipping cream

100g

 

Salted butter (cut into small cubes)

1pinch

 

Sea salt
Utensils
Swiss roll

Parchment paper

Mixing bowl

Non-stick frying pan

Saucepan
We'd love a slice of advice.
Was it yum? Did the recipe work well? Did you customise the recipe?
Ingredients
For the Meringue

4

 

Medium free range egg whites (room temperature)

1 pinch

 

Cream of tartar

200g

 

Caster sugar

1 tsp

 

Cornflour

1 tsp

 Nielsen-Massey Vanilla Extract

1 tsp

 

White wine vinegar

150g

 

Pecan nuts (roughly chopped)

4 tbsp

 

Honey

750ml

 

Double cream

175ml

 

Double cream (for topping)

410g

 

Pears (canned) (2 cans, drained & sliced lengthways)

For the Caramel Sauce

175g

 Billington's Unrefined Light Muscovado Sugar

200ml

 

Whipping cream

100g

 

Salted butter (cut into small cubes)

1pinch

 

Sea salt
Utensils
Swiss roll

Parchment paper

Mixing bowl

Non-stick frying pan

Saucepan