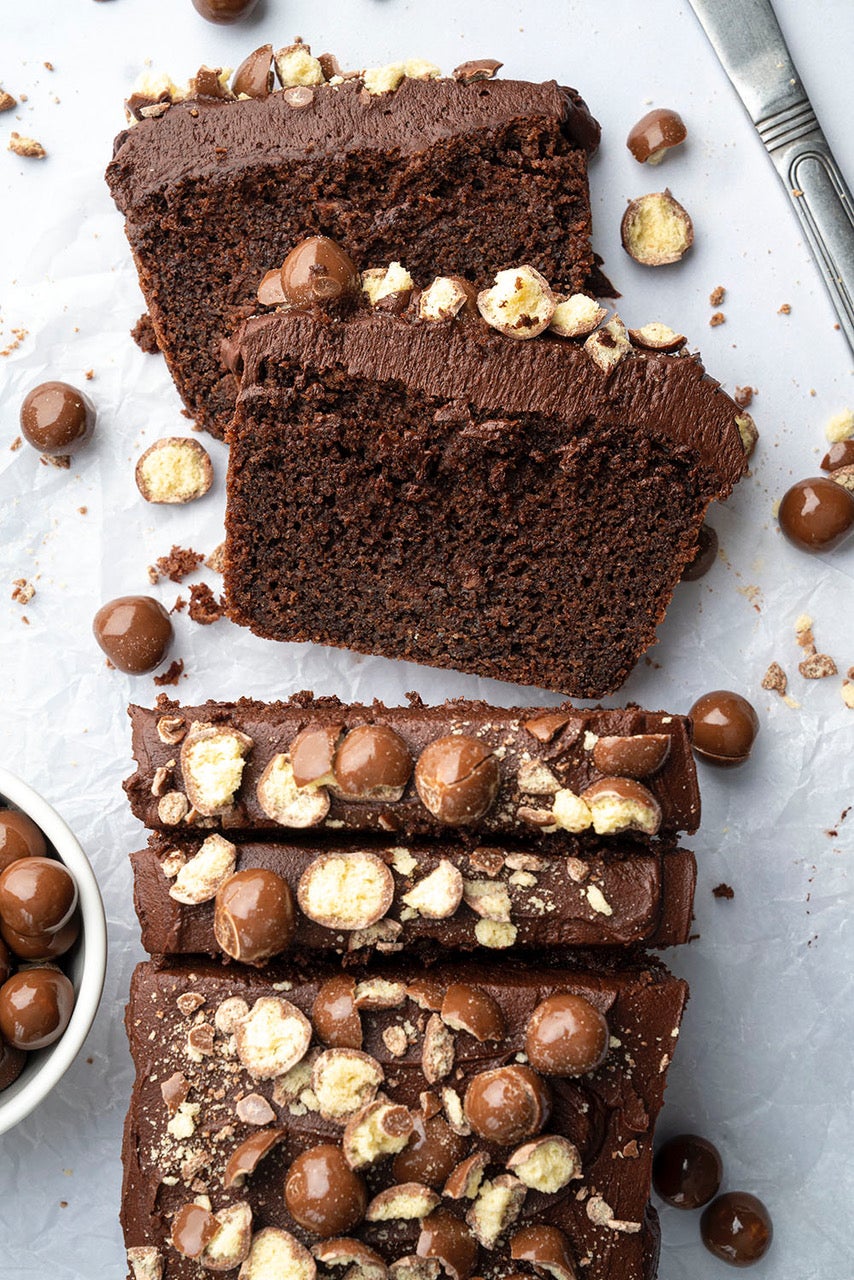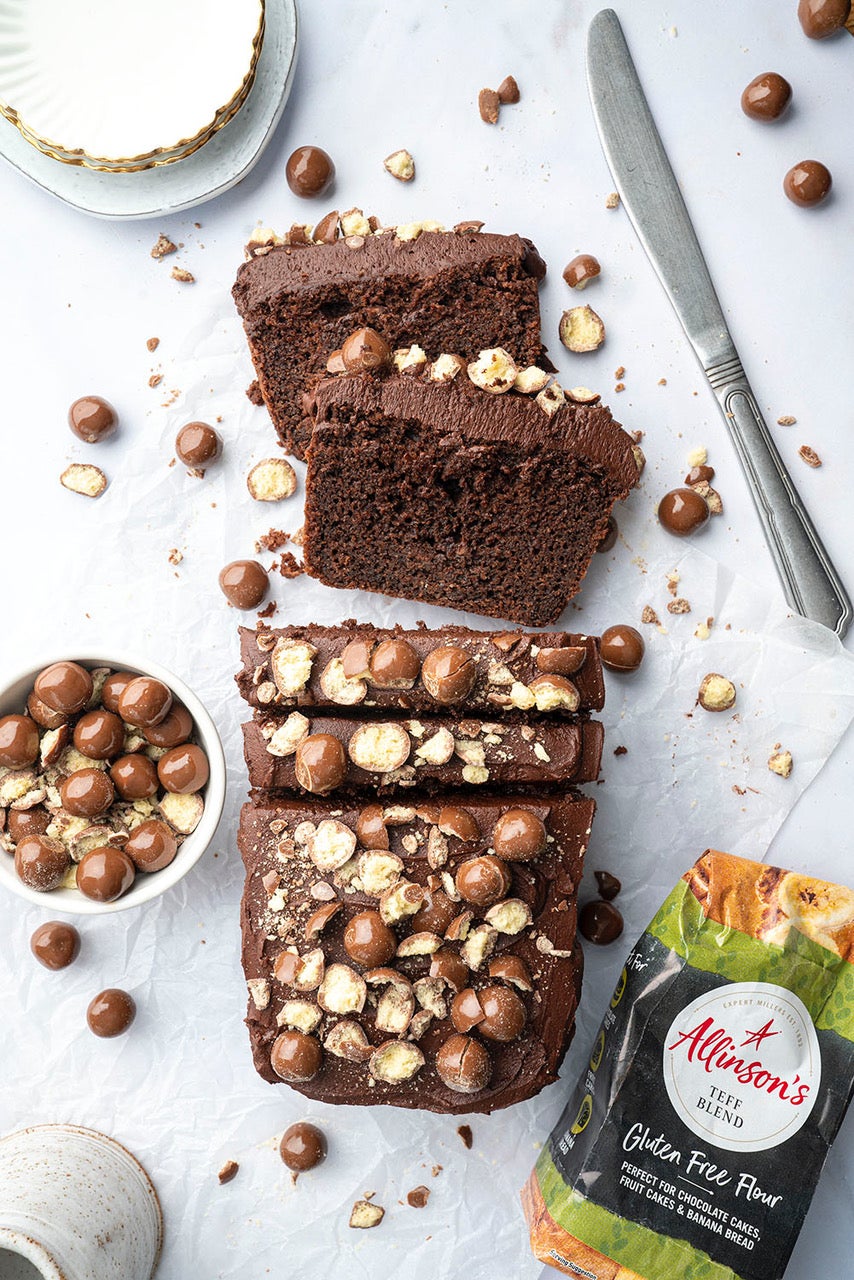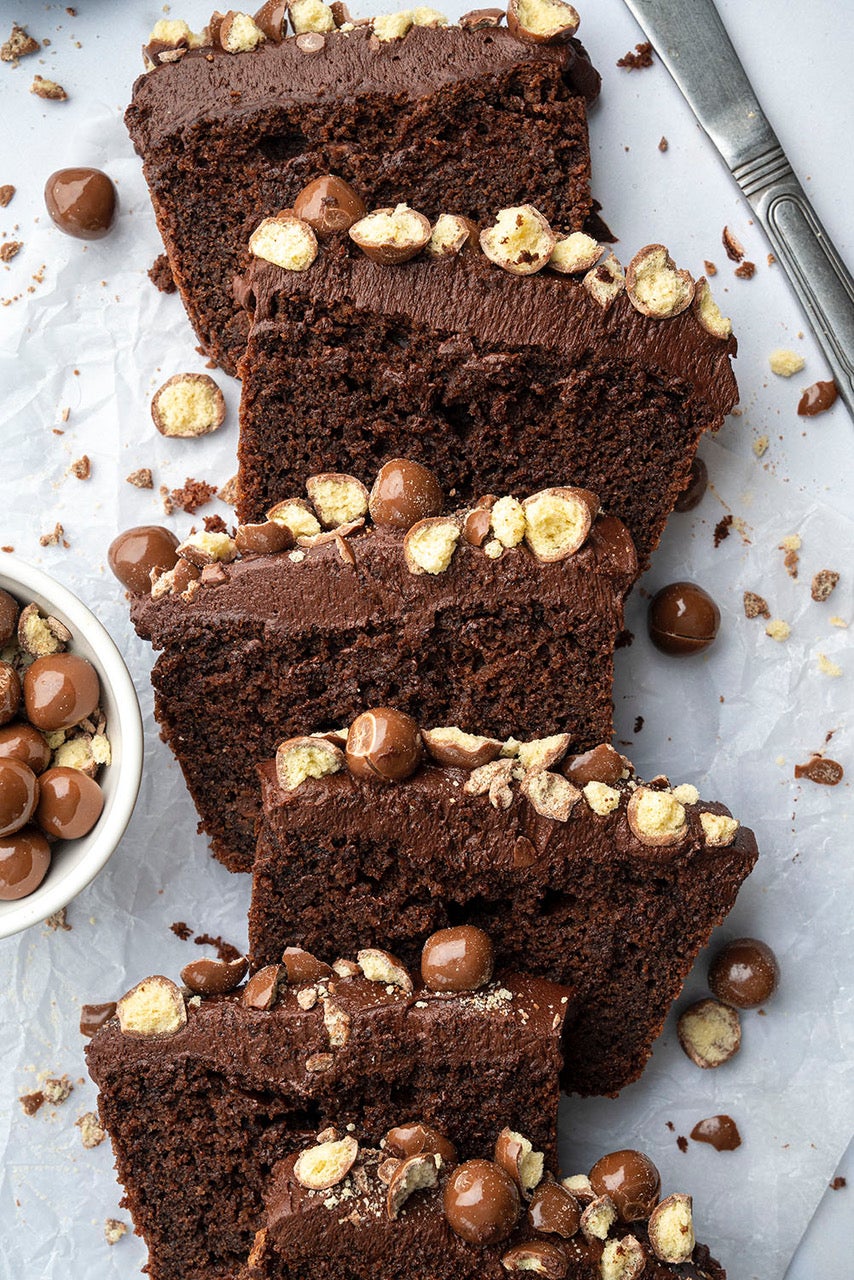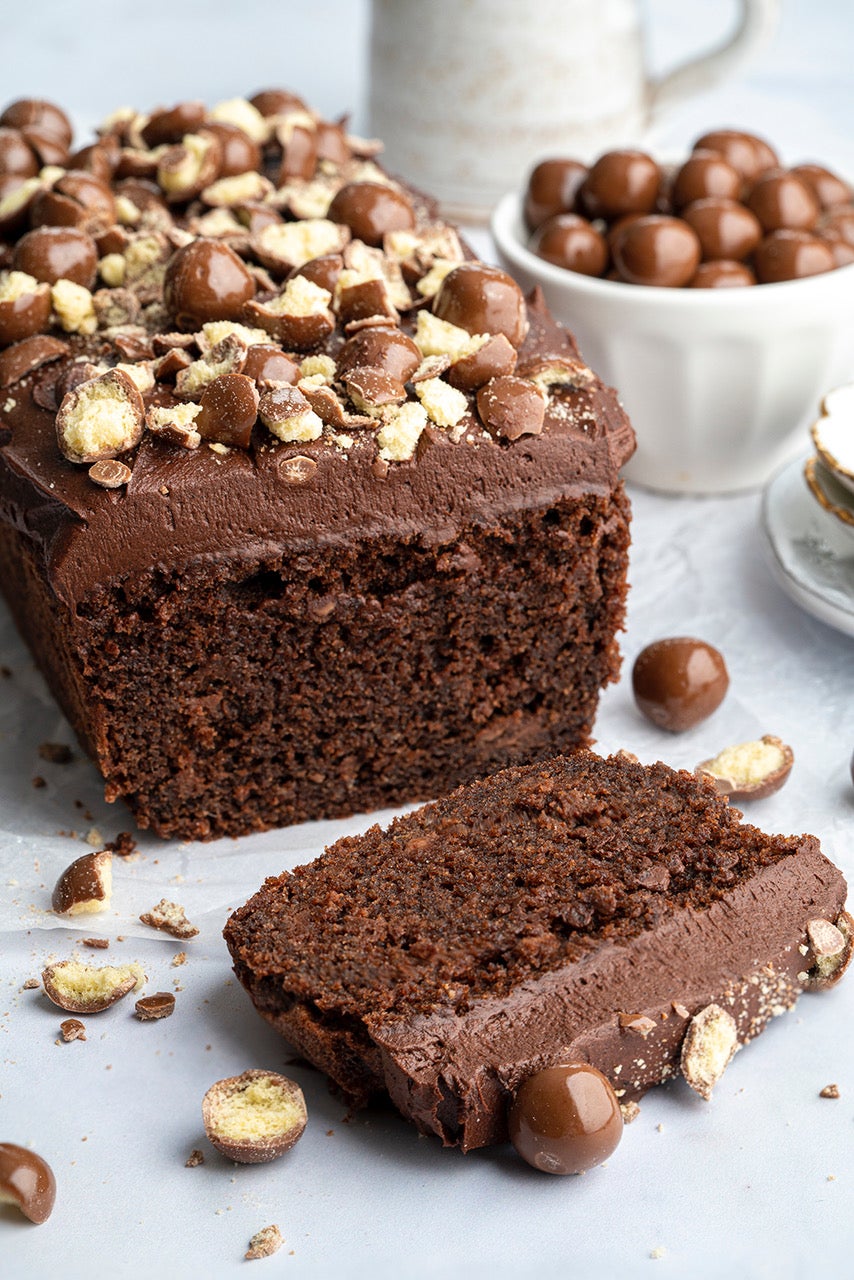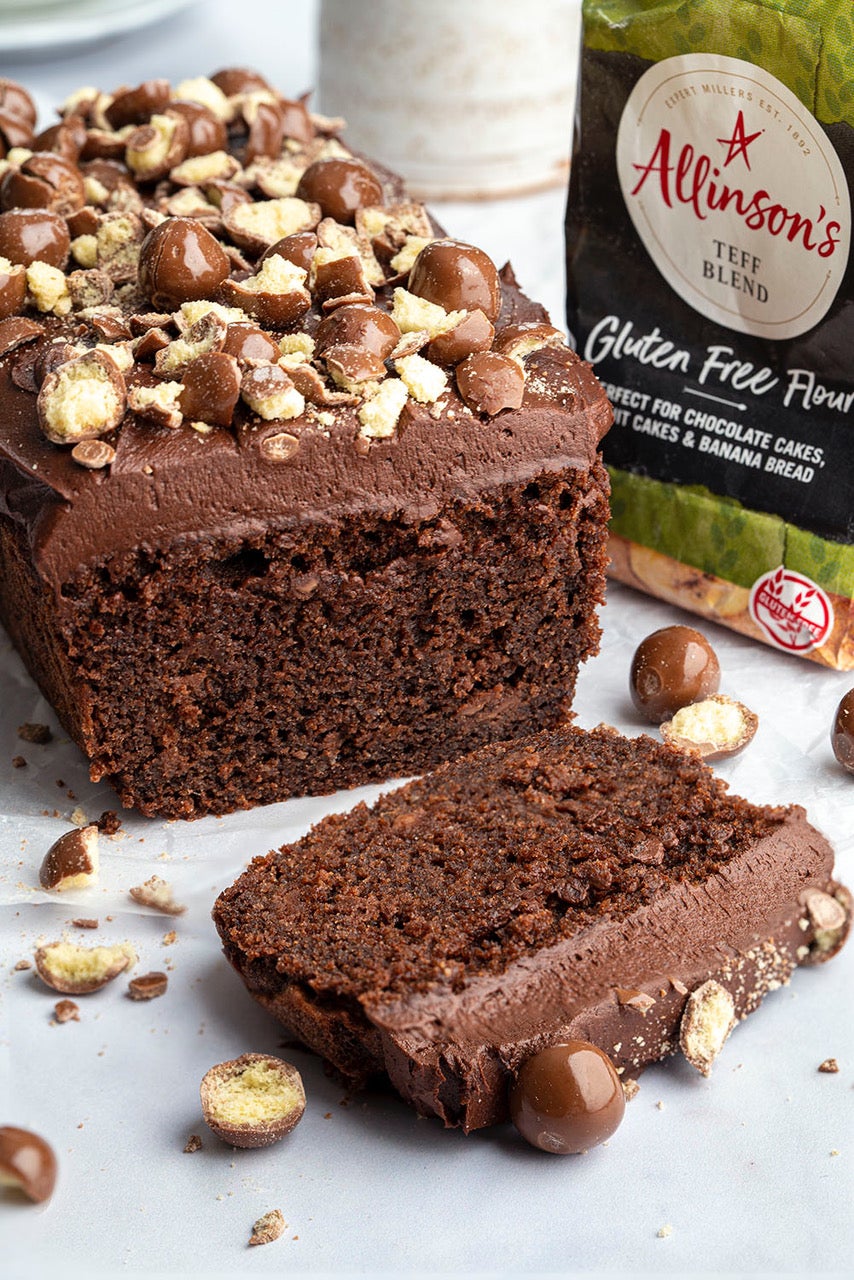 About the bake
The recipe was brought to us by Becky Excell. Becky is a gluten free food and travel blogger who has been creating delicious recipes since she stopped eating gluten over ten years ago. "It's not until you can't eat gluten that you realise it's in everything". So she started creating all the recipes she really missed enjoying. Here is one she has created especially for Allinson's. This loaf has got the perfect light texture whilst also being moist. The icing takes it to the next level of chocolatey.
Method
Step 1:

For the cake:

Preheat your oven to 160C Fan / 180C and prepare a 2lb loaf tin with baking paper.


Step 2:

Cream together your softened butter and sugar until light and fluffy (I use an electric hand mixer).


Step 3:

Add in your eggs, gluten free flour blend, baking powder, xanthan gum, sifted cocoa powder, ground almonds and milk. Mix together until combined using your electric hand whisk.


Step 4:

Fold in your chocolate chips carefully.


Step 5:

Spoon the cake mixture into your tin. Ensure it's as even as possible. Place in the oven for about 50 minutes until cooked through.


Step 6:

Remove from the oven and allow to cool in the tin before moving to a cooling rack.


Step 7:

For the icing:

Melt your dark chocolate (I do this is the microwave in 20 seconds bursts), put to one side to cool whilst making the rest of the buttercream.


Step 8:

To make your icing, place your butter in a stand mixer (or electric hand whisk if you don't have a stand mixer), mix on its own on a high speed for about 5 minutes. The butter should change from a more yellow colour to being a lot more pale.


Step 9:

Add your icing sugar gradually to the butter (I do this in two stages). I mix each addition of icing sugar for around 3 minutes before adding the second half.


Step 10:

Sieve in your cocoa powder and then mix again until fully combined.


Step 11:

Add in your cooled melted chocolate and mix until dispersed evenly, the colour is a lovely rich chocolate colour and it's a nice thickness to spread.


Step 12:

To assemble:

Spread your icing on top of the cooled loaf cake and then decorate with a mixture of whole and crushed gluten free chocolate balls - or whatever decorations you'd like. Enjoy!

Ingredients
For the cake

75g

 

Caster sugar

40g

 

Butter (softened)

3

 

Eggs

135g

 Allinson's Teff Flour Blend

2 tsp

 

Gluten free baking powder

0.25 tsp

 

Xanthan gum

85g

 

Ground Almonds

25g

 

Cocoa powder (sifted)

100ml

 

Milk

65g

 

Chocolate chips

For the icing

185g

 

Butter (softened)

140g

 Silver Spoon Icing Sugar

40g

 

Cocoa powder

80g

 

Dark chocolate

To decorate

Handful

 

Gluten free chocolate balls
Recipe Reviews
lovely gluten free recipe and a good way to use the Teff blend I had bought. Worked really well considering I had to substitute the almonds for dried polenta as had none in my cupboard! It was not overly sweet and sickly as lots of chocolate cakes can be .
Ingredients
For the cake

75g

 

Caster sugar

40g

 

Butter (softened)

3

 

Eggs

135g

 Allinson's Teff Flour Blend

2 tsp

 

Gluten free baking powder

0.25 tsp

 

Xanthan gum

85g

 

Ground Almonds

25g

 

Cocoa powder (sifted)

100ml

 

Milk

65g

 

Chocolate chips

For the icing

185g

 

Butter (softened)

140g

 Silver Spoon Icing Sugar

40g

 

Cocoa powder

80g

 

Dark chocolate

To decorate

Handful

 

Gluten free chocolate balls