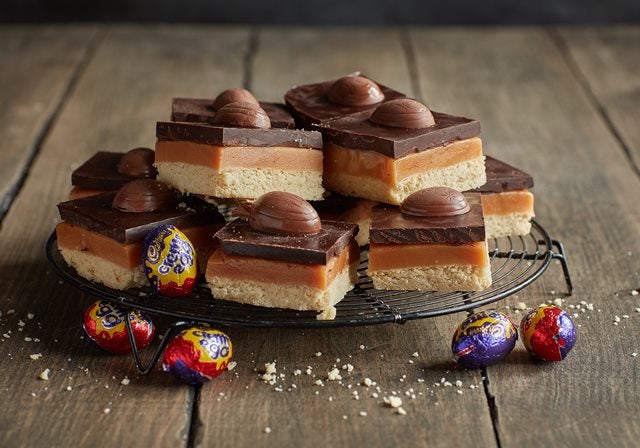 About the bake
Millionaire's Shortbread is a timeless classic British treat. It combines a layer of shortbread with a thick layer of caramel and topped with a rich chocolate. This version then takes it to the next level! Top it with Cadbury's Mini Créme Eggs to make the ultimate indulgent Easter tray bake. Millionaire's Shortbread with Cadbury's Mini Créme Eggs- you can use bigger eggs if you want.
Method
Step 1:

Heat the oven to 160'c (fan 140'c, gas mark 3). Line a 20cm x 23cm tin with baking paper, making sure the paper overhangs slightly so it's easier to remove the finished cake.

Step 2:

For the shortbread layer, place the sugar, butter and flours into a food processor. Whizz until a soft dough is made. Spoon the dough into the prepared tin and lightly press to form a smooth base.

Step 3:

Chill for about 20 minutes and then bake for 35 minutes or until golden. Leave to cool.

Step 4:

To make the caramel, place the butter, sugar, syrup and condensed milk into a saucepan and stir over a low heat until the butter has melted.

Step 5:

Bubble and stir the mixture gently for 5 to 8 minutes, until you get a thick and fudge-like mix. Pour over the cold shortbread in an even layer. Leave to cool.

Step 6:

Once the caramel has cooled, chop the chocolate and place in a bowl suspended over a pan of simmering water. Do not let the water touch the bottom of the pan as this can cause the chocolate to burn. Stir the chocolate until melted.

Once it has totally melted, pour it over the cooled caramel and then place Cadbury's Creme Eggs into the chocolate. You can use as many as you like! Allow it to set at room temperature.

Step 7:

When it's ready to serve, remove it from the tin using the paper to help. Cut it into little squares (or big ones if you're feeling naughty).
Ingredients
For the Shortbread

50g

 Billington's Unrefined Golden Caster Sugar

250g

 Allinson's Plain White Flour

150g

 

Unsalted butter (softened)

For the Caramel

175g

 

Unsalted butter (softened)

175g

 Billington's Unrefined Golden Caster Sugar

4 tbsp

 

Golden syrup

400ml

 

Condensed milk

For the Topping

300g

 

Dark chocolate

1 packet

 

Eggs (cadbury's mini creme eggs)
Utensils
20cm x 23cm tin

Baking paper

Food processor

Bowl

Saucepan
Nutritional Information
per 59g
319cal

 

Energy

17g

 

Fat

10g

 

of which Saturates

38g

 

Carbohydrates

30g

 

of which Sugars

3.1g

 

Protein

0.07g

 

Salt
Recipe Reviews
I love a twist, the caramel is so so good and the easter eggs on top worked really well!
Ingredients
For the Shortbread

50g

 Billington's Unrefined Golden Caster Sugar

250g

 Allinson's Plain White Flour

150g

 

Unsalted butter (softened)

For the Caramel

175g

 

Unsalted butter (softened)

175g

 Billington's Unrefined Golden Caster Sugar

4 tbsp

 

Golden syrup

400ml

 

Condensed milk

For the Topping

300g

 

Dark chocolate

1 packet

 

Eggs (cadbury's mini creme eggs)
Utensils
20cm x 23cm tin

Baking paper

Food processor

Bowl

Saucepan
Nutritional Information
per 59g
319cal

 

Energy

17g

 

Fat

10g

 

of which Saturates

38g

 

Carbohydrates

30g

 

of which Sugars

3.1g

 

Protein

0.07g

 

Salt