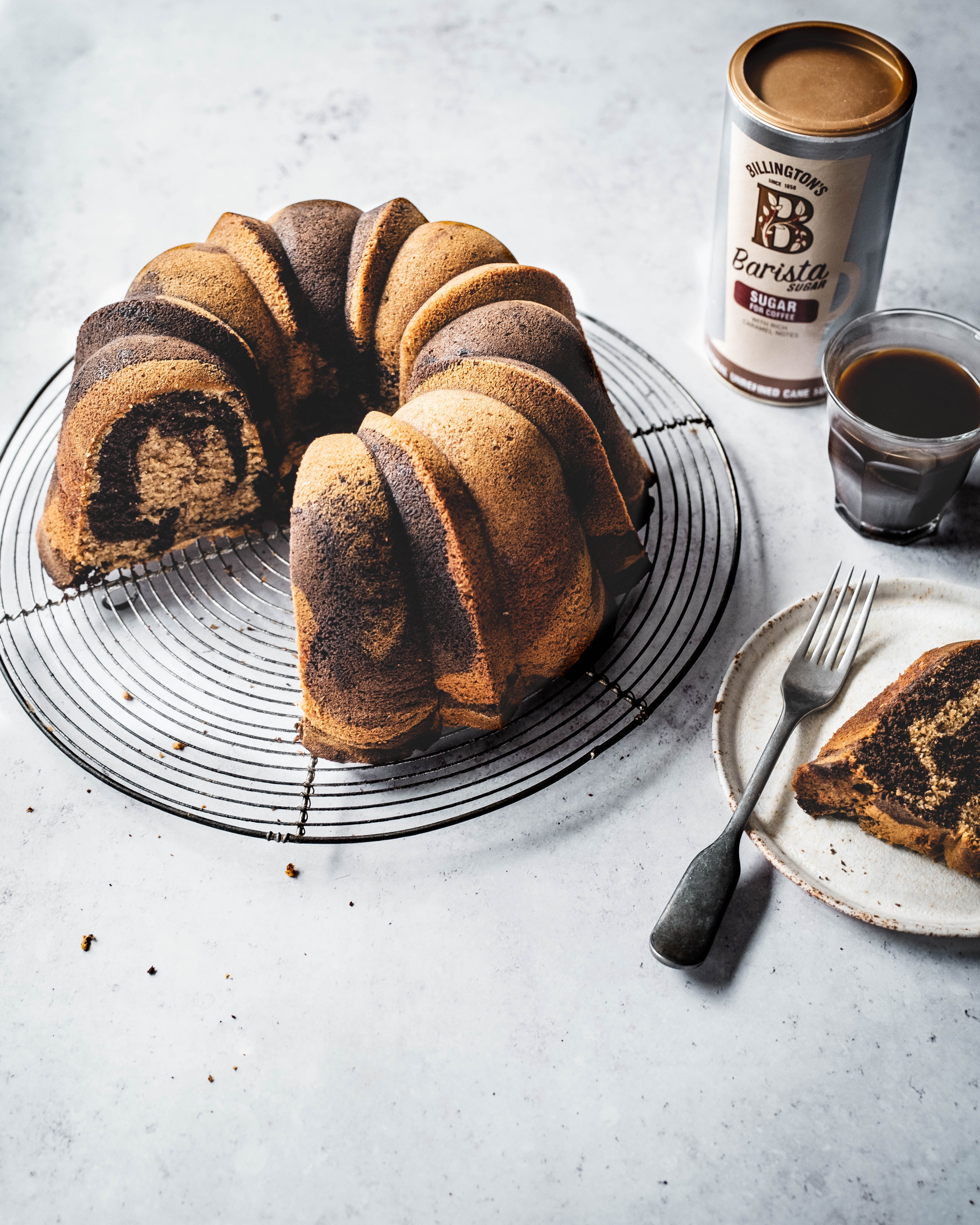 About the bake
Made in a classic bundt tin, this coffee cake is the artwork of Edd Kimber. White and dark chocolate are both swirled together to make a very beautiful and very simple cake. This one doesn't need much decoration, it's naked. If you're feeling creative, you can add a simple icing sugar glaze or maybe a drizzle of chocolate for the top if you wish. Treat yourself and put the kettle on with a slice, you deserve it.
Method
Step 1:

Preheat the oven to 180ºC/160ºC fan. Use a spray oil to lightly grease a 10-15 cup capacity bundt pan, making sure the entire surface of the pan is coated, especially the central column as this is the part people often miss and it leads to a cake that will not release from the pan in one piece.


Step 2:

Place the butter and sugar into a large bowl and using an electric mixer beat together until lightly and fluffy, about 5 minutes. Don't underestimate the time this takes, creaming the butter and sugar together is one of the most important steps, make sure you the mixture really is almost white in colour and light in texture. Add the eggs one at a time, beating until fully combined before adding the next. Divide the batter equally between two bowls and set aside for a moment.






Step 3:

In a small bowl mix together the white chocolate, sour cream and espresso mixture. Add the flour the first portion of batter and mix until combined. Add in the white chocolate mixture and then set aside for a moment.


Step 4:

In a small bowl mix together the cocoa with a couple tablespoons of the sour cream, mixing to make a smooth paste. Mix in the remaining sour cream and the melted chocolate. As before mix the flour into the batter followed by the chocolate mixture.


Step 5:

Dollop in alternate spoonfuls of the two batters into the pan then using a butter knife gently swirl the batters together. I find it's best to do this very briefly and less aggressively than you think. The more you swirl the batters together the less definition the finished cake will have. Bake in the preheated oven for about 50-60 minutes or until a skewer inserted into the cake comes out clean. Set onto a wire rack to cool for 10 minutes before inverting the cake to release it from the pan. Allow to cool fully before serving. Kept covered the cake will keep for 3-4 days.

Ingredients
For the Cake

250g

 

Unsalted butter (room temperature)

500g

 Billington's Unrefined Golden Caster Sugar

8

 

Large eggs

White Chocolate

225g

 Allinson's Self Raising White Flour

100g

 

White chocolate (melted & cooled)

100g

 

Sour cream

2 tbsp

 

Instant espresso powder mixed with 1 tbsp boiling water

Dark Chocolate

100g

 

Dark chocolate (melted & cooled)

200g

 Allinson's Self Raising Flour

25g

 

Cocoa powder

120g

 

Sour cream
Recipe Reviews
OMG THIS WAS AMAZING AND IT TASTED LIKE HEAVEN. MAKE MORE CAKE RECIPES LIKE THIS!!! I RECOMMEND THIS FOR COFFEE LOVERS!! 🤩😝😻😍👌🏻🌈🌤🎂🍰🧁☕️
Ingredients
For the Cake

250g

 

Unsalted butter (room temperature)

500g

 Billington's Unrefined Golden Caster Sugar

8

 

Large eggs

White Chocolate

225g

 Allinson's Self Raising White Flour

100g

 

White chocolate (melted & cooled)

100g

 

Sour cream

2 tbsp

 

Instant espresso powder mixed with 1 tbsp boiling water

Dark Chocolate

100g

 

Dark chocolate (melted & cooled)

200g

 Allinson's Self Raising Flour

25g

 

Cocoa powder

120g

 

Sour cream