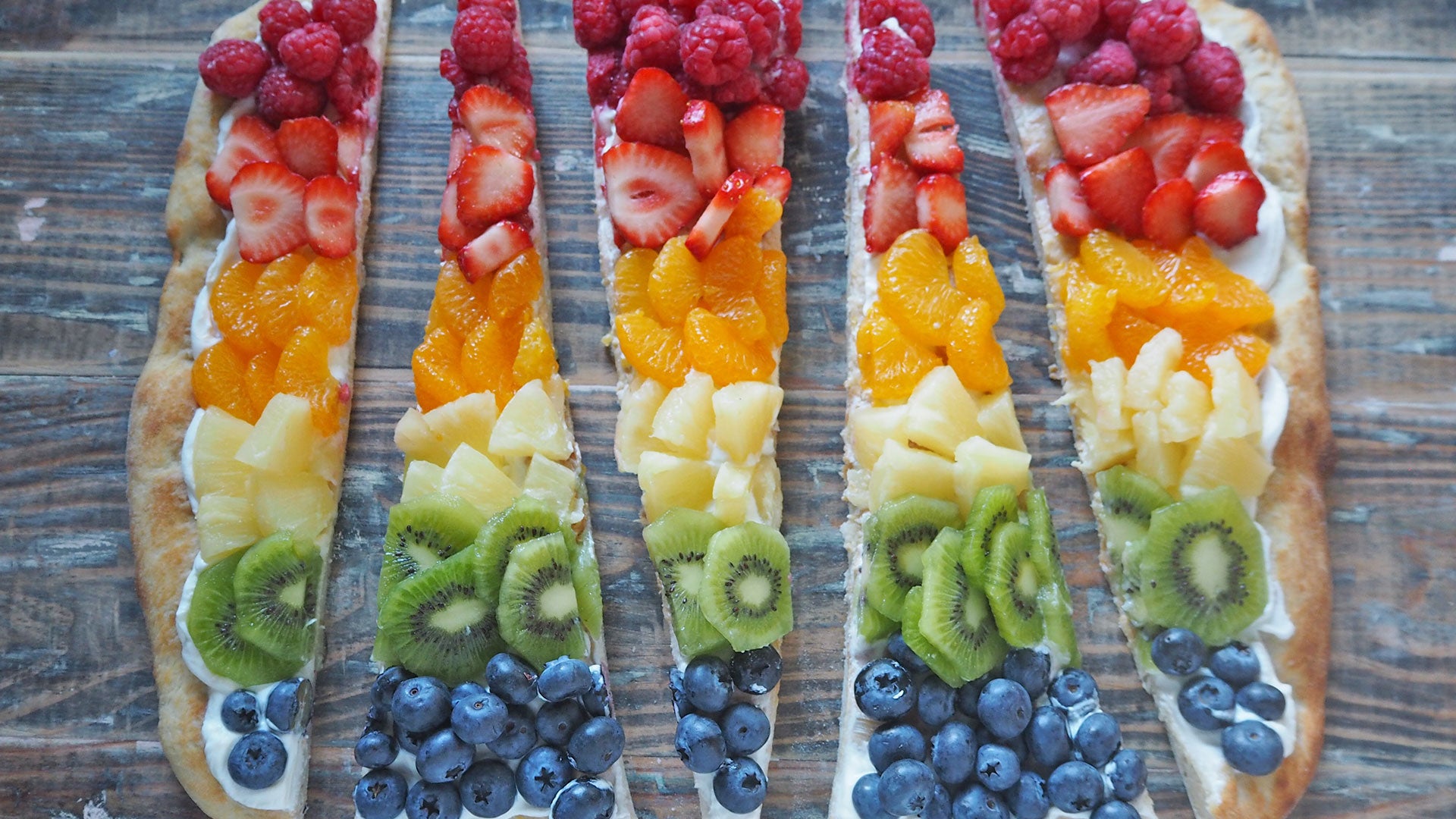 About the bake
We've used the Allinson dough tree to make a simple pizza base. After baking it we've topped it with yummy fruit. This is a perfect way of getting more fruit into the children's diets. Why not let the children make their own? It's all about letting them be creative in the kitchen.
Method
Step 1:

Mix the flour, yeast, sugar and salt in a big bowl. Mix the water and oil together, then stir in with a cutlery knife.


Step 2:

Tip onto a lightly flour dusted surface and knead for 10 minutes (Or use the dough hook attachment on your mixer).


Step 3:

Lightly grease the mixing bowl with some oil. Put the dough back in, cover the bowl with a clean tea towel and leave to rise until doubled in size. Preheat your oven to 240°C (fan 220°C, gas mark 9).


Step 4:

Divide the dough into 4 pieces – keep others under the tea towel to stop them drying out. Roll a piece of dough to as thin as you can get it on a lightly floured surface. Lift carefully onto a floured baking sheet or pizza stone and finish with your favourite toppings.


Step 5:

Bake for 10-15 minutes, until crisp and golden on top.


Step 6:

Once the pizza base has baked. Allow it to cool. Whilst it's cooling, begin to slice your chosen fruit.




Step 7:

Once the pizza is completely cooled, add creme fraiche or yoghurt to the top. Place your sliced fruit on top. Slice and serve!

Ingredients
For The Dough

500g

 Allinson's Strong White Bread Flour

7g

 

Yeast

1 tsp

 Billington's Unrefined Golden Caster Sugar

2 tsp

 

Salt

300ml

 

Water (warm)

50ml

 

Olive oil

For The Topping

5 tbsp

 

Creme fraiche

Lots

 

Fruit of your choice (sliced)
Recipe Reviews
This is an amazing idea! it is extremely healthy too! I love the rainbow concept!
If there were a 100 stars, I would give 1000! 😇😊
Advaita Tiwari
I know this may be a silly question but its not clear in the method if you bake it before or after you put the fruit topping on?
Hi Rebecca,
No question is too silly, don't worry! Add the toppings after you've baked your bread base.
Happy Baking!
Ingredients
For The Dough

500g

 Allinson's Strong White Bread Flour

7g

 

Yeast

1 tsp

 Billington's Unrefined Golden Caster Sugar

2 tsp

 

Salt

300ml

 

Water (warm)

50ml

 

Olive oil

For The Topping

5 tbsp

 

Creme fraiche

Lots

 

Fruit of your choice (sliced)