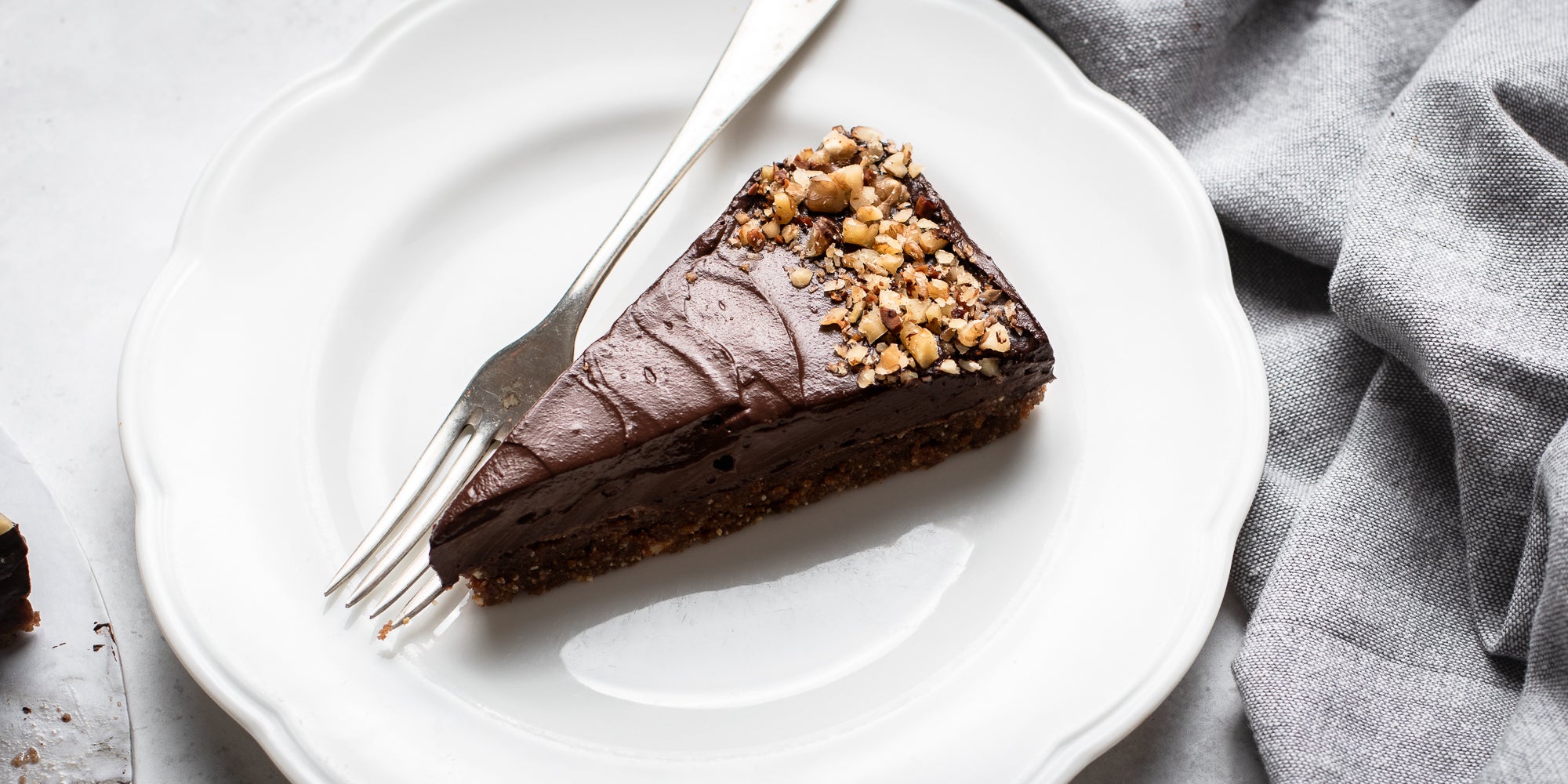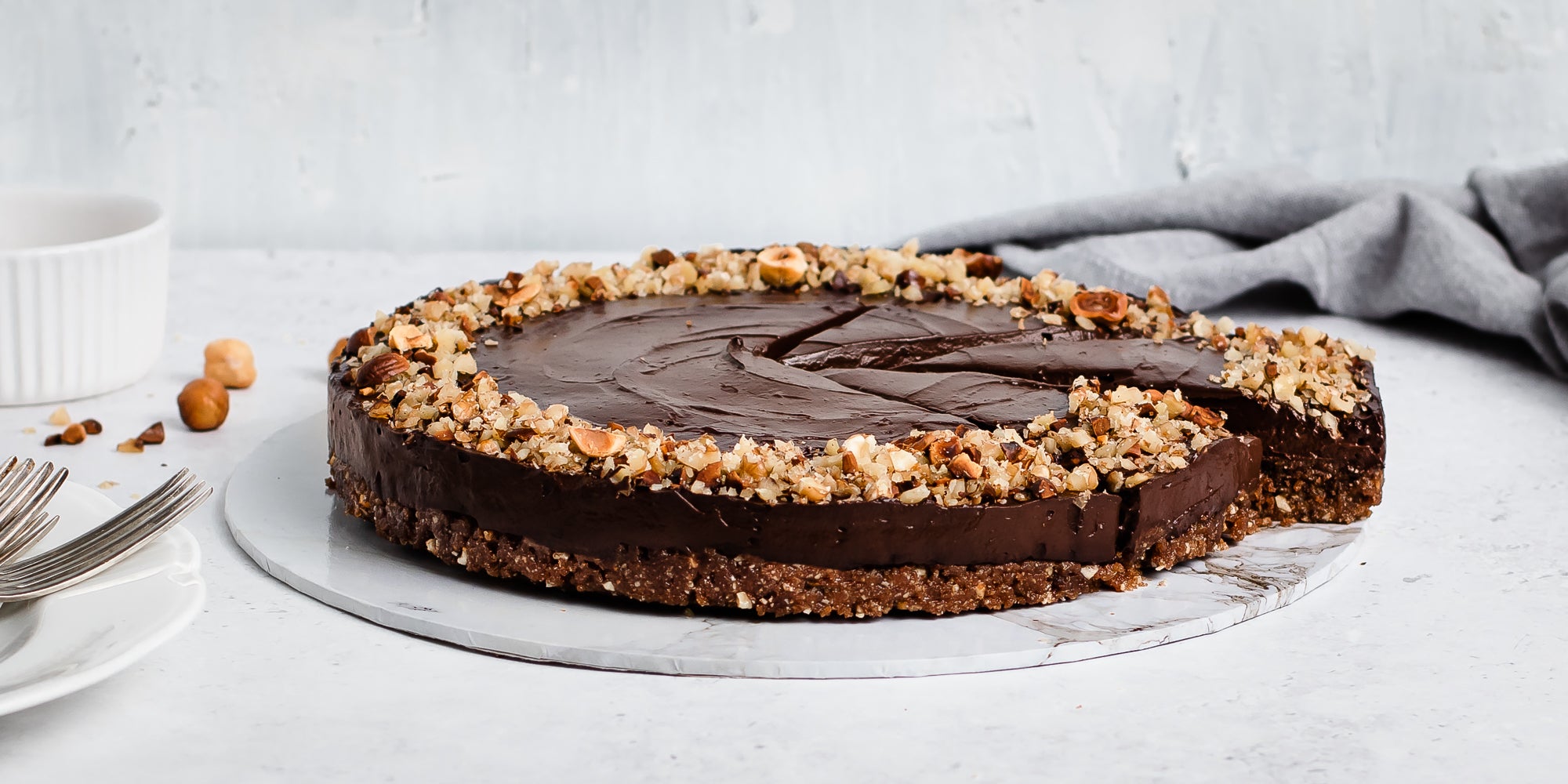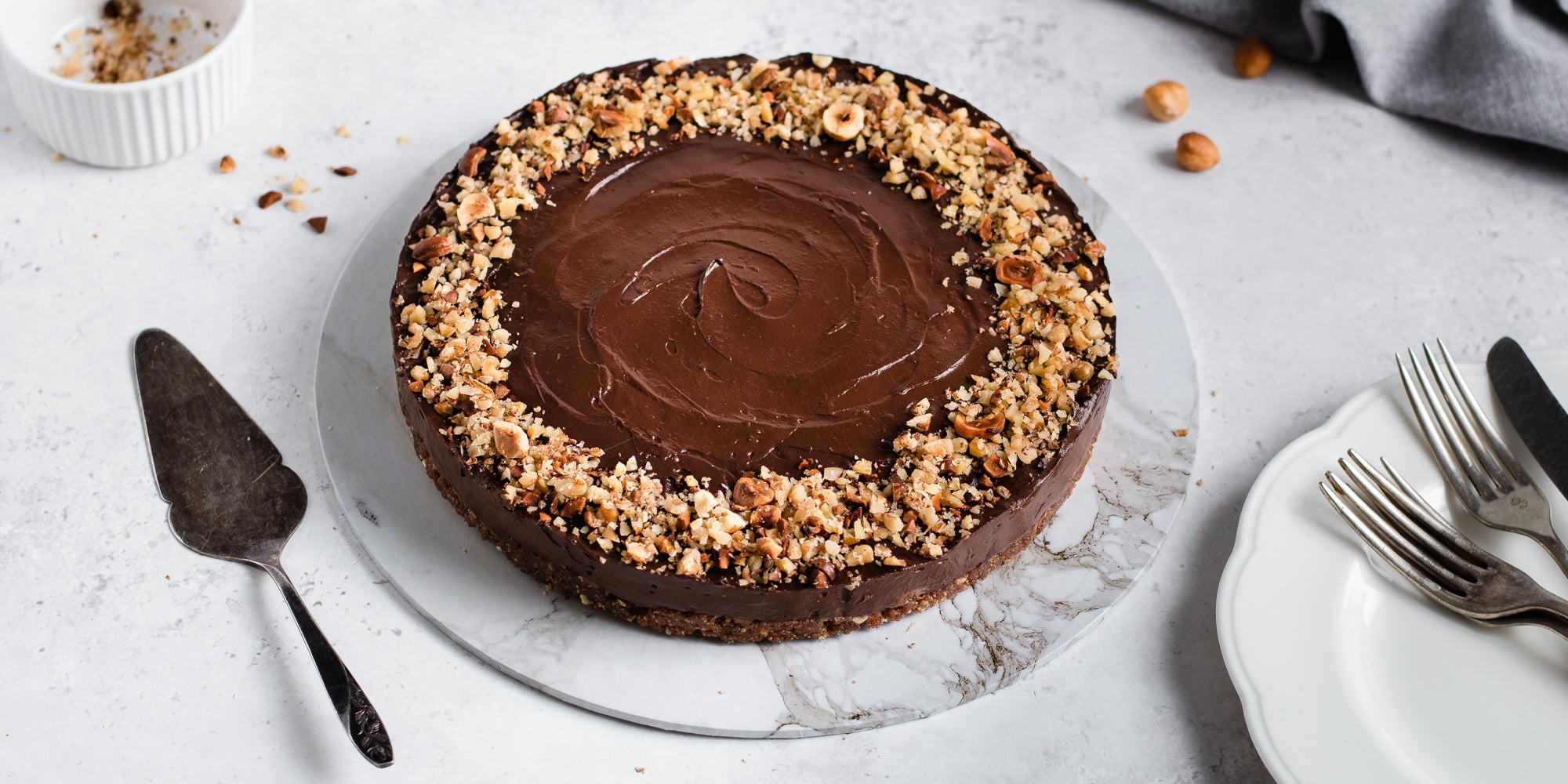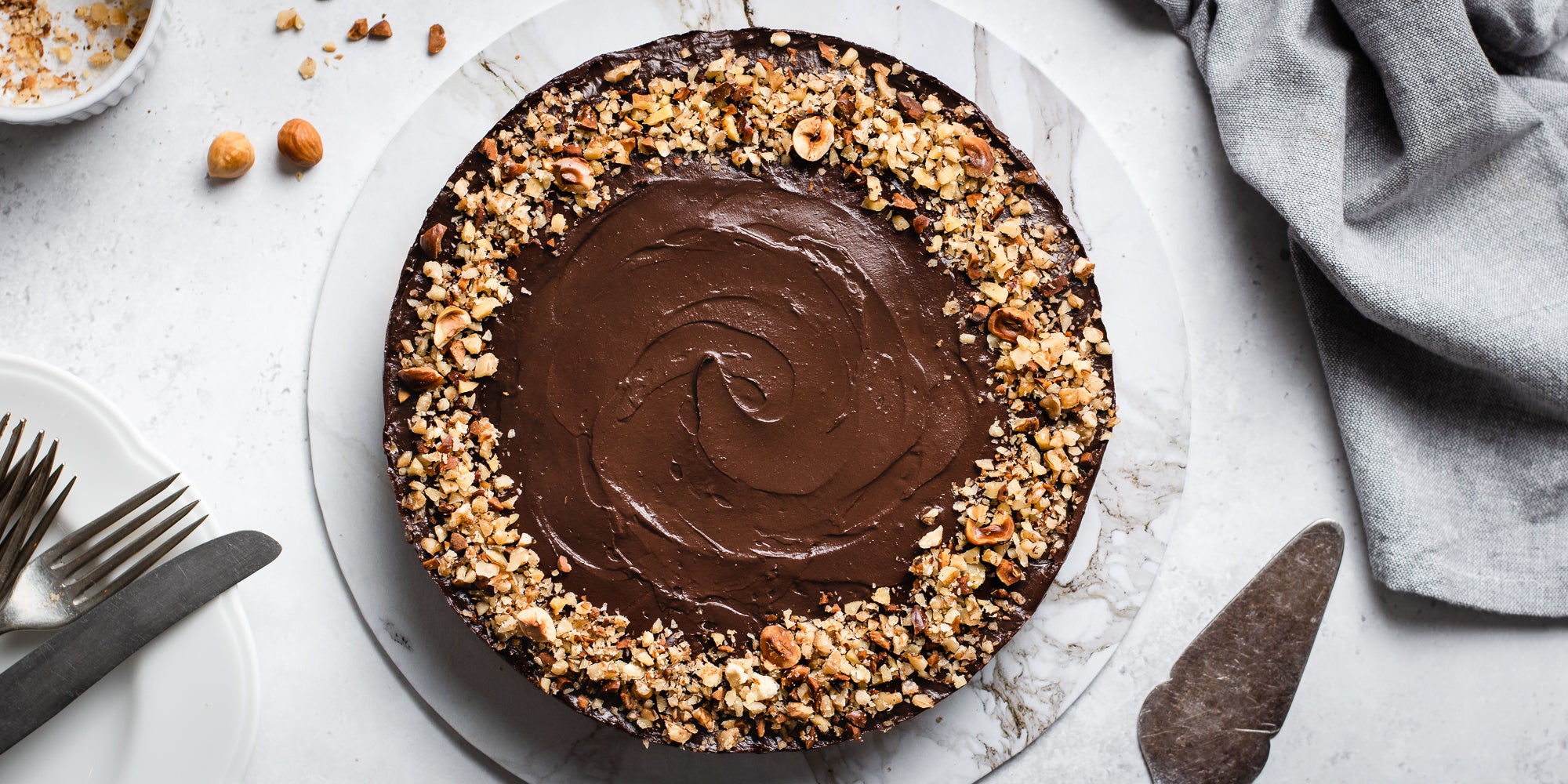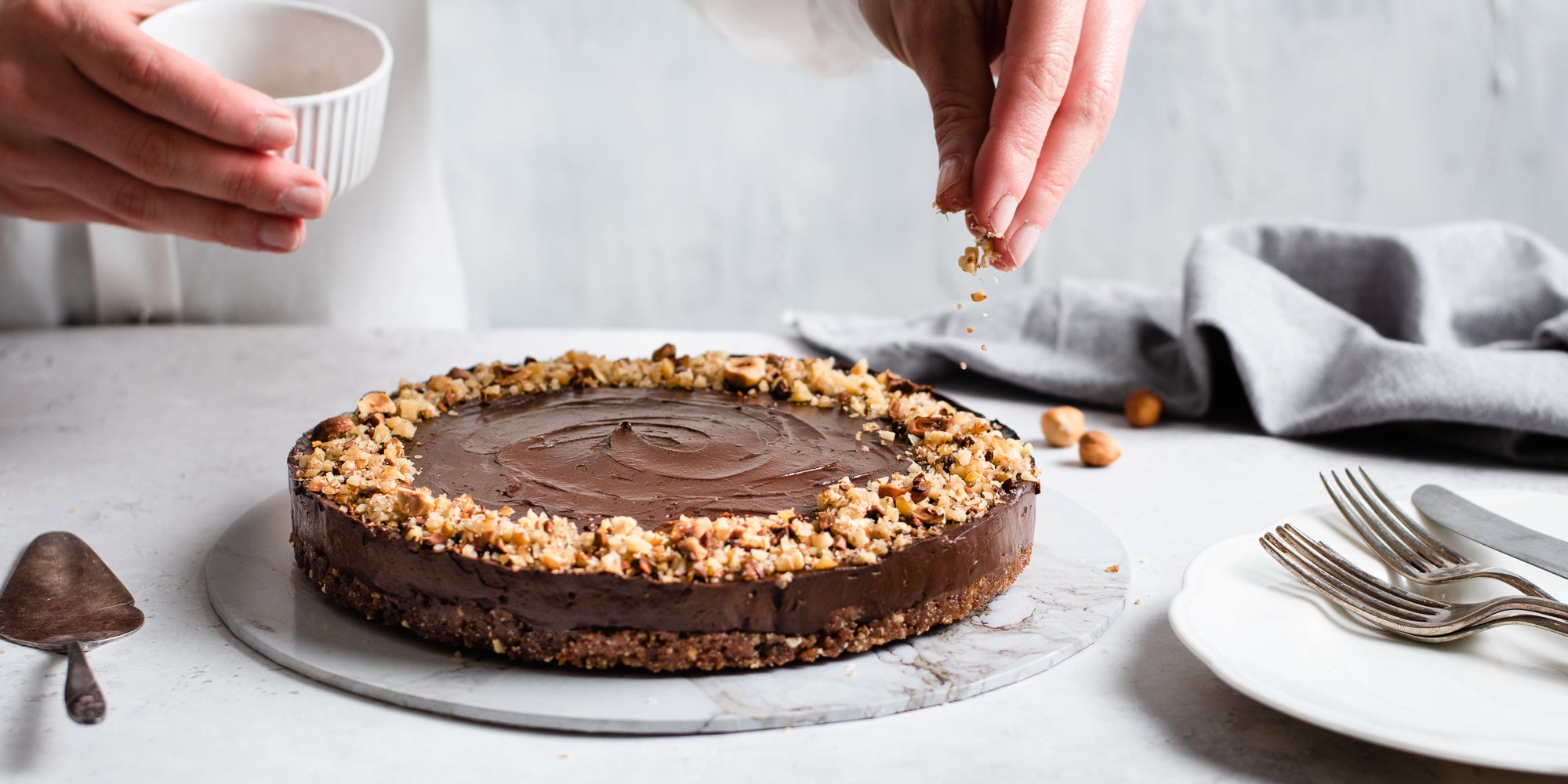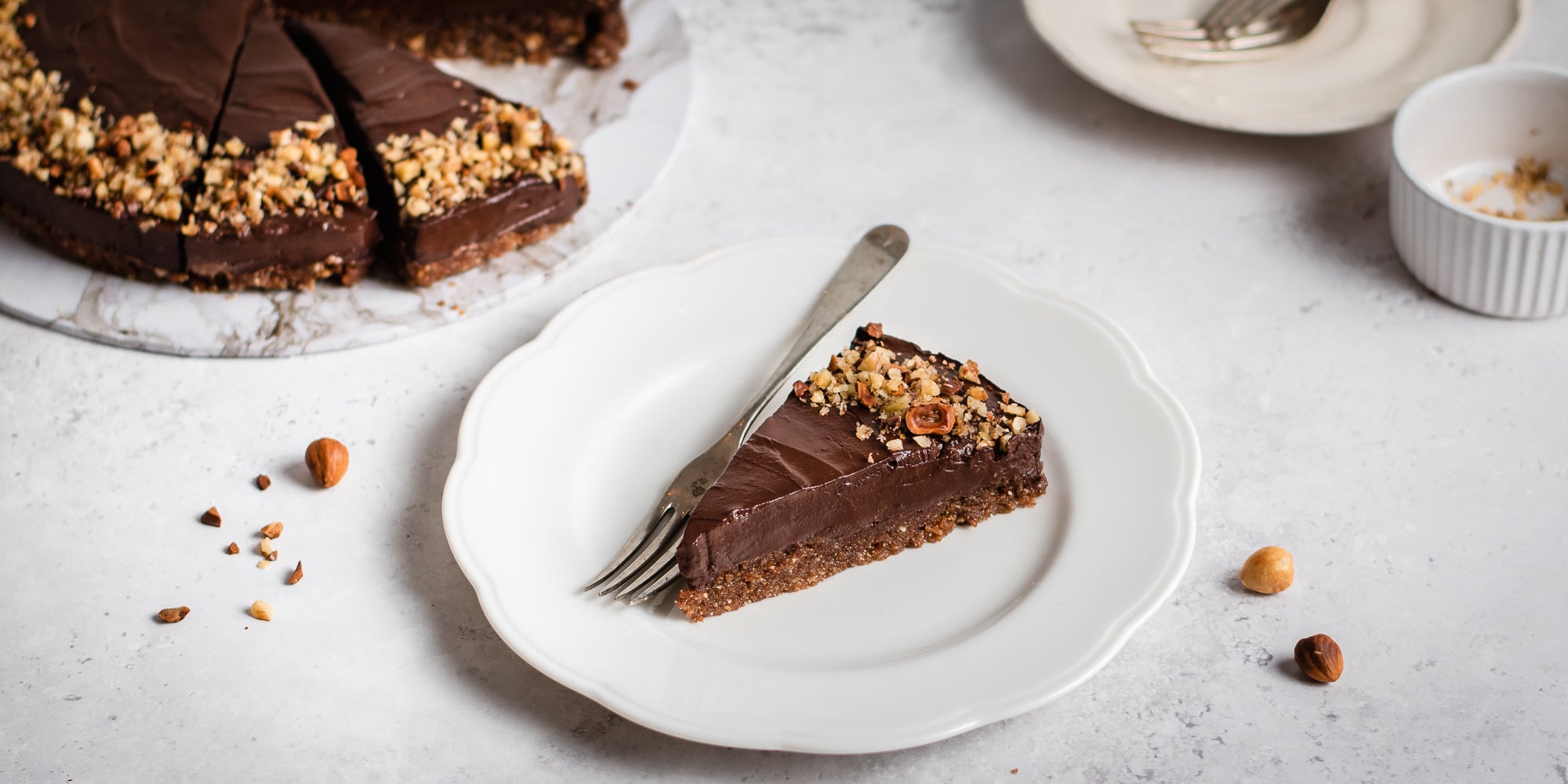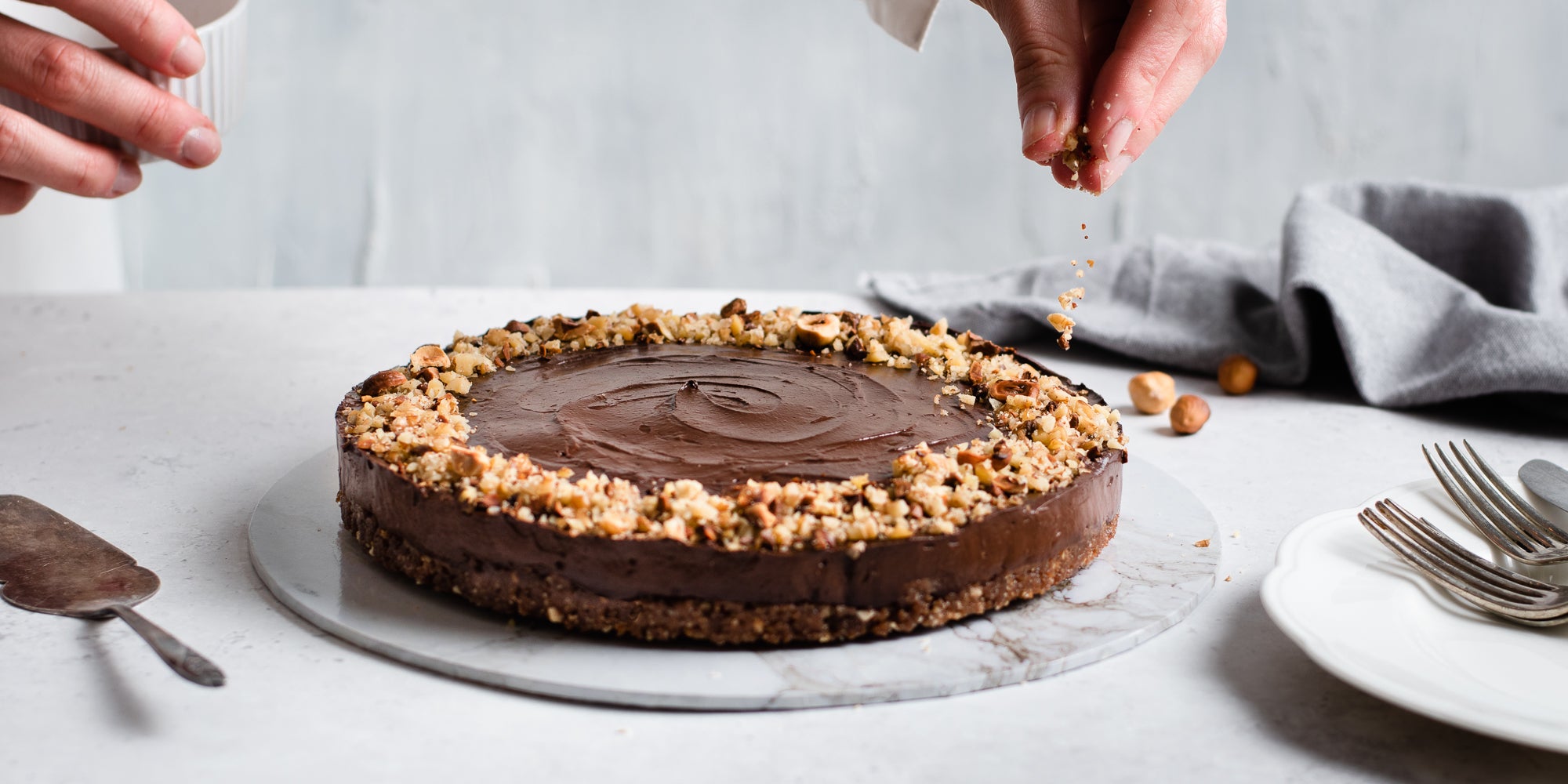 About the bake
This no bake cheesecake is perfect if you need to whip up a last minute pudding for guests. It is also suitable for vegans, gluten free, egg free and dairy free.
Method
Step 1:

Before making the cheesecake, chill the coconut milk tin in the fridge to allow a cream layer to build on the top.


Step 2:

Pulse together the hazelnuts, pitted dates, honey and cacao in a food processor until they start to form a dough.


Step 3:

Line a cake tin with greaseproof paper and press the dough down to form the base. Chill in the fridge whilst you make the topping.


Step 4:

Skim the cream top layer of the coconut milk and blitz together with the avocado flesh, cacao powder and honey in a food processor or high speed blender until it is smooth. You may have to scrape down the sides during this process to ensure that all of the ingredients are blended. Spoon out the mixture on top of the cheesecake base and smooth the top with a palette knife.


Step 5:

Place the cheesecake in the freezer for an hour to firm up before transferring to the fridge. Before serving, decorate with a sprinkling of hazelnuts.

Ingredients
For the Base

340g

 

Hazelnuts (chopped, roasted)

13

 

Dates

3 tbsp

 

Honey (or maple syrup for vegan version)

2 tsp

 

Cacao

For the Chocolate Layer

3

 

Avocados (ripe)

1

 

Coconut milk (tin)

9 tbsp

 

Cacao

3 tbsp

 

Honey (or maple syrup for vegan version)

For decoration

 

Hazelnuts (chopped)
Recipe Reviews
I'm very excited to try this. My sweetheart is vegan and gluten-free. I've made other recipes for him, and I always have really great success with avocado as a base. I substituted cashews for the hazelnuts. Only because hazelnuts here in the states are so very expensive. I also plan on garnishing the top with not only nuts but some dairy free whipped topping and pomegranate seeds. I'll take pictures and let you know how it turns out. I'm so very excited.
My husband makes me a raw cheesecake on my birthday most years. This year I wanted something chocolate and he tried this recipe. It was honestly a disaster. He followed the recipe exactly but the taste was so bitter, and 3 out of 4 of our guests, including myself, got a swollen tongue and scratchy throat. That was really odd because nothing like that has happened to us before, and we can't figure out what caused it. No one took more than 1 bite of it, because it was not a good taste. Such a waste of expensive ingredients and such a disappointment on my birthday for not only me but my poor husband who worked hard to make this for me and our guests.
I plan to make this for my birthday this weekend. I bought a can of pure coconut cream after reading reviews but now not sure how much of it to use?? Thanks!
I made this for my guests this weekend and we all absolutely loved it. I used 160 ml coconut cream rather than taking the cream off a can of coconut milk and it worked fine (and was a bit easier I think). I used Golden Syrup in place of Honey/Maple Syrup and that was fine (and kept it Vegan). I used a 22 cm cake tin and that was fine for this quantity. It's so lovely to find such a delicious dairy-free, vegan dessert.
is there a substitute for the hazelnuts? (that isnt a nut)
Hi there, we haven't tried making this recipe without the inclusion of nuts, so it might be a little trial and error. Perhaps you could swap them out for some form of oats? It is worth noting though that this may lead to a softer base when the oats take on moisture. Alternatively, perhaps you could crush up some vegan friendly biscuits?
I used maple syrup in the cheesecake layer but needed a bit more than the recipe called for to cut the butter from the cacao powder I used. Was delicious though, and I'm thinking to make the topping alone and freeze for "avocado ice cream"
Ingredients
For the Base

340g

 

Hazelnuts (chopped, roasted)

13

 

Dates

3 tbsp

 

Honey (or maple syrup for vegan version)

2 tsp

 

Cacao

For the Chocolate Layer

3

 

Avocados (ripe)

1

 

Coconut milk (tin)

9 tbsp

 

Cacao

3 tbsp

 

Honey (or maple syrup for vegan version)

For decoration

 

Hazelnuts (chopped)