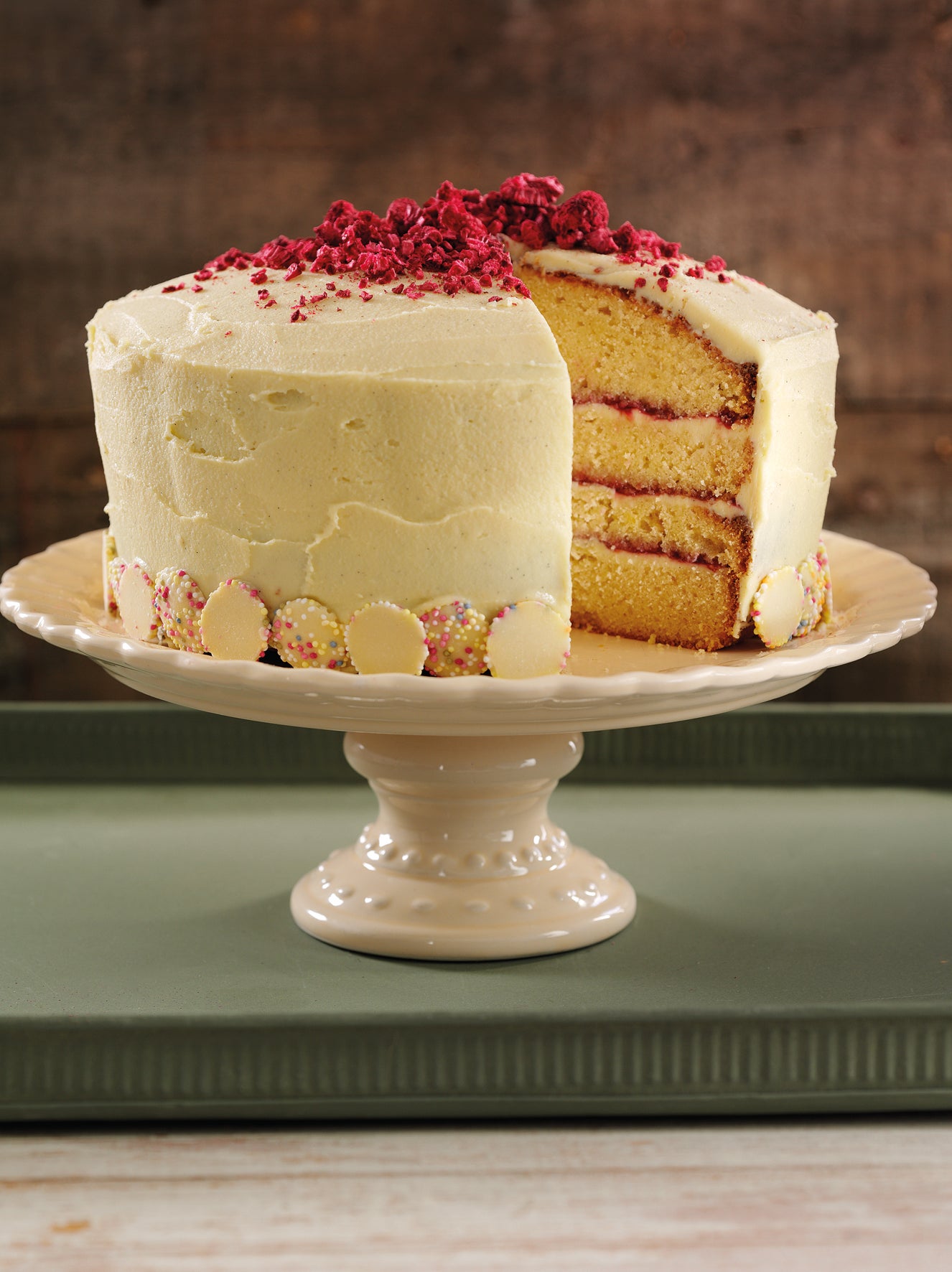 About the bake
This vanilla, raspberry and white chocolate layered cake is a real showstopper! Beautifully moist and full of flavour, this will win over any crowd.
Method
Step 1:

Preheat the oven to 180°C, (fan 160°C, gas mark 4) and grease and line two 20cm round cake tins with baking paper.


Step 2:

Melt the chocolate, butter and milk together in a small pan on a medium heat. Transfer to a bowl and set aside to cool completely.

Step 3:

Add the sugar, vanilla and eggs and whisk until well combined. Then fold in the flour and baking powder. Divide the mixture between the two tins and bake in the oven for 45-55 minutes, or until golden and springy to the touch. Transfer to a wire rack and allow to cool for 10 minutes, before turning out to cool completely.

Step 4:

For the icing, place the chocolate, cream and vanilla in a heatproof bowl set over a pan of barely simmering water, (not allowing the bowl to come into contact with the water), stirring until melted and smooth.

Step 5:

Remove the bowl from the heat, set aside to cool, then cover with cling film before placing in the fridge to chill for 1 ½ hours or until it reaches a thick, spreadable consistency (occasionally stirring if possible).

Step 6:

Divide the icing into three portions (1 portion for the filling, and remaining 2 to ice the cake) and use immediately.

Step 7:

To assemble the cake, trim the top of the cooled cakes to level, then slice each in half horizontally. Place one half on a plate or stand, and spread with one third of the ganache filling, then top with 2 tablespoons of jam. Repeat this method with the remaining sponge halves.


Step 8:

Using a palette knife, spread the rest of the icing over the top and sides of the cake. Decorate the cake with raspberries and shavings of white chocolate as you wish.

Ingredients
For the Sponge

400g

 

White chocolate (plus extra to decorate)

300g

 

Unsalted butter (cut into small pieces)

300ml

 

Whole milk

2 tsp

 Nielsen-Massey Vanilla Bean Paste

300g

 Billington's Unrefined Golden Caster Sugar

4

 

Large free range egg(s) (lightly beaten)

450g

 Allinson's Plain White Flour

3 tsp

 

Baking powder

For the Icing

750g

 

White chocolate (chopped)

1 tsp

 Nielsen-Massey Vanilla Bean Paste

250ml

 

Single cream

For the Decoration

150g

 

Raspberry jam

100g

 

Raspberries (fresh or freeze dried)
Utensils
2x 20cm round cake tins

Baking parchment

Small saucepan

Wire cooling rack

Spatula

Cling film

Palette knife
Recipe Reviews
So bad. Cake dosent cook properly. And falls apart. Waste of time recipe
Tried making this today for my daughter's 21st Birthday. Despite following the recipe instructions it is a COMPLETE DISASTER!! The icing is far too runny (mentioned before).and the sponge just falls apart leaving a complete mess before the cake can even be finished!!! Extremely frustrating, very disappointing and a TOTAL WASTE OF TIME!!!
Rating as a five star just because the last person rated one star just for the sake of asking a question and that's just unfair.
Ingredients
For the Sponge

400g

 

White chocolate (plus extra to decorate)

300g

 

Unsalted butter (cut into small pieces)

300ml

 

Whole milk

2 tsp

 Nielsen-Massey Vanilla Bean Paste

300g

 Billington's Unrefined Golden Caster Sugar

4

 

Large free range egg(s) (lightly beaten)

450g

 Allinson's Plain White Flour

3 tsp

 

Baking powder

For the Icing

750g

 

White chocolate (chopped)

1 tsp

 Nielsen-Massey Vanilla Bean Paste

250ml

 

Single cream

For the Decoration

150g

 

Raspberry jam

100g

 

Raspberries (fresh or freeze dried)
Utensils
2x 20cm round cake tins

Baking parchment

Small saucepan

Wire cooling rack

Spatula

Cling film

Palette knife