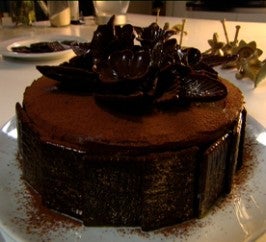 About the bake
This dairy and egg free chocolate and peppermint cake recipe was featured in the first series of Baking Mad with Eric Lanlard on Channel 4.
Method
Step 1:

Preheat oven to 180°C (gas mark 4) and line three 8 inch round cake tins with silicone paper.

Step 2:

Sift flour into a large mixing bowl then add the remaining dry ingredients, then add the water, vanilla and vinegar and mix at full speed with electric mixer for about five minutes until you have a nice smooth, glossy mixture.

Step 3:

Divide between the three prepared tins and bake for 25-30 mins until a skewer comes out clean. Leave to cool in the tin for 10 mins, then turn out onto cooling rack.

Step 4:

For ganache, heat the cream in a pan to scalding point then pour over the dark chocolate.

Step 5:

Mix gently until all the chocolate is melted and you have a smooth and glossy mixture. Finally add the peppermint extract and leave to cool at room temperature.

Step 6:

To assemble and decorate, place an 8 inch mould ring on a cake board. Remove baking parchment from cooled sponges and carefully cut each sponge horizontally in two, so you have 6 thin layers of sponge.

Step 7:

Place a layer of sponge inside the mould and gently press down so it acts as the base of the cake. Cover with a layer of ganache . Repeat this process until you fill your mould to the top with layers of sponge and ganache, finish with a layer of ganache. Place in the fridge to set for about 2 hours. Save the remaining ganache to use later.

Step 8:

While your cake sets, prepare the flowers. Melt dark chocolate in bain marie. Make chocolate flowers using brass flower moulds (which have been stored in freezer for few hours). Dip the mould into dark chocolate and place on silicone mat or baking tray to set. Once set, remove the chocolate flower from the brass mould – a tip of a sharp knife helps to do this.

Step 9:

Sprinkle the chocolate flowers with edible glitter and spray with confectioners varnish to achieve a glossy finish.

Step 10:

Once set, remove cake from fridge, use a blow torch or the warmth from your hands, to release the cake gently from the mould.

Step 11:

Place the cake on a cooling rack and pour over the remaining chocolate ganache. Cover the sides of the cake with after dinner mints and dust them with gold glitter.

Step 12:

Place your decorated chocolate flowers over the top of the cake and finally dust with cocoa powder.



For more vegan inspiration, why not check out some of our other vegan recipes

Ingredients
For the Cake

330g

 Allinson's plain white flour

6 tbsp

 

Cocoa powder

500g

 Billington's Unrefined Golden Caster Sugar

2 tbsp

 

Baking powder

2 tbsp

 

White wine vinegar

500ml

 

Water

2 tsp

 Nielsen-Massey Vanilla Extract

For the ganache

250ml

 

Soya cream

250g

 

Dark chocolate (broken into pieces)

1 tsp

 

Peppermint extract
Utensils
3x 8in round cake tins

Silicone paper

Sieve

Mixing bowl

Electric mixer

Cooling rack

Saucepan

Cake board

Silicone mat
We'd love a slice of advice.
Was it yum? Did the recipe work well? Did you customise the recipe?
Ingredients
For the Cake

330g

 Allinson's plain white flour

6 tbsp

 

Cocoa powder

500g

 Billington's Unrefined Golden Caster Sugar

2 tbsp

 

Baking powder

2 tbsp

 

White wine vinegar

500ml

 

Water

2 tsp

 Nielsen-Massey Vanilla Extract

For the ganache

250ml

 

Soya cream

250g

 

Dark chocolate (broken into pieces)

1 tsp

 

Peppermint extract
Utensils
3x 8in round cake tins

Silicone paper

Sieve

Mixing bowl

Electric mixer

Cooling rack

Saucepan

Cake board

Silicone mat