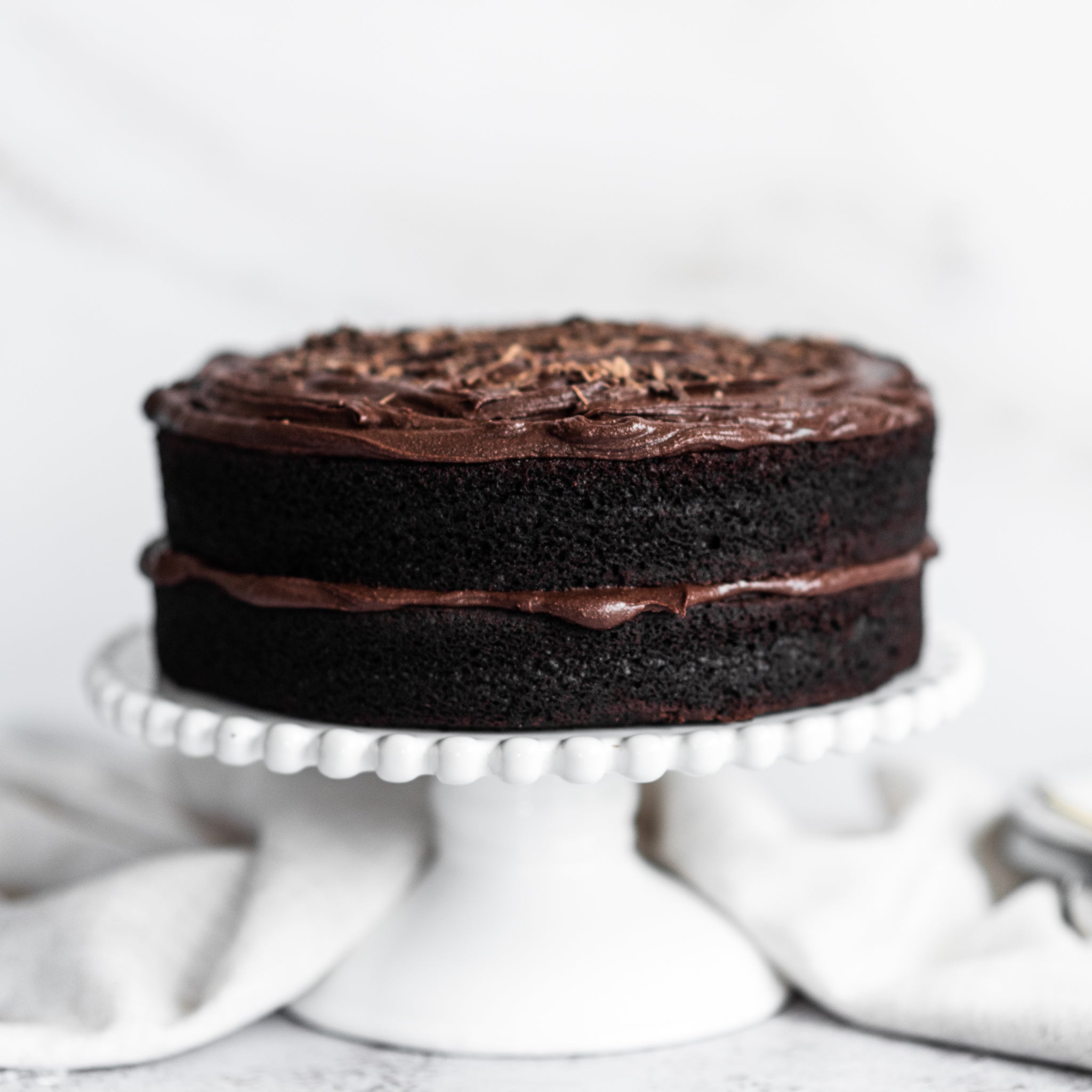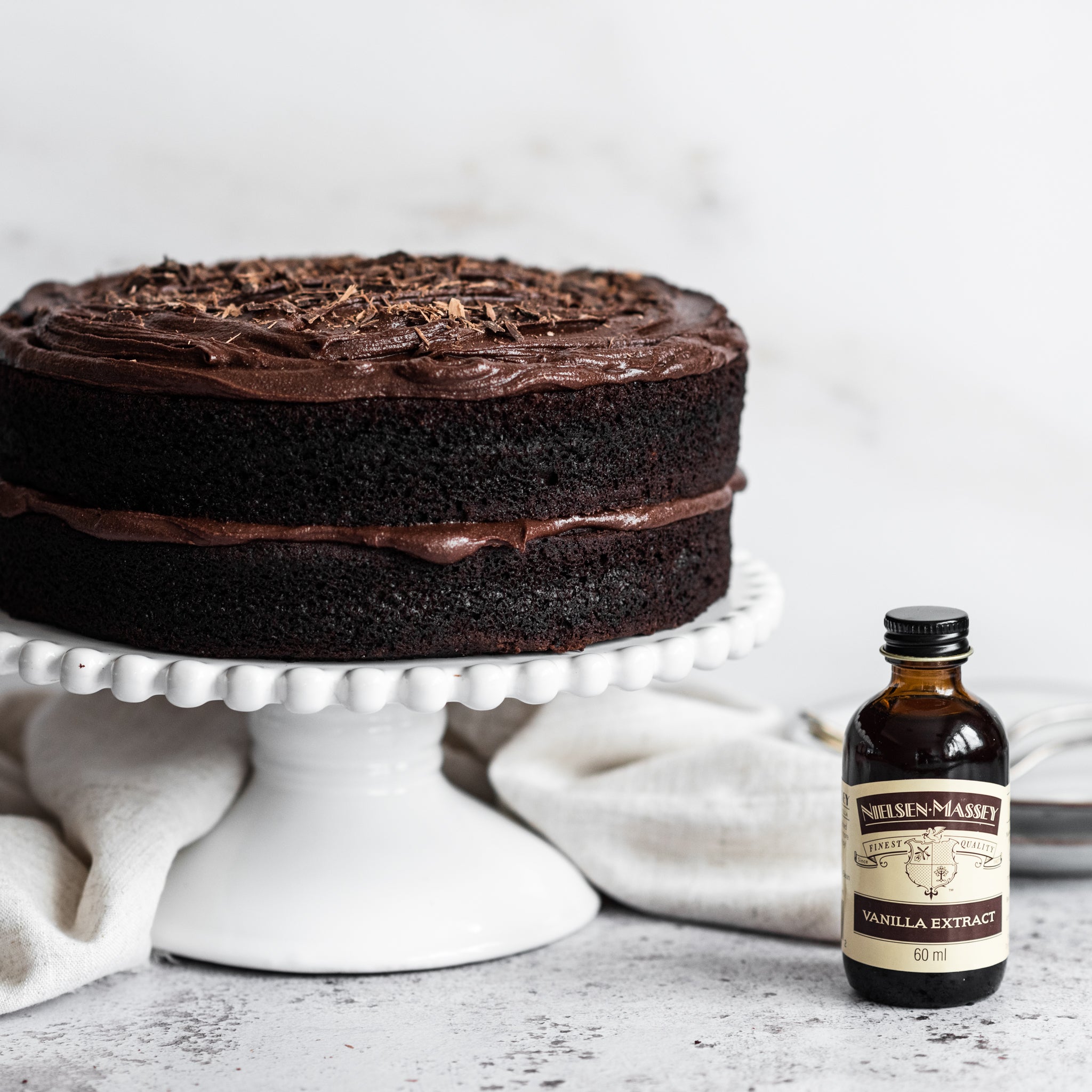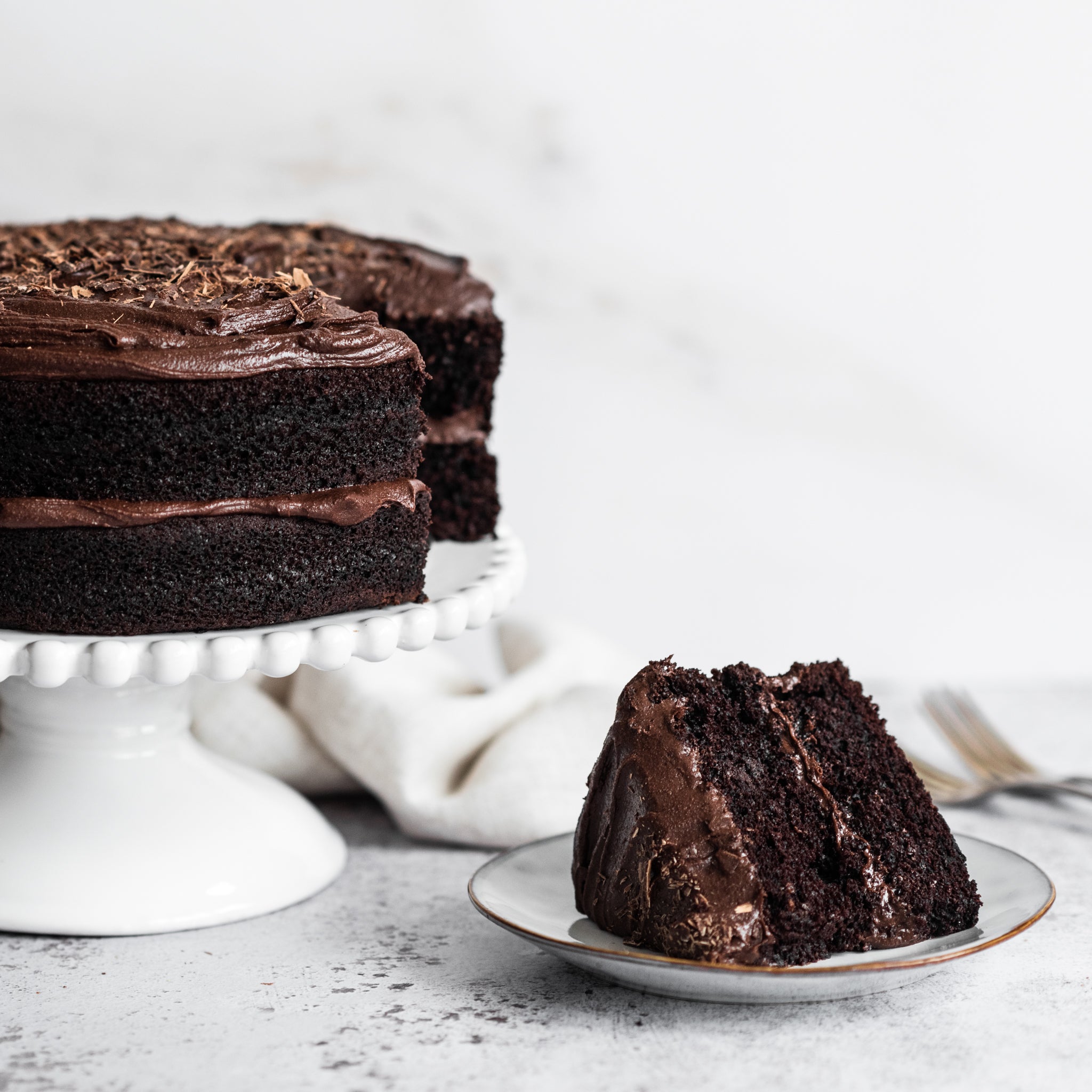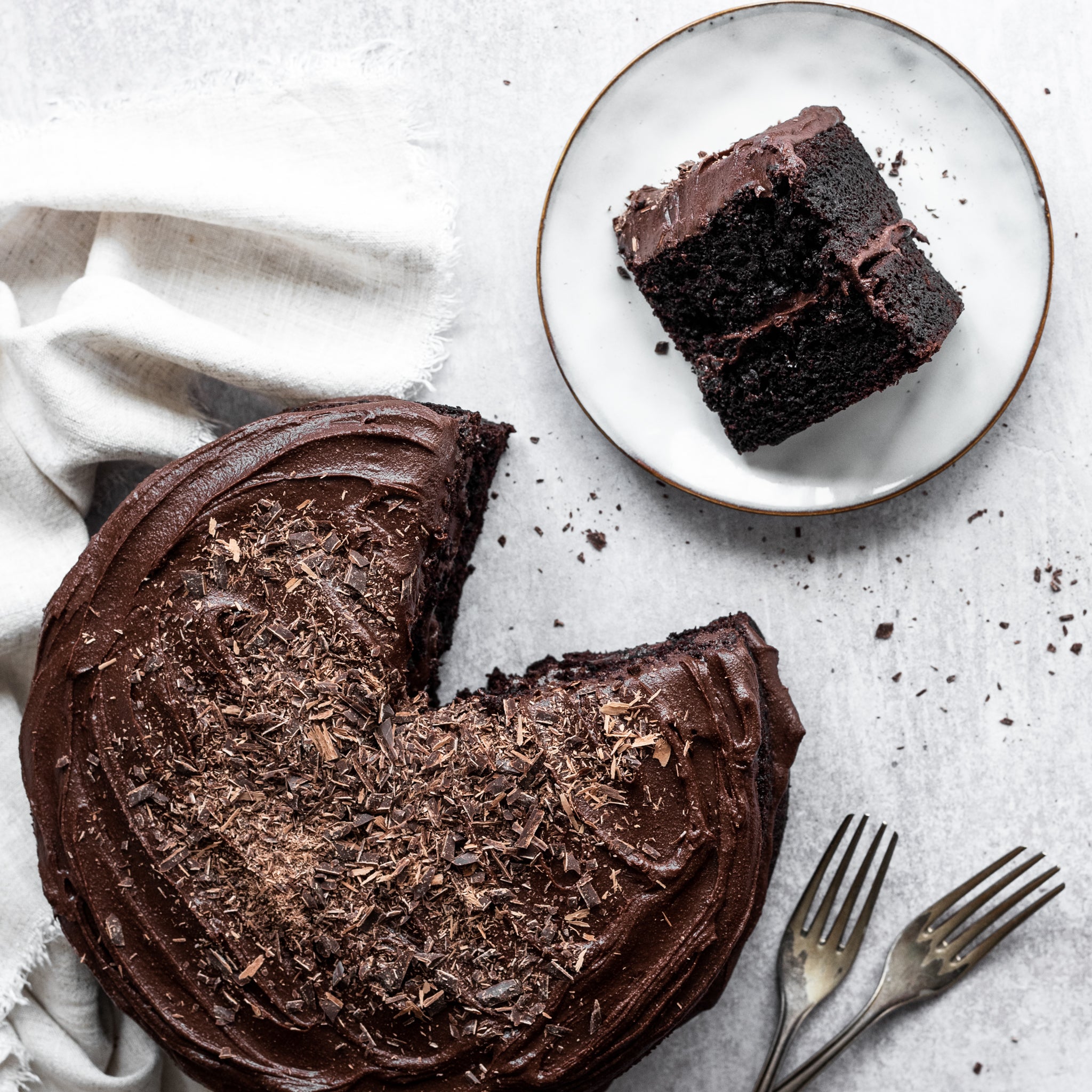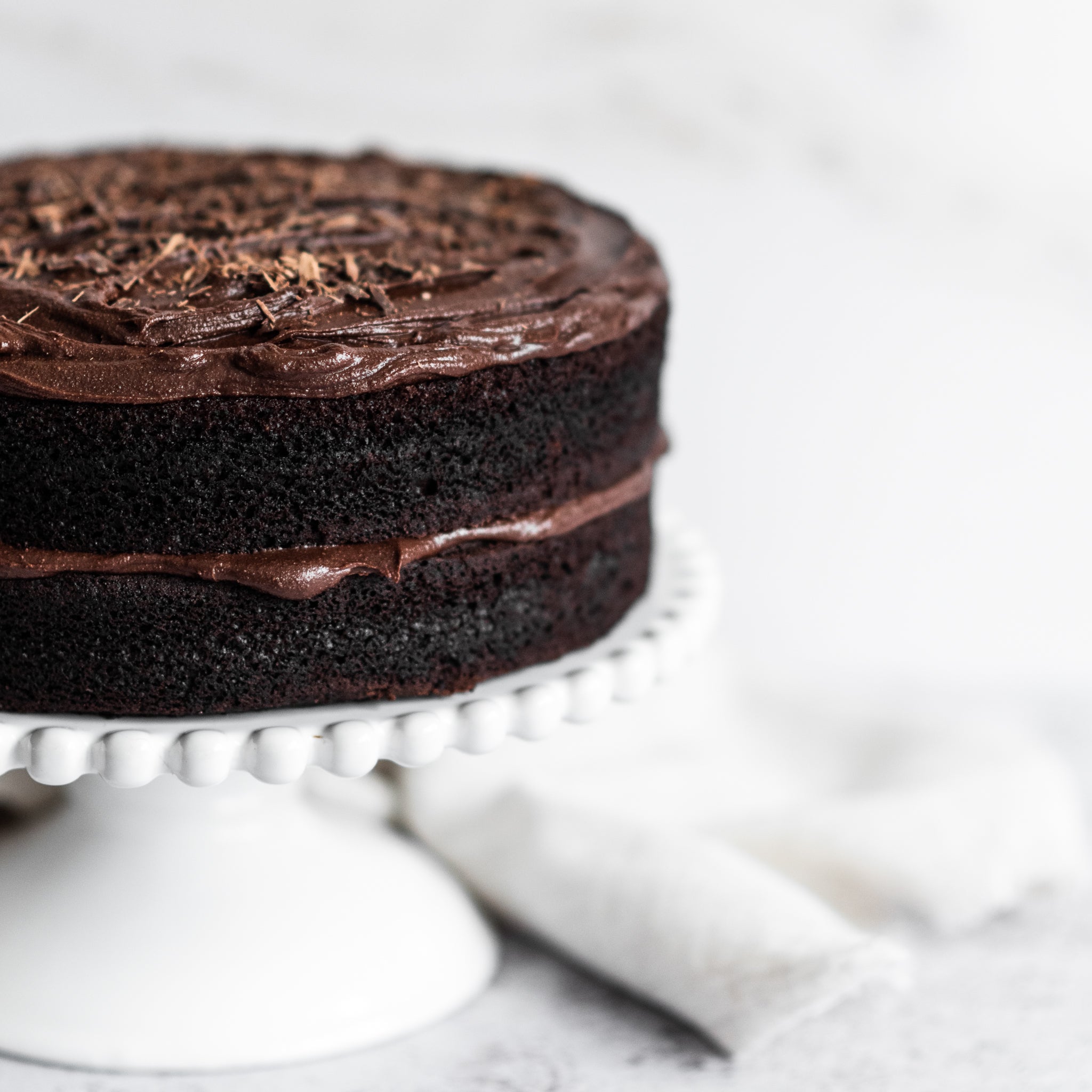 About our Vegan Chocolate Cake recipe
A rich and scrummy moist totally vegan chocolate sponge made with oil instead of butter. This vegan treat is so light and chocolatey. Sandwich together using this luscious chocolate ganache and then dollop the top with the rest.
This recipe is ideal for any celebration, it'll be your new go-to vegan chocolate cake recipe it's that good. Once you've made the cake, eat it within 5 days (if you can make it last that long!)
If you're looking for more delicious vegan recipes, give our vegan chocolate chip cookies or vegan brownies a try.
Method
Step 1:

Preheat the oven to 180c/160fan/Gas4. Grease and line the base and sides of 2 x 20cm/8inch loose bottomed sandwich tins.


Step 2:

In a large bowl, sift together the flour, sugar, cocoa, bicarbonate of soda and salt. Mix gently to combine.


Step 3:

In a large jug, mix the water, oil, white vinegar, orange juice, orange zest, vanilla and liqueur.


Step 4:

Add the wet to the dry ingredients and mix well to make a fairly liquid batter.


Step 5:

Divide the batter between the tins and bake in your preheated oven for 45 minutes or until a cake tester comes out clean.


Step 6:

When the cake is cooked allow it to cool completely in the tins.


Step 7:

To make the Ganache, chop the chocolate finely and put into a large bowl. Heat the coconut milk in a saucepan until just starting to bubble then pour over the chocolate, stirring continuously. The chocolate will melt into a smooth ganache. Put the ganache aside for a few hours until it becomes firm enough

to fill and ice the cake.


Step 8:

When you are ready to ice the cake, release the cakes from their tins, and if desired, spread a little of the orange spread onto the bottom cake. Top with some of the ganache. Place the second cake on top and spread ganache on the top of the second cake. You can decorate with orange slices, zest or chocolate chunks as desired.

Ingredients
For The Cake

400g

 

Plain flour

400g

 Billington's Unrefined Golden Caster Sugar

80g

 

Cocoa powder

2 tsp

 

Bicarbonate of soda

1 tsp

 

Salt

150ml

 

Vegetable oil

300ml

 

Warm water

160ml

 

Orange juice

Zest of 2

 

Oranges

1 tsp

 Nielsen-Massey Vanilla Extract

40ml

 

Cointreau (substitute for water if not wanted)

2 tbsp

 

White vinegar

For The Ganache

250g

 

Vegan chocolate

225g

 

Full fat coconut milk (from a can)

For Spreading Between The Layers

1 tbsp

 

Sweet orange spread

To Decorate

2

 

Orange slices

3

 

Chocolate chunks
Utensils
2 x 20cm/8inch loose-bottomed sandwich tins
Recipe Reviews
Not tried this yet but I do bake a lot and the recipe looks delicious. My grandson cannot eat eggs and dairy so I make biscuits for him usually. Hope this is a hit!😊
It is very good this is my go to birthday cake.
I don't really like cake, but from what it says, I might try it.
All I can say is YUM. Usually I when I make chocolate cake, it's a bit dry- but this recipe keeps it super soft like a carrot cake. This is my new favourite recipe! Thanks Baking Mad
Yes! I was after a moist rich chocolatey cake and this one is the best ive ever made. I made double the ganache just in case I wanted to do the sides too, but I ended up eating it with a spoon instead. 😋
Ingredients
For The Cake

400g

 

Plain flour

400g

 Billington's Unrefined Golden Caster Sugar

80g

 

Cocoa powder

2 tsp

 

Bicarbonate of soda

1 tsp

 

Salt

150ml

 

Vegetable oil

300ml

 

Warm water

160ml

 

Orange juice

Zest of 2

 

Oranges

1 tsp

 Nielsen-Massey Vanilla Extract

40ml

 

Cointreau (substitute for water if not wanted)

2 tbsp

 

White vinegar

For The Ganache

250g

 

Vegan chocolate

225g

 

Full fat coconut milk (from a can)

For Spreading Between The Layers

1 tbsp

 

Sweet orange spread

To Decorate

2

 

Orange slices

3

 

Chocolate chunks
Utensils
2 x 20cm/8inch loose-bottomed sandwich tins